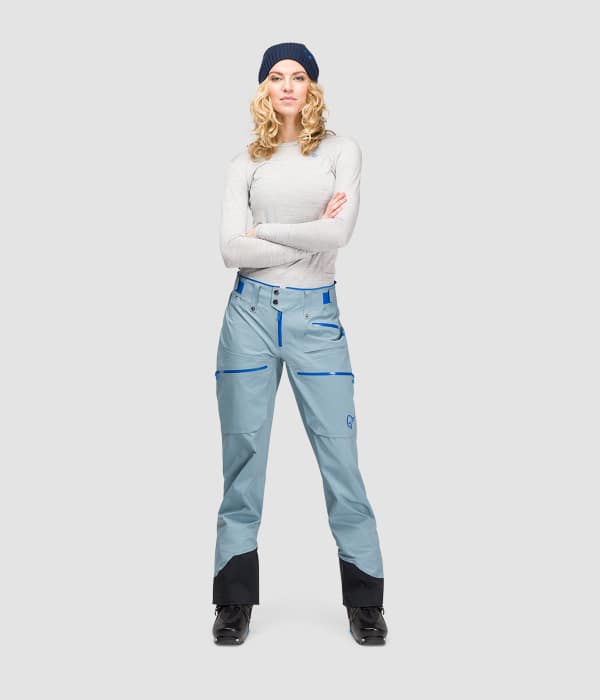 Byxorna lofoten Gore-Tex Pro Light är våra lättaste byxor för extrem freerideåkning. De delar många egenskaper med lofoten Gore-Tex Pro, men är gjorda av ett lättviktigt vind- och vattentätt GORE-TEX® Pro-material som ger utmärkt hållbarhet i förhållande till vikt.
Byxorna är något mer åtsittande än lofoten Gore-Tex Pro, men har fortfarande en passform anpassad för alpin freerideåkning.
De är utrustade med viktiga funktioner som flexibel midjejustering med Custom-fit system™, meshventilation på låren, benfickor för nödvändig utrustning och förstärkningar nedtill.
De här byxorna passar den viktjagande alpina freerideåkaren som behöver bästa möjliga skydd med alla viktiga detaljer.
Modellen har storlek M (Höjd 179 cm / 5'10 ")
Andra användningsområden
Freeride skidor och snowboard
Topptur / Randonnée
Skid- och snowboardåkning
Specifikationer
6

Vindtäthet

6

Vattentäthet

1

Isolering

4

Andningsförmåga

4

Slitstyrka

5

Lätt vikt
Fotavtryck
Återvunna fibrer

Återvunna fibrer

Mer än 50% av syntetfibrerna i denna produkt återvinns.

Oeko-Tex Certifierad Fabric

Oeko-Tex Certifierad Fabric

Oeko-Tex® är ett världsomspännande, oberoende test- och certifieringssystem som säkerställer kemisk användning överensstämmer med eller överträffar nationella och internationella regler och standarder.

Bluesign-certifierat material

Bluesign-certifierat material

Bluesign® testar och utbildar textilfabriker för att eliminera skadliga ämnen från tillverkningsprocessen och sätter kontrollstandarder för en hållbar och säker produktion.

Öppen förteckning över fabriken

Öppen förteckning över fabriken

Denna produkt är tillverkad i en fabrik som är öppet listad på norrona.com.

Inspiserad fabrik

Inspiserad fabrik

Denna produkt är tillverkad på en fabrik som inspiserats av en oberoende tredje part och följdes upp av Norrøna.
Material
GORE-TEX® Pro

GORE-TEX® Pro – GORE-TEX®-membranet har ett foder i textil som minskar vikten och gör att materialet tar mindre plats. Det förbättrar dessutom fuktavledningen och minimerar slitaget, samtidigt som plagget blir slitstarkt och vattentätt. Det perfekta stormskyddsmaterialet.

Läs mer hos GORE-TEX®
Teknisk information
Rated

5

out of

5
by
SierraSun
from
Flattering, Comfortable and Well Designed!
Love these pants! They are a beautiful fit for me - slim in the hips, yet comfortable in the thighs/legs for ease of movement. I have an athletic build, yet somehow the cut provides a feminine look. After trying on many different brands of pants, these were my favorite. Perfectly light and strong. Plenty of pockets with mesh lining, placed well. I'm enjoying wearing them this season skiing in Tahoe. I chose the red, which is a pretty, cherry red. I would say the color leans a bit towards raspberry - no orange. Ordered the XS and I am 5'6" and 125 lbs with slender hips and thighs.
Date published: 2019-04-03
Rated

5

out of

5
by
Natalei
from
Great pants !
Love the features of the pants, windproof, waterproof
Date published: 2019-03-18
Rated

4

out of

5
by
KatrineG
from
Good, but not best!
Ordered the Lofoten Gore-Tex Pro Light Pants (W). The reinforced inside ankle got ripped in the seams after the first time I used the pants, but after talking to the customer service I returned the pants and got a new pair delivered right away. It says that a zip bib can be added so I included this to my order, but it does not completely fit to these pants, so there is a 1cm gap at the end of the zipper. This should have been stated on Norrøna's webpage(or customized for these pants), especially since they claim to have first class products, and their products are very pricy. Overall nice pants, used in both cold, warm and wet weather with different kinds of layers under. They are perfect for ski touring. And of course they look very good! Using them for the second season now, and I have recommended these for my friends.
Date published: 2019-01-22
Rated

4

out of

5
by
Rachela
from
Light and strong
For the last five years I have been using the Lofoten Gore Tex Pro pants. I give them the highest possible rating. The cut is brilliant. And I don't just mean they're comfortable - the whole look is great. They fit where they need to. And they're loose where they need to be. Perfect. But eventually they got worn out and the zipper came unstuck, so I bought a lighter version of the pants - Lofoten Gore-Tex Pro Light. I've already tried them out - I just returned from the season opening in Italy. What are they like? - surprisingly soft. Indeed, this model is slightly narrower, and if you were counting on them to be a replica of Lofoten Gore Tex Pro, you might be disappointed. In this form they lose a bit of their roguish style. I wish they still had the back pocket, but it's just a detail. What bothered me was the bottom width of the leg; the pants could barely fit on the ski boots. And the lack of zipper - quite surprisingly - doesn't make putting them on any easier. Generally speaking, I'm pleased with them, and I'm going to take them with me on my next freeride trip.
Date published: 2018-11-09
Rated

5

out of

5
by
Johanna Stalnacke
from
Good breathability and a sweet weight
The Lofoten GT Pro light pants are both comfy for touring and comes with an even better breathability than the regular GT pant. A good choice for the spring or when touring to get in position for your line to ski. The garment feels good and soft, yet durable and strong. I appreciate the usable front pockets on the legs that have a small mesh inside to keep the phone in place so it doesnt bounce around when you are skiing. A good comfy fit, with an enjoyable weight.
Date published: 2018-08-21
Rated

5

out of

5
by
Rebecca
from
AmAZING!!
Best pants and jackets I've ever bought and holds up under extreme conditions.
Date published: 2018-02-28
Rated

5

out of

5
by
Jackie Paaso
from
Very comfortable for long tours
I used these pants for most of my long tours last winter and they were great! Very comfortable, no restriction of movement and true to size.
Date published: 2017-09-01
Do any of the women's pants come in tall sizes?
Hi Melissa! Thank you for your question regarding our outdoor pants. After feedback from our customers, we have now started with long edition on some of our products.Currently we sell only one pant, the svalbard flex1 pants in long for women. You can find this under Womens/Collections/svalbard. Hope this information was helpful for you. Best regards, Anette/Norrøna Fan Suupport
Date published: 2018-11-19
Hi there - looking at getting a pair of lofoten pants for my wife but I'm unsure of the difference between the pro light and pro pants.  She wants them for skiing, mainly piste so would the cheaper option suffice?  Thanks. 
Hi JWD18, Thanks for looking at these great products for your wife, she is lucky if she get's one of these. The Pro Light should be more than sufficient for piste skiing and also works great off piste. Although it is not as heavy duty as the Pro Pants, they are sufficient for a long life and many ski days. Both pants also have 5 years warranty. Good luck with your purchase! Best regards, Jens, Norrøna Fan Support
Date published: 2017-10-10
When is the expected time to get more loften goretex pants in stock?
Hello madi, If you click a color and a size, you will see the availability. Right now we have all colors and sizes in stock, apart from the Caviar one, which is expected to be available from 2nd of October. Best regards, Alexander - Norrøna Fan Support
Date published: 2017-09-25
Hello, yes we need some tall sizes, the normal fit it's really too short for slim women over 175. Personally I had to buy men's pants but they're too large. Thanks to think of tall woman as well!