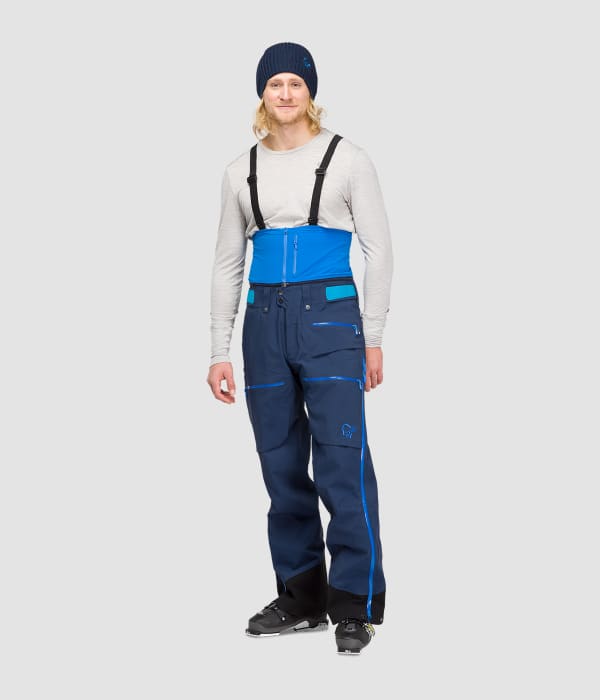 Byxorna lofoten Gore-Tex Pro ändrade spelreglerna för en ny generation av skidåkare och togs fram utan kompromisser för att ge skydd under de mest extrema förhållanden vid freerideåkning på stora berg.
Precis som originalet har de nya byxorna en ledigare passform och unika funktioner som benfickor för enkel förvaring, långa dragkedjor för utmärkt ventilation och extremt hållbara förstärkningar på nedre delen av benen för att skydda byxorna mot stålkanter.
De starka färgerna som användes i originalsortimentet återkommer i en modernare, dovare tappning, men de är fortfarande tillräckligt kraftfulla för att synas väl.
Byxorna har en avtagbar hängseldel som hindrar snö från att leta sig in i byxorna och håller dem samtidigt på plats.
Modellen har storlek L (Höjd 188 cm / 6'2 ")
Andra användningsområden
Freeride skidor och snowboard
Topptur / Randonnée
Skid- och snowboardåkning
Specifikationer
6

Vindtäthet

Vindtäthet

Scale from 1 to 6 where 1 is not windproof and 6 is totally windproof.

6

Vattentäthet

Vattentäthet

Scale from 1 to 6 where 1 is not waterproof and 6 is waterproof.

1

Isolering

Isolering

Scale from 1 to 6 where 1 has no insulating properties and 6 is our warmest insulation products.

4

Andningsförmåga

Andningsförmåga

Scale from 1 to 6 where 1 have very little or no breathability and 6 is our most breathable and moisture wicking products.

6

Slitstyrka

Slitstyrka

Scale from 1 to 6 where 1 is fragile products and 6 is the most durable products we have.

3

Lätt vikt

Lätt vikt

Scale from 1 to 6 where 1 is heavy and 6 is among the world's lightest of its kind.
Fotavtryck
Bluesign-certifierat material

Bluesign-certifierat material

Bluesign® testar och utbildar textilfabriker för att eliminera skadliga ämnen från tillverkningsprocessen och sätter kontrollstandarder för en hållbar och säker produktion.

Öppen förteckning över fabriken

Öppen förteckning över fabriken

Denna produkt är tillverkad i en fabrik som är öppet listad på norrona.com.

Inspiserad fabrik

Inspiserad fabrik

Denna produkt är tillverkad på en fabrik som inspiserats av en oberoende tredje part och följdes upp av Norrøna.
Material
GORE-TEX® Pro

GORE-TEX® Pro – GORE-TEX®-membranet har ett foder i textil som minskar vikten och gör att materialet tar mindre plats. Det förbättrar dessutom fuktavledningen och minimerar slitaget, samtidigt som plagget blir slitstarkt och vattentätt. Det perfekta stormskyddsmaterialet.

Läs mer hos GORE-TEX®
Teknisk information
Rated

5

out of

5
by
Jean-christ
from
Best pants ever!
Used for skiing with a baselayer or ski touring. The feel of the material is amzing, solid and resistant, much better feeling than the jacket goretex pro I have to say. I am 1m79, wearing size S. But no extra kg allowed! M was too big overall. (I have small legs though)
Date published: 2019-04-07
Rated

5

out of

5
by
Johan 77
from
the best skiing feeling
I bought my Lofoten trousers about 1 month ago and am very satisfied.I have used them in different weather conditions, such as slush and strong sunshine to biting cold with much ice and I am very pleased with the quality of the fabric and the strength of the clothing model in all weather conditions
Date published: 2019-04-07
Rated

5

out of

5
by
Frantz765
from
Best ski pants
Light and durable. Great for off piste and resort.
Date published: 2019-04-06
Rated

5

out of

5
by
Per Anders
from
Perfect pants
Perfect with the right details made in a high quality.
Date published: 2019-03-26
Rated

5

out of

5
by
Saint
from
Near Perfection in a pant shell
I've used these heavily over the last 30+ days in the Cascade, Wasatch, and Selkirk ranges in the Rockies. A near perfect pant shell for big mountain and touring. The fit is generous and allow ample layering underneath if needed without anything bunching up. The wallet-size hip pocket is just big enough for a thin wallet. The pockets are large enough to fit thin gloves and liners together along with other quick-grab items like chap stick, small containers of sunscreen, wrench/screwdriver tool, and a couple of small snacks all together without being overloaded. They would be perfect for a beacon IF there was a loop to attach a beacon tether to (similar issue as the dedicated touring, lyngen, line). The full-length leg zipper with the snap-and-velcro gaiter allow you to put-on and take-off without taking your boots off! And the fact that the gaiters come apart makes them perfect for my snowboard / splitboard boots. Lastly, the attachable bibs are snug, which is somewhat nice, but they do not allow for much layering underneath; this means most layers other than a base layer or so must go over the bibs if you want the bibs to zip up.
Date published: 2019-03-25
Rated

5

out of

5
by
MrBergentz
from
Just keeps on performing!
I have had my pants for a season and a half now, and every time I use these pant I just fall more in love with them! Great loose fit for a tall guy like me (197cm and 94 inseam, running size XXL), but still with a bit of an athletic taper in the legs! Pockets are nice and deep, and I for one don't need to be able to put my transceiver in my leg pocket. Nice full zippers on the outside legs and the top and bottom gaiter buttons is probably the nicest design feature of these pants! Just makes it putting them on and taking them off is so smooth! Maybe one thing to note on is that the vertical bib zipper is not the most sturdy construction, but it's not really anything that compromises the function of the pants! To the technical part about the pants: Been skiing and touring a total of about 100 days in these and I've been pretty meticulous with the care of them! Washing them from time to time and making sure to take good care of the waterproof membrane! I have not actually seen any sort of loss of membrane function yet, even after such a long time! Ordered a second pair from the outlet a couple of weeks back, just cause I love them so much! I hope that the current cut of the pant is something that will carry on to future designs, cause it is great!
Date published: 2019-03-01
Rated

5

out of

5
by
Chrissa
from
Comfortable waterproof well designed and resilient
This is the 2nd pair of norrona ski trousers I have bought... they are extremely comfortable completely waterproof and strong wearing .. they are reinforced where required with generous reinforcement on the lower leg which avoids cutting the legs with sharp ski edges. They have numerous pockets all with watertight zips and come with 2 powder bibs .. 1 short and one with braces. They look great and work extremely well. Although relatively expensive I think they are worth the money and can highly recommend them
Date published: 2019-02-27
Rated

5

out of

5
by
Fede
from
Super Lofoten collection
Best collection for freeride !!! Great lofoten gore tex pro
Date published: 2019-02-26
I am 195cm, 33-34in waist and currently have a rodal jacket in large would large be the right size for me and does the lofoten pants connect with rodal jacket?
Hello, I'm 193cm and 33/34in waist and the Large is the right size. They are plenty long enough and will be for you too. I don't know about how they clip to any jacket. 
Date published: 2019-04-14
I'm 1,89 m tall, waist 32/33 inches, I have a Lofoten jacket size L and would like to buy pants but I'm undecided in size M or L, probably M would fit better but the risk is they could be too short
I am 188 cm tall, 80 kgs, own the Lofoten pants size M, which fits me very well. When wearing skiboots, the lengths does not matter that much, in my opinion, as long it is not too short.
Date published: 2019-03-29
I have the fjora mountain bike flex pant.  Do these fit similar to those?  I am size 34 waist and trying to pick between medium and large.  
I am a 34 and a 33 inseam and the M is the way to go. I don't find the bib very functional but the pants fit perfectly. I think you would be swimming in a L 
Date published: 2019-01-24
Hi, I own previous model of lofoten pro jacket (light blue). I wonder if these new pants are compatible with my jacket i.e. can I connect them vie metal press studs.
Yes, no problem with connecting the jacket and pants. New pants are more comfortable yet sturdier than previous ones. Enjoy!
Date published: 2019-01-23
Has the fit/cut of the 2018/19 pants changed from last year? What about the Goretex fabric? Are the only differences in color??
Hi Ludwigk, I'm not certain about the 2018/2019 changes but the changes between 2016/2017 and 2017/2018 were inexistant (got two pairs: only a colour change for the bib i.e. the bit you zip over the belt to keep the powder out). So, yes, only colour changes. Sorry for the late reply. L
Date published: 2019-01-06
Is there a video showing how to use the zip-seal system?  I can't figure out how to connect the snow skirt of the jacket to the pants as shown (briefly) in the product videos? Is there a separate skirt i'm missing?
Hi Mike, You will normally find a separate skirt with a zipper in each side in the front pocket of your pant.  If this item is missing, please contact the Norrona helpline. Enjoy the ride! 
Date published: 2018-09-15
Hi there, do the lofoten pants direct iconnect to the lofoten jacket if you remove the bib and snow skirt? My partner has the W lofoten jacket/pant from a couple of years ago and when you remove the snow skirt from the jacket you also remove the zipper
Hi NZMike,all the Lofoten jackets can interconnect with the lofoten pants via press studs between the jacket powder skirt and the top of the pants (see video).This creates a great seal for those big powder days as well as keeping the warmth in and cold out.I have used this system faultlessly for the last 6 years in Canada and it still allows great dynamic flexibility.
Date published: 2018-11-27
Hi! I would be very interested in this pants, but unfortunately the size M, which is perfect in fit, is very very short for my leg length. would it be possible to have a size M with length of size Xl? Thank's!
Hi, thanks for the request. I`m sorry, we don`t have this pants in any other models (longer or shorter legs). We do have one model with extra long legs, in the falketind flex1 pants. However, for some pants (svalbard flex1, bitihorn and falketind flex1) we can in addition customize the legs on request. Unfortunately we`re not able to do this customization with Lofoten Gore-Tex Pro pants due to the snow gaiters
Date published: 2018-12-23