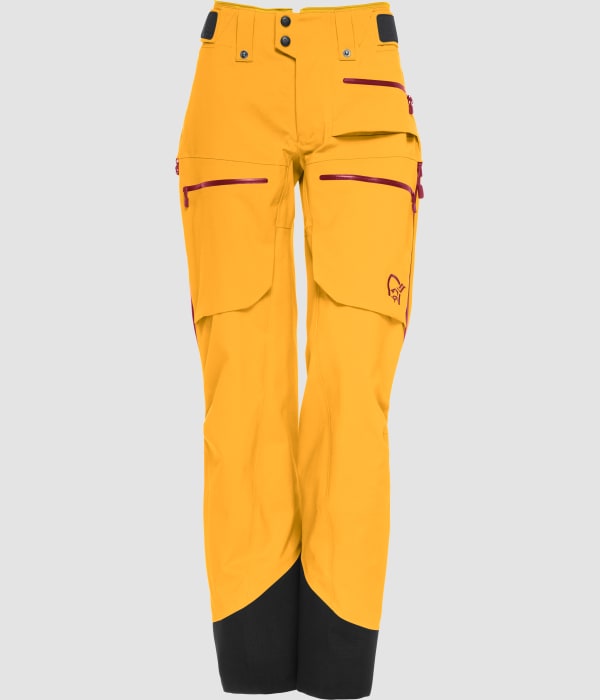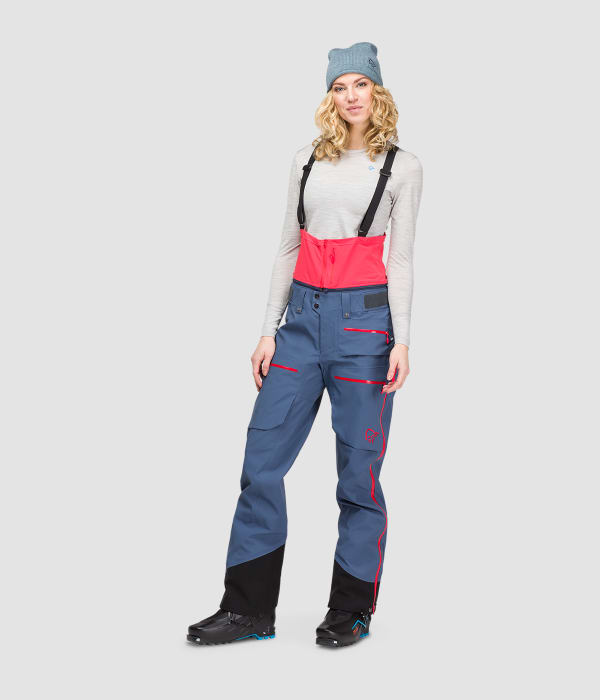 Byxorna lofoten Gore-Tex Pro ändrade spelreglerna för en ny generation av skidåkare och togs fram utan kompromisser för att ge skydd under de mest extrema förhållanden vid freerideåkning på stora berg.
Precis som originalet har de nya byxorna en ledigare passform och unika funktioner som benfickor för enkel förvaring, långa dragkedjor för utmärkt ventilation och extremt hållbara förstärkningar på nedre delen av benen för att skydda byxorna mot stålkanter.
De starka färgerna som användes i originalsortimentet återkommer i en modernare, dovare tappning, men de är fortfarande tillräckligt kraftfulla för att synas väl.
Byxorna har en avtagbar hängseldel som hindrar snö från att leta sig in i byxorna och håller dem samtidigt på plats.
Modellen har storlek M (Höjd 179 cm / 5'10 ")
Andra användningsområden
Freeride skidor och snowboard
Topptur / Randonnée
Skid- och snowboardåkning
Allmänna friluftsaktiviteter
Specifikationer
6

Vindtäthet

Vindtäthet

Scale from 1 to 6 where 1 is not windproof and 6 is totally windproof.

6

Vattentäthet

Vattentäthet

Scale from 1 to 6 where 1 is not waterproof and 6 is waterproof.

1

Isolering

Isolering

Scale from 1 to 6 where 1 has no insulating properties and 6 is our warmest insulation products.

4

Andningsförmåga

Andningsförmåga

Scale from 1 to 6 where 1 have very little or no breathability and 6 is our most breathable and moisture wicking products.

6

Slitstyrka

Slitstyrka

Scale from 1 to 6 where 1 is fragile products and 6 is the most durable products we have.

3

Lätt vikt

Lätt vikt

Scale from 1 to 6 where 1 is heavy and 6 is among the world's lightest of its kind.
Fotavtryck
Bluesign-certifierat material

Bluesign-certifierat material

Bluesign® testar och utbildar textilfabriker för att eliminera skadliga ämnen från tillverkningsprocessen och sätter kontrollstandarder för en hållbar och säker produktion.

Öppen förteckning över fabriken

Öppen förteckning över fabriken

Denna produkt är tillverkad i en fabrik som är öppet listad på norrona.com.

Inspiserad fabrik

Inspiserad fabrik

Denna produkt är tillverkad på en fabrik som inspiserats av en oberoende tredje part och följdes upp av Norrøna.
Material
GORE-TEX® Pro

GORE-TEX® Pro – GORE-TEX®-membranet har ett foder i textil som minskar vikten och gör att materialet tar mindre plats. Det förbättrar dessutom fuktavledningen och minimerar slitaget, samtidigt som plagget blir slitstarkt och vattentätt. Det perfekta stormskyddsmaterialet.

Läs mer hos GORE-TEX®
Teknisk information
Rated

5

out of

5
by
Johanna Stalnacke
from
Strong and sweet
Riding with the Lofoten GT Pro is a treat. I love how the pants function in remarkably well in tough conditions, their features such as pockets on the right places, ventilation and that you can tighten around your ski boots when cramponing, makes this an awesome pant. The fit is great. I´m a XS with my 153 cm / 5 foot and love how these pants fit well both on the length and the width. When I need to perform I don´t think about the pants, and that´s good. They are just there, comfortable, well-functioning and simply aweseome. And they will last for wear and tear. Just how we like it.
Date published: 2017-08-11
Rated

5

out of

5
by
Jackie Paaso
from
For those that really tend to put their gear through the wringer
I've worn these pants throughout all 5 stops of the Freeride World Tour last winter. We hike to the top most of the time and that include making your way over snow, ice and rocks. These pants held up no problem and I'm confident they have MANY seasons in them even if you wear them as often as I do!
Date published: 2017-08-07
Rated

5

out of

5
by
Moomin
from
Perfect fit
I bought these for myself having borrowed my daughters Norrona pants for the last three seasons - no complaints!
Date published: 2019-02-25
Rated

5

out of

5
by
Anonymous
from
What it says on the tin
I have used a pair of these pants for about 10 weeks skiing over five years of holidays (high Alps and Canada) and they do the job as described; windproof, waterproof (I have reproofed them twice), super durable and comfortable. The front cargo pockets are great for storing items if you don't need an airbag/rucksack or want easy access to something. The side zips provide excellent ventilation if needed and the fit allows for an extra base layer for those very cold days. I use mine with the bib for extra protection and comfort.
Date published: 2019-02-19
Rated

5

out of

5
by
sm30
from
Great pants
I've been wearing these pants when skiing in different weather conditions. Simply put:great product!
Date published: 2019-02-17
Rated

4

out of

5
by
Closey 2
from
Great fit!
I bought these for skiing and ski touring. They fit great and are comfy and do what it says on the tin. Massive downside is - unless I've made a mistake - the braces that attach a piece of fabric to the waist band to keep your back warm DO NOT detach from the trousers so when you need to visit the bathroom you have to take your jacket off too. There are other brands where the braces unclip. So unless I'm missing some little trick.....i feel this is a design fault!
Date published: 2019-01-20
Rated

5

out of

5
by
annemie
from
Excellent quality ski trousers
Love all the pockets and zips. love the bib that comes with it and is detachable. It feels warmer than without. Excellent freedom of movement, which I'm after. Done with puffy trousers
Date published: 2018-11-29
Rated

5

out of

5
by
Yanav
from
Fantastic features
Excellent quality, comfy fit, accurate sizing, taped zippers!! good pockets, powder skirt with optional zipper. By far worth every penny. I highly recommend. I am an all mountain and backcountry hound... so quality and material are of upmost importance.
Date published: 2018-05-16