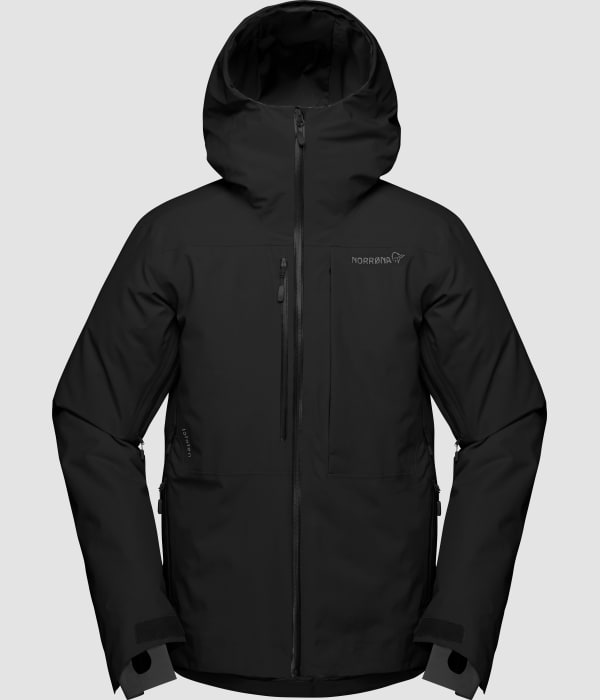 Den nya isolerade jackan lofoten Gore-Tex i herrmodell bygger vidare på den ikoniska ursprungsmodellen Gore-Tex Pro. Det är en extremt slitstark freeridejacka som ger komplett skydd i återvunnet skalmaterial i två lager och återvunnen PrimaLoft-isolering.
Den här fullt utrustade jackan kompromissar inte när det kommer till vintäthet och funktion och är avsedd för freerideåkning kalla vinterdagar och för de som föredrar lite extra värme.
För högsta prestanda har jackan isolering i två tjocklekar: tjockare vid bål/axlar och tunnare i ärmar och rygg. Det finns ingen isolering i huvan eller nedanför snölåset, men däremot i kragen för extra komfort.
Ventilation under armarna ger bra luftflöde vid klättring i jakten på de riktigt hisnande åken. Snölåset hindrar snön från att ta sig in och kan enkelt döljas tack vare lösningen med tryckknapp och vikning.
Andra detaljer är asymmetriska muddar, handvärmarfickor, bröstficka, putsduk för glasögon, handledsvärmare och en inre nätficka där du kan ha handskarna och värma skidglasögonen.
Modellen har storlek L (Höjd 188 cm / 6'2 ")
Andra användningsområden
Freeride skidor och snowboard
Topptur / Randonnée
Skid- och snowboardåkning
Glaciärvandring
Vandring
Allmänna friluftsaktiviteter
Specifikationer
6

Vindtäthet

6

Vattentäthet

3

Isolering

3

Andningsförmåga

4

Slitstyrka

3

Lätt vikt

1

Stretch
Fotavtryck
Återvunna fibrer

Återvunna fibrer

Mer än 50% av syntetfibrerna i denna produkt återvinns.

Oeko-Tex Certifierad Fabric

Oeko-Tex Certifierad Fabric

Oeko-Tex® är ett världsomspännande, oberoende test- och certifieringssystem som säkerställer kemisk användning överensstämmer med eller överträffar nationella och internationella regler och standarder.

PFC-fri DWR

PFC-fri DWR

Impregneringen som används på denna produkt är fri från fluorokarboner. (DWR = Durable Water Repellent).

Bluesign-certifierat material

Bluesign-certifierat material

Bluesign® testar och utbildar textilfabriker för att eliminera skadliga ämnen från tillverkningsprocessen och sätter kontrollstandarder för en hållbar och säker produktion.

Öppen förteckning över fabriken

Öppen förteckning över fabriken

Denna produkt är tillverkad i en fabrik som är öppet listad på norrona.com.

Inspiserad fabrik

Inspiserad fabrik

Denna produkt är tillverkad på en fabrik som inspiserats av en oberoende tredje part och följdes upp av Norrøna.
Material
GORE-TEX® med 2-lagskonstruktion

Mjukt GORE-TEX®-material som passar för många olika aktiviteter. Ett GORE-TEX®-membran är laminerat på yttermaterialet och ger ett mycket smidigt och lätt väderskydd som har god andningsförmåga och är tystare än ett trelagerssystem. Membranet skyddas av det icke-laminerade fodret på plagget.

Läs mer hos GORE-TEX®
Teknisk information
Rated

5

out of

5
by
McGary
from
Perfect downhill ski jacket
I have just finished my first ski trip with this jacket and it delivered in every way I hoped for. Firstly, I love the colour, I purchased it in adrenaline, which is a slightly reddish/burnt orange. This jacket has all the key features I wanted, chiefly being gore tex, a powder skirt, ski pass pocket and pit zips. In addition it contains other features that are well thought out and executed, such as the hand gators, internal phone pocket (big enough for large modern smart phones) and integrated goggle wipe. Construction is of a very high quality, matching other high end outdoor brands. Although the jacket is described as insulated, which initially put me off slightly, the insulation is very thin and is ideal for downhill skiing. Comparable to a medium fleece in warmth. It's warm enough when sitting on the chair lifts in a whiteout day/ windy exposed ridges, but not too warm to add significant bulk or to overheat when blasting down the slopes. I skied in early April in the Alps (1800-3300m) and I always felt comfortable. I did ski with one layer (fleece) less than usual (my previous jacket had no insulation) after being a little warm on the first morning. The material feels very durable and I expect I will be skiing with this jacket for years to come. No regrets, I would highly recommend this jacket for downhill skiing.
Date published: 2019-04-21
Rated

4

out of

5
by
Sunrise Skier
from
Great Ski Jacket - Integration with Loften Pants is Excellent
I love this jacket. Its a great piece of equipment when its not ultra cold and I want to stay dry. The pit zips are a nice feature as well as the large internal pocket. I like how this zips / snaps into my Norrrona Loften pants. I wish the helmet hood was a bit bigger as I like to fully swivel my head and look uphill frequently when I ski. This is a great product and I would purchase it again.
Date published: 2019-04-16
Rated

5

out of

5
by
sometimesiwalktowork
from
Simply amazing!
After researching the many and varied options for a winter jacket that I could use for my daily walking commute - a 12km roundtrip - that features temperatures that drop at times to a windchill in the minus thirties, I decided to buy the Iofoten jacket. It is a beautifully designed and impeccably crafted jacket that I expect to use for many years to come.
Date published: 2019-02-12
Rated

3

out of

5
by
Ciccio66
from
Good Jacket
I use this jacket to ski in dolomiti's slopes, no problem with the wind & snow but i prefere if it was a little more warm
Date published: 2019-02-06
Rated

5

out of

5
by
Rogan
from
Perfect jacket
Just been to Austria skiing and conditions were Baltic.my jacket was perfect in all conditions
Date published: 2019-01-15
Rated

5

out of

5
by
Tomppa
from
Great winter jacket
This is truly a great winter jacket for skiing and general outdoor. The insulation is just as thick as needed here in Finland and it's light enough to have great comfort and flexibility. Love this jacket!
Date published: 2019-01-10
Rated

4

out of

5
by
Djura
from
Almost perfect
I have this jacket for a month now and regarding material and confort everything is perfect. Only two cons : Jacket is slightly bigger then expected ( I'm 185cm and I have L size jacket) and the zipper at the bottom opens time to time.
Date published: 2018-12-26
Rated

5

out of

5
by
ScottB
from
Excellent Jacket
This is an outstanding winter jacket with all the features one could want in a top performance jacket with brilliant style and design. The cut is trim making it warm and functional with room for layers underneath while not being so tight as to be restrictive for moves on the slope. Excellent color choices highlight an excellent design and make for an incredibly versatile and stylish piece. Rhe product fabric is excellent being weatherproof yet breathable. Norrona has dialed in an amazing design which will have longevity of where due to its excellent design.
Date published: 2018-12-20
I bought this one with insulated pants + suspenders. 1) What is the zipper for in the jacket bottom back? Pants can be connected to the jacket only with snap studs. Correct? 2) Suspenders do not seem to fit the Lofoten insulated pants. How come?
Hi Mikkoi, Thanks for your request. 1) The zipper connected to the snowskirt inside the jacket can be zipped off/on depending on your choice of wearing the powderskirt or not. The powderskirt it self can be snapped into the pants. 2) The suspenders (bib) is devided into two models; "moutaneering bib" which goes with lyngen- and trollveggen pants and the "ski/snowboard bib" which fits the røldal-, tamok- and lofoten pants as yours. Make sure you got the right model, and be aware that depending on generation, there might be a +/- 2 cm potential mismatch on the same size.
Date published: 2019-03-29
Hi, I am 1m84 and 68 kg. 97cm chest, 68 cm arm length.  Should I select size M or L? L might be large on the body, but I am concerned that M will be too short (torso)? Does the Lofoten Gore Tex pro & active have the same fit than the insulated? Thanks.
I think both would fit, it depends which fit you prefer. I would choose m because its long enough.
Date published: 2019-02-05
Do the external pocket(s) have a feeding hole for headphones into the inside of the jacket? Or do any other jackets have it?
Hi, The lofoten Gore-Tex insulated Jacket does not have a pocket with a hole for a headphone cable.
Date published: 2018-10-16
Which Primaloft and what weight (g/m2) is used in this jacket for insulation?
Hi, The lofoten Gore-Tex insulated Jacket for men in size large has a 100 grams of PrimaLoft Silver Insulation Eco insulation.
Date published: 2018-10-16
Hi, i'm 1'95 cm tall! Would an xl fit me and is it warm enough for ski tours?
Hi, The sizing depends on your chest. If you are between 108cm and 113cm XL should fit you. The lofoten Gore-Tex insulated Jacket is made for freeride skiing during cold winter days and for those who prefer a little extra warmth. To ensure maximum performance, we have made it with two thicknesses of insulation; warmer in the torso/shoulders and thinner in the sleeves and back.
Date published: 2019-01-04
Does this jack connect to the pants the same as the pro version?
Hello! Yes, this jacket connects the same way.
Date published: 2018-07-15