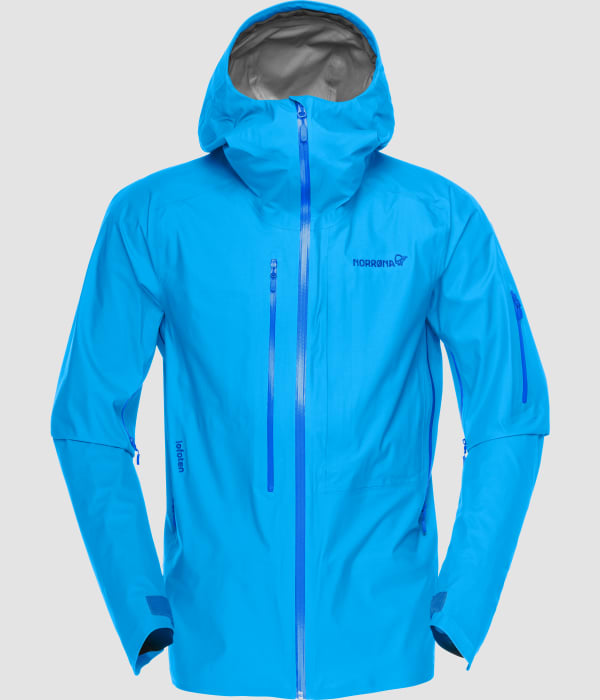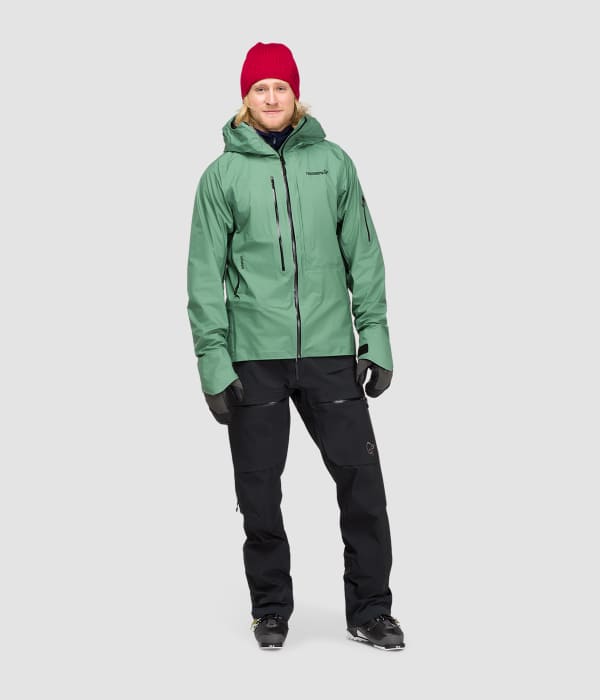 Jackan lofoten Gore-Tex Active är vår lättaste freerideskaljacka i herrmodell, i ett material som har bästa andningsförmåga. Jackan är tillverkad i GORE-TEX® Active-material, väger mindre än 500 gram utan det avtagbara snölåset och ger fullt skydd mot vind och vatten.
Övriga funktioner är bland annat ventilering under armarna, bröstventilering, en stor bröstficka, radio-/kortficka, innerficka, extra lätta handledsvärmare, extra lätt avtagbart snölås och stormhuva med enhandsjustering.
Materialet är 30 denier.
Modellen har storlek L (Höjd 188 cm / 6'2 ")
Andra användningsområden
Freeride skidor och snowboard
Topptur / Randonnée
Skid- och snowboardåkning
Specifikationer
6

Vindtäthet

Vindtäthet

Scale from 1 to 6 where 1 is not windproof and 6 is totally windproof.

6

Vattentäthet

Vattentäthet

Scale from 1 to 6 where 1 is not waterproof and 6 is waterproof.

1

Isolering

Isolering

Scale from 1 to 6 where 1 has no insulating properties and 6 is our warmest insulation products.

4

Andningsförmåga

Andningsförmåga

Scale from 1 to 6 where 1 have very little or no breathability and 6 is our most breathable and moisture wicking products.

4

Slitstyrka

Slitstyrka

Scale from 1 to 6 where 1 is fragile products and 6 is the most durable products we have.

4

Lätt vikt

Lätt vikt

Scale from 1 to 6 where 1 is heavy and 6 is among the world's lightest of its kind.
Material
GORE-TEX® Active 2.0

Plagg tillverkade i GORE-TEX® Active-material är slitstarka, vattentäta, vindtäta och har extremt god andningsförmåga. Det här materialet har bäst andningsförmåga i hela GORE-TEX®-produktfamiljen. Det här materialet uppfyller den alpina atletens höga krav. Det är en perfekt lösning för intensiva aktiviteter, också i dåligt väder. Plagg tillverkade i GORE-TEX® Active-material är lätta och mjuka, och mycket bekväma att bära närmast huden tack vare tillförlitlig fukthantering. Materialets konstruktion håller kroppen torr genom att det minskar ansamlingen av svett, så att du håller dig sval under aktiviteten och varm vid nedkylning. Med GORE-TEX® Active-material kan du sätta på dig plagget, ha det på dig och fokusera på upplevelsen, snarare än på kläderna. Tekniska specifikationer: Vattentät: minst 28 000 mm* Andningsförmåga: Hög, ned till 3 RET** Vindtäthet: 100 % * ISO 811-test ** ISO11092-test
Teknisk information
Rated

5

out of

5
by
LaurenfromCanada
from
So lightweight!
I purchased this jacket for my husband last month. He's quite impressed with its durability considering it's so lightweight. The length in the arm are perfect, without having to go up a size - finally! Great for cross country skiing and backcountry skiing as it has greatventilation options for when you heat up. I think it will be great for summer hikes considering it's so light and easily packable.
Date published: 2018-12-25
Rated

5

out of

5
by
JayB
from
Cool & Technical Ski Jacket
I bought this a month ago and simply love it! It is technical, light, practical and stylish. Everything you can dream of in a ski jacket!
Date published: 2018-11-19
Rated

3

out of

5
by
Skelly
from
Great, but not perfect.
I bought this jacket primarily for snowboarding and hiking/walking and bought the XL size for a relaxed fit. There are many great features with this jacket especially the Gore-Tex weather performance, styling and colour etc. The main disappointment for me which prevents a 5 star rating is that the neck of the hood is too small and too tight. I believe I have an average sized head/face however it is impossible to zip up the neck fully over the mouth/nose which is a problem in severe weather, and inner layering can then get wet. This is more problematic when wearing a helmet or even a beanie. The visor of the hood being quite stiff does not site well at the rear of a helmet given the tightness. The only time the neck zips up properly and fully is when the hood is pulled over the head, which I personally will rarely do. An additional pocket would be beneficial.
Date published: 2017-12-20
Rated

5

out of

5
by
Stottie
from
Love it
Every time I put on this jacket it feels like I am getting a big hug
Date published: 2017-11-17
Rated

5

out of

5
by
Jenski
from
Lightweight hard shell which breathes very well
This is a hard shell in Gore-Tex active fabric which is a great jacket for skiers and snowboarders that want to have a allround ski jacket which works well for both skiing powder, ski touring and skiing in the slopes in a ski resort. It is lighter, and a bit less durable than the Gore Tex Pro jacket. It has great ventilation possibilities, together with covering you up and keep you protected against what mother nature throws at you of wind, rain and snow. It takes so little space in your backpack. It also comes with a new very lightweight powderskirt which you attach to your Norrøna ski pants for preventing snow to enter, making it almost like a one-piece. I'm 172cm and 60kg and use size S in this. Quite regular size on this. The hood goes well over a ski helmet, and is easy to tighten with one hand on the backside of the hood.
Date published: 2017-06-26
How is the sleeve length? It looks like they are quite long, especially when not worn over the gloves.
Yes they are quite long. This was the initial issue I had with the Medium, so I tried the small and the arms fit better but was too tight across the chest for layering. They are designed for big mountain skiing, ie. to keep the powder out. It works well when put over gloves for that purpose. The is the same for the neck which is tight when the hood is not pulled up and over. It is to keep the snow out not the lower face warm.
Date published: 2019-01-18
How is the sleeve length? It looks like they are quite long, especially when not worn over the gloves.
Hi Augustinus, Thanks for your question. The arms are developed to be long enough to be able to stretch your arms upwards without getting a lift on the jacket at the bottom. When you have skied the perfect colouir and are cheering with your arms in the air, it is important that you still stay warm :) The same for alpine climbing, ice climbing and other activities where you from time to time have the arms above your head. I have a small in this jacket and my height is 172 cm. I know that the arms are a bit long to me, but with the possibility to adjust the cuff/close it, it has not been a problem for me. I use the jacket in a range of activities outside skiing also. It is very versatile. Best regards, Jens, Norrøna Fan Support
Date published: 2019-01-17
I'm 5'9" and 160Ibs. I've heard these jackets fit big so is a Small size or Medium best for me.
Hi, I cant give you any guarantees but M will most likely fit you the best. Most people between sizes prefer the outer shell to run a little bigger than smaller for airflow and mobility.
Date published: 2019-01-15
Hi, do you know if the problem to zip up the neck fully is solved on the new collection? Indeed being able to have my helmet under my hood with a fully zipped neck is very important to me. Thanks
My helmet size is 57-61cm and i have no problem.
Date published: 2019-01-15
Does the hood have two adjustment points? I can see previous versions had adjustment points at the back of the hood and at the collar. Does the hood have a stiffened peak? Does the collar have a soft material to prevent chaffing of the chin/cheek area?
Hi, The hood has only one adjustment point, but it was designed so when you pull, it tightens up from the front collar as well as around the top of the head with the use of an internal pulley system. There is a soft brushed woven polyester in the chin/cheek area to prevent chaffing, and there is a flexible brim stiffener that bounces back into place even when the jacket is packed tight. It also has a flat flexible strip inside the front brim so you can shape it.
Date published: 2017-11-21
Is this fabric 3-layer Gortex. Is it still durable in combination with backpack?
Hello Died, Yes, this fabric is a 3-layer Gore-Tex Active with 30 denier, and will be durable enough to use with a backpack. Best regards, Sara Norrøna Fan Support
Date published: 2017-09-07
Hi I will be buying one of these jackets soon will it be cheaper in France or online plus I'll be needing a large I've got a light jacket norrama to go under the jacket so hopefully it should be great