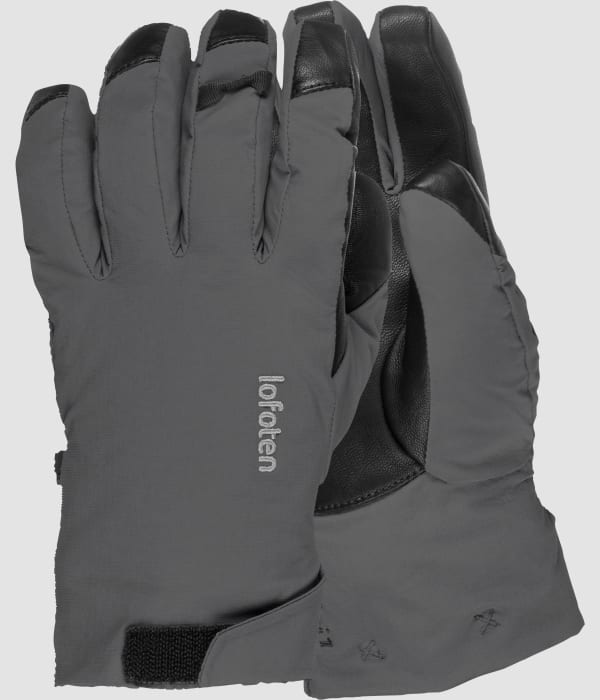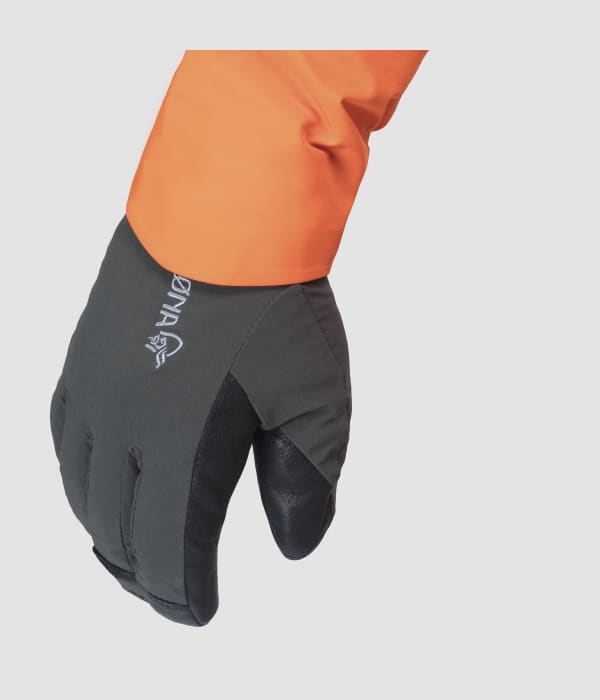 Våra varmaste vattentäta handskar för skid- och snowboardåkning ger rörelsefrihet trots den tajta passformen. PrimaLoft® Gold (170 gr/m2)-foder på utsidan och PrimaLoft® Gold ECO (133gr/m2)-foder i handflatan gör materialet stretchigt, mjukt och varmt. Det stretchiga yttermaterialet flex™1 är slitstarkt, flexibelt och har bra passform. Handflatan är tillverkad av tåligt getskinn för att säkerställa ett bra grepp. dri1™ gör handsken vattentät och materialet andas.
Andra användningsområden
Freeride skidor och snowboard
Glaciärvandring
Skid- och snowboardåkning
Specifikationer
6

Vindtäthet

Vindtäthet

Scale from 1 to 6 where 1 is not windproof and 6 is totally windproof.

6

Vattentäthet

Vattentäthet

Scale from 1 to 6 where 1 is not waterproof and 6 is waterproof.

4

Isolering

Isolering

Scale from 1 to 6 where 1 has no insulating properties and 6 is our warmest insulation products.

3

Andningsförmåga

Andningsförmåga

Scale from 1 to 6 where 1 have very little or no breathability and 6 is our most breathable and moisture wicking products.

5

Slitstyrka

Slitstyrka

Scale from 1 to 6 where 1 is fragile products and 6 is the most durable products we have.

3

Lätt vikt

Lätt vikt

Scale from 1 to 6 where 1 is heavy and 6 is among the world's lightest of its kind.

3

Stretch

Stretch

Scale from 1 to 6 where 1 is not made with stretch materials and 6 is our most flexible products made in super elastic material.
Fotavtryck
Återvunna fibrer

Återvunna fibrer

Mer än 50% av syntetfibrerna i denna produkt återvinns.

PFC-fri DWR

PFC-fri DWR

Impregneringen som används på denna produkt är fri från fluorokarboner. (DWR = Durable Water Repellent).

Bluesign-certifierat material

Bluesign-certifierat material

Bluesign® testar och utbildar textilfabriker för att eliminera skadliga ämnen från tillverkningsprocessen och sätter kontrollstandarder för en hållbar och säker produktion.

Öppen förteckning över fabriken

Öppen förteckning över fabriken

Denna produkt är tillverkad i en fabrik som är öppet listad på norrona.com.

Inspiserad fabrik

Inspiserad fabrik

Denna produkt är tillverkad på en fabrik som inspiserats av en oberoende tredje part och följdes upp av Norrøna.
Material
Teknisk information
Rated

5

out of

5
by
trstck
from
Amazing, perfect glove
I bought these gloves at the onset of the 2017-2018 Canadian winter. I was looking for a waterproof, warm, under the cuff glove with minimal bulk and good dexterity. The search for a glove to meet that criteria was daunting. I researched 100's of gloves and talked to dozens of gearheads and outdoor stores/companies. I came across this glove by chance, since Norrona products in Canada are quite rare. After a lot of research and reading reviews I decided these are the gloves I was looking for. And they have passed all the tests I have put them through. Cold and windy -25 nights skiing, no problem. Warmer, wet back country skiing, no problem. Cross country skiing, snow shoeing or simply just playing outside. They are perfect. Love them. Got them in Grey. Now on to replacing my other winter gear with Norrona products. I will also say the company is amazing to work with and deal with. Thank you!
Date published: 2018-02-20
Rated

5

out of

5
by
trstck
from
Impressive Glove
Writing this review from Canada, in January. I was in need of a glove for snowshoeing and cross country skiing mostly, and random outdoor fun. I wanted a glove instead of a mitten for increased dexterity. Also wanted and needed waterproofness and great insulation. With temps getting down to -30 or colder a lot and the dampness of the Ottawa Valley, finding the right glove is important and difficult. I researched a lot of brands and gloves and ultimately went with this glove. Im overly impressed. Out of the box I noticed their lightweight and lack of bulk and I loved that. I did not want a bulky glove and under the cuff is important to me. These hit the mark. My first test with them was cross country skiing for 3 hours, back country. Temp was -21 and -28 with windchill. At first my fingers started to feel the cold and I was concerned, but that lasted all of 1 minute. At no point during my ski did my hands get even just a bit cool. They were toasty warm. Their dexterity for holding my poles and getting my skis on and off was impressive. Later that same day I played out in the snow with my nephew for a couple hours, and this was the waterproofness test. Shovelling snow, building a snow fort, sliding down a hill and more, hands were very dry and still very warm. Im love these gloves and finally found a pair that holds up to the cold Canadian winters for outdoor fun. I for sure advocate for these gloves.
Date published: 2018-01-16
Rated

5

out of

5
by
coco_34
from
A Great Gloves
I bought the gloves in the end of the skiing season. It's a great product with good waterproof performance and very light weight. The color is fantastic to fit my blue skiing jacket. The size of gloves is a bit bigger than I expected. I had another brand gloves with size M. But I wear this gloves with XS size.
Date published: 2019-06-03
Rated

5

out of

5
by
Beryl 33
from
Quality Gloves for Skiing
Bought as a Christmas Present for my daughter. She has now had the chance to wear them on a skiing trip and says "Gloves are fab, not felt cold at all"
Date published: 2019-02-06
Rated

5

out of

5
by
Max68
from
Fantastic gloves!
Fantastic glowes, warm and confortable! Great colour!
Date published: 2019-01-05
Rated

5

out of

5
by
G-Mac
from
Incredible Gloves
Fantastic gloves that are very well made. The short size works perfectly with modern jackets.
Date published: 2018-11-23
Rated

5

out of

5
by
ashes
from
Warm, comfy gloves that pack down extremely well.
I bought these gloves for for back country snowboarding in Australia. They are perfect! Nice and warm without roasting your hands on Spring days, super comfortable, easy to pull on and off, and pack away really nicely for when you don't need to wear them. I highly recommend these gloves!
Date published: 2018-10-02
Rated

4

out of

5
by
DWKDO
from
Previous version was better
I love Norton's Lofoten gear. I was lucky enough to have 2 prior sets of lofoten short gloves in GoreTex. Those gloves were far superior to the new version. They felt better and more streamlined. They were easier to perform tasks. Secondly, the wrist strap with elastic and string was better on previous model. The elastic would wear over time but the loop string method if caught wrong could tighten and strangulate hand. That was never a problem before. I like these gloves but loved the prior model. Norrona is progressive and always improving, but they missed the mark on this update. If you are looking for a good light weight glove, this is a good option. Unfortunately, it isn't the best option like the prior model.
Date published: 2018-03-16
Can these gloves be used on the motorcycle?
They are thin enough and if properly sized, they would provide enough dexterity to operate a motorcycle.  They are not leather/driving gloves and there is some bulk, but I could ride with these gloves on my motorcycle.  
Date published: 2018-08-30
Hi there, do these gloves have wrist straps to stop them dropping when you them off on a ski lift etc?
Hello, Yes, they do! Best regards, Alexander - Norrøna Fan Support
Date published: 2017-11-21
What is the best way to wash these gloves that have dri fabric and leather?
Hello Digger, Normally you can wash most of our dri1 products according to these instructions: https://www.norrona.com/en-GB/help-me/washing-and-product-care/gore-tex-and-dri-clothing/ However we do not recommend to tumble dry when it comes to gloves. Best regards, Alexander - Norrøna Fan Support
Date published: 2019-04-17