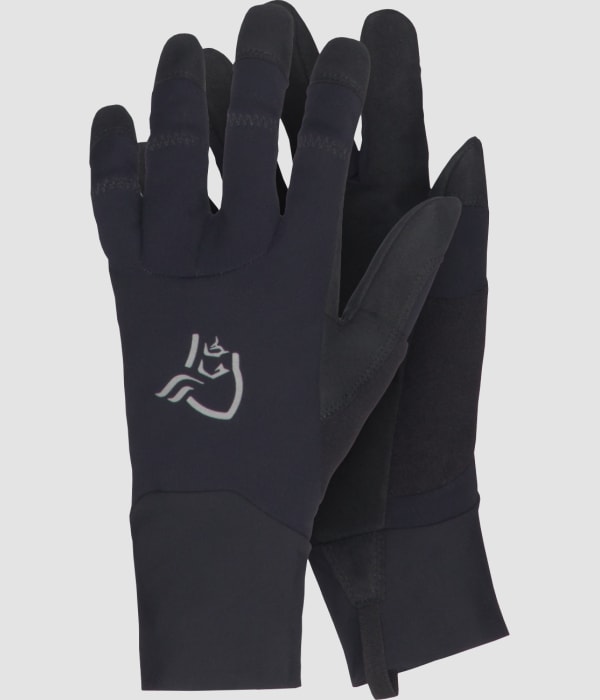 Handskarna fjørå Windstopper är framtagna för cykling i kalla och torra förhållanden. Softshellmaterialet Windstopper® med fleeceinsida är tänjbart, varmt och vindtätt med god andningsförmåga. Handflatan är tillverkad i slitstarkt syntetläder för bästa möjliga grepp. Stilren och funktionell lösning för handledsstängning.
Andra användningsområden
Mountainbikeåkning
Freeride mountainbikeåkning
Topptur / Randonnée
Vandring
Längdskidåkning
Terränglöpning
Topptur / Randonnée
Allmänna friluftsaktiviteter
Specifikationer
5

Vindtäthet

Vindtäthet

Scale from 1 to 6 where 1 is not windproof and 6 is totally windproof.

4

Vattentäthet

Vattentäthet

Scale from 1 to 6 where 1 is not waterproof and 6 is waterproof.

3

Isolering

Isolering

Scale from 1 to 6 where 1 has no insulating properties and 6 is our warmest insulation products.

4

Andningsförmåga

Andningsförmåga

Scale from 1 to 6 where 1 have very little or no breathability and 6 is our most breathable and moisture wicking products.

4

Slitstyrka

Slitstyrka

Scale from 1 to 6 where 1 is fragile products and 6 is the most durable products we have.

4

Lätt vikt

Lätt vikt

Scale from 1 to 6 where 1 is heavy and 6 is among the world's lightest of its kind.

4

Stretch

Stretch

Scale from 1 to 6 where 1 is not made with stretch materials and 6 is our most flexible products made in super elastic material.
Material
Windstopper® Soft Shell

Windstopper® Soft Shell är ett stretchmaterial för ytterskaljackor. Det skyddar mot kalla vindar och ger mycket god rörelsefrihet. Materialet ger mycket god andningsförmåga vid aktiviteter där du rör dig mycket och det är impregnerat så att det är vattenavvisande, men däremot inte helt vattentätt. Det är utformat för att klara tuffa tag, länge. Tekniska specifikationer: Andningsförmåga: Hög till mycket hög, 5–7 RET* Vindtäthet: 100 % * ISO11092-test
Teknisk information
Rated

4

out of

5
by
Lev.
from
Good spring-time touring gloves
I have these gloves over a year and tried them for hiking, ski-tours and casual. One of the buying criteria was to have a non-leather glove for the activities, which are not too demanding to wear&tear, and it was great to see such animal-friendly product from Norrona. The best use of the gloves were spring ski-touring as: * they breath well if its getting a bit hot * they don't let the wind to chill the fingers * they are black, which adds to the fingers warmth in a sunny day at the altitudes, even when overall temperature is moderate. I used them from -3 to +12 degC - they work OK, even getting a bit chilly below zero. The fit of the glove is nice and tight with a curved shape giving a better poles control. Especially, l like the long flexi-sleeves, which cover the knuckles on the wrists - this gives a nice comfortable feeling without reducing mobility of the palms in any way. On the down side: they got wet at an instant whether you touch the snow or get some light rain, so a bit more of a water resistance would be beneficial. I could not make them work during the autumn hikes, possibly due to relatively high breathing of the material: even the temperatures were in between +3 ~+8 degC, fingers were still feeling cold. Overall, I enjoy the gloves & would recommend them chilly sunny windy mountain days ;)
Date published: 2019-05-20
Rated

5

out of

5
by
Poike
from
Windstopper gloves
The gloves are light and give an excellent fit, in particular around the wrist. Hence they will keep your hands and fingers warm.
Date published: 2019-03-03
Rated

3

out of

5
by
MKPK
from
Very short!
Okay product, but for me, figuring out the right size was difficult. I have a pretty long fingers for a woman but still quite narrow hand overall, so the size M was a bit too baggy and the fingerparts too short. My glove size is usually 7 and I would say these are maybe 6 (or 6 and a half) what comes to the lenght and size 8 otherwise. Overall the quality is very good, but the size really makes the product just an okay glove for me. I would recommend this, if you can try it beforehand!
Date published: 2018-11-10
Rated

5

out of

5
by
Jenski
from
Impressive biking gloves for mid to cold weather
I bought these gloves some time ago and they are so comfortable! I love how there is a seam (that you don't feel) on the fingers to make the shape "curved" and fitted to hold the grip on the bike. They feel very warm, and since I bought them during warm weather time I haven't got to test how they function in cold weather. But looking forward to use them on the Fatbike when it gets colder. Nice detail with the reflex logo, and they are easy to take on and off.
Date published: 2018-07-05