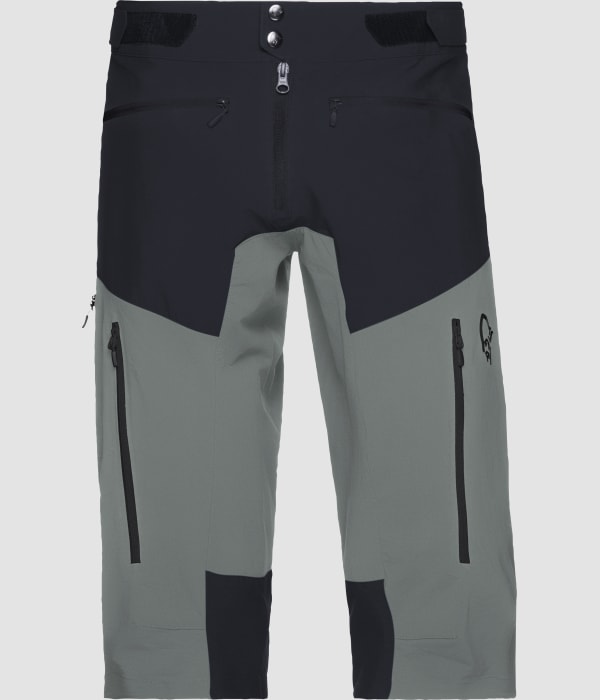 Shortsen fjørå flex1 i herrmodell är slitstarka och fullt utrustade mountainbikeshorts tillverkade av vårt bekväma och vattenavvisande flex™1-tyg. Den här tekniska produkten går nedanför knät för bättre skydd och har tre fickor, formsydda knän, nätventilering framtill och stretchpaneler på baksidan och på insidan av låret. Övriga funktioner är bland annat silikongrepp i midjan som håller dem på plats, knäkonstruktion så att knäskydd och fickor ryms. Du får plats med vadderade lycrashorts under.
Andra användningsområden
Freeride mountainbikeåkning
Vandring
Mountainbikeåkning
Allmänna friluftsaktiviteter
Specifikationer
4

Vindtäthet

Vindtäthet

Scale from 1 to 6 where 1 is not windproof and 6 is totally windproof.

3

Vattentäthet

Vattentäthet

Scale from 1 to 6 where 1 is not waterproof and 6 is waterproof.

1

Isolering

Isolering

Scale from 1 to 6 where 1 has no insulating properties and 6 is our warmest insulation products.

5

Andningsförmåga

Andningsförmåga

Scale from 1 to 6 where 1 have very little or no breathability and 6 is our most breathable and moisture wicking products.

5

Slitstyrka

Slitstyrka

Scale from 1 to 6 where 1 is fragile products and 6 is the most durable products we have.

4

Lätt vikt

Lätt vikt

Scale from 1 to 6 where 1 is heavy and 6 is among the world's lightest of its kind.

3

Stretch

Stretch

Scale from 1 to 6 where 1 is not made with stretch materials and 6 is our most flexible products made in super elastic material.
Fotavtryck
Återvunna fibrer

Återvunna fibrer

Mer än 50% av syntetfibrerna i denna produkt återvinns.

PFC-fri DWR

PFC-fri DWR

Impregneringen som används på denna produkt är fri från fluorokarboner. (DWR = Durable Water Repellent).

Bluesign-certifierat material

Bluesign-certifierat material

Bluesign® testar och utbildar textilfabriker för att eliminera skadliga ämnen från tillverkningsprocessen och sätter kontrollstandarder för en hållbar och säker produktion.

Öppen förteckning över fabriken

Öppen förteckning över fabriken

Denna produkt är tillverkad i en fabrik som är öppet listad på norrona.com.

Inspiserad fabrik

Inspiserad fabrik

Denna produkt är tillverkad på en fabrik som inspiserats av en oberoende tredje part och följdes upp av Norrøna.
Material
flex™1

Det här är ett stretchmaterial i ett lager som avvisar vatten och vind, men som avleder fukt bättre än vattentäta produkter. De här specialutformade materialen har alla de egenskaper vi väntar oss av softshellmaterial: stretch, vattentålighet, vindtålighet och utmärkt fuktavledning.
Teknisk information
Rated

5

von

5
von
Fedfox
aus
Solid mountain biking short!
This shorts are comfortable and the quality is evident from the moment you see them, an usual Norrona trade mark. Fit wise they are in the middle i am a size 32-33, 185 pounds athletic build and the large was perfect. I love the big side pocket and the silicon on the waist mades them stay put. I mainly got this shorts to ride in the winter because of the longer length, which does not affect them pedaling even with knee pads. so farI have used this short around ten times in rides with an average 10 miles and around 1500 ft climbing. The temperature range is been between 29 F and 50 F and i have been comfortable in them, i just order my second pair.
Veröffentlichungsdatum: 2018-11-25
Rated

5

von

5
von
Anonym
aus
I love them!
Compared to the old ones these feel more like a race short now, they are slightly more fitted and lighter weight. The material and fit is very comfortable and durable. I also like the new position of the vents as they work even better now. I didnt think the old shorts could be improved but now i want all the colours of the new version for next years Canadian national enduro series.
Veröffentlichungsdatum: 2018-08-26
Rated

4

von

5
von
Lugburz
aus
Love it!
Bought the shorts a months ago, and It's very fitting and comfortable while mountainbiking.
Veröffentlichungsdatum: 2018-08-14
Rated

3

von

5
von
forrestgimp
aus
Great Fit. Except for waist.
I've used last year's Flex1 shorts and this year's Flex1 shorts. Got 3 pairs of each, all size "Large", so a total 6 pair of large Flex1 shorts. I'm 180 cm tall and weigh 95 kg. I in general use jeans size 34 in waist and pants in size 50. For Flex1, I like last year's model much better. This year's model fits the same to 90% and feels lighter. However, the 10% where it doesn't fit the same is in the waist. I can button them fine when unpacked new, but after I've washed them, I no longer can button the shorts, so I ride with them unbuttoned. Last year's model, I've washed hundreds of times and they button very comfortably and easily. I also do own the Flex1 pants and this year's model are easily buttoned, even after washing. In addition to myself, my girlfriend owns the old and new Flex1 shorts/pants and has the same "problem". In summary, supercomfortable around the legs and buttocks, especially when you've got big ones and can't find a great fit in any other shorts for mountainbiking, but these are not at all optimal around the waist after washing -- the size around the waist is not like lasts year's model and it specifically shrinks in the waistband when washing and doesn't stretch out again.
Veröffentlichungsdatum: 2018-07-26
Rated

2

von

5
von
forrestgimp
aus
Runs small compared to last year
These guys aren't like last year's. They fit perfect around the waist before the first wash. After that, however,, I'd be lucky to button both buttons. And I ccan go down and pick up my last year shorts and button them easily. I don't think I'm a one-off since the same old shorts and pants I bought for my girlfriend has the same "problem". Sure, fabric is better, and really stretchy around the legs, but superstiff around the waist, compared to last yeat's. And if you want to say I'm full of it, I'll be happy to post a video if me buttoning a pair of this year's shorts and a pair of last year's shorts.
Veröffentlichungsdatum: 2018-07-25
Rated

4

von

5
von
TeaCady
aus
Great design
Pro's: Brilliantly designed comfortable shorts of top quality material, especially well designed Velcro broad waist with two button comfortable fastening. Con's: Every product requires field testing to iron out any faults. In this case, I find the waist size a little neat regards the body size and the Velcro fastening band could benefit from having a slightly stiffer material, as it tends to roll when bending. These are the only reasons for me not giving 5 stars
Veröffentlichungsdatum: 2018-07-18
Rated

5

von

5
von
Anonym
aus
Great features
I bought this 2 month ago and I love them. they are much better then the previous model
Veröffentlichungsdatum: 2018-07-12
Rated

4

von

5
von
mikkoo
aus
Great shorts for mountain biking
Great shorts for mountain biking and why not casual use as well. Bought these 1.5 months ago and have been using these on trails, in bike park and also casually in the city. For casual use I'd prefer a bit more lightweight fabric, but it's fine after getting used to. And after all, these are for mountain biking, and they're perfect. I use mostly IXS Flow knee pads and they fit perfectly with these. There's enough pockets and small mesh pocket inside cargo pocket is perfect for mobile phone. I only put phone in the cargo pocket as any other weight in there makes the pocket swing a lot when walking. Same with all cargo pocket I guess. Hand pockets are quite small, but keys and wallet fit nicely to one, and probably any bigger pockets would be annoying.
Veröffentlichungsdatum: 2018-07-04