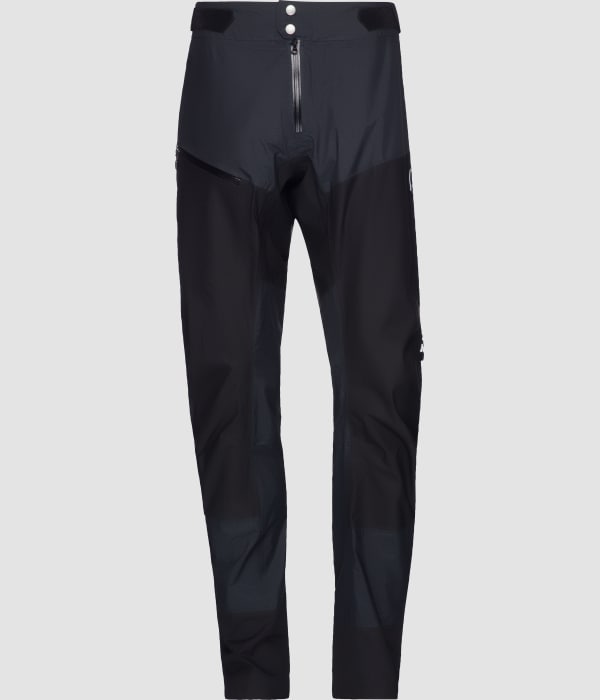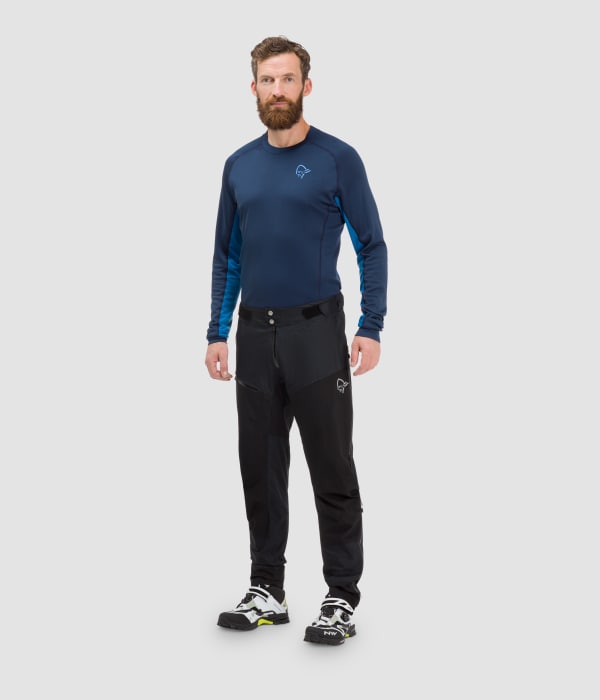 Byxorna fjørå dri1 är särskilt utformade för cykling och ger utmärkt skydd i alla väder. De är extremt lätta, ventilerande och vattentäta, och tar sig an alla utmaningar som väder och vind bjuder på. Byxan har en smal passform, men kan ändå användas över tights eller ett baslager under kallare dagar. Custom-fit waist system™ och områdena med stretch på knän och stuss gör att byxorna sitter bekvämt och bra. Övriga funktioner är bland annat benficka, silikongrepp i midjan, ventilering på utsidan av låret och justering av vidd i nederkant av ben med dragkedja och kardborrband. Benen har en smal passform för att förhindra att tyget fastnar i cykeln. Längd på benets innersöm i storlek S = 81 cm, M = 83,5 cm, L = 86,5 cm, XL = 89,5 cm. De har smal passform.
Andra användningsområden
Mountainbikeåkning
Vandring
Allmänna friluftsaktiviteter
Terränglöpning
Topptur / Randonnée
Specifikationer
6

Vindtäthet

Vindtäthet

Scale from 1 to 6 where 1 is not windproof and 6 is totally windproof.

6

Vattentäthet

Vattentäthet

Scale from 1 to 6 where 1 is not waterproof and 6 is waterproof.

1

Isolering

Isolering

Scale from 1 to 6 where 1 has no insulating properties and 6 is our warmest insulation products.

4

Andningsförmåga

Andningsförmåga

Scale from 1 to 6 where 1 have very little or no breathability and 6 is our most breathable and moisture wicking products.

2

Slitstyrka

Slitstyrka

Scale from 1 to 6 where 1 is fragile products and 6 is the most durable products we have.

5

Lätt vikt

Lätt vikt

Scale from 1 to 6 where 1 is heavy and 6 is among the world's lightest of its kind.

2

Stretch

Stretch

Scale from 1 to 6 where 1 is not made with stretch materials and 6 is our most flexible products made in super elastic material.
Fotavtryck
Återvunna fibrer

Återvunna fibrer

Mer än 50% av syntetfibrerna i denna produkt återvinns.

Oeko-Tex Certifierad Fabric

Oeko-Tex Certifierad Fabric

Oeko-Tex® är ett världsomspännande, oberoende test- och certifieringssystem som säkerställer kemisk användning överensstämmer med eller överträffar nationella och internationella regler och standarder.

PFC-fri DWR

PFC-fri DWR

Impregneringen som används på denna produkt är fri från fluorokarboner. (DWR = Durable Water Repellent).

Öppen förteckning över fabriken

Öppen förteckning över fabriken

Denna produkt är tillverkad i en fabrik som är öppet listad på norrona.com.

Inspiserad fabrik

Inspiserad fabrik

Denna produkt är tillverkad på en fabrik som inspiserats av en oberoende tredje part och följdes upp av Norrøna.
Material
dri™1

dri™1 är ett tekniskt material med 2,5 lager. Det material som är vänt utåt är laminerat på ett tryckt membran på baksidan. Inget foder behövs, och det gör det här till ett mjukt och ultralätt skyddande material som tar liten plats. Vi använder ett hydrofilt system för fuktgenomsläpplighet, snarare än mikroporer. Det här plagget passar för cykling, gång, vandring och andra friluftssporter där det är viktigt att skydda kroppen mot regn och vind. Tekniska specifikationer: Vattentät: minst 20 000 mm * Andningsförmåga: Mycket god, minst 20 000 ** Vindtäthet: 100 % * ISO811-test ** JIS-L 1099 B2-test (inverted cup)
Teknisk information
Rated

5

out of

5
by
Schleyer
from
Great riding pants
These pants with the Fljora Gore-Tex Jacket will keep you super dry while out riding. This combo, is the best rain gear I have ever used in MTB and I have used a lot. Usually after a really muddy day, it is difficult to get previous rain clear 100% clear or mud and dirt. I just hose off this stuff and it like new every time.
Date published: 2019-05-31
Rated

5

out of

5
by
jobbsykler
from
perfekt for sykling med meget god passfom.
Med fjøråproduktene tenker jeg ikke på værtype før jeg sykler på jobb ! Vår, høst og vinter tar jeg på tøyet uansett vær. meget god passfom og pustende tøy som holder tett.
Date published: 2019-05-08
Rated

3

out of

5
by
SantaCr
from
Holdbarhet
Dette er tredje fjørø dri bukse jeg har. Det finnes ingen andre bukser i markedet som kan måle seg med Norrøna her. Men jeg er skuffet over holdbarheten. Siste bukse ble delaminert etter 1,5års bruk. Fikk tilbakemelding på at jeg ikke burde gå med jobbukse under da det slet på laminering. Siste versjon jeg har kjøpt er mye smalere i leggen. Dette er ikke etter min smak, men det fungerer.
Date published: 2019-04-09
Rated

5

out of

5
by
pendler
from
Bra passform
Som forventet, god passform, vanntett og fin å sykle med. Trang men plass til jeans eller turbukse under.
Date published: 2018-12-01
Rated

5

out of

5
by
Enebycyklisten
from
Fantastiska på cykeln
Fungerar lika bra på cykeln i regn som i sol, även när det är kallt med underställ
Date published: 2018-11-03
Rated

5

out of

5
by
Gustavo
from
Great fit, ventilation and water resistent!
I love the pants and the features ! You can tighten them down at the ankle so they get a slimmer fit which is great when biking. They have really good ventilation and light to have in a pocket or so when you need to store them.
Date published: 2018-10-04
Rated

4

out of

5
by
Lev.
from
Super light, lots of design features... and too hot.
I got these pants 2.5 years ago and used them for biking and hiking. They have a pretty nice fit, slim shins to prevent them to get into chain and flexible knee and saddle ares for better pedaling. The greatest advantage of them, is that they are super light and pack-able to be a "Plan B" if the weather turns rainy. However, after all these seasons I could not get used to them as they are simply too hot. I don't know, if it is due to membrane or due to the design of short ventilation exhausts (from hip to knee only, both sides, mesh protected), but as soon as I give the legs some challenge or activity push, an overheat comes. I tried them with different shell jackets or with T-shirt only, but adjusting temperature of the torso does not help to decrease the overheat of the legs. Thus, the only ways to use them now is to cruise in a wet forest with a high grass or to work peacefully in a rainy day. In general, I would recommend them only to those, who tend to feel cold or does not produce much heat when exercising.
Date published: 2018-08-20
Rated

3

out of

5
by
Morten73
from
Fikk den pga reklamasjon
Hadde 2 stk av forrige versjon som dessverre begge ble ødelagt av helt ordinær bruk. Her var kvaliteten ikke god nok. Norrøna ordnet opp, men jeg synes det er dumt at den nye versjonen bare kom i svart farge, noe jeg synes er en kjedelig farge. Likte design og farge på den gamle mye mye bedre.
Date published: 2018-06-15
Do knee pads fit under these pants?
Hello, You will most likely no be able to wear knee pads under the fjørå dri1 Pants. I would recommend wearing them on the outside to also protect the pant in case of a crash or fall.
Date published: 2019-05-31
Når blir den tilgjengelig for kjøp?
Hei Dagwenn, Takk for ditt spørsmål om når fjørå dri1 buksen blir tilgjengelig. Den blir tilgjengelig i starten av juni 2018. Med vennlig hilsen, Jens, Norrøna Fan Support
Date published: 2018-02-21