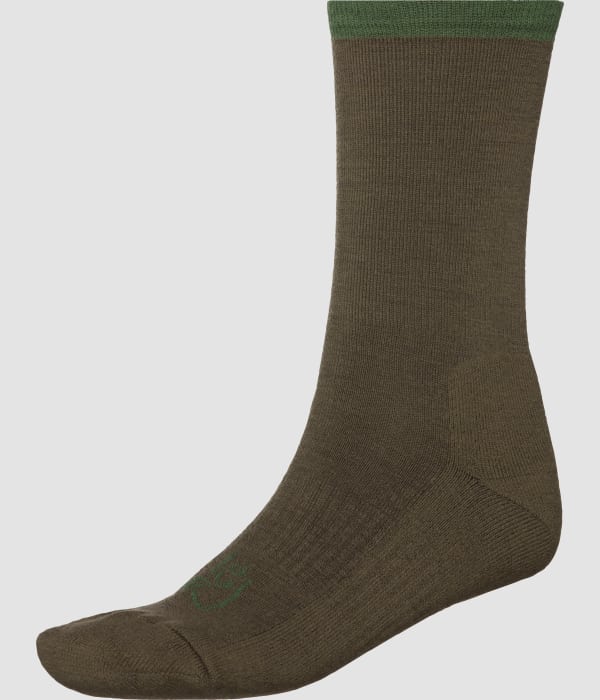 De mellantjocka finnskogen-strumporna i merinoull är utformade för jakt. Den här förstklassiga yllestrumpan är tillverkad för användning i högre jaktstövlar och består av en varm och bekväm ylleblandning. Det ger dig utmärkta temperaturreglerande egenskaper och håller dig varm när det är kallt ute. Ull står naturligt emot mikrobiell tillväxt och dålig lukt. . De är tillverkade i spårbar mulesingfri ull.
Andra användningsområden
Bergsjakt
Allmänna friluftsaktiviteter
Vandring
Material
Merinoullblandning

Tillverkad huvudsakligen av merinoull som uppfyller GOTS-standarden (Global Organic Textile Standard). Vi använder också polyamid för slitstyrkan och elastan för stretch.
Rated

4

out of

5
by
Massi
from
good socks
I found the socks immediately very comfortable and of good quality, after a few hours of use I could see that they are warmer than I expected. Odor resistance was good. Perhaps less soft than I imagined but certainly very durable
Date published: 2019-06-18
Rated

4

out of

5
by
Ant0n
from
Warm, comfy and durable socks
Have been using this socks for a couple of months and I'm really satisfied. They're perfect for hiking in a great variety of temperatures, maybe not the coldest or the warmest days - but great in between. Good fit and they seem to stay that way, even after days of use. I would have preferred at different color on the "L" and "R", which tells you which sock is left and which is right.
Date published: 2019-06-18
Rated

5

out of

5
by
bronko
from
Go to socks
I got These socks a few months ago and i realy like them a lot. For my feet they fit just great. No slipping but not to tight but put them on and feel comfy. With mine Therese ist some pilling but there ist nothing negative for me with that - i blame it in the merino.
Date published: 2019-06-13
Rated

3

out of

5
by
VeikkaG
from
Good pair of socks
The socks were really nice and worked well in different temperatures. Only problem was that the sock was too wide from the toes for me.
Date published: 2019-06-07
Rated

5

out of

5
by
Madeleine96
from
Crazy warm!
I got to try these through the loyalty program and I love them! I have always had trouble finding socks that keep my feet warm in the cold winter and these do just that! They keep my feet warm for hours and stay nice and dry. I'm going to buy more pairs when it gets colder again
Date published: 2019-06-06
Rated

5

out of

5
by
Hannah059
from
Amazing Warmth to Weight Ratio!!
These socks look and feel like quality! They are extremely soft, comfortable, and feel like a lightweight sock with the performance of a medium-heavy sock! My favorite to wear in the Fall and Winter. Of course, these socks have all the wonderful qualities of merino wool and I like that they are sustainably made and mule sing free. Very pleased with this purchase and highly recommend!
Date published: 2019-06-06
Rated

4

out of

5
by
Kaisa_
from
Nice, comfortable and warm socks
I liked how the socks fit and stay in place in every shoes and even after being in use for days and days. The socks are warm but not too thick so they work great for example running when the temperatures are freezing. The socks are warm even if they get wet, and dry quickly.
Date published: 2019-06-05
Rated

4

out of

5
by
Misterjad
from
Warm and fitted
Got the chance to use this stock during last winter ! It will give you warmth when you need it (sometimes too much when spring comes !)
Date published: 2019-06-05