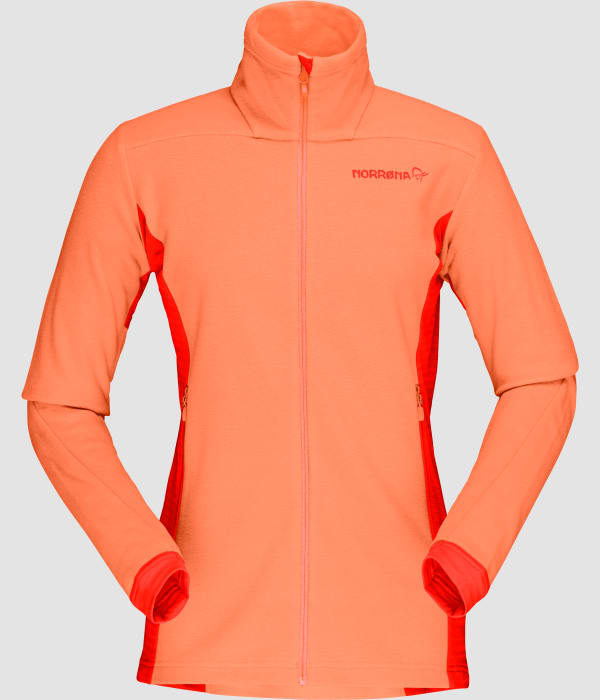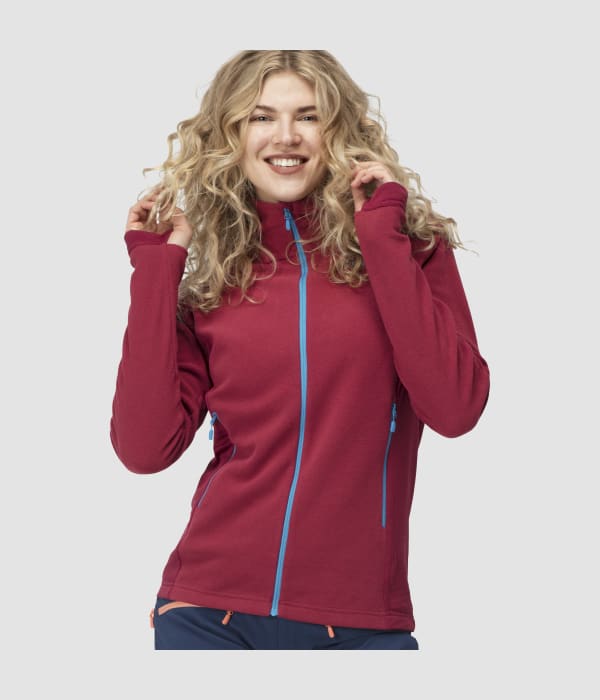 Vår mest mångsidiga mellanlagersisolering i dammodell, för aktiviteter året om. Fleecejackan är tillverkad i slitstarkt återvunnet Polartec® Micro Series®-material som torkar snabbt på insidan. Materialet har också utmärkt värme i förhållande till vikt. Kragen är hög och varm och det finns inbyggda handledsvärmare i Power Stretch®.
Andra användningsområden
Fjällsport / Alpinklättring
Skidor & snowboard
Storväggsklättring
Längdskidåkning
Allmänna friluftsaktiviteter
Topptur / Randonnée
Terränglöpning
Specifikationer
3

Vindtäthet

Vindtäthet

Scale from 1 to 6 where 1 is not windproof and 6 is totally windproof.

3

Isolering

Isolering

Scale from 1 to 6 where 1 has no insulating properties and 6 is our warmest insulation products.

4

Andningsförmåga

Andningsförmåga

Scale from 1 to 6 where 1 have very little or no breathability and 6 is our most breathable and moisture wicking products.

5

Slitstyrka

Slitstyrka

Scale from 1 to 6 where 1 is fragile products and 6 is the most durable products we have.

4

Lätt vikt

Lätt vikt

Scale from 1 to 6 where 1 is heavy and 6 is among the world's lightest of its kind.

2

Stretch

Stretch

Scale from 1 to 6 where 1 is not made with stretch materials and 6 is our most flexible products made in super elastic material.

4

Fukttransport

Fukttransport

Scale from 1 to 6 where 1 has bad moisture transportation and 6 has great moisture transportation.

4

Värme i förhållande till vikt

Värme i förhållande till vikt

Scale from 1 to 6 where 1 is a poor warmth-to-weight ratio and 6 provides excellent warmth in relation to its weight.
Fotavtryck
Återvunna fibrer

Återvunna fibrer

Mer än 50% av syntetfibrerna i denna produkt återvinns.

Oeko-Tex Certifierad Fabric

Oeko-Tex Certifierad Fabric

Oeko-Tex® är ett världsomspännande, oberoende test- och certifieringssystem som säkerställer kemisk användning överensstämmer med eller överträffar nationella och internationella regler och standarder.

Bluesign-certifierat material

Bluesign-certifierat material

Bluesign® testar och utbildar textilfabriker för att eliminera skadliga ämnen från tillverkningsprocessen och sätter kontrollstandarder för en hållbar och säker produktion.

Öppen förteckning över fabriken

Öppen förteckning över fabriken

Denna produkt är tillverkad i en fabrik som är öppet listad på norrona.com.

Inspiserad fabrik

Inspiserad fabrik

Denna produkt är tillverkad på en fabrik som inspiserats av en oberoende tredje part och följdes upp av Norrøna.
Material
warm™1

Det här är vår lättaste fleece. Den väger under 200 g/m². Den passar perfekt som mellanlager. Du kan också bära den istället för jacka, utan att kompromissa med isolering och andningsförmåga. De här fleeceplaggen är bland de bästa på marknaden. Den unika utformningen och strukturen passar perfekt för olika typer av aktiviteter, eftersom de håller kvar varm luft utan att stoppa fuktgenomsläppligheten. När det används på egen hand är materialet tillräckligt öppet för att luften ska kunna cirkulera, så att du förblir bekväm även i mildare förhållanden. Under ett tunt skal ger de utmärkta isoleringsvärden.

Polartec® Power Stretch®

Polartec® Power Stretch® är en kroppsnära ensidig fleece med 4-vägsstretch och god andningsförmåga. Materialet är utformat för att hålla dig torrare när du svettas och ge värme utan extra vikt. Utsidan är jämn, så att du får större rörelsefrihet när du dessutom använder ett skal.

Läs mer hos Polartec
Teknisk information
Rated

5

out of

5
by
MCVT
from
Great Fit, Stellar Quality
I never buy synthetic pieces, I prefer wool, but this light fleece layering jacket has both a quality and an attention to detail that make it a stand-out piece for light layering and hard use... and frankly, after trying it on a dozen times I decided I simply had to have it. Fleece quality can be wildly variable. In my experience thick fleeces wear reasonably well, but light, flexible, and thin fleeces look worn and shoddy within a couple of months. I am very happy to report this fleece looks as good today as the day I bought it, even with constant wear. Having purchased this thing I find I wear it virtually every day. I'm delighted with the structure and features that make this a joy to wear. This is a garment made with attention to every detail: extra stretch fabric at the shoulders for ease of movement, a longer cut that holds at the hips, thumb holes to keep wrists and knuckles covered when needs be.. even a fabric tab over the top of the zipper for a cozy neckline all around. It is in my pack every day, and at least once I day I've pulled it out to put it on. Very nice, well designed, flattering, and high quality, fleece.
Date published: 2019-02-28
Rated

5

out of

5
by
Norwegian Boomer
from
Awesome jacket!
I bought this 2 months ago and it meets and exceeds the Norrona quality we've come to love and depend on. It is perfect for our USA Pacific Northwest weather changes, and is my go to jacket for our cooler mornings and evenings near the water or in the mountains. I even slept in it one night up in the San Juans! I love that it is warm but light weight, and look forward to fall hikes using it as main jacket or base layer. And, thank you to Norrona for making it so easy to purchase internationally...so easy I just had to purchase another one!
Date published: 2019-08-19
Rated

5

out of

5
by
mountaingirl
from
So comfy, warm, and nicely cut
Love this fleece! I bought the Crimson kick red and love the color -- bright but not-too-bright. I bought an XS which fits me perfectly - 49kg and 156cm. I wore it daily while on a camping/backpacking road-trip and it regulated temperature really well -- on an overnight hike, others were changing layers between uphill climbs and cold windy sections, but I was perfectly happy with a tshirt and this fleece. (Thank you Norrona for the thin underarm/side area material!) I love the high collar -- it's what most of my other fleeces lack. Zipped handpockets are huge, and I actually found that on the interior, the pockets form an interior "pocket space" , which fit a 500ml bottle perfectly :D Two minor things though: 1) There are interior seams that run along the arm that are noticeably rough when I first put it on. Flatlock or smaller seams would do the trick to improve this. 2) The exterior is like a towel / terrycloth. Although it's super comfy (and I have used it as a towel... :) ), it tends to get dirty faster.. Overall no regrets and it has become my favorite midlayer.
Date published: 2019-08-10
Rated

5

out of

5
by
insjerich
from
Love the color
Bought this as a group festival jacket. Everyone loved it.
Date published: 2019-07-02
Rated

5

out of

5
by
Stina1970
from
Light and comfy
Love this Jacket! It's light, keeps me warm as Mid-Layer and also works as Top-Layer on warmer days. Color is great.
Date published: 2019-05-19
Rated

5

out of

5
by
inese007
from
Lightweighted, soft and warm
I was looking for a light & warm jacket to be used as an extra layer when you need. The product is exactly it, fits well, sits well, maybe a bit big. The material itself is light and warm. It may seem that it takes a bit of space but it is ok given how soft & comfortable it is when you wear it. It dries very fast.
Date published: 2019-05-13
Rated

5

out of

5
by
mariou
from
Nice jacket
Very confortable and practicle. I love the collar which maintains the neck warm.
Date published: 2019-05-12
Rated

5

out of

5
by
wino
from
luxurious feel
I bought this for my wife who loved the colour, she finds it warm and very comfortable next to the skin.
Date published: 2019-05-10