0
falketind PrimaLoft100 Hood Jacket (M)
falketind PrimaLoft100 Hood Jacket (M)
wurde bewertet mit von
5
von
11
.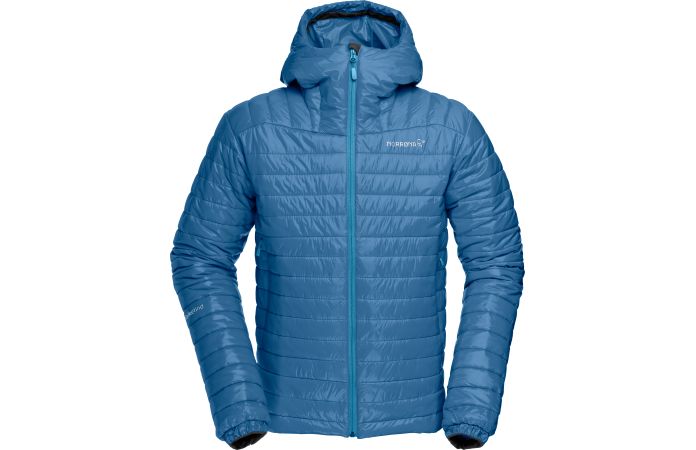 En lätt och komprimerbar jacka med huva för alla årstider till herr. Det här vindtäta isoleringsplagget kan användas för sig självt eller i kombination med en skaljacka. PrimaLoft™100 isolerar effektivt även under blöta förhållanden och har bättre värme i förhållande till vikt än fleece. Kan komprimeras i en packficka. Den har handvärmningsfickor, muddar i Polartec® Power Stretch®, varm och vindtät huva med elastisk enhandsjustering.
Vindtäthet

4

Isolering

4

Andningsförmåga

4

Hållbarhet

2

Lätt

5

Stretch

2

Värme i förhållande till vikt

6
Utvecklad för
Allmänna friluftsaktiviteter
Andra användningsområden
Vandring, Vardagsbruk, Freerideåkning med skidor och snowboard, Fjällsport, Glaciärvandring, Skid- och snowboardåkning, Topptur/Randonné, Isklättring
Rated

5

von

5
von
Manfred
aus
Für Bersportler entwickelt
Fantastische Passform, große Bewegungsfreiheit, leicht und warm
Veröffentlichungsdatum: 2016-11-01
Rated

5

von

5
von
Snowpro 1192
aus
Perfect cold weather puffer
I bought this puffer for travel below the snow line and as a layer for days colder than minus 15 whilst instructing in the Alpine. Great design and 100 grams of primaloft ensures perfect function.
Veröffentlichungsdatum: 2017-03-14
Rated

5

von

5
von
Bayfs5
aus
Excellent bit of kit
Ok, so I've gone a bit Norrona nuts this season. The main reason being the fit. I am a tall chap and have struggled to find gear to fit. It's either just too short (annoying gap at the small of the back, sleeves retreating up my arms), or the manufacturers clearly think that if you're tall you must be a hefty lad too; cue excessive, billowing material. Not with these guys. Excellent length in the sleeves and body of the jackets. This jacket is warm and incredibly lightweight. Up on the mountain in -10 I had a base layer, this and a Norrona shell jacket. Perfect. The hood can be drawn nice and snug around the neck to keep out the chill wind which is handy. It's not too bulky under the jacket and allows good movement. The sleeves were great for me but some might find them long and the fit across the chest is snug but not problematic (to give you an idea I went for xxl and have a 48" chest, 40" waist.) Yes, it's pricey but I do feel it's worth the extra few sheets.
Veröffentlichungsdatum: 2017-03-06
Rated

5

von

5
von
johners01
aus
Great versatile jackets
Bought this jacket for apres ski and to also wear under my ski jackets and it's awesome ! Great fit, warm and great in all weathers !
Veröffentlichungsdatum: 2017-02-18
Rated

3

von

5
von
Till
aus
I'am sure, you can make it better
I try this Hoody a month before. Nice green and good shaped hoody. But the arms are 2 inch too long. I'am 186cm tall and I tried Size large. The body would be better if it would be made 2 inches longer. For more warmness at the butt. May be the connection of arm and body could be made more comfortable. Hope you can make a new version. Greetings Till
Veröffentlichungsdatum: 2017-01-19
Rated

5

von

5
von
Lella
aus
Great jakket and qick delivery
I bought it for Christmas and I am so excited about the jakket. It's warm, light wight and very comfy.
Veröffentlichungsdatum: 2017-01-17
Rated

5

von

5
von
padubert
aus
Perfect jacket
Great jacket Compact and light, yet very warm (used it today for a hike -10 degrees celsius, with snow falling). Kept me warm and dry!
Veröffentlichungsdatum: 2017-01-05
Rated

5

von

5
von
Big Pete
aus
keep Warm
I bought this has a under layer for Skiing great to pop in your rucksack if your not sure on the temperature only need to wear it a couple of times but when I did it was lovely and warm good prdduct would recommend it
Veröffentlichungsdatum: 2017-01-02
hallo, ich suche eine leichte isolationsjacke wie barrier von haglöfs mit hood. ich habe bereits die lyngen driflex ca 3 jährig in xl. welche jacke in welcher grösse würdest du mir empfehlen? ich bin 203 cm hoch und 115 kg. lange ärmel und rücken ein muss
Hi Madtraveler, Sorry for answering in english. We have three different products for you, depending on how much warmth you want. The warmest is the lyngen lighweight down jacket which is made for ski touring, but can be used for many other activities too. This can be used beneath a shell jacket, but is made mainly to use outside a shell jacket. The next which is a little less warm but is good to have under a shell is the falketind primaloft100 hood jacket, which is a good choice if you want a hood and a jacket that also performs well when a bit wet. And thirdly the primaloft60 jacket without hood, and which is also a bit less thick than the primaloft100 jacket. But also lighter. All these products are very packable and light. All three jackets comes in XXL which I believe is the right size for you. XXL will provide you with a good arm length and jacket length. Best regards, Jens Norrøna Fan Support
Veröffentlichungsdatum: 2016-12-29
Um welches Primaloft handelt es sich? Ist es gold oder silber oder ein anderes? DAnke !
Hallo, in dieser Jacke verwenden wir Primaloft™ Silver. Primaloft™ Silver ist der neue Leistungsstandard bei feinfasrigem Gewebe - eine Isolation aus feinen Endlosfasern, die höchste Druckfestigkeit, Weichheit und Produktkonsistenz für maximale Wärme und Komfort bietet. Silver 100 wiegt 100 Gramm pro Quadratmeter. Ich hoffe diese Information hat dir geholfen. Gruss Philipp von Norrøna Sport.
Veröffentlichungsdatum: 2016-11-29