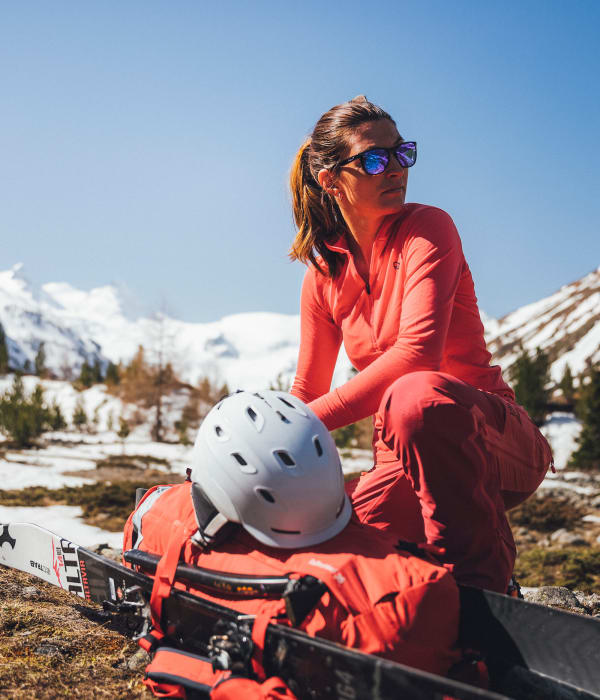 Detta är vår mest mångsidiga dagsryggsäck för alla typer av bergsaktiviteter. Ryggsäcken har ett klassiskt topplock med rem fram, ytterficka, nedre ficka och nyckelkrok. Tillgång till huvudfacket via en 8 mm YKK-sidodragkedja. Ryggsäcken har också två komprimeringsremmar på sidorna, två fästen för isyxa, öglor för lättviktsutrustning fram och en inre ficka för vätskesystem och innerficka fram. Bärsystemet har en avtagbar lättviktig plastskiva med aluminiumskena för ökad stabilitet, ett lättviktigt avtagbart fodrat midjebälte och bekväma platta axelremmar. Ryggsäcken är konstruerad för att vara lätt och är samtidigt mycket hållbar tack vare de utvalda materialen. Vi använder en 140 gr/m2 High Tensile 140D*140D Polyamide som huvudmaterial samt en 220 gr/m2 Oxford Polyamide 420D med en 2 000 mm beläggning som förstärkning längst ned i ryggsäcken. Du får en robust ryggsäck som kan följa med dig på äventyr i många år.
Andra användningsområden
Glaciärvandring
Isklättring
Allmänna friluftsaktiviteter
Klättring
Storväggsklättring
Fjällsport / Alpinklättring
Specifikationer
3

Vattentäthet

Vattentäthet

Scale from 1 to 6 where 1 is not waterproof and 6 is waterproof.

5

Slitstyrka

Slitstyrka

Scale from 1 to 6 where 1 is fragile products and 6 is the most durable products we have.

5

Lätt vikt

Lätt vikt

Scale from 1 to 6 where 1 is heavy and 6 is among the world's lightest of its kind.
Material
dynamic™

dynamic™ – Vårt bärsystem utan aluminumstödstänger eller ramar. Vi använder de här systemen på många av våra mindre ryggsäckar, där flexibiliteten är huvudsaken.
Teknisk information
Rated

5

out of

5
by
Andy
from
Falketind pack 35L
This pack is brilliantly designed; simple but with loads of cool features. It's very comfortable with a well padded back and waist support system, especially helpful when carrying heavier winter climbing gear. The climbing tool carry system is secure but also quick to deploy an axe without taking the bag off, really useful when guiding. The full length side zip is a work of genius! allowing access to the whole stash of gear inside, top to bottom without emptying all your kit out onto the ground. It's the best pack I've had for years, I reckon I'll also use it for ski touring on longer trips, as it works well carrying skis too, and I can access the main compartment for skins, ski crampons etc.
Date published: 2017-01-26
Rated

5

out of

5
by
BayHiker
from
Excellent climbing pack
Great size for day trips and just large enough that a minimalist overnight isn't out of the question. Fits a standard rack and climbing kit in the main pack, with enough extra length in the straps to carry a rope between the main pack and the lid. Daisy chains on the outside make lashing overflow gear a breeze, and the ice axe carrying configuration is great: streamlined to operate even with the pack on provides protection for the axe's pick (and protection FROM the pick...). The pack carries well even when fully loaded! It's also surprisingly maneuverable in tight spaces thanks to the narrow width and absence of hip belt pockets. Overall a well-thought-out piece of gear.
Date published: 2019-05-26
Rated

4

out of

5
by
MKPK
from
Great all around backpack
I bought this a month ago and I've used it when backcountry skiing. All the things I needed went nicely into the bag (shovel, probe, extra layers of clothes, food etc). Very saggy when not stuffed. There is basically one big compartement, so it's no so easy to find the things you need, but fortunately you can access them from the side,too. There is no place for helmet, but I used carabiners to attach my helmet to the bag. Overall, nice daybag for trails and outdoors, a bit too pricy.
Date published: 2019-03-25
Rated

5

out of

5
by
Aka29
from
Super backpack
I bought this for my climbing stuff. Perfect size and functional features.
Date published: 2018-11-04
Rated

5

out of

5
by
Tarek
from
It just works well
Very good ballanced and easy to carrie. kind of minimalistic but does the job in a greate manner. is the favorite for the family not only mine.
Date published: 2018-10-12
Rated

3

out of

5
by
Jananton
from
Does the job
Good back pack but the inner pocket does not fit a 13inch PC. To bad as it would otherwise be a good bag to commute to work with on my nike
Date published: 2018-10-06
Rated

4

out of

5
by
Anonymous
from
Well designed!
I've been using this bag 2 months now and it is awesome. I'm 186cm tall and it fits to my back nicely. I also like the size of the bag! When you open the compression straps from the side u get enough space for A3 sketchbook! Can't wait to test it at the next ski trip
Date published: 2018-10-04
Rated

5

out of

5
by
Pim22
from
Nice
I bought 2 of them black and red very good...i love Norrøna
Date published: 2018-09-24
Can this bag carry/strap snowboard?  I assume it can carry ski as the picture shows. Thanks a lot!
Hi, You can fasten skis on the side but a snowboard will be to wide.
Date published: 2018-10-16