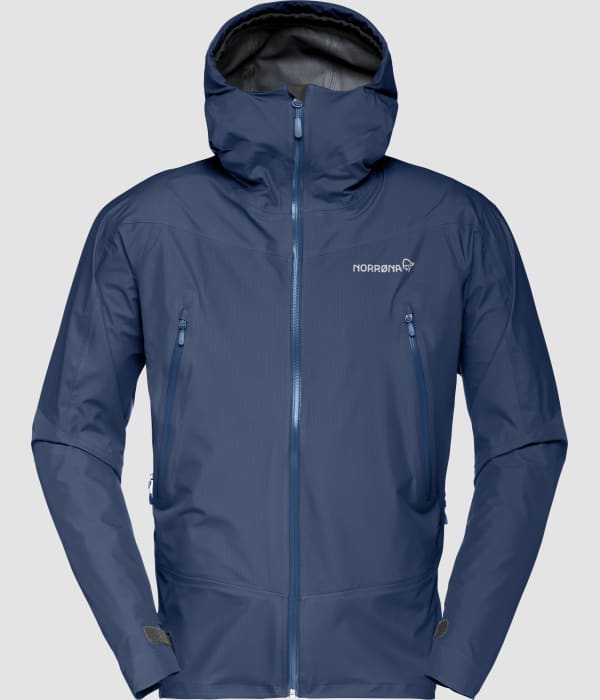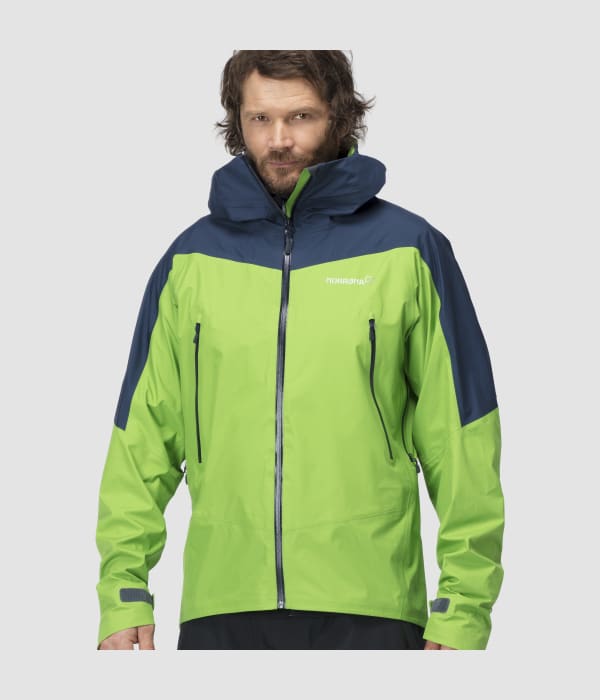 Vår mest mångsidiga jacka i herrmodell för alla årstider, i ett vattentätt material som andas. Tillräckligt lätt för sommarbruk och tålig nog för vinterbruk.
Den är tillverkad i ett specialutvecklat GORE-TEX®-material med skön och lätt borstad insida. Jackan har kort passform och långa öppningar under armarna, vindtät huva som passar med hjälm och asymmetriska muddar för bättre vindtäthet.
Vi rekommenderar att du förvarar mobiltelefonen i den särskilt avsedda fickan på jackans insida, för att förhindra fuktskador.
Fickorna är placerade så att de kan nås när du använder ryggsäck med höftbälte. Gore-Tex-materialet är 20 denier.
Andra användningsområden
Klättring
Glaciärvandring
Allmänna friluftsaktiviteter
Fjällsport / Alpinklättring
Topptur / Randonnée
Specifikationer
6

Vindtäthet

Vindtäthet

Scale from 1 to 6 where 1 is not windproof and 6 is totally windproof.

6

Vattentäthet

Vattentäthet

Scale from 1 to 6 where 1 is not waterproof and 6 is waterproof.

1

Isolering

Isolering

Scale from 1 to 6 where 1 has no insulating properties and 6 is our warmest insulation products.

4

Andningsförmåga

Andningsförmåga

Scale from 1 to 6 where 1 have very little or no breathability and 6 is our most breathable and moisture wicking products.

4

Slitstyrka

Slitstyrka

Scale from 1 to 6 where 1 is fragile products and 6 is the most durable products we have.

4

Lätt vikt

Lätt vikt

Scale from 1 to 6 where 1 is heavy and 6 is among the world's lightest of its kind.
Fotavtryck
Oeko-Tex Certifierad Fabric

Oeko-Tex Certifierad Fabric

Oeko-Tex® är ett världsomspännande, oberoende test- och certifieringssystem som säkerställer kemisk användning överensstämmer med eller överträffar nationella och internationella regler och standarder.

Öppen förteckning över fabriken

Öppen förteckning över fabriken

Denna produkt är tillverkad i en fabrik som är öppet listad på norrona.com.

Inspiserad fabrik

Inspiserad fabrik

Denna produkt är tillverkad på en fabrik som inspiserats av en oberoende tredje part och följdes upp av Norrøna.
Material
GORE-TEX® med 3-lagskonstruktion

Slitstarkt GORE-TEX®-material som passar för många olika aktiviteter. I 3-lagskonstruktionen är membranet laminerat till fodret på ena sidan och till yttermaterialet på andra sidan. Det här gör materialet mer slitstarkt. Det är lättare än GORE-TEX®-materialet i 2 lager, eftersom det inte behövs något ytterligare, frihängande foder. Tekniska specifikationer: Vattentät: minst 28 000 mm* Andningsförmåga: Hög, ned till 9 RET** Vindtäthet: 100 % * ISO 811-test ** ISO11092-test

Läs mer hos GORE-TEX®

Tvätt av Gore-Tex och dri produkter

GORE-TEX®-plagg skadas inte av tvätt. Det förlänger tvärtom plaggets livslängd. Det här är normala tvättråd för GORE-TEX®-plagg: Kom ihåg att först stänga alla dragkedjor och kardborrband. Plagget ska tvättas vid 40 grader Celsius, utan centrifugering och med ett milt tvättmedel. Använd inte mjuk- eller sköljmedel. Använd inte blekmedel. Mjukmedel, sköljmedel och blekmedel kan skada materialets vattenavvisande egenskaper (inte membranet eller tätheten) och färgen på plagget. Skölj om möjligt plagget två gånger. Använd vattenavvisande spray på utsidan av plagget för att göra plagget så vattenavvisande som möjligt. (Det här har inget att göra med de vattenavvisande egenskaperna i själva materialet, men det gör det enklare för vattnet att rulla av på ytterskiktet). Om du vill kan du torka plagget på låg effekt i torktumlaren, eller stryka det vid låg temperatur. Värmen hjälper till att återaktivera de vattenavvisande egenskaperna. Plagget måste vara torrt innan du tvättar det och innan du lägger undan det efter tvätt.

Produkvård för Gore-Tex
Teknisk information
Rated

5

von

5
von
Matt
aus
Allround Jacke
Habe die Jacke schon über ein Jahr und setze sie viel ein. Segeln, Radfahren in der Stadt, Wandern... Sie hat immer noch volle Funktion und wird von mir sehr geschätzt.
Veröffentlichungsdatum: 2016-10-06
Rated

1

von

5
von
Andy_S
aus
Great looking jacket but does not hold agains the elements
I bought this jacket last winter for use in summer hiking trips, especially to fend off rain (keep this in mind so you will understand the one star rating). I used the jacket a couple of times in town and it looks really good and has a snug fit. However, the only time I have used the jacket for its intended purpose, it failed badly. I was hiking the West Highland Way when I had the first (and potentially last) change to use this jacket for the purpose it was bought for. I was hiking the last leg from Kinlochleven to Fort William in rainy weather. During the first half an hour the jacked discontinued breathing since the outer fabric got wet (which makes the membrane discontinue breathing). This is an OK issue with Gore-Tex and a fairly well known problem. However, after about an hour and a half of hiking in the rain, I felt the first few drops of water on my chest — the main zipped had failed. From there onward the main zipped first leaked and soaked my shirt and then soaked my rain pants (see picture where the light green parts of my t-shirt are the dry ones). This continued for the next three hours until I reached my destination. Upon reaching Fort William, I realized that both of the pocket zippers had also failed since the chest pockets (and everything in them) were completely wet. At this point I was not amused. Overall, the jacket looks great and I would really like to give it five stars. However, when push come to shove and you have to battle the elements, this jacket will fail since it won't breathe neither keep the water out.
Veröffentlichungsdatum: 2019-07-11
Rated

4

von

5
von
AndyWay
aus
Really comfy, pockets are great too!
Great jacket, nice to wear and super comfortable. I live in Australia where it is a little warmer and often I have the zip undone or not done up all the way, with the large hood it tends to pull the jacket backwards and can become a bit awkward. A small improvement would be to have a way to support the hood weight to the neck area so it doesn't pull the jacket over your shoulders. Even with this I would buy the jacket again and again.
Veröffentlichungsdatum: 2019-06-10
Rated

5

von

5
von
Haakon
aus
Great jacket!
Bought this a month ago and its flawless. I´ve tested the jacket in different weather conditions and it preforms well.
Veröffentlichungsdatum: 2019-06-10
Rated

5

von

5
von
charliie
aus
best all-around jacket
this jacket is incredible by its versatility. I use it for hiking, ski touring in late season, and mountainbiking. it's a perfect light gore-tex jacket.
Veröffentlichungsdatum: 2019-05-11
Rated

3

von

5
von
Lucwyss
aus
Falsche farbe
Wollte die jacke zu meinen hosen kaufen, welche mit derselben farbe bezeichnet waren. Stimmte leider nicht überein. Ansonsten top.
Veröffentlichungsdatum: 2019-04-20
Rated

5

von

5
von
Max_
aus
Great jacket
Kept me warm and dry during a 3 day 20km tour during rainy and close to zero degree temperatures!
Veröffentlichungsdatum: 2019-04-10
Rated

5

von

5
von
TommyK7
aus
Fantastic
I'm so happy for this jacket - it has all I need when I'm skiing
Veröffentlichungsdatum: 2019-04-08
I´m 175cm high and weight above 65 kg, which size would be the best for me?
Hi, Unfortunately I can't give you any guarantees but I think S will fit you the best.
Veröffentlichungsdatum: 2019-06-18
I am 178 cm tall, a bit stocky. I'm trying to decide if small or medium is the best fit?
I'm 177cm tall, weight 83 kg, I wear size M
Veröffentlichungsdatum: 2019-03-19
Is this jacket equipped with Gore Tex C-Knit Technology?
No, this Jacket is still with the normal GoreTex Membran available. But it is waterproof an windproof.
Veröffentlichungsdatum: 2018-10-16
I want to know which size fit me (height 173cm ,chest 98cm,weight 76Kg).Thanks.
I am 170cm for 63kg Chest 91. Small is perfect for me. 
Veröffentlichungsdatum: 2018-12-19
Hei! I own a Lofoten Anorak for women and the greatest thing is that it zips into the Lofoten pants for women. Is that also possible with this jacket although it is a falketind product and also a male product?  Thank you in advance!
Hello Sarah, The Falketind range of products does not come with a powderskirt, so it will not be possible to zip it to the Lofoten Pants. Best regards, Alexander - Norrøna Fan Support
Veröffentlichungsdatum: 2017-11-21
Hi! I´m thinking about to buy that jacket for hiking with heavy backpacks (around 20kg or more). I know that jackets with gore pro are suitable for that. Can i use the Norrona falketind jacket as well with backpacks that heavy? cheers Simon
Hi SimonSuperTramp, You can use the falketind gore-tex jacket with a heavy backpack. Just check and make sure your backpack does not have rough/ uneven edges. A backpack with rough edges can create friction that is hard on the jacket. But a backpack with more smooth shoulder straps and hip belt is not a problem. Best regards, Sara / Norrøna
Veröffentlichungsdatum: 2018-12-25
Hi guys, I want buy this jacket, my question is: can I use it also for skiing in powder and also in slopes? Obviusly I will use it in ice climbing walking in winter and summer. I have another question, can I match also your powder zip with falktind pants?
Firstly the Norrona stuff is really beautifully made almost too beautiful to be crashing through trees in the back country, It so light I'm terrified of ripping it. That said it takes a beating and I've not had any problems yet. For touring and regulating temperature across 4 seasons it is brilliant and I'm really pleased. On the piste it looks rocking with bamboo green zips on grey pants matched to Bamboo green jacket, but thats upside. Great kit
Veröffentlichungsdatum: 2017-01-26
Hello, could you be so kind and specify what gore material this jacket is made of? Is it c-knit? And if so, how does it compare in terms of breathability to gore pro? Kind regards, Rich
@ AnMad & Daniele: Thank you so much. Your answers are very helpful. Kind regards, Rich
Veröffentlichungsdatum: 2016-12-02