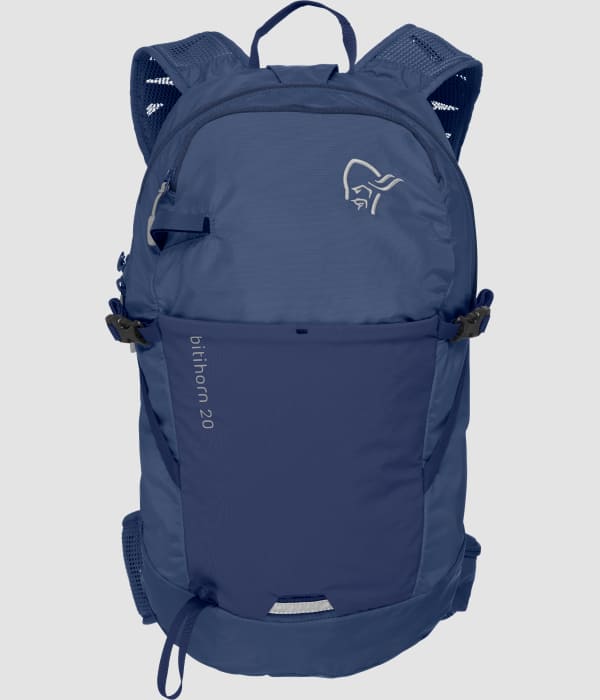 Vår lättaste dagtursryggsäck för dig som vill ha en bekväm och funktionell ryggsäck med rejäl ventilering i bärsystemet. Den kan kombineras med vätskesystem och har praktiska detaljer som kompressionsremmar på sidorna och en stor stretchficka fram. Fodret har förbättrats och vi har gjort mindre justeringar så att ryggsäcken ska få ännu bättre passform efter ryggen. Mål: Height:47cm, width: 28cm, depth: 12cm.
Andra användningsområden
Fjällsport / Alpinklättring
Allmänna friluftsaktiviteter
Terränglöpning
Längdskidåkning
Mountainbikeåkning
Specifikationer
3

Vattentäthet

Vattentäthet

Scale from 1 to 6 where 1 is not waterproof and 6 is waterproof.

4

Slitstyrka

Slitstyrka

Scale from 1 to 6 where 1 is fragile products and 6 is the most durable products we have.

5

Lätt vikt

Lätt vikt

Scale from 1 to 6 where 1 is heavy and 6 is among the world's lightest of its kind.
Rated

5

out of

5
by
Allie
from
Great bag when you need to carry more stuff!
I have both this and the fjora 10L pack. I love them both as they have different uses. The fjora is good for downhill mountain bike rides when I have a 2L hydration pack, tubes, repair kit, first aid kit, snacks and maybe a light (Norrona bitihorn dri1) jacket stuffed inside. I don't like to carry more than I need to so the smaller Fjora is good for that or a half day hike. For a longer hike, or a cross country bike ride when I need a larger hydration pack, or going out in colder conditions when I want a heavier jacket packed, or sometimes bringing my 8lbs dog who needs to be carried in heavy snow when she gets cold, this pack is perfect! They both offer convenient and well thought out compartments, and are very well made. When they have gotten super dirty, or a bit smelly after getting soaked with sweat repeatedly, I've washed both and they came out like new. It actually breathes well and doesn't get unreasonably sweaty, but you know how it is exercising hard... My only suggestion is something similar to the Osprey packs - having a magnet or some other device on the strap that your hydration pack can stick to so it doesn't flop in your face as you ride fast down the mountain would be a huge improvement!
Date published: 2017-02-19
Rated

4

out of

5
by
Tsemipulla
from
Good features with couple improvements
I bought the pack for my hike in Tuscany. It appeared to function very well. I do miss couple more pockets on the side and most of all a net for a water bottle. If the interior would have a separation, the pack would fulfill all my needs
Date published: 2019-07-07
Rated

5

out of

5
by
MacDude
from
Super lightweight- pair w/ hydration kit.
Thrown everything from summiting hike & bike trails, to long arduous laps with the kids, it carries it all. Keys, kids water bottles, snacks, hats etc. Keeps cool and compliments my days whilst in my happy places.
Date published: 2019-06-13
Rated

5

out of

5
by
Paulie
from
The ultimate lightweight pack
I use this pack for everything, biking, hiking, trekking, and running. The low weight and fit of this pack is perfect for the weight cautious person that moves fast.
Date published: 2018-04-24
Rated

5

out of

5
by
Gwen
from
Simply the best everyday bag i ever own.
I bought this bag 2 month ago, because i had back pain with my previous ones. This bag is very light and 20l is as perfect for every day as for a daily hike with a toddler. Simply love it.
Date published: 2017-08-27
Rated

5

out of

5
by
Willv101
from
Bitihorn pack
I have had this for about a month now the build quality is excellent and is great for long distance walking
Date published: 2017-04-18
Rated

5

out of

5
by
Eirik the Swede
from
Day Pack for Lofoten
I purchased this pack for my upcoming trip to Lofoten for the Arctic Triple Triathlon in August. This is the perfect size pack for the hikes I plan to do prior to the race.
Date published: 2017-03-10
Rated

4

out of

5
by
Anonymous
from
My daily bag
Light, ergonomic day-tripper bag, perfect for extensive bike rides but also for casual, daily use. Easy to adjust while riding the bike, and has enough space for all the daily needs
Date published: 2016-10-09
Does the Bitihorn have water bottle pockets on the side?
This is a follow up. I decided against the Bitihorn because I wanted a pack with the side bottle pockets. I purchased the Black Diamond Nitro 22. Norrona should offer packs with side pockets.
Date published: 2019-06-16