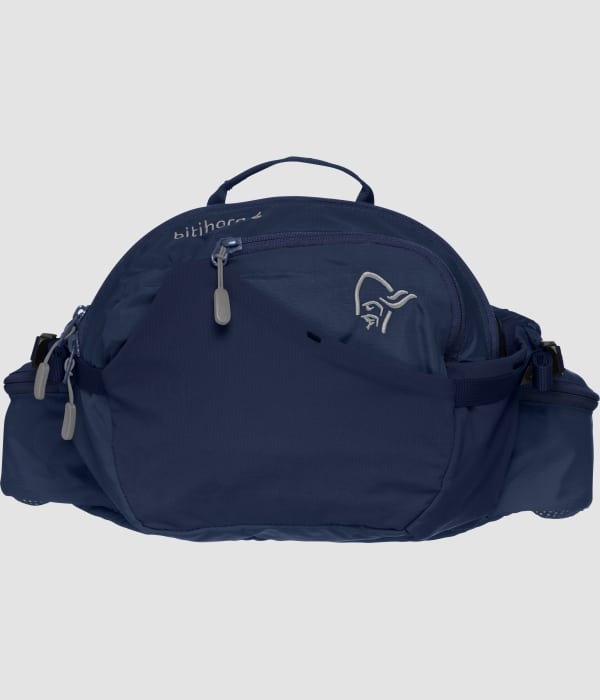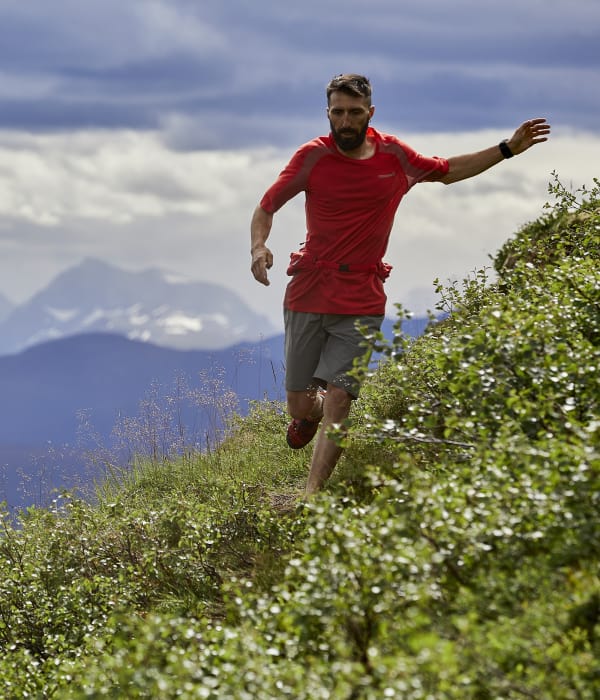 Om du gillar att spara vikt i packningen är den här midjeväskan något för dig. Väskan rymmer 6 liter och har ett fack för alla nödvändigheter. Stretchfickorna på framsidan och sidan håller vattenflaskan på plats. Det finns även två fickor med dragkedja på framsidan och på bältets sida. Mål: Height:22cm, width: 24cm, depth: 12cm.
Andra användningsområden
Vardagsbruk
Längdskidåkning
Allmänna friluftsaktiviteter
Terränglöpning
Specifikationer
3

Vattentäthet

Vattentäthet

Scale from 1 to 6 where 1 is not waterproof and 6 is waterproof.

4

Slitstyrka

Slitstyrka

Scale from 1 to 6 where 1 is fragile products and 6 is the most durable products we have.

5

Lätt vikt

Lätt vikt

Scale from 1 to 6 where 1 is heavy and 6 is among the world's lightest of its kind.
Material
dynamic™

dynamic™ – Vårt bärsystem utan aluminumstödstänger eller ramar. Vi använder de här systemen på många av våra mindre ryggsäckar, där flexibiliteten är huvudsaken.
Teknisk information
Rated

5

out of

5
by
DrIan
from
Everything that is essential; maybe the perfect hip-pack.
Over the past nine months this has been my 'go-to' pack for walks in the UK and the French Alps (day-walking), it has also served well for some strenuous Via Feratta days. The pack seems to defy the laws of physics; it seems bigger on the inside than the outside! Takes the essentials and remains balanced and unrstrictive. The front pouches are particularly useful for snacks and a phone (to get those 'action' photographs). After some hard use there are just no marks on the pack. I will be using the bitihorn pack in the coming ski season for snowshoe days and maybe for some touring. A highly commended pack.
Date published: 2018-10-27
Rated

5

out of

5
by
DrIan
from
This is a great pack
This seems to have worked the miracle of being bigger on the inside than the outside. It is stable for walking running and via feratta. Well designed good quality - everything you need and nothing superfluous.
Date published: 2018-05-24
Rated

5

out of

5
by
fs67
from
Very Practical
Bought this for a ski trip to use instead of a backpack. Surprising amount of space inside, could easily fit a Warm-1 fleece inside together with wallet, phone and other small items. Like the external zipped pocket for my phone and the two hip pockets for energy bars. Carries well even with the narrow buckle. Very pleased with this purchase and planning to buy a second one for my parter.
Date published: 2018-04-17
Rated

5

out of

5
by
Nicoloweiss
from
bought for outdoor, now using it as a purse to go around the city
got carried away on norrona website. I bought it thinking I'd use it for short mountainbike rides. It is a bit too lose for that. however right now it is the bag I wear the most when going around town or on any trip. not too big, not too small.
Date published: 2017-07-03
Rated

5

out of

5
by
Eirik the Swede
from
Just what i needed.
I a hip pack for my Arctic Triple Triathlon in August. I wanted something in which to carry a small camera on the run. This is the only hip pack I have owned which stays in place while running.
Date published: 2017-04-30
Rated

3

out of

5
by
Tabletop
from
Like the features on this bag.
A bit bigger than I hoped, so would probably be made to put it into your hand luggage, rather than wear it, if travelling on a budget airline. With the amount of pockets, it will be great for using on a short hike.
Date published: 2017-04-18
Rated

5

out of

5
by
Eirik the Swede
from
Cannot tell I'm wearing it when running.
I bought this hip pack for my run in the Arctic Triple Triathlon in Lofoten this August. Wanted to take a small camera along as I ran.
Date published: 2017-03-10
Rated

5

out of

5
by
k8ski
from
great product
spacious, practical, well thought out product, highly durable
Date published: 2016-10-15