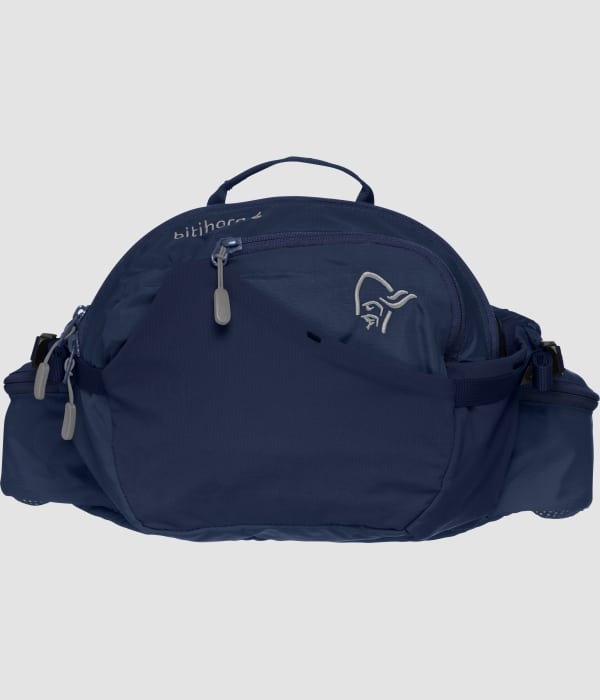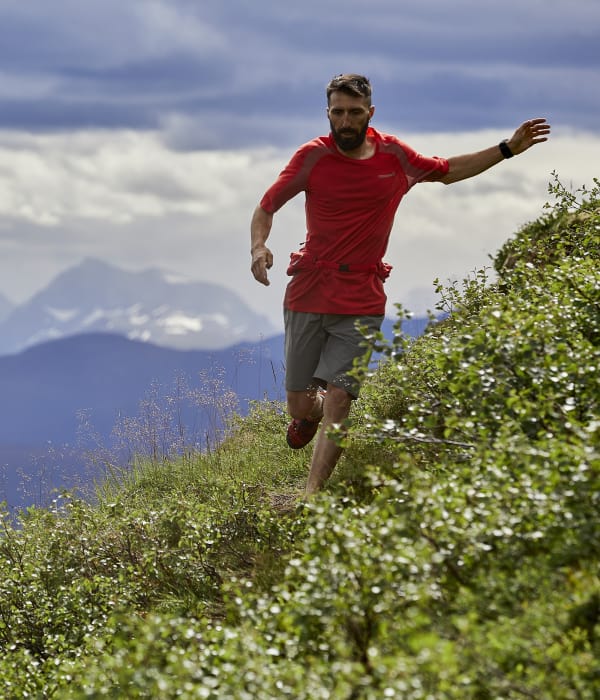 Om du gillar att spara vikt i packningen är den här midjeväskan något för dig. Väskan rymmer 6 liter och har ett fack för alla nödvändigheter. Stretchfickorna på framsidan och sidan håller vattenflaskan på plats. Det finns även två fickor med dragkedja på framsidan och på bältets sida. Mål: Height:22cm, width: 24cm, depth: 12cm.
Andra användningsområden
Vardagsbruk
Längdskidåkning
Allmänna friluftsaktiviteter
Terränglöpning
Specifikationer
3

Vattentäthet

Vattentäthet

Scale from 1 to 6 where 1 is not waterproof and 6 is waterproof.

4

Slitstyrka

Slitstyrka

Scale from 1 to 6 where 1 is fragile products and 6 is the most durable products we have.

5

Lätt vikt

Lätt vikt

Scale from 1 to 6 where 1 is heavy and 6 is among the world's lightest of its kind.
Material
dynamic™

dynamic™ – Vårt bärsystem utan aluminumstödstänger eller ramar. Vi använder de här systemen på många av våra mindre ryggsäckar, där flexibiliteten är huvudsaken.
Teknisk information
Rated

5

out of

5
by
emilyTH1
from
Perfect for running, hiking, and XC skiing
I bought this pack hoping it would be my go-to for high-endurance activities and that is exactly what it is. It is perfect for trail runs (I use it for runs to and from work - it fits the perfect amount of gear), great for hiking, but above all, it has been absolutely the best for cross country skiing. It is a comfortable fit and adjustable depending on how much gear you bring along (that was a nice touch!). Overall - perfect for all year activities!
Date published: 2019-08-01
Rated

5

out of

5
by
eirikr
from
Extraordinary product !
this is a perfect bag to do everything. But the description on the site does not show enough in pictures how it is perfectly designed: - a small zipped pocket on each side of the belt - these two pockets are net at the bottom to not retain the water and be very light - one of them has an integrated key ring - all the belt and the back of the bag are in net so perfect not to retain moisture - the large central compartment is well equipped with a separate part and it is very large (a small jacket, a TS long sleeve ... easily hold in) - all zips are easily accessible and of good quality - the straps at the front of the belt wind and hold with elastics dedicated to that - a rubber band with a slider to hold a bottle in your pocket - the carrying handle is very convenient All in impeccable quality, it's really a perfect bag to accompany you everywhere (I use it by bike, travel, ballad not yet in trail but it can be very good) Excellent product, irreproachable, which you will not be able to do without!
Date published: 2019-07-01
Rated

5

out of

5
by
Reine
from
Awesome product
Used this for shorter hikes and runs, and now its my go-to drone bag. I have a Mavic air and everything fits neatly in this, including remote, ND filters and 2 extra batteries. It has more room that it looks like.
Date published: 2019-05-27
Rated

4

out of

5
by
SurreyStu
from
This has been very handy item
The reason I bought this was to keep my passport and cards safe when I had off loaded my pack onto airline luggage systems. Does the job, excellent quality. Maybe a bit to large for my purposes but good to have the space.
Date published: 2019-05-20
Rated

5

out of

5
by
Traveler
from
Don't leave home without it
I bought my wife one a few years back on a trip to Norway and was sorry afterwards that I did not get one for myself. When I found myself borrowing the waist bag repeatedly, I was happy to find the exact bag on- line. I quickly ordered one in blue and was pleased it came so quickly and directly from Norway. I use it all the time. Plenty of pockets and even holds a baseball cap. Definitely worth buying
Date published: 2019-05-11
Rated

5

out of

5
by
DrIan
from
Everything that is essential; maybe the perfect hip-pack.
Over the past nine months this has been my 'go-to' pack for walks in the UK and the French Alps (day-walking), it has also served well for some strenuous Via Feratta days. The pack seems to defy the laws of physics; it seems bigger on the inside than the outside! Takes the essentials and remains balanced and unrstrictive. The front pouches are particularly useful for snacks and a phone (to get those 'action' photographs). After some hard use there are just no marks on the pack. I will be using the bitihorn pack in the coming ski season for snowshoe days and maybe for some touring. A highly commended pack.
Date published: 2018-10-27
Rated

5

out of

5
by
DrIan
from
This is a great pack
This seems to have worked the miracle of being bigger on the inside than the outside. It is stable for walking running and via feratta. Well designed good quality - everything you need and nothing superfluous.
Date published: 2018-05-24
Rated

5

out of

5
by
fs67
from
Very Practical
Bought this for a ski trip to use instead of a backpack. Surprising amount of space inside, could easily fit a Warm-1 fleece inside together with wallet, phone and other small items. Like the external zipped pocket for my phone and the two hip pockets for energy bars. Carries well even with the narrow buckle. Very pleased with this purchase and planning to buy a second one for my parter.
Date published: 2018-04-17