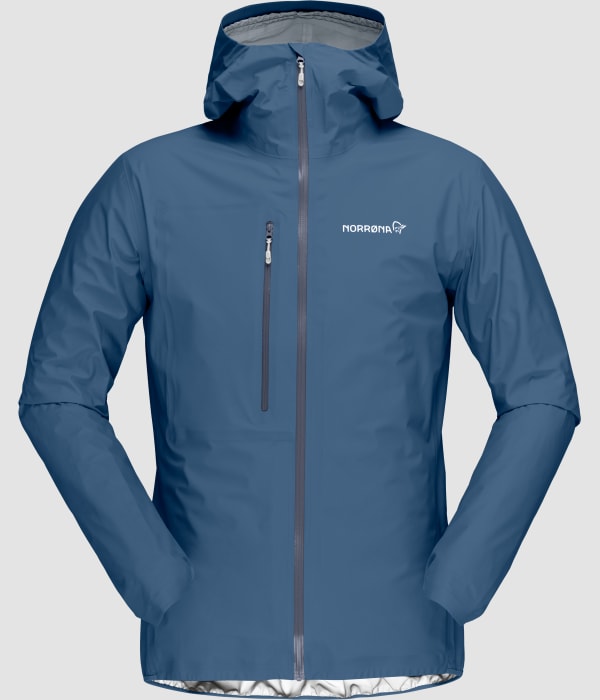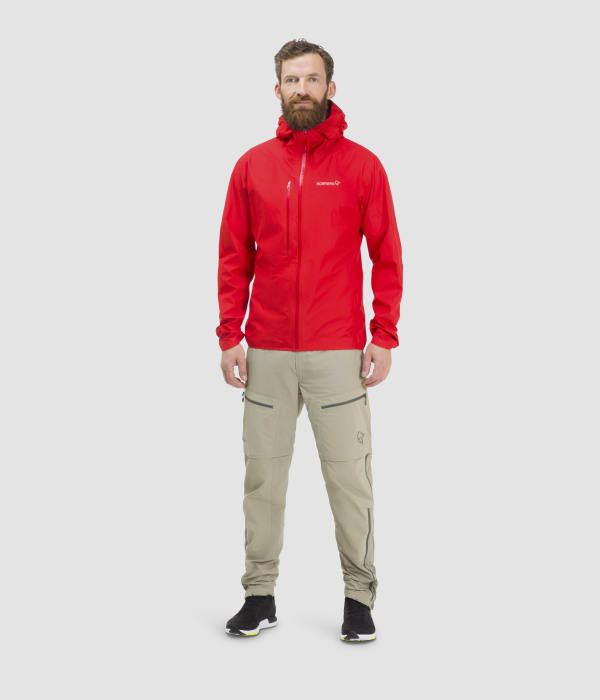 Den nya jackan bitihorn GORE-TEX® Active 2.0 är tillverkad av starkt Gore-Tex Active-material och är den mest slitstarka av våra lätta skaljackor i bitihorn-kollektionen. Jackan med tre lager skyddar bra mot väder och vind och är mycket komprimerbar vilket minimerar packningsvolymen. Den har en sportig passform, skyddande huva som fungerar som en mössa, en minimalistisk bröstficka, reflexdetaljer och elastiska muddar. Den är ett utmärkt val för dig som behöver en superlätt jacka som är tillräckligt slitstark för lätta bergsaktiviteter.
Andra användningsområden
Terränglöpning
Topptur / Randonnée
Mountainbikecykling
Allmänna friluftsaktiviteter
Längdskidåkning
Specifikationer
6

Vindtäthet

Vindtäthet

Scale from 1 to 6 where 1 is not windproof and 6 is totally windproof.

6

Vattentäthet

Vattentäthet

Scale from 1 to 6 where 1 is not waterproof and 6 is waterproof.

1

Isolering

Isolering

Scale from 1 to 6 where 1 has no insulating properties and 6 is our warmest insulation products.

4

Andningsförmåga

Andningsförmåga

Scale from 1 to 6 where 1 have very little or no breathability and 6 is our most breathable and moisture wicking products.

3

Slitstyrka

Slitstyrka

Scale from 1 to 6 where 1 is fragile products and 6 is the most durable products we have.

6

Lätt vikt

Lätt vikt

Scale from 1 to 6 where 1 is heavy and 6 is among the world's lightest of its kind.
Fotavtryck
Oeko-Tex Certifierad Fabric

Oeko-Tex Certifierad Fabric

Oeko-Tex® är ett världsomspännande, oberoende test- och certifieringssystem som säkerställer kemisk användning överensstämmer med eller överträffar nationella och internationella regler och standarder.

Öppen förteckning över fabriken

Öppen förteckning över fabriken

Denna produkt är tillverkad i en fabrik som är öppet listad på norrona.com.

Inspiserad fabrik

Inspiserad fabrik

Denna produkt är tillverkad på en fabrik som inspiserats av en oberoende tredje part och följdes upp av Norrøna.
Material
GORE-TEX® Active 2.0

Plagg tillverkade i GORE-TEX® Active-material är slitstarka, vattentäta, vindtäta och har extremt god andningsförmåga. Det här materialet har bäst andningsförmåga i hela GORE-TEX®-produktfamiljen. Det här materialet uppfyller den alpina atletens höga krav. Det är en perfekt lösning för intensiva aktiviteter, också i dåligt väder. Plagg tillverkade i GORE-TEX® Active-material är lätta och mjuka, och mycket bekväma att bära närmast huden tack vare tillförlitlig fukthantering. Materialets konstruktion håller kroppen torr genom att det minskar ansamlingen av svett, så att du håller dig sval under aktiviteten och varm vid nedkylning. Med GORE-TEX® Active-material kan du sätta på dig plagget, ha det på dig och fokusera på upplevelsen, snarare än på kläderna. Tekniska specifikationer: Vattentät: minst 28 000 mm* Andningsförmåga: Hög, ned till 3 RET** Vindtäthet: 100 % * ISO 811-test ** ISO11092-test
Teknisk information
Rated

5

out of

5
by
Anonymous
from
take it everywhere!
I bought this as a rain jacket for mountain biking. Its a very good waterproof jacket thats incredibly breathable even without the need for under arm vents. I stash it in its pocket in the back of my bib shorts during enduro races and bike rides in case the weather turns bad and never notice it as its so light weight.
Date published: 2018-09-13
Rated

4

out of

5
by
Andoriuz
from
Fungerer bra
Har hatt denne i et par mnd, og bruker den til løping i ruskevær, spesielt i terrenget. Godt fornøyd.
Date published: 2019-06-11
Rated

5

out of

5
by
Reine
from
Light and breathable
Nice and light jacket that is easy to pack and always bring along just in case. Its good to have a gore-tex layer instead of a pure rain one so you dont have to sweat from within but stay protected from rain and wind. I use it for both hiking and biking.
Date published: 2019-05-27
Rated

4

out of

5
by
Anonym101
from
Lett jakke som fungerer 3 årstider
Til å være en lettvekterjakke så virker jakken overraskende motstandsdyktig. Hettestrammingen er svært bra. Bare en snor bak, men den tetter hele hetten i front og rundt hodet slik at man kan snu på hodet og hetten følger etter. Praktisk størrelse på brystlommen som er tilstrekkelig lagring i en slik jakke. Savner muligheten til å stramme jakken i livet, det ville ikke vært særlig fordyrende eller påvirket vekten nevneverdig. Størrelsen er grei, men den er har litt smal passform over skuldrene. Har man V fassong må man vurdere å gå opp en størrelse. Har du en relativt kvadratisk kroppsfassong eller en liten kule på magen så vil størrelsen oppleves som vanlig.
Date published: 2019-05-24
Rated

5

out of

5
by
Olivier212
from
Great jacket for trail running in wet, cold weather
This is a great jacket: pretty rainproof and reasonably breathable... a premium product at a premium price (unfortunately). It kept me dry and warm during a sunday morning run in a downpour in 45F degree weather. Be aware that it does it get pretty warm in any weather much above 60F but that is unavoidable. The fit is fine for me: I am 5"7 and 135lbs (175cm and 65kg) and the size Small fits perfectly with enough room for light layering if need be but keeping a sli fit. Great product overall!
Date published: 2019-05-13
Rated

5

out of

5
by
Zuochan
from
vind og regntett, lett og behagelig
Jeg kjøpte denne jakken å bære på min sti som kjører i fjellene. Hvorfor jeg valgte dette er fordi det var en 7 års garanti, og at det er 100% vann og vindtett og pustende kvalitet for å være en så lett jakke.
Date published: 2019-04-29
Rated

5

out of

5
by
s_h_m
from
Very solid for the weight
I am really impressed with how solid this feels for the weight. This combination makes it seem like a great option for a wide variety of activities. I bought it for mountain running, but I have also used it for ski touring, which I really did not expect it to be suitable for.
Date published: 2019-04-25
Rated

5

out of

5
by
Adventurer
from
Lightweight and effective
This product was purchased to be used as an outside waterproof layer on top of a poofy jacket. This product has not once ever let my under jackets get wet and I have about 15 days using these products 5 of which have been in storms. The cuffs on the jacket work really well with Hestra gloves It also does pretty well-keeping heat inside the lower layers and the best part is that it is so lightweight and thin that it takes up next to no space in your pack. Would highly recomend this jacket.
Date published: 2019-04-04
Is it durable enough to use with a backpack? I've used a bitihorn dri3 before and the waterproof layer came off at the shoulders.
Yes, but it is a lightweight jacket so it won't be as durable as a heavier one, so keep this in mind if you want a harder wearing one. I specifically wanted a lighter one for skiing, day hiking and short trips when I have a light backpack. And this is perfect for that use.
Date published: 2019-01-29
Hei Er det plass til hjelm (ski/klatring) under hetta?
Hetta et ganske liten. Glidelåsen må åpnes for i det hele tatt å få den på. Passer ikke utenpå standard alpinhjelm.
Date published: 2018-08-07
Hello, What is the mm rating for this jackets waterproofness? all the best Bjørnar
Hi, The water column for new generation Gore-Tex Active is 28 000mm.
Date published: 2018-07-18
Hi there is there a stotm guard/flap behind the main zip? Thanks Pete
yes
Date published: 2018-06-05