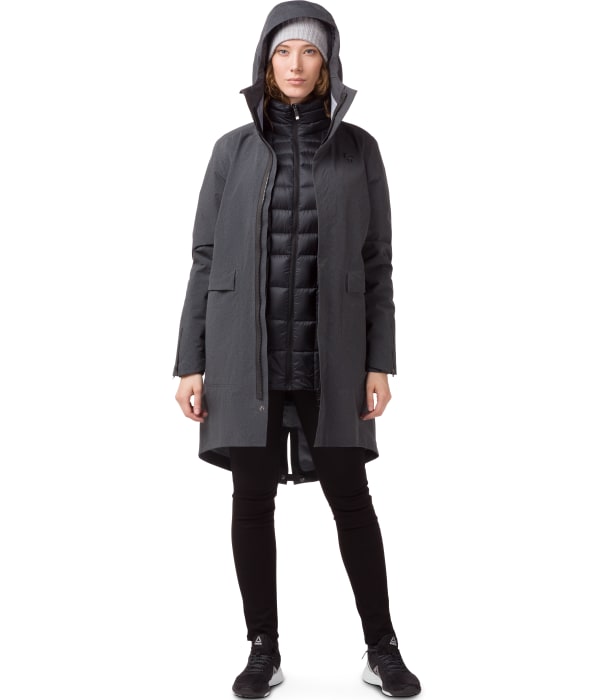 Meddela när denna produkt är tillgänglig
Product highlight
Vikt 600 gr.
Parkasen /29 Gore-Tex down850 i dammodell är en tre-i-en-modell som är vattentät och minimalistisk och har en löstagbar duninnerjacka. Den tunna dundelen ger extra värme på kalla vinterdagar. Utan dundelen passar jackan också bra på våren, hösten eller svala sommardagar. Ytterlagret i GORE-TEX® skyddar mot regn och vind men ger ändå bra andningsförmåga. Dundelen går att använda fristående som en lätt och snygg dunjacka. Den stilrena designen passar utmärkt på stan.
Utvecklad för
Vardagsbruk
Specifikationer
6

Vindtäthet

6

Vattentäthet

Slitstarkt GORE-TEX®-material som passar för många olika aktiviteter. I 3-lagskonstruktionen är membranet laminerat till fodret på ena sidan och till yttermaterialet på andra sidan. Det här gör materialet mer slitstarkt. Det är lättare än GORE-TEX®-materialet i 2 lager, eftersom det inte behövs något ytterligare, frihängande foder. Tekniska specifikationer: Vattentät: minst 28 000 mm* Andningsförmåga: Hög, ned till 9 RET** Vindtäthet: 100 % * ISO 811-test ** ISO11092-test
down850™ RDS Certified
Our down products use the highest available down quality that we can find, which is a by-product of the food industry (in contrast to being killed just for insulation). All treatment of the birds complies with European standards, and the highly specialized washing of the down passes the Oeko-Tex 100 standards. Our down850™ means down fill power from 850 to 900 cu in/oz with the percentage of down cluster from 93–96%.
Pertex Quantum
Pertex Quantum uses incredibly fine yarns, precisely woven to provide a very lightweight yet strong and durable fabric for its weight. Its softness allows down and synthetic insulation to fully loft. This fabric is windproof.