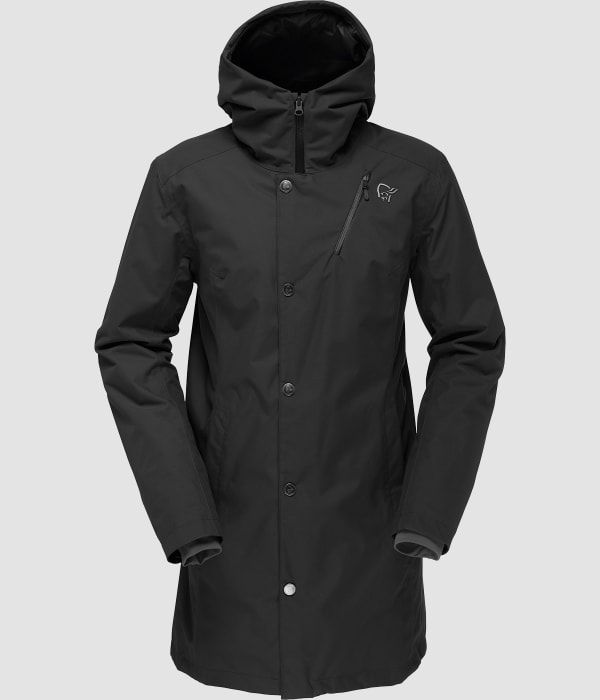 Produkten i fokus
Vikt 860 gr.
Snygg och stilren kappa i dammodell för urbana miljöer, som ger gott skydd mot väder och vind under höst, vinter och vår. PrimaLoft100-isolering tillsammans med slitstarkt och vattentätt dri2-skal ger värme, andningsförmåga och vindtäthet. Jackan har långt snitt, handvärmningsfickor, innerficka och en huva som inte bara är snygg utan även ger utmärkt vindtäthet när det behövs. Det här är ett perfekt vardagsplagg som klär dig när temperaturen sjunker.
Utvecklad för
Vardagsbruk
Specifikationer
6

Vindtäthet

6

Vattentäthet

5

Isolering

3

Andningsförmåga

4

Slitstyrka

3

Lätt vikt
Material

dri™2 är ett ultratunt, stretchigt, icke-poröst och hydrofilt 2-lagsmembran. Plagget blir mycket vattentätt och andas mycket väl. Tekniska specifikationer: Vattentät: minst 20 000 mm* Andningsförmåga: Mycket god, minst 20 000 ** Vindtäthet: 100 % * ISO811-test ** JIS-L 1099 B2 (inverted cup)

PrimaLoft INFINITY är den nya standarden för prestationsmaterial. Det är tunt, ger kontinuerligt god trådisolering och är mycket komprimerbart, mjukt och konsekvent, för maximal värme och komfort. Infinity 100 väger 100 gram per kvadratmeter.

Follow the attached washing instructions for the product. Machine wash gentle cycle (30°C) with gentle soap. Do not bleach. Do not tumble dry. Iron at maximum 110°C however this should not be necessary. Do not dry clean.
Washing and Product Care