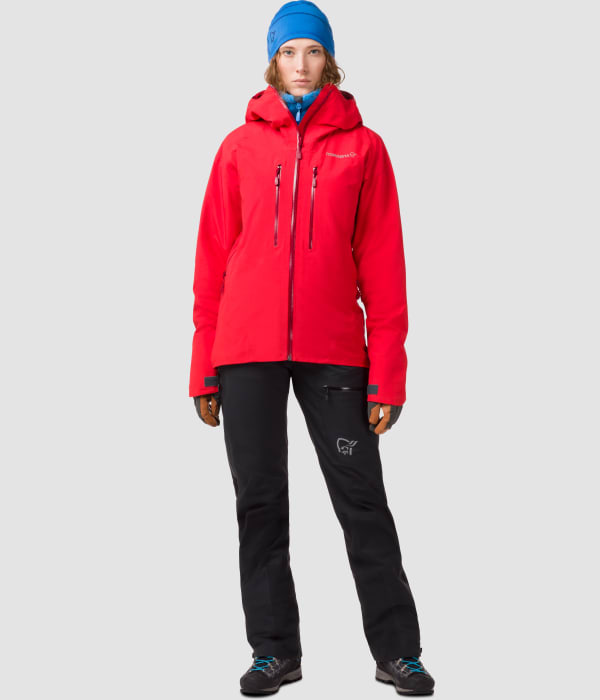 En lett, slitesterk, værbeskyttende og vanntett jakke. Med det vanntette samt pustende materialet Gore-Tex light Pro, er jakken perfekt for alle typer høyfjells- og klatreaktiviteter.
Jakken har alle nødvendige tekniske detaljer, men kombinerer dette med lett vekt og rent design.
Jakken har luftemuligheter under armene, flere lommer lett tilgjengelig og beskyttende hette.
Gore-Tex materiale er 40 Denier.
Laget for
Fjellsport / Alpin klatring
Andre bruksområder
Storfjellsklatring
Klatring
Storfjellskjøring ski/snowboard
Ekspedisjon
Generelt friluftsliv
Brevandring
Isklatring
Topptur / Randonnée
Fjelltur
Spesifikasjoner
6

Vindtetthet

Vindtetthet

Skala fra 1 til 6 hvor 1 ikke er vindtett og 6 er vindtett.

6

Vanntetthet

Vanntetthet

Skala fra 1 til 6 hvor 1 ikke er vanntett og 6 er vanntett.

1

Varme

Varme

Skala fra 1 til 6 hvor 1 ikke har isolerende egenskaper og 6 er våre varmeste isolasjonsprodukter.

4

Pusteevne

Pusteevne

Skala fra 1 til 6 hvor 1 har svært lite eller ingen pusteevne og 6 er våre mest pustende og fuktighetstransporterende produkter.

5

Slitestyrke

Slitestyrke

Skala fra 1 til 6 hvor 1 er skjøre produkter og 6 er de mest holdbare produktene vi har.

4

Lettvekt

Lettvekt

Skala fra 1 til 6 hvor 1 er tung og 6 er blant verdens letteste av sitt slag.

1

Stretch

Stretch

Skala fra 1 til 6 hvor 1 ikke er laget med stretch-materiale og 6 er våre mest fleksible produkter laget i super elastisk materiale.
Fotavtrykk
Oeko-Tex sertifisert materiale

Oeko-Tex sertifisert materiale

Oeko-Tex® er et verdensomspennende, uavhengig, uavhengig test- og sertifiseringssystem som sikrer at kbruk av kjemikalier er i tråd eller overgår nasjonale og internasjonale regler og standarder.

Bluesign sertifisert materiale

Bluesign sertifisert materiale

Bluesign® tests and educates textile mills to eliminate harmful substances from the manufacturing process and sets control standards for a sustainable and safe production.

Åpen fabrikkliste

Åpen fabrikkliste

Dette produktet er laget på en fabrikk som er listet på norrona.com.

Inspisert fabrikk

Inspisert fabrikk

Dette produktet er laget på en fabrikk som er inspisert av en uavhengig tredjepart og etterfølges av Norrøna.
Materiale
GORE-TEX® Pro

GORE-TEX® Pro - Denne membranen fra GORE-TEX® bruker en vevd liner for å redusere vekt og tykkelse – samt for å bedre fukttransport og slitestyrke. Samtidig opprettholder den varig vanntetthet.

Les mer på GORE-TEX.com

Vaskeinstruksjon Gore-Tex og dri produkter

GORE-TEX®-plagg tar ikke skade av å bli vasket. Tvert imot vil det forlenge plaggets levetid. Vanlig vaskeinstruksjon for GORE-TEX®-plagg er: Husk å lukke alle glidelåser. Plagget vaskes på 40 grader, med et vaskemiddel uten blekemiddel. Bruk ikke tøymykningsmiddel eller skyllemiddel. Tøymykningsmiddel, skyllemiddel og blekningsmiddel kan skade stoffets vannavvisende egenskaper (ikke selve membranen/vanntetthet), og stoffets farge. Skyll plagget to ganger om mulig. Bruk sprayimpregnering på utsiden av plagget etter vask for optimale vannavvisende egenskaper (dette har ikke noe med vanntettheten på plagget å gjøre, men gjør at vannet lettere preller av på ytterstoffet). Tørk gjerne plagget på lav varme i tørketrommel, eller stryk med strykejern med lav varme. Varmen hjelper til å reaktivere impregneringen. Plagget må være tørt før det vaskes, og før det henges vekk.

Vask og impregnering Gore-Tex
Tekniske detaljer
Rated

5

von

5
von
Button
aus
Instantly my favourite jacket ever!
Great jacket, and very waterproof in the recent torrential rain. Love the length of the coat plus the long sleeves with scalloped wrists that I can hide my hands within. Very nifty details around the zips, for example the pocket zips close up and hide within a little protective shelter. Not to mention a great fit. Very happy with this gorgeous coat
Veröffentlichungsdatum: 2016-11-23
Rated

5

von

5
von
Margarita
aus
Great shell!
Bought this a month ago as a shell to take with me on a climbing trip to South America (and thereafter be my new backcountry ski shell). So far it's performed incredibly well in keeping out high-wind conditions (haven't tested it with rain/snow). And very light too. Fit was as expected - was able to wear with several layers underneath.
Veröffentlichungsdatum: 2019-01-11
Rated

5

von

5
von
MCVT
aus
Great All Mountain and Traveling Jacket
Purchased for New England and Norwegian weather.. which is to say frequently damp and cold requiring a jacket that keeps everything dry but is flexible and easy to move in. This fits the bill perfectly, and packs down into a manageable size for travel. Full disclosure: I wear a small in Norrona, I sized this up into a medium for additional layering space.
Veröffentlichungsdatum: 2019-01-03
Rated

5

von

5
von
Désirée
aus
Perfect!
Recently, I wore this jacket during a 2-week trek in Picos de Europa where it rained 80% during this time. I stayed dry the entire time.
Veröffentlichungsdatum: 2018-06-17
Rated

5

von

5
von
SusieP
aus
Great colour
Love the colour and it's so lightweight . Really good quality & style
Veröffentlichungsdatum: 2018-01-28
Rated

5

von

5
von
Jubilee
aus
Totally waterproof and moves withyou
My husband is Norwegian andswears by Norrøna for quality and function and I have to agree
Veröffentlichungsdatum: 2018-01-24
Rated

5

von

5
von
Heni
aus
Love the color!
Great bright color for the ski hill, very waterproof. I just layer a puffy underneath on cold days. Very happy with the jacket!
Veröffentlichungsdatum: 2018-01-23
Rated

5

von

5
von
Yeti
aus
Light yet structured
I bought this jacket a month ago and have been skiing with it every weekend since. I wear a down jacket underneath it and I like the way the shell looks and feels. The jacket is light but also has structure and fits nicely. I also like that it has all the the pockets I need for my ski pass, phone, tissues and energy bar - but not so many pockets that I forget where I put what.
Veröffentlichungsdatum: 2017-12-07
Does the pink shell come in an insulated jacket? 
Hi, No. But we have plenty of midlayers in down and primaloft you could use. You also have the lofoten Gore-Tex insulated Jacket: https://www.norrona.com/en-GB/products/lofoten/lofoten-gore-tex-insulated-jacket-women/?color=5635 Contact us by chat or e-mail for tips: atourservice@norrona.no
Veröffentlichungsdatum: 2018-11-05
does this jacket have a snow skirt? 
Hi Katharina, Thanks for your question regarding snowskirt on the trollveggen jacket. We only provide snowskirts for the more ski specific clothing in our range. Like Lofoten, Røldal, Tamok and Lyngen. The trollveggen jacket is also great for skiing, but it is developed with mountaineering as the main focus and the snowskirt is skipped to make the jacket as clean and light as possible. Best regards, Jens, Norrøna Fan Support
Veröffentlichungsdatum: 2018-04-13
Reicht diese Gore Jacke auch für Expedition um 6000- 7000 hm?
Ich werde die Jacke auf eine Reise nach Nepal mitnehmen. Meine Trekkingtour geht auf 5400 Meter.  Wenn ich im April zurück bin, weiß ich mehr! Auf jedenfall vertraue ich dieser Marke und auch dem Jackenmodell!
Veröffentlichungsdatum: 2018-03-16