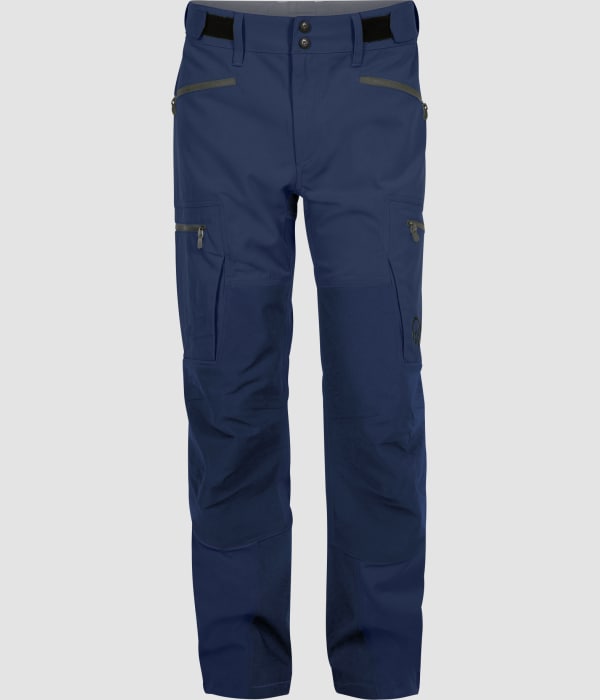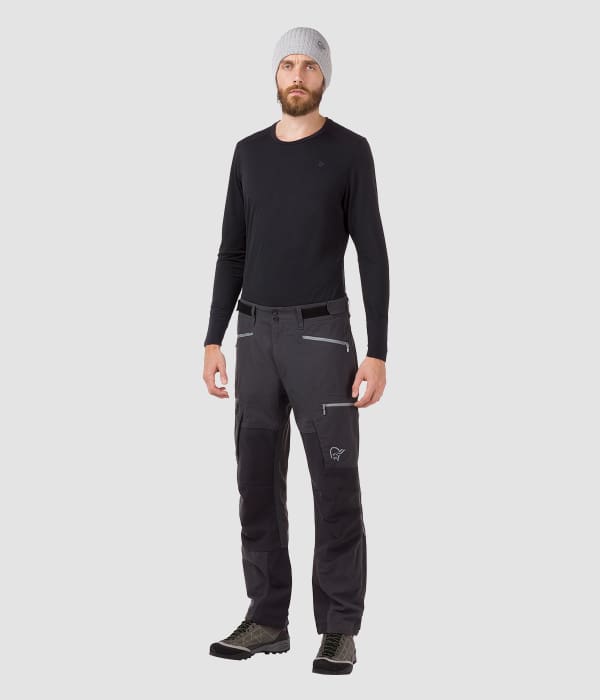 Slitesterke utendørsbukser laget for å motstå tøft terreng til herre. Med varig og sterkt nylonmateriale er dette en bukse som både er komfortabel og har god pusteevne.
Knær og sete er forsterket med det vannavstøtende stoffet flex3 for ekstra værbeskyttelse på utsatte steder. Buksen har detaljer som lufting på innside av lår, justerbar livvidde, forsterkning nederst på benet og borrelåsstramming ved anklene.
Litt hardt arbeid har aldri skremt denne klassikeren som er blitt en favoritt blant håndverkeren så vel som utendørsentusiasten. Passformen er normal.
Innerbenslengde i str. L = 83 cm. Lengden endres med 2 cm per størrelse opp og ned.
Andre bruksområder
Fjellsport / Alpin klatring
Ekspedisjon
Skogsjakt
Brevandring
Høyfjellsjakt
Fjelltur
Spesifikasjoner
5

Vindtetthet

Vindtetthet

Skala fra 1 til 6 hvor 1 ikke er vindtett og 6 er vindtett.

4

Vanntetthet

Vanntetthet

Skala fra 1 til 6 hvor 1 ikke er vanntett og 6 er vanntett.

2

Varme

Varme

Skala fra 1 til 6 hvor 1 ikke har isolerende egenskaper og 6 er våre varmeste isolasjonsprodukter.

4

Pusteevne

Pusteevne

Skala fra 1 til 6 hvor 1 har svært lite eller ingen pusteevne og 6 er våre mest pustende og fuktighetstransporterende produkter.

6

Slitestyrke

Slitestyrke

Skala fra 1 til 6 hvor 1 er skjøre produkter og 6 er de mest holdbare produktene vi har.

3

Lettvekt

Lettvekt

Skala fra 1 til 6 hvor 1 er tung og 6 er blant verdens letteste av sitt slag.

3

Stretch

Stretch

Skala fra 1 til 6 hvor 1 ikke er laget med stretch-materiale og 6 er våre mest fleksible produkter laget i super elastisk materiale.
Materiale
flex™3

Et 3-lags materiale med stretch som gir utmerket beskyttelse mot vind, vann og kulde. Det har en vevd overflate, PU-membran og mikrofleece-backer. Disse spesialutviklede materialene sørger for alle de egenskaper som kjennetegner en Soft Shell konstruert for kalde forhold: Stretch, vind- og vannavstøtende.

Nylon weave 275

Dette er et 275 g/m² vindbeskyttende, pustende og slitesterkt stoff, som er komfortabelt å ha mot huden. Stoffet har et bomullsutseende, men fremdeles styrken og tørkeegenskapene til polyamid.
Tekniske detaljer
Rated

5

out of

5
by
HuntervC
from
Top Quality, hard wearing, perfect
I needed a pair of general hard wearing outdoor trouser for hunting and forestry work and these appeared to look like the ideal combo. They have delivered in every way imaginable. They are much more hard wearing than i expected, a big positive, and yet don't feel too restrictive to wear. Put them through some brutal conditions and they haven't let me down. I haven't had them for summer but i suspect they will work well due to the venting ability. If you are therefore considering a perfect "outdoor" trouser for all types of activity then you would be very hard pressed to find better than these.
Date published: 2017-01-19
Rated

5

out of

5
by
Anonymous
from
Heavy duty awesomeness
Great pants for all kind of activities - I use them for hiking, mountaineering and casual use. L size fits well on me, being 186 cm, 86 kg, athletic built. Pants are made from really robust material and are quite thick which gives you warm and safe feeling. Although being thick, the material is flexible enough not to bother when being active. Side vents and lace hooks comes real in handy. Pants also really good repent water - once rolling around in the snow for the whole day, at the end I was totally dry which positively really surprised me. Recommend.
Date published: 2019-01-19
Rated

5

out of

5
by
Tomppa
from
Very good pants for heavy use
I use these pants almost daily and they are just great! Plenty of pockets, fits great, feels good and durability seems to be very good as well. Snap fasteners could be little bit tighter but no problems so far.
Date published: 2019-01-10
Rated

4

out of

5
by
Zanlamb
from
Excellent pair of comfortable hard wearing trousers
The trousers are much more robust than other I anticipated (and other brands I have tried) yet still remain comfortable and flexible. I have given them a through testing over the past 3 months and they have held up incredibly well. They do size slightly smaller in the waste than the Roldal pants I have so if your on the larger side of medium I would opt for the large instead. The only small issue I have had is the side vent zips have a tendency to slowly creep down. It's not a big problem but worth being wasted of. All in all these are an excellent pair of comfortable hard wearing trousers. I highly recommend them.
Date published: 2018-10-25
Rated

5

out of

5
by
BjørnH
from
Good fit and great comfort
Used it for hiking and mountaineering for a couple off months and its very comfortable and seems to be very durable
Date published: 2018-10-03
Rated

5

out of

5
by
Masins
from
Great pants
Pant looks very nice and technical, actually they are. The rugged covers helps a lot when dealing with rocks, love them. Many pockets placed in the right position with different size and the side opening makes these pants very comfortable even not cold condition. To be honest they could be heavy in full summer/warm conditions. Vestibility is perfect even if I found them a a bit tighter than other Norrona pants.
Date published: 2018-10-02
Rated

4

out of

5
by
Rast1k1
from
Practice model
Well in 2013 I found Norrona as quite expensive but nice look wear. I've bought pants and used it for 5 years. Now I have this heavy duty pants and can say that it's a very practice model. For summer now it's good because of side zippers and I think for winter will be ok as well. I wear it only for month and can't make full review but I like it much so far.
Date published: 2018-08-23
Rated

5

out of

5
by
Alessandro
from
meeting expectation
i bought this trouser a month ago, and so far they met all my expectation
Date published: 2018-08-13
Hello, What is the bottom leg width and the "knee width" in size M, please? Thank you
Hey John66: The maximum bottom leg width (at the hem, with the adjustable velcro cuff set at widest position) is 7 ¾". The knee width is 9 ¾". Hope this helps.   
Date published: 2016-11-16
Can you wear these pants with ski-touring-boots ? What I mean is: is the end of the leg wide enough to fit around a ski touring boot. When I mesure around my boot it comes to 50 cms (scarpa F1). Thank you in advance for this information.
Hi riccho, The Svalbard heavy duty pants are designed for general outdoor use and trekking. These Norrøna pants have a slimmer leg and will not be wide enough to fit around your ski touring boost. The bottom leg width in size L is 43cm. For ski touring I recommend the Lyngen hybrid pants with a bottom leg width in size L of 51cm. I hope this helps. Best regards, Sara
Date published: 2016-10-05
Hi: May I have the correct data for the size M. I have a former version, the size M is quite Ok for me. I am 178cm/ 78KG I have a 88cm waist. Last year I tried the updated one , but found it's too snug in the waist and have to return.