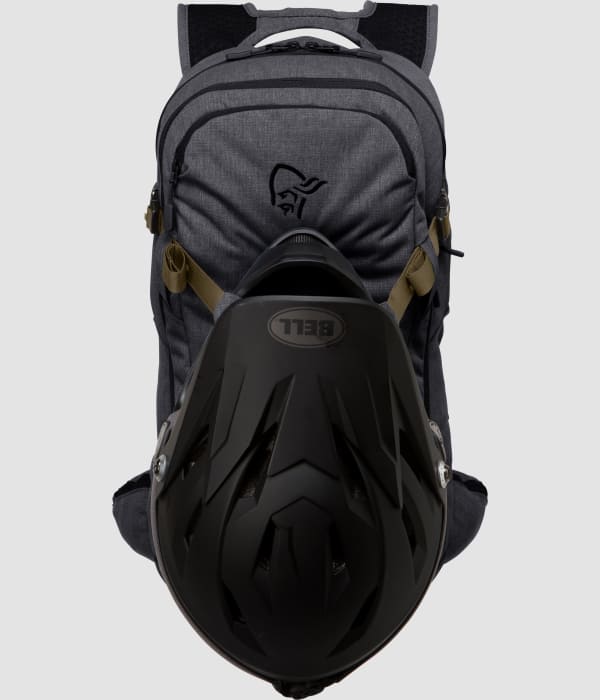 Holdbar ryggsekk for terrengsykling med flott lufting i bæresystemet og plass til alt nødvendig utstyr til en dagstur. Utviklet for enduro-sport.
Sekken kommer med uttakbar ryggbeskyttelse i det innovative materiale D3O® som holder seg mykt og følger kroppen inntil den får et slag. Når den får et slag stives den opp for maks beskyttelse.
Hovedrom med god plass og kompresjonsstropper for å gjøre sekken nettere, separat lomme for vann, verktøylomme foran, lommer til solbriller og nøkler, feste for heldekkende hjelm, skulderstropper, hoftebelte og hemper for utstyr.
Har også polstret skittenlomme for sykkelkjede eller liknende.
Rygglengde på 48,5 cm.
Andre bruksområder
Terrengsykling
Stisykling
Spesifikasjoner
3

Vanntetthet

Vanntetthet

Skala fra 1 til 6 hvor 1 ikke er vanntett og 6 er vanntett.

5

Slitestyrke

Slitestyrke

Skala fra 1 til 6 hvor 1 er skjøre produkter og 6 er de mest holdbare produktene vi har.

3

Lettvekt

Lettvekt

Skala fra 1 til 6 hvor 1 er tung og 6 er blant verdens letteste av sitt slag.
Materiale
dynamic™

dynamic™ - Vårt bæresystem uten aluminiumsskinner eller -rammer. Vi bruker dette systemet i mange av våre mindre sekker der fleksibilitet er spesielt viktig.
Tekniske detaljer
Rated

5

out of

5
by
Mauki
from
Great features
I Love this backpack for mountain biking. Perfekt to store your helmet while riding uphill and all of your stuff you need for a one day tour.
Date published: 2018-11-05
Rated

5

out of

5
by
Anonymous
from
Wonderful bag
I use it in everyday life and when traveling,it is very comfortable and its design is wonderful
Date published: 2018-10-28
Rated

4

out of

5
by
thetwins22
from
Backpacks
Nicely made but need more modifications for a larger built person . Especially around the arks-upper body
Date published: 2018-07-17
Rated

5

out of

5
by
Jcbcloaki
from
Very Nice bag
It's simple I bring it with me everywhere ... It's a great size to carry the little things you need every day. The construction is solid and everything is well thinking for the bike I love
Date published: 2018-07-09
Rated

5

out of

5
by
Jørgen J
from
Great fit, stability and features
I love this pack because it really stays thought on my back, and does not bounce a round when I bike. I also love the size, I can bring all the needed gear/cloths and a camera. I specially like the side pockets that can be accessed with out taking off the pack. There is pockets to organize all my gear and good venting harness. It is nice the the integrated but removable back protector.
Date published: 2017-05-26
Rated

5

out of

5
by
nalexpalex
from
A serious pack with all features needed
I have used this backpack for 20+ mountain biking days in hot and cold weather. The shoulder straps are very comfortable and provide rather good ventilation. The same is valid for the back. The hip belt goes really around your body and provides good stability, especially in downhills. The two side pockets of the hip belt are roomy enough to carry a camera, a phone, and snacks. The tools compartment is very well organized, so you don't have stuff moving around with well-thought pockets and attachments. All details are to be found on this pack, from knee/elbow pads attachment that you can hide neatly when not in use, to a big goggle pocket that's not too exposed, without forgetting a clean design and a big front flap to fit your helmet during those long climbs... And safety is not forgotten either: the pack comes with a great D3O back protector to keep you safe in heavier falls! You can easily remove the back protector when not needed.
Date published: 2017-02-17
What level of protection is the back protector? Thanks
Hello Shiton47! The BP3 L2 back protector is a level 2 protection, including optional cold test at -10 degrees. Lightweight ergonomic design for comfort and protection. Thickness: 22mm
Date published: 2018-04-24