0
lofoten Gore-Tex Pro Jacket (M)
lofoten Gore-Tex Pro Jacket (M)
is rated out of
5
by
34
.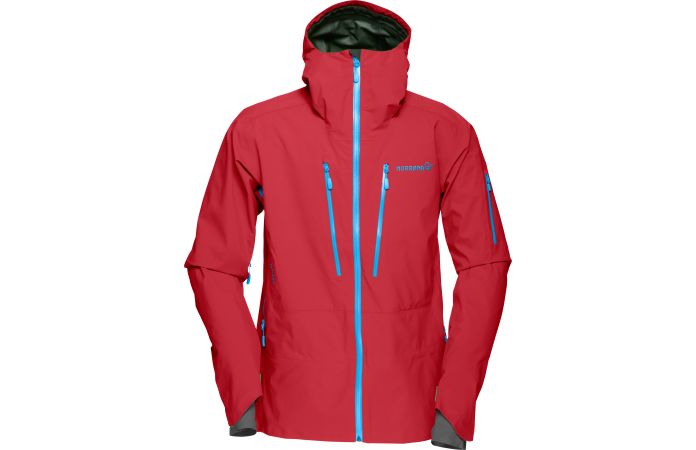 Vår mest fleksible vanntette skalljakke til frikjøring på ski med alle nødvendige detaljer for krevende forhold i fjellet. Dette er vår bestselgende skalljakke til herre. Den har gode puste- og lufteegenskaper, er meget værbeskyttende, og har samtidig lav vekt og høy komfortfaktor. Jakken er laget i det nye GORE-TEX® Pro materialet for enda bedre pusteegenskaper denne sesongen. Definitivt et av Norrønas aller mest populære produkter. Vi anbefaler å plassere mobiltelefonen i den tiltenkte innerlommen, for å hindre fuktskader.
Vindtetthet

6

Vanntetthet

6

Isolasjon

1

Pusteegenskaper

4

Slitestyrke

5

Lettvekt

4

Stretch

1
Laget for
Storfjellskjøring ski/snøbrett
Andre bruksområder
Bakkekjøring ski/snøbrett, Frikjøring ski/snøbrett, Brevandring, Skitopptur, Generelt friluftsbruk, Hverdagsbruk
Disse passer perfekt til
USD 23

USD 600

USD 150

USD 120
Rated

5

out of

5
by
Patrocle
from
Best Jacket ever
I bought the jacket 4 years ago. But I don't ski. At all. I use it every single day on day life activity since I've bought it. It's like a second skin for me. I'm a professionnal photographer, and I'm outside very often. I also hike a lot. This jacket is my best protection against all type of weather. It's very light, I can wear it during summer in a hard windy day near ocean. When the weather is too hot, the jacket doesn't take much space in a bag. But I can also use it when it's raining a lot, even if I can't find anything better than an umbrella to protect myself from the rain (to be honest I was a little desapointed the first time I've been using it under hard long rain, I imagined that I would not be wet at all - that was a bit silly to think). During cold winter, if you wear good clothes under the jacket, it's the perfect protection with the hood. Even when you are static. When you are active, sweat is not a big problem with the gore tex shell AND the large openings under the arms. Last but not least : I use the jacket nearly 300 days a year for 4 years. Of course, some parts are (just a little) bit worn out. But this jacket is very resistant. A few weeks ago the zipper just broke. So I wrote Norrona in order to know what to do. A new zipper has been sent to me. Repair just finished. Totally fits with the jacket. Just so happy to be able to wear it again...
Date published: 2016-12-20
Rated

5

out of

5
by
magichandsmax
from
drop dead gorgeous.
without doubt the most functional, highest performing and best looking jacket i've ever owned. coupled with the lofoten gtx pro pants and some layering there's nothing it can't handle. and it's not just for skiing. i use it on wet days on my bike to work and it's also great for hillwalking. i'd been thinking about a lofoten jacket for a while. the guys on the chat service gave me some great advice and (gently) convinced me to take the plunge. thanks so much. tbh i prefer the colour options from previous years and hope that next season brings back some brighter colours.
Date published: 2017-06-09
Rated

5

out of

5
by
Ivanovarony
from
Excellent product!
Perfect fit and very beautiful color!I love this jacket..
Date published: 2017-05-20
Rated

5

out of

5
by
J The Ski
from
Very good and functional wear
I bought this product month ago and I have been used it about two week in hard condition and weather
Date published: 2017-04-20
Rated

5

out of

5
by
Bayfs5
from
Fully Loaded
I bought this just before Christmas 2016 and I'm really rather glad I did. My previous jacket was insulated and I would "beef" up a fair bit when the going got tough so I decided to opt for the layering approach. This jacket is splendid. Nice long arms and length in the body so no annoying chills on the lifts when the wind tries to sneak up your spine. Plenty of zips and pockets all in the right place, all fit for purpose. Trump would be happy with the collar; it's like a wall when fully zipped up and keeps everything out. The material seems sturdy enough and it doesn't make a racket when you move. The fit might be snug for those with a fuller figure but the advantage here is that there is no excessive fabric flapping wildly in the wind. I layered up comfortably under the jacket and with a back pack still felt free to move. Good bit of kit. Price is on the punchy side but it's still a good purchase.
Date published: 2017-03-06
Rated

5

out of

5
by
eskimo1973
from
Wonderfull jacket
I bought the jacket about a month ago. I was a bit unsure about the size so I wrote a little message to support. WIth my 1m70 and 67kg , size S was recommended. The size was the right choice, a little bit on the long side compared to other jackets I had but perfect for layering. My first trip in january, I had a crash with another skier and my ski cut my pants and knee (stitches), and put a cut in my arm, but surprisingly, nothing to see on the jacket. So the gore tex pro passed the ultimate test.. With the old pants damaged, I ordered the lofoten pants to go skiing last week. Unfortunately it arrived too late for my skitrip, so no feedback on the pants yet, but the jacket was worn last week in cold , wet, snowy and windy conditions. I have not found negative points yet, so very satisfied with my purchase.
Date published: 2017-03-04
Rated

5

out of

5
by
NickPop
from
Great jacket. Best best ever customer service.
The jacket is hands down the best outer layer I've owned for skiing. Well thought through details. Also, I had an issue that required the involvement of customer service and they were a delight to deal with. Awesome company.
Date published: 2017-02-15
Rated

3

out of

5
by
JanIdar
from
Almost great product
Bought this jacket just two weeks ago and have been using it for skiing and skitouring. Great fit and features, feels like perfect jacket for me. Unfortunately left cuff is already showing sign of wear. Too soon for a jacket this expensive. Let's see how well warranty works.
Date published: 2017-01-23
When will the jacket be available in birch green size XS?
Hi Cookiemonster, Thank you for your question regarding the Lofoten Gore-Tex Jacket for men. The jacket will be available in the color "Birch Green" in the middle of September 2017 when the new and improved collection is coming. Unfortunately, this will not come in size S. The size range of the Lofoten Gore-Tex Pro next season is from S to XXL. Our Lofoten Gore-Tex Pro jacket we have now will expire and not be back in stock. Please stay tuned in our website when we launch the new collection. Best Regards, Siri, Norrøna Fan Support
Date published: 2017-05-08
Do many guys use this jacket for snowboarding? Does it work well? Looks great, but curious....thanks!
I use my Lofoten for skiing, and it's awesome!! Thumbs up!!
Date published: 2017-03-23
Hi, have you changed the sizing of your jackets in the last few years? I used to take L but looking at size guide I would now be M (6', 75kg) thanks
Hi root, Our size guide is general for all products and the fit and sizing differs a bit from produt to product based on the intended functionality and usage of the product. For this shell jacket it is made to go with the layering system of three layers below, and possibility to add a down/primaloft layer inside the jacket for the coldest conditions. Therefore the fit is made a bit roomy for this. So you should go for M size in this product. It can be a good thing to look at the size/fit information per product on the reviews from other users of the jacket to get an understanding of the size/fit of each product in our online store. Sorry for late answer. Best regards, Jens Norrøna Fan Support
Date published: 2016-11-11
Hello, is the Gore-Tex used N40p or N80p? Cheers
Hi ZGCO, The outer fabric of the Norrøna lofoten Gore-Tex Pro jacket has a denier of 70. The pants have a denier of 200. On trollveggen Gore-Tex Pro jacket it is a denier of 80 and on the trollveggen Gore-Tex Pro light it is a denier of 40. Hope this answers your question the way you wanted. Best regards, Jens Norrøna Fan Support
Date published: 2016-10-21