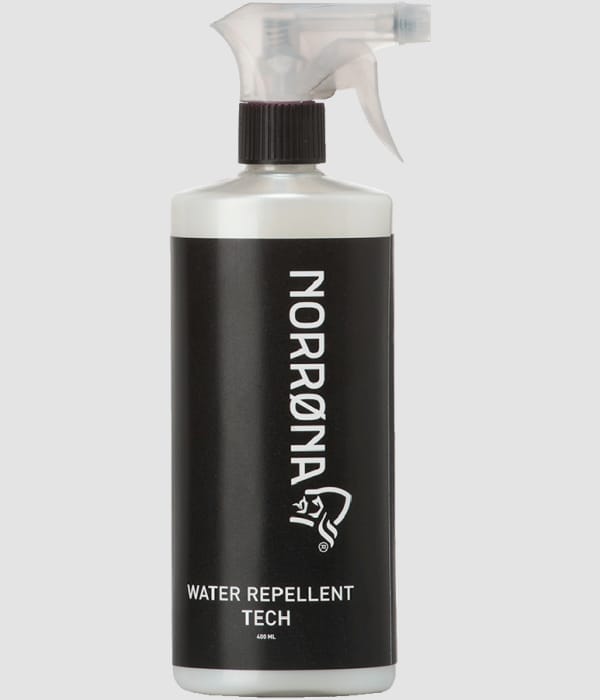 This product is not available in your country
Miljøvennlig impregnering for tekniske plagg, som Gore-Tex, dri med mer. Dette påføres med spray for at plagget skal holde lengre, puste bedre og ha bedre vannavstøtende effekt i ytterlaget.
Instruksjoner:
1. Plagget bør være rent og tørt.
2. Rist flasken godt før bruk.
3. Dusj plagget så jevnt som mulig.
4. La impregneringen trekke inn i 15- 20 minutter.
5. Tørk av overflødig impregnering med en fuktig klut.
6. Tørk tøyet ved hjelp av varme f.eks. stryking, føning, solvarme eller lignende. Sjekk alltid vaskeanvisning for tøyet.
Tøm/rengjør og lukk sprayanordningen nøye hvis du vil bruke flasken senere.
NB! Om man ikke er nøyaktig nok med å fordele impregneringen kan plagget bli skjoldet. Dette fjernes lett i vask.
Produktene er fluorkarbonfrie og inneholder ingen drivgasser som bidrar til global oppvarming eller CFT-gasser som ødelegger ozonlaget.
Rated

5

out of

5
by
SPOFBOY
from
Fantastic Product
I bought this to waterproof my Norrona Loften, it did a great job, water just beads off no collecting at the seams or folds. Have used this on all my other jackets with the same great results.
Date published: 2017-07-03
Rated

5

out of

5
by
Ludi
from
Efficient re-waterproofing
I've used this to re-waterproof my Lofoten jacket which takes a regular beating as I wear it any time it's raining out here. After treatment, water is beading and bouncing off my jacket just as it did when I first bought the garment. Very pleased to see I can increase the longevity of my jacket!
Date published: 2018-11-14
Rated

5

out of

5
by
Sean91
from
Easy to use
Bought this to re-waterproof my gore tec jacket and it was easy to apply.
Date published: 2018-09-23
Rated

5

out of

5
by
maxxx
from
it does the work
Fast delivery and good product, I use it on my norrona lofoten one piece suit.
Date published: 2018-05-08
Rated

5

out of

5
by
Who cares
from
Re-proofing made easy
I bought this based on the guidance on the Norrona website to reproof my Lofoten jacket and ski pants. It is easy to apply and I experienced no fabric discolouration. Basic tests indicated improved water repelling and the real test will come next ski season.
Date published: 2018-04-27
Rated

5

out of

5
by
Annon
from
Reproofing 5 year old jacket
Clear web site, prompt delivery to UK and clear instructions on the bottle. Limited use so far but appears very effective as water beading on the surface.
Date published: 2018-03-03
Rated

4

out of

5
by
FrenchFred
from
Easy to apply
Easy product to apply. Need to follow the user's instruction for nice finish but result is there
Date published: 2018-02-14
Rated

4

out of

5
by
Anonymous
from
Odor-free water repelant
I am very satisfied with this water repelant spray, which unlike other water repelant sprays, doesn't have any chemical smell. Also it works perfect on all material, including my Trollveggen Goretex Pro and my Haglöfs bagpack.
Date published: 2018-01-18
Can I use this on my recon jacket?
I've only used it on my goretex jacket and ski pants and it worked really well. I wouldn't want to give the wrong advice, but if your jacket is already water resistant or waterproof it should work 
Date published: 2018-09-24
Hello, can this be used on the Norrona Svalbard Organic Cotton Anorak?
Hi, No but you can use our Water Repellent Natural spray is for cotton garments: https://www.norrona.com/en-GB/products/general-outdoor/water-repellent-natural-400-ml/
Date published: 2018-07-18
Good evening, I tried to add to basket but it doesn't work (I am an european customer) - can you help me? KR, BM
Actually I received an email from Norrona "customer experience" saying that the shipping is restricted to some countries only (France, UK, Scandinavian countries, basically). Quite strange, indeed. Not a good service for southern Europe customers.
Date published: 2018-05-19
Adding this to my cart fails each time (all other products work). I want to add this to a larger order. Can you help?
Hi, This product is only available for purchase in Europe, for shipping reasons. That might be the reason for why you have trouble adding it to your order. Best regards, Jens, Norrøna Fan Support
Date published: 2018-03-02
Hi, when will be this product available again? Best regards, Marko
Hi Marko, This is a product that we will have in stock almost always, although it will be short time periods where we are out of stock. So if this is sold out, please check again after a week. Best regards, Jens, Norrøna Fan Support
Date published: 2018-03-02
Can we use this product on Falketind PrimaLoft100 Hood Jacket?
Hi Gonos003, Thanks for your question. Technically it is possible to use this tech spray on a synthetic lightweight fabric such as the Falketind primaloft. On the other hand I do agree with "justigoo" that it might limit the loft of the primaloft. I would therefor suggest to use it in case only on critical spots such as hood and shoulders, avoiding the whole surface. Best regards, Jens, Norrøna Fan Support
Date published: 2017-04-24