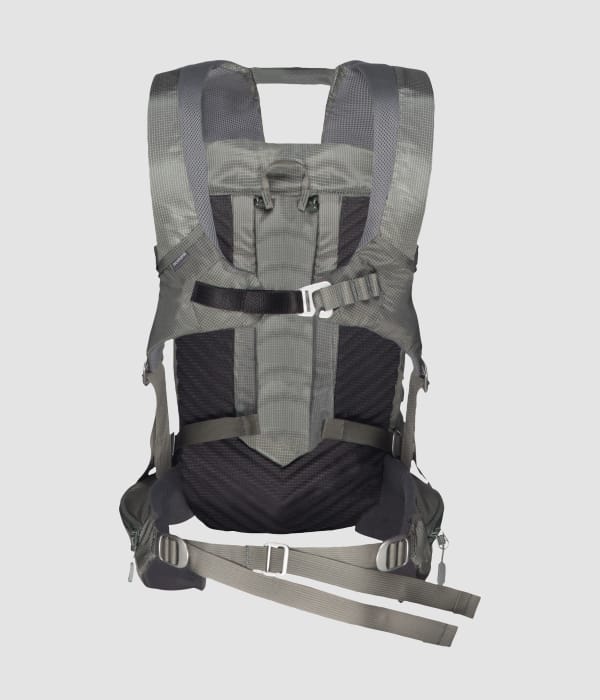 Produktinfo
Vekt 940 gr.
Fjørå-sekken på 18 l er en lett sekk til terrengsykling med oppbevaringsplass til de viktigste gjenstandene dine. Sekken er designet med en separat lomme for drikkesystemer, med enkel tilgang.
Den har flere mindre lommer for verktøy, telefonen, nøkler og en separat brillelomme med mykt materiale innvendig. Det største rommet er perfekt for et klesskift og matpakken.
Du kan enkelt feste hjelmen til sekken når du ikke sykler da den har eget hjelmfeste i fronten av sekken for full-face hjelm. Bæresystemet gir svært god lufting samtidig som at det holder sekken stabilt og stramt på plass.
Andre funksjoner inkluderer et hoftebelte med lommer på hver side, samt kompresjonsremmer.
Sekken er kompatibel med D30 Removable Back Protector, en uttakbar ryggbeskyttelse som selges løst i nettbutikken. Beskyttelsesutstyr som knebeskyttere og albuebeskyttere festes enkelt i bunn av ryggsekkens front.
Rygglengden på sekken kan justeres til å være S, M eller L.
Laget for
Andre bruksområder
Frikjøring terrengsykkel

Terrengsykling

Fjelltur

Generelt friluftsliv
Fotavtrykk
Oeko-Tex sertifisert materiale

Oeko-Tex sertifisert materiale

Oeko-Tex® is a worldwide consistent, independent testing and certification system which secures chemical use is in line or surpassing national and international regulations and standards.

Åpen fabrikkliste

Åpen fabrikkliste

This product is made in a factory openly listed on norrona.com.

Inspisert fabrikk

Inspisert fabrikk

This product is made in a factory inspected by an independent third party and followed up by Norrøna.
Materiale
dynamic™
dynamic™ - Vårt bæresystem uten aluminiumsskinner eller -rammer. Vi bruker dette systemet i mange av våre mindre sekker der fleksibilitet er spesielt viktig.