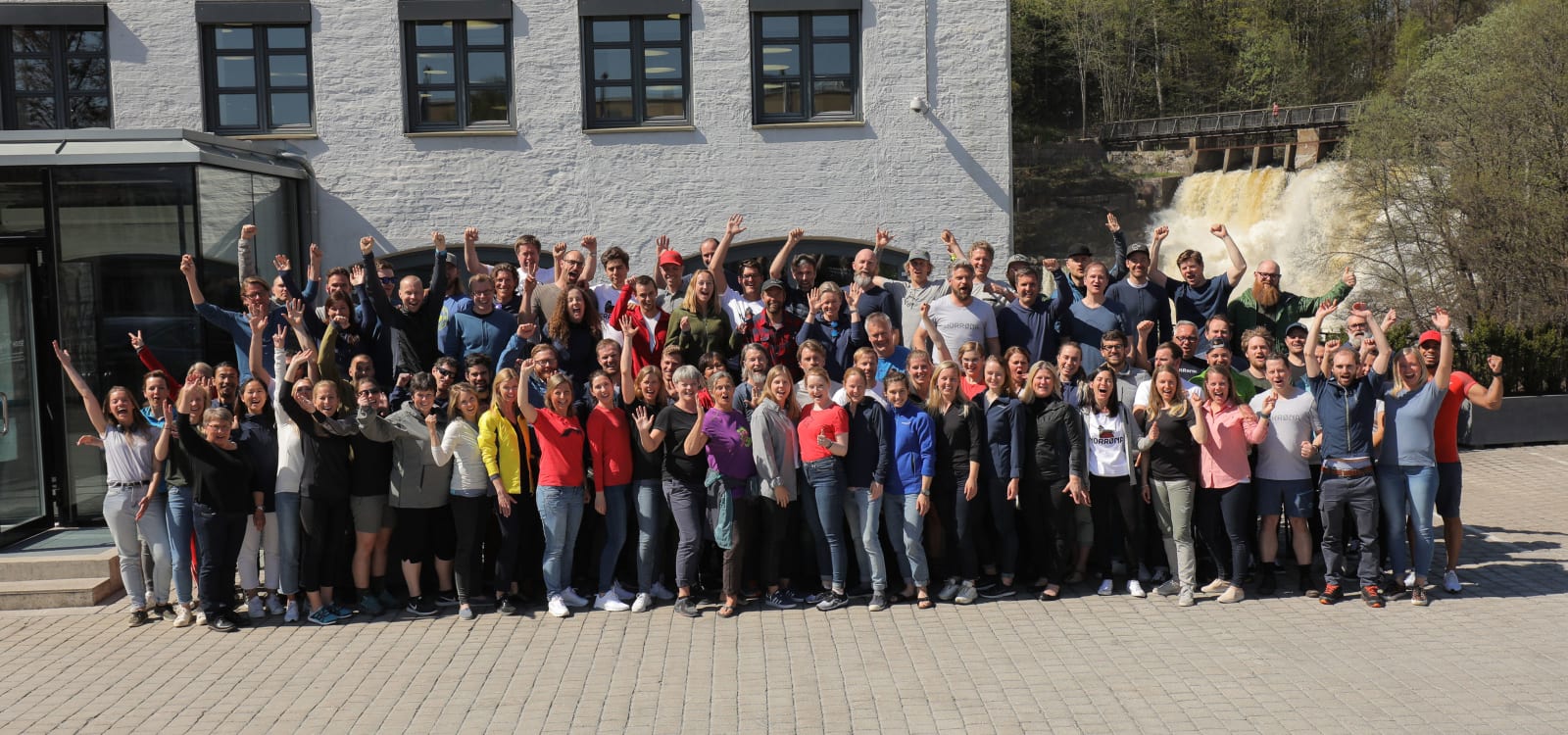 Green Commute
We wish that 100 % of Norrøna employees commute environmentally friendly to work a minimum of 75% of the time, and actively promote eco-friendly commuting.
In 2016 we saw that 85% of our employees commuted eco-friendly, and 33% of our employees biked, ran or walked to the office. In 2018, 96 % of all employees traveled eco-friendly to work and we hope to reach 100% by the end of 2019.
To achieve this we have initiated several alternatives: The company cars used by sales reps have been replaced with electric or hybrid cars (that have to be able to drive electrically to and from work). The few available parking spaces we have are reserved for electric cars, and we have biking or walking to work competition where the participation fee is covered by Norrøna. We also have arrangements to make it easier to bike/walk/run to work; wardrobe with showers where towels are available to all.
Recycle waste produced at Norrøna HQ and become a zero waste to landfill office
The long-term intention is that all waste generated at the Norrøna HQ will be recycled.
This is a target we are still working on, but our ambition is to become a zero waste to landfill HQ. This means that all waste generated at our HQ should be recycled and we are mapping what our options are, and based on this we will develop a plan for implementation. Currently, we are recycling paper waste and food waste is being delivered to composition. Our electronic waste is delivered to return stations where reusable components or materials are taken out. We also deliver most of our plastic waste for recycling.
We are currently looking for a return solution for worn-out garments, but it is difficult to make it environmentally viable in Europe at the moment. We are also looking into options to encourage re-selling used garments, and we have always offered repair services to all our customers!
By 2018, 82% of our accumulated waste was recycled.
Norrøna House should be refurbished with eco-friendly materials.
In April 2015 we relocated to our beautiful new HQ at Lysaker, outside Oslo. The building from 1862 is an old industrial brick building right by the Lysaker river, and it required a total renovation before we could move in. An extensive environmental plan was developed for the renovation, ensuring the usage of the most eco-friendly alternatives and materials. The choice of using an existing building instead of building a new is also environmentally friendly.
Powered by renewable energy
The intention is that the Norrøna House power supply is based entirely on renewable energy. We wanted to supply our new HQ with renewable energy to reduce our carbon footprint. The target is already achieved as 100% of our power is generated by hydropower. See the certificate provided by our power supplier that verifies that our electricity is based on hydropower.
Link to certificate