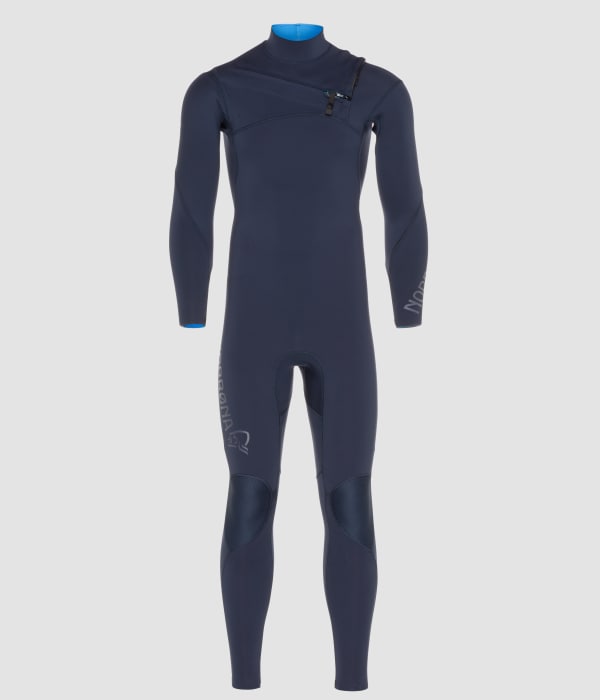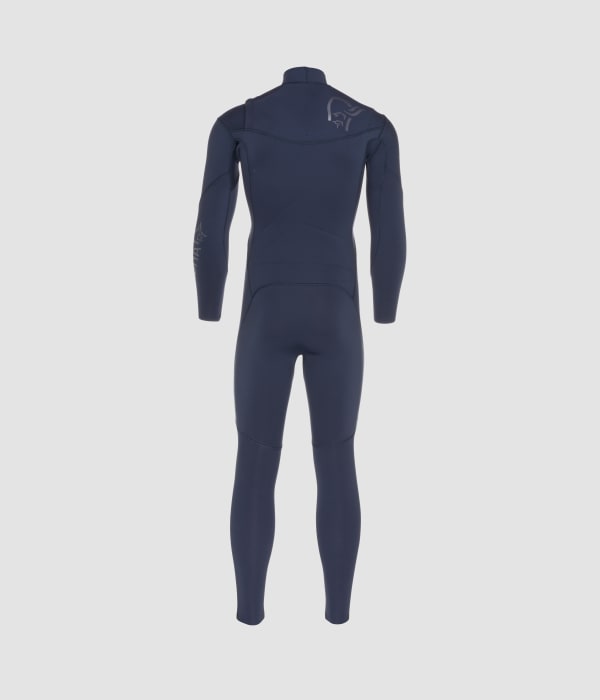 La combinaison de surf unstad 4/3 est spécialement conçue pour surfer dans l'eau froide. Cette combinaison offre à la fois des éléments fonctionnels, une tenue chaude, une liberté de mouvement optimale et des matières en néoprène haut de gamme et durables. Elle se compose de plusieurs couches de néoprène pour garantir une épaisseur idéale ainsi qu'une souplesse et une liberté de mouvement maximales aux endroits les plus stratégiques. S'inspirant des propriétés d'une jupe pare-neige, la combinaison comporte de petits rebords aux épaules qui protègent le visage contre les éclaboussures d'eau froide. Elle est également équipée d'une fermeture Éclair à l'avant.
Composition
Naturalprene

Nos combinaisons sont réalisées en naturalprene, une mousse en caoutchouc naturel plus respectueuse de l'environnement récoltée à partir d'hévéas en Asie, où est également produit le néoprène. Le naturalprene est appliqué sur les deux faces d'une feuille de polyester recyclé, à l'aide d'une colle à base d'eau sans solvants, sauf pour les zones de renfort qui nécessitent des matières vierges offrant une meilleure résistance.
Détails techniques
Rated

3

out of

5
by
Pop77
from
Not stretchy enough and rubs badly under the armpits.
This suit is warm enough as advertised but it doesn't have enough stretch compared to market leading brands for wetsuit at this price. I found that the suit rubbed really badly under the armpits and I would need to apply a thick layer of Vaseline if I was going to wear it again.
Date published: 2018-01-03
Rated

5

out of

5
by
Aleks
from
Great product
Best wetsuit ever, can only recommend the products and the store
Date published: 2017-12-14
Rated

4

out of

5
by
Jasaiz
from
Good first attempt at a wetsuit
This would have been five stars, but I gave it a four for the following reasons. Norrona just does straight sizes....S, M, L etc. Most wetsuit companies have in-between sizes like medium short or Medium tall etc. I am usually a medium short. I bought the medium at the Stockholm store while on vacation. The fit around the body is 90% perfect. That 10% that is not is in the shoulder, under arm area. Most surfers tend to have a broader shoulder base then most, and I think Norrona took the sizing to the same body type they do for their ski wear which is narrow. As a result there is a small tightness under the arm pits. If they altered the design to account for broader shoulders that surfers have it would be a better fit. The length is longer since it is a medium and not a medium short, but it is not too much of an issue, and it allows for plenty of freedom of movement when you stretch out to paddle or jump up on the board. I have work this for a few session in San Francisco. The water temp is 52 F and the air 54F. I was completely warm and comfortable, and the material that they use for the suit itself seems to repeal water and quickly dries. The suit itself allows for plenty of freedom of movement and does not restrict or feel heavy like some 4/3 mm suits can. One small critique and this is more of a quality assurance issue is that material they use to put the logo on cracks really easy and will crack and fade off the suit fairly quickly. They may want to think of using a different method of putting their logo on the suit to make it last longer. Overall this is an outstanding first try for their suit, and I hope they continue to refine it and carry it year after year.
Date published: 2017-11-20
Rated

4

out of

5
by
mathieuparisot
from
Super comfy and warm
I bought this wetsuit some 1 month ago and I was waiting for cold times to try it on. I'm pretty satisfied with it. It feels great on me although I usually wear MS size for wetsuits from most brands. Somewhat hard to put it on but I have been amazed how easy it was to put it out, I assume it stems from the fabric inside that slips easier when dry.
Date published: 2017-11-16
Hi im 5 feet 8inches with a 30inch waist, what size would i be? Im normally a size small in tops and trousers.
Totally, I usually wear S size and my waist is 31 inches, enjoy!
Date published: 2019-07-26
What is sustainable neoprene?
Hello Bramleyborn. Thank you for your question regarding this wetsuite. Our sustainable neoprene is made from natural rubber, coming directly from the rubber tree. There is no petroleum involved in the manufacturing of the fabric, and requires a lot less energy then what is needed for making the non-petroleum based lime stone neoprene. Bets regards, Anette/Norrøna Fan Support
Date published: 2018-01-23
I am 5 feet 4 inches with a 33 inch waist and medium build. What size should I be looking at for this wetsuit. I usually get a medium short in other wetsuit brands.
Hi Jeremiah! Sorry for late reply. I think the Small will be the best fit, but it will probebly feel a bit thight, A medium will have a bit long arms and legs. .
Date published: 2017-09-23
Do u think unstad is suitable 4 river canyoning? we requires suits providing full body movement, resistance 2 abrasion, east to put-in/out and lightness is appreciated for the aprroach and exit processes. we use 5-8mm suits.  the light blue suit will be 
Hi Turo Trek! Sorry for late answer, this one slipped. Yes the suites should be sutable for river canyoning. THey are warm compared to thir thickness. They have knitted polyester fabric all over both inside and outside. Reinforced knees. Good protection on the closure around the neck, durable seams. The naturapreen we use is sustainable made from rubber trees, it is warmer than normal neopreen but sligthly less stretchy.
Date published: 2017-09-23
Hello, could you tell me please what water temperature the Unstad 4/3 wetsuit is rated down to? I am wondering if it will be suitable for the Scottish winter.
Hi Dave, Thanks for your question regarding temperature range for the Unstad 4/3 mm wetsuit. Some people like to have a thicker wetsuit than normal to stay warm and others choose thinner for more flexibility and doesn't freeze to easily. So off course this is a person to person question with no exact answer. We would say that the comfort range of this wet suit is between 10 and 17 degrees celsius doing surfing. The feedback from our testers is that the wetsuit feels very warm compared to the thickness of it. Good luck with your search for wetsuit for the Scottish winter, and I hope you choose a really sustainable one, like the Unstad 4/3 or 6/5. Best regards, Jens, Norrøna Fan Support
Date published: 2017-09-19
Will a version for women be available as well? Or is arctic surfing just for men?!
Hi Vroni, The brand new unstad wetsuit is only available in a men's model at this time. This is the first time we made a wetsuit and therefore we started with the men's model. We hope the demand will be high enough so we can produce a women's model in the future. Best regards, Sara Norrøna Fan Support
Date published: 2017-08-21
D'autres ont également consulté