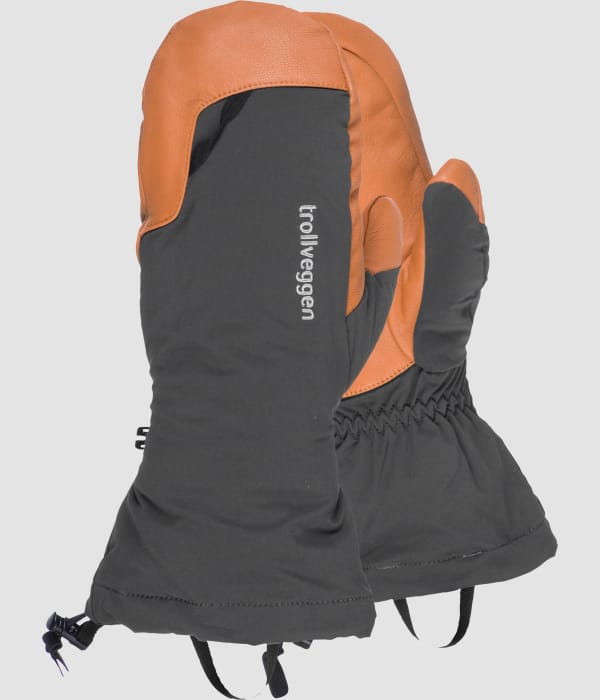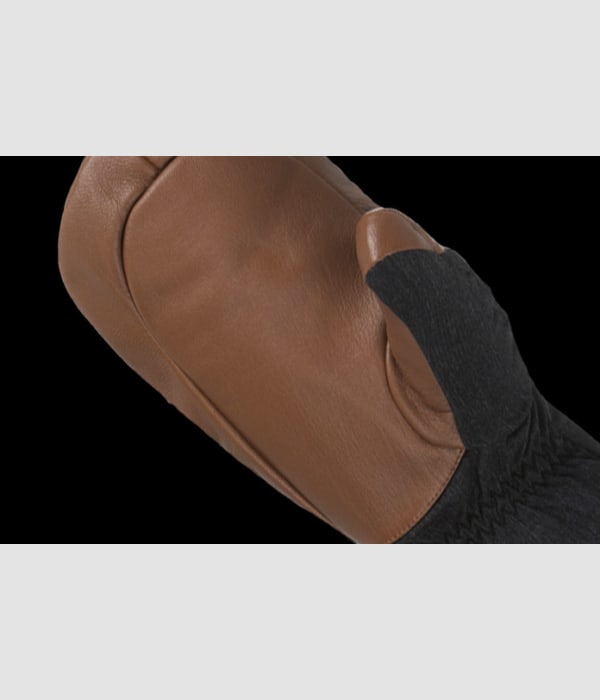 Avantages du produit
Poids 160 gr.
The trollveggen dri PrimaLoft®400 long Mittens are our warmest waterproof mittens for mountaineering. They have PrimaLoft® Gold active 400 g in back and Gold ECO needle 200g in the palm to provide great wamring properties. The flex fabric provides great movement, while the soft goat leather grip ensures a steady grip. The dri1 insert makes the glove waterproof and breathable and the inside has a soft and comfortable brushed polyester liner with good breathability. Other features include elastic cuff closure, pull strap and narrow safety straps.
Produit pour
Alpinisme
Autres utilisations
Activités de plein air générales
Snowboard et ski freeride
Marche sur glacier
Escalade glaciaire
Ski de randonnée
Escalade de grandes parois
Spécifications
6

Coupe-vent

6

Rapport chaleur / poids

5

Isolation

3

Respirabilité

5

Durabilité

3

Légèreté

3

Elasticité
Composition

Tissu technique à 2,5 couches, dri™1 se compose d'une surface plaquée sur une membrane imprimée. Il s'agit d'une matière protectrice douce, ultra-légère, peu épaisse et ne nécessitant aucune doublure, qui utilise un système hydrophile d'évacuation de l'humidité par opposition aux micropores. Elle est parfaitement adaptée à la pratique du vélo, de la marche, de la randonnée et autres sports de plein air exigeant une protection contre le vent et la pluie. Spécifications techniques : Imperméabilité : min. 20 000 mm * Respirabilité : très bonne, min. 20 000 ** Protection contre le vent : 100 % * test ISO811 ** JIS-L 1099 B2, test de la tasse inversée

PrimaLoft™ One Gold g est une microstructure brevetée qui offre une excellente isolation thermique pour aider le corps à maintenir sa température et minimiser ainsi la perte d'énergie. Il s'agit d'une matière extrêmement légère et douce, qui a été développée à l'origine par l'armée américaine pour remplacer le duvet naturel. Étant donné que le duvet absorbe l'humidité, il perd sa capacité d'isolation thermique. En comparaison, la matière PrimaLoft™ absorbe trois fois moins d'eau et apporte 14 % de chaleur en plus lorsqu'elle est sèche et 24 % lorsqu'elle est humide.
Info
Peau de chèvre
Nous avons choisi la peau de chèvre car elle est plus résistante, plus douce et plus souple que le cuir de vache. Les produits en peau de chèvre sont étanches et n'exigent pas d'être portés pendant longtemps pour s'assouplir.