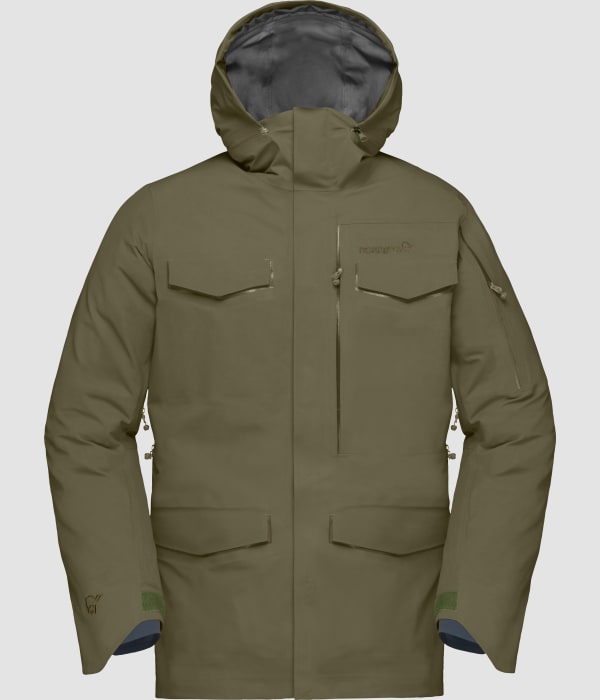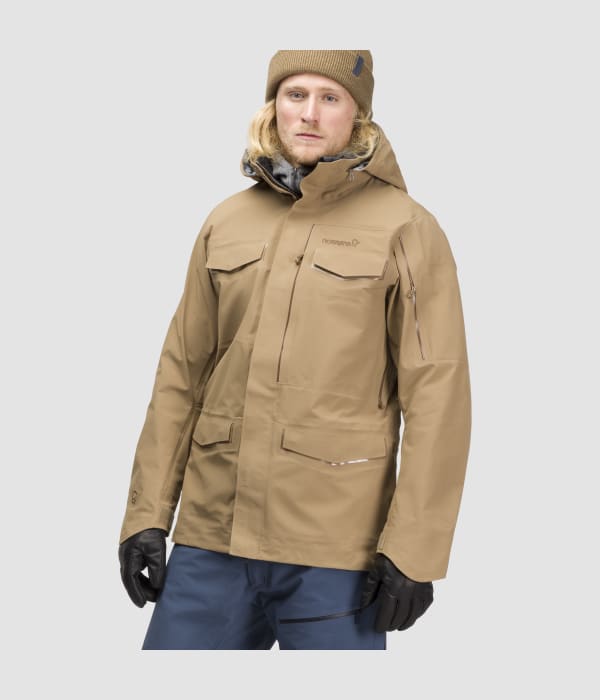 Merci de me prévenir quand cet article est à nouveau disponible
La veste røldal en Gore-Tex pour homme est un vêtement de freeride très fonctionnel, offrant une imperméabilité et une respirabilité exceptionnelles, des détails pratiques et un style épuré, idéal à porter en montagne comme à la ville.
Cette veste classique et intemporelle, inspirée de la veste militaire M65, comprend quatre poches à rabat sur le devant et la poitrine, une fermeture Éclair à double patte sur le devant et des plis d'aisance pour une plus grande liberté de mouvement.
Grâce à sa doublure en polyamide Gore-Tex® C-knit™ recyclé, cette veste allie à la fois respirabilité, durabilité et protection contre les intempéries. Elle offre ainsi un confort supérieur tout en légèreté et est idéale pour les amateurs de freeride dynamiques qui accordent aussi beaucoup d'importance à l'esthétique.
Elle présente également des fentes de ventilation au niveau des aisselles, une grande poche poitrine verticale, deux poches pour les mains, un chiffon pour les lunettes, une poche sur la manche pour les cartes électroniques et une poche intérieure assez grande pour un smartphone.
La capuche amovible est compatible avec le port du casque, et peut facilement être ajustée d'une seule main.
Pour empêcher la neige de pénétrer dans le dos, la jupe pare-neige amovible est dotée du système Snap and Seal™ compatible avec toutes les vestes équipées de ce dispositif.
Produit pour
Snowboard et ski freeride
Autres utilisations
Détente
Activités de plein air générales
Ski et snowboard
Spécifications
6

Coupe-vent

Coupe-vent

Scale from 1 to 6 where 1 is not windproof and 6 is totally windproof.

6

Rapport chaleur / poids

Rapport chaleur / poids

Scale from 1 to 6 where 1 is not waterproof and 6 is waterproof.

1

Isolation

Isolation

Scale from 1 to 6 where 1 has no insulating properties and 6 is our warmest insulation products.

3

Respirabilité

Respirabilité

Scale from 1 to 6 where 1 have very little or no breathability and 6 is our most breathable and moisture wicking products.

4

Durabilité

Durabilité

Scale from 1 to 6 where 1 is fragile products and 6 is the most durable products we have.

3

Légèreté

Légèreté

Scale from 1 to 6 where 1 is heavy and 6 is among the world's lightest of its kind.
Empreinte
Fibres recyclées

Fibres recyclées

Plus de 50% des fibres synthétiques de ce produit sont recyclées.

Tissu certifié Oeko-Tex

Tissu certifié Oeko-Tex

Oeko-Tex® est un système de test et de certification indépendant et cohérent au niveau mondial qui garantit que l'utilisation des produits chimiques est conforme ou supérieure aux réglementations et normes nationales et internationales.

Usine ouvertement cotée

Usine ouvertement cotée

Ce produit est fabriqué dans une usine répertoriée ouvertement sur norrona.com.

Usine inspectée

Usine inspectée

Ce produit est fabriqué dans une usine inspectée par une tierce partie indépendante et suivie par Norrøna.
Composition
GORE-TEX® 3 couches

Un tissu résistant en GORE-TEX® adapté à un large éventail d'activités. Dans cette structure à 3 couches, la membrane est plaquée entre la doublure et le tissu extérieur, pour plus de résistance. Plus léger qu'un tissu GORE-TEX® 2 couches, car il ne nécessite aucune doublure séparée supplémentaire. Spécifications techniques : Imperméabilité : min. 28 000 mm* Respirabilité : élevée, pouvant aller jusqu'à 9 RET** Protection contre le vent : 100 % * test ISO 811 ** test ISO11092

Plus de détails sur le site GORE-TEX®
Détails techniques
Rated

5

out of

5
by
JohnE88
from
Great jacket
Great jacket. Lighter than expected, which is a good thing.
Date published: 2019-08-12
Rated

5

out of

5
by
Anonymous
from
Solid Jacket
Havent skied with it yet but is super nice, excellent materials and finish as usual
Date published: 2019-06-08
Rated

5

out of

5
by
Gunnar73
from
Bra passform & lite annorlunda skidjacka
Har använt jackan ett par veckor i alperna nu, och är mycket nöjd! Gillar att den inte ser ut som alla andra skidjackor. Dessutom mkt bra passform, bra detaljer, etc.
Date published: 2019-02-26
Rated

5

out of

5
by
Twodivide
from
As expected ! Top quality
I went for the roldal for a snowboard/ski use - first need to say that Norrona service went beyond expectations in terms of pro activity in shipping out the goods , I received it in less than 48hrs ( ITALY ) - the product itself is as I expected it to be, perfectly suits my body ( 1,88cm-82kgs ) with an M size, the jacket is full of super useful pockets and I tried it on a stormy day where the 3 layers did their job at best! I love the denim blue color
Date published: 2019-01-21
Rated

4

out of

5
by
nizzerbean
from
Near Perfection
Norrøna's Instagram ad campaign caught my eye during a recent trip to Copenhagen. I was really drawn to the unique way the pocket flaps are cut into the røldal jacket. Keep in mind it is just a shell though the photos make it look more substantial. Two things are keeping this from getting 5 stars from me. I understand that it's a technical jacket but it would be nice to have slash pockets for a more comfortable way to keep hands warm. The flapped pockets make it awkward to use as hand warmers. The other thing is the velcro on the zipper flap. It is often getting stuck to my right cuff and wrist gator. All in all, the details of this are what sets Norrøna apart from the rest.
Date published: 2019-01-17
Rated

5

out of

5
by
Kyoo
from
Kul skijakke
Tøft design, men først og fremst en veldig robust og god skijakke. Fin passform, rikelig med lommer og et veldig bra snøskjørt som kobles til buksen med knapper. Akkurat som forventet av Norrøna. Veldig godt fornøyd!
Date published: 2018-12-21
Hallo Is Roldal gore tex jacket longer like Lofoten pro jacket? How longer ? thanks
Hi, The røldal Gore-Tex Jacket (M) has a center back length of 84,5 cm in size L. In comparison the lofoten Gore-Tex Pro Jacket (M) has a center back length of 82,2 cm in size L.
Date published: 2019-04-25
What is the difference in Gore-Tex in the Roldal and Tamok Jackets?
Hi, the røldal Gore-Tex jacket has recycled polyamide Gore-Tex® C-knit™ membrane, the jacket provides a perfect combination of good breathabilty, durability and weather protection, delivering improved and light weight comfort perfect for the active and style conscious freerider. The tamok Gore-Tex jacket also uses recycled polyamide Gore-Tex® C-knit™ membrane but is made for freeride and freestyle riding in the backcountry. This long-cut ski and snowboard jacket will provide superior protection from rough weather on the mountain.
Date published: 2019-01-14
D'autres ont également consulté