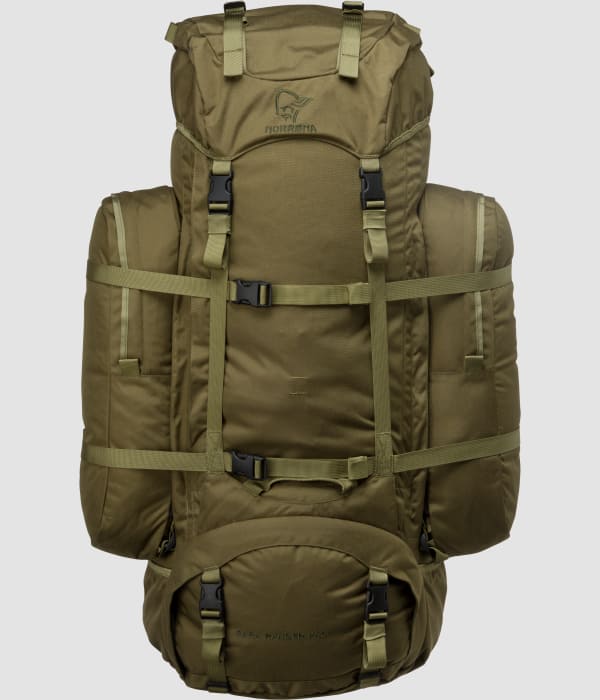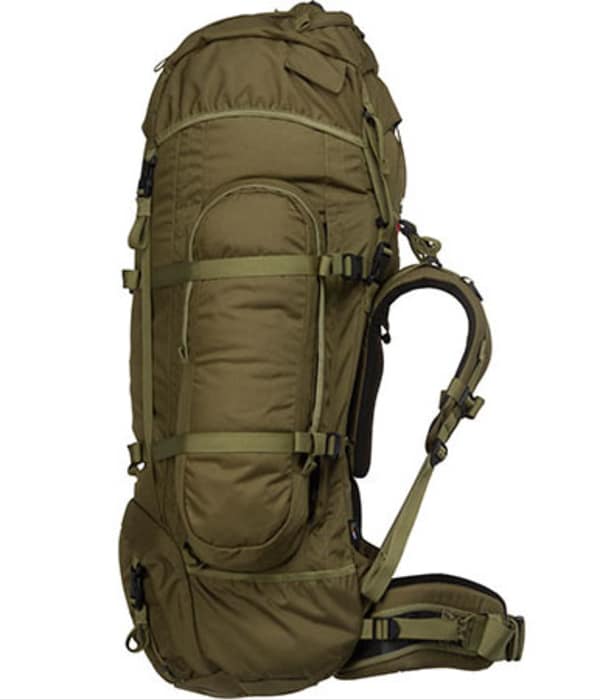 Pour charges lourdes, conçu avec le système Synkron™ léger. Intégrant le système de transport Synkron™4, ce modèle est une version légère du sac recon pour charges lourdes. Conçu pour les charges lourdes, il comprend un cadre unique assurant stabilité, équilibre et confort. Conçu pour offrir une répartition uniforme du poids, en harmonie avec les mouvements du corps, grâce au dos anatomique, au cadre en aluminium, aux bandoulières et à la ceinture de hanches. Les accessoires incluent un harnais réglable en hauteur pour un confort optimal et deux poches latérales détachables, qui s'assemblent pour former un sac à dos 32 L supplémentaire.
Autres utilisations
Trekking
Alpinisme
Expédition
Alpinisme
Spécifications
4

Rapport chaleur / poids

Rapport chaleur / poids

Scale from 1 to 6 where 1 is not waterproof and 6 is waterproof.

6

Durabilité

Durabilité

Scale from 1 to 6 where 1 is fragile products and 6 is the most durable products we have.

2

Légèreté

Légèreté

Scale from 1 to 6 where 1 is heavy and 6 is among the world's lightest of its kind.
Composition
synkron™4

Le système anatomique est construit autour du rail Synkron mince et rigide situé au milieu du dos. Cette structure externe stabilise le contenu du sac et permet d'en améliorer la capacité de charge. La conception du harnais repose sur le principe de la répartition de la charge sur une zone plus étendue pour plus de confort. Les bretelles ergonomiques et laminées à plusieurs densités répartissent la charge sur toute la zone de contact des sangles et apportent stabilité et confort. La ceinture de hanches Synkron permet de transporter des charges lourdes avec confort, grâce à quatre caractéristiques principales : sa forme ergonomique, le Delrin Rod™, sa solution de contrepoids en toile et le célèbre système de rotation des hanches Synkron™. 1) Rail en aluminium au milieu du dos. Bretelles réglables en hauteur. 2) Rotation de la ceinture de hanches fixée au bas du rail central. 3) Bretelles ergonomiques avec plusieurs densités différentes et rembourrage de maintien en mousse. 4) Sangles de rappel de charge sur les bretelles pour plus de stabilité et une meilleure distribution du poids sur les épaules. 5) Bretelles avec coussin au niveau des épaules pour plus de protection. 6) Sangle de poitrine réglable à l'avant de la bretelle. 7) Stature homme 170–190 cm / femme 160–180 cm. 8) Charge : 15 kg à 25 kg.
Détails techniques
Rated

5

out of

5
by
Anonymous
from
Amazing "heavyloader"!
Did buy this big bag because when I go on hike with partner and kids I'll carry most of the equipment, food and water. Really comfortable and my legs give up before my neck, shoulders and back. Without the sidepockets it's really good for trips on my own and the sidepockets alone are okey for top/daytrips.
Date published: 2019-04-11
Rated

4

out of

5
by
Johan
from
Durable and great carry system
This back pack is the perfect companion if you want to carry heavy loads. The syncron flex system rally follow your movements in the terrain
Date published: 2018-09-27
Rated

4

out of

5
by
MB71
from
Super sekk til det aller meste
Super bære komfort opp til ca 30 kg+. Mange tekniske gode løsninger - lommer, remmer samt strammesystemer, masse plass og justerbar rygglengde. Mitt førstvalg til de aller fleste aktiviteter. Eneste gangene jeg har behov for annen sekk (med ramme) er på reinsdyrjakt da fort vekt i sekk blir godt over 30 kg. Recon synkroflex til de tyngste børene - para ranger synkron til resten!
Date published: 2017-03-02
Passer Pararanger 120 liter til min høyde på 194 cm?
Hei Emil02, Takk for ditt spørsmål om denne sekken. Den skal passe fint, også til høye personer da man kan justere sekken i ryggen. Der kan man justere den fra mindre enn eller lik 170 cm og opp til større enn eller lik 190 cm. Så den passer til personer i de aller fleste høyder. Min kollega har testet både denne sekken og synkroflex sekken, og som han sier er det synkroflex-sekken til de gangene man på reinsjakt skal bære godt over 30 kg, og så er det Para Ranger sekken til resten. Para Ranger fungerer også godt for last på 30-35 kg, men skal man bære langt med vekt over det bør synkroflex vurderes. Hovedforskjellen er at synkroflex har ramme. Hilsen Jens, Norrøna Fan Support
Date published: 2018-07-09
Hei. Høyre bæresele på min Para Ranger har revna i en av sømmene som er sydd inn i selen midt på. Finner ikke produktet på siden for reparasjon? Hva gjør jeg for å sende denne inn og få reparert? Billigere å kjøpe ny enn å reparere?
Hei Knut, Vi anbefaler deg å sende en epost med bilde til service@norrona.no slik at vår service avdeling kan se på sekken og finne den beste løsningen.
Date published: 2018-05-10
I purchased a Recon 120L pack from you and had it shipped to me in the US several years ago--on my last trip in the Tetons, Marmots chewed up the shoulder strap pads. I need a set of replacement shoulder strap pads. How do I order them?
Hi jmarek, We will contact you directly via e-mail to resolve this matter. Best regards, Sara / Norrøna Fan Support
Date published: 2017-08-17
Hello, How much does Para Ranger backpack weight without the side pockets? Kind regards, Joni
Hi Joni, The para ranger synkron pack 120L weighs 3860g. The two side pockets weighs 560g. So the backpack without the side pockets weighs 3300g. I hope this helps. Best regards, Sara / Norrøna
Date published: 2017-07-10
Klikkspenne på min Para Ranger 120 l klarer ikke å holde hoftebelte konstant stram..pakker 30 kg og strammingen slipper slik at skulder tar bæringen. Finnes det spenne som holder bedre..
Hei hardangervandrer, Takk for ditt spørsmål ang spenne på Para Ranger 120L. Vi har reservedeler vi kan sende ut, så bare ta kontakt med vårt service senter så hjelper de deg.
Date published: 2017-05-16
Hei. Jeg er 168cm høy. Har dere noen mål for om denne passer ryggen min? Jeg sliter med å finne en storsekk som ikke blir for vid ved skulderende, og kort nok i ryggen (slik at vektfordeling mellom skulder og hofte kjennes god). 
Hei Christian, Takk for ditt spørsmål. Både Para Ranger og Synkroflex vil passe deg fint. Jeg er selv 172 og fikk stilt inn Para Ranger sekken til å være for kort i ryggen til meg. Så dette blir nok perfekt til deg! Både Para Ranger og Recon Synkroflex er utrolig gode og kraftige sekker. Med vennlig hilsen, Jens, Norrøna Fan Support
Date published: 2018-11-26
How is the water resistance for the recon para-ranger 120 backpack?
The water resistance of the Norrøna recon Para Ranger backpack is medium, meaning it will resist some water because of it's heavy duty fabric, but it is not waterproof. We recommend using waterproof inner bags, like this one to protect the clothing. https://www.norrona.com/en-GB/products/general-outdoor/waterproof-innerbag-syncronflex/ Best regards, Jens Norrøna Fan Support
Date published: 2019-05-10
Hei. Kona mi har en litt eldre Norrøna sekk, en Jostedal 65. Er det mulig å få kjøpt to sidelommer til denne (festeanordning med plastspiler som tres inn i web-bånd).
D'autres ont également consulté