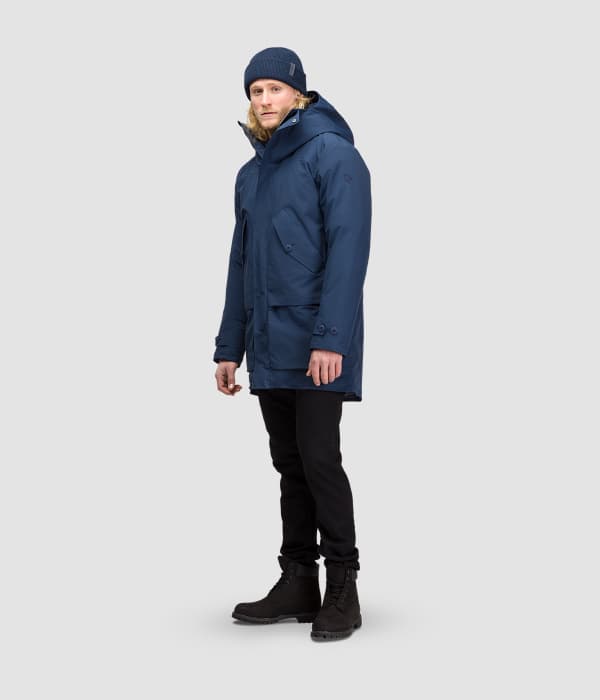 Merci de me prévenir quand cet article est à nouveau disponible
Restez bien au chaud cet hiver dans notre parka imperméable et isolante oslo en Gore-Tex pour homme. Cette nouvelle version plus légère de l'une de nos vestes d'hiver les plus populaires allie diverses technologies de protection et des lignes élégantes.
Cette parka classique est idéale pour une utilisation quotidienne quand la température baisse et que le vent et la neige sont au rendez-vous. Mais c'est aussi un vêtement pratique lors des journées d'hiver moins rigoureuses.
Elle présente une couche extérieure en GORE-TEX® imperméable recyclé et une couche isolante PrimaLoft® recyclée. La coupe longue et la capuche ajustable d'une seule main vous permettent de rester au chaud en toutes circonstances.
Elle comporte également deux jeux de poches avant doublées en polaire pour ranger les objets indispensables du quotidien (les poches inférieures sont dotées d'une fermeture Éclair et les poches supérieures de rabats anti-vent), une grand poche intérieure en mesh, des pattes avant avec poches à fermeture Éclair et des manches ajustables à l'aide d'une patte boutonnée.
Des imprimés transparents mais réfléchissants sont placés à l'avant et au bas du dos pour une meilleure visibilité dans l'obscurité. C'est le vêtement idéal pour tous ceux qui ont besoin d'une veste bien chaude.
Il sera toujours pénible d'attendre le train ou de gratter la glace sur la voiture, mais au moins vous n'aurez plus froid !
Autres utilisations
Activités de plein air générales
Spécifications
6

Coupe-vent

6

Rapport chaleur / poids

4

Isolation

3

Respirabilité

5

Durabilité

3

Légèreté
Empreinte
Fibres recyclées

Fibres recyclées

Plus de 50% des fibres synthétiques de ce produit sont recyclées.

Tissu certifié Oeko-Tex

Tissu certifié Oeko-Tex

Oeko-Tex® est un système de test et de certification indépendant et cohérent au niveau mondial qui garantit que l'utilisation des produits chimiques est conforme ou supérieure aux réglementations et normes nationales et internationales.

DWR sans PFC

DWR sans PFC

L'imprégnation utilisée sur ce produit ne contient pas de fluorocarbures. (DWR = Durable Water Repellent).

Tissu certifié Bluesign

Tissu certifié Bluesign

Bluesign® teste et sensibilise les usines de textile à éliminer les substances nocives du processus de fabrication et établit des normes de contrôle pour une production durable et sûre.

Usine ouvertement cotée

Usine ouvertement cotée

Ce produit est fabriqué dans une usine répertoriée ouvertement sur norrona.com.

Usine inspectée

Usine inspectée

Ce produit est fabriqué dans une usine inspectée par une tierce partie indépendante et suivie par Norrøna.
Composition
GORE-TEX® 2 couches

Un tissu doux en GORE-TEX® adapté à un large éventail d'activités. Protégée par la doublure non plaquée du vêtement, la membrane GORE-TEX® est plaquée sur le tissu extérieur, offrant une protection souple et légère contre les intempéries, ainsi qu'une excellente respirabilité. Ce tissu est en outre plus silencieux que le 3 couches.

Plus de détails sur le site GORE-TEX®
Détails techniques
Rated

5

out of

5
by
Cass
from
Great Winter Coat
I purchased this coat 1 month ago. Like all Norrona products the quality is superb. As with other reviews, the double zip can be a bit fiddly sometimes but this is not specific to this coat as I've found this with all double zips ! The blue colour is great. I am 6 ft 2 and 89 kg. The large ( my normal size in Norrona gear) is a bit big and will allow me to layer up easily. The sleeves are long and I think you could potentially size down on this product if you wanted to. Completely wind and waterproof, looks great on - very simple understated design. Unlike many of the other parkas on the market, the coat isn't heavy in weight and it doesn't make you sweat if you move into a warmer environment. It has kept me at the right temperature due to its goretex/ breathability. Could maybe do with a further inside pocket for stashing gloves etc but other than that it's spot on as a go to winter coat for the town/ city.
Date published: 2019-03-02
Rated

5

out of

5
by
Lukewarm
from
Well-fitting urban jacket with a lot of added functionality
Purchased this jacket from a Canadian online retailer (altitude-sports) for the harsh ongoing winter. The most appealing thing about this jacket is how nicely it fits despite being a winter parka. The synthetic insulation is not as puffy as a down fill, but still works pretty well. The only suggestion I would have for future models is to stitch a little loop so that it can be hung on coat racks or hooks. Some people do mention that the hood is a bit big but after adjusting it with the elastic, I do not have any issues with it. This is my first Norrona product but will certainly not be my last!
Date published: 2019-02-18
Rated

4

out of

5
by
EVGENY D.
from
High quality and futuristic design accent.
Usually I have L size, but with this model only XL fits on me. I have a big question to Norronа about the hood. This is too big. As if designed for the use of a ski helmet. In the free state, he closes my eyes (photo 1). In a strained state, he closes my eyes even more (photo 2). Maybe I'm doing something wrong? Or is the hood designed to cover as much as possible the face? But in this case, I can only look down when walking and this is not comfortable. I measured two same jackets in the store and both had the same feature.
Date published: 2019-02-03
Rated

5

out of

5
by
Sesulak
from
Best Coat Ever
Bought this because I was always cold during winter. This is the best casual winter "coat" I've ever had. If temperature is around -5°C it is enough to wear only t-shirt under it. Well and you do not need to carry umbrella anymore. Excellent protection against cold, wind, snow, rain...
Date published: 2019-01-27
Rated

4

out of

5
by
Anonymous
from
Som en varm kram
Cyklar med jackan varje dag till jobbet. Den andas men är ändå grymt bra mot vind och regn. Praktisk men ändå snygg i stan ;)
Date published: 2019-01-26
Rated

5

out of

5
by
Frank M
from
Fantastisk jakke!
Jeg jobber som fotograf og trengte en jakke som var varm, men ikke for stor og tung. Primaloft er rett og slett helt genial isolasjon. Denne jakka har holdt meg tørr i snø og regn uten at jeg blir klam. Den er veldig varm og deilig. Dette er rett og slett den beste jakka jeg har hatt! Hvis jeg skulle endret noe så måtte det være å ha en glidelåslomme til mobil/lommebok på innsiden av jakka. Genial jakke! Løp og kjøp!
Date published: 2019-01-14
Rated

5

out of

5
by
kv92
from
Great Coat
Was gifted this for Christmas and absolutely love it. I'm 5'11, 150-160 pounds depending on the year, and was given a M. Fits perfectly, arms are proper length, coat is ideal length. Wouldn't change a thing. Zipper start point feels slightly awkward for me but that's a personal problem not a coat issue.
Date published: 2019-01-02
Rated

5

out of

5
by
friluftoghverdag
from
Supert vinterjakke
En god og varm vinterjakke. Fine lommer og passform. Med en litt varierende vinter er det godt at den også er vanntett, da det fort kan komme en nedbør når det ligger rundt null.
Date published: 2018-12-28
Hood is too big. In the free state, he closes my eyes. In a strained state, he closes my eyes even more. Maybe I'm doing something wrong? Or is the hood designed to cover as much as possible the face? But in this case, I can only look down when walking.
I think that's only the design evgeny; for me it's ok to be protected from bad weather instead of a 100% viewfinder!
Date published: 2019-02-06
Hello, could you please specify the weight of insulation in g/m2 of jacket Oslo Model nr. 4808-18. Thanks.
147,5
Date published: 2019-02-05
I've been looking for a reliable parka jacket for urban/city winter cold weather, and I think I found one. Waterproof and windproof are on the top of my list but, I was just wondering about the insulation how cold can this jacket handle? 
I think it'll be fine for extended periods in ~ -10c but anything under that if you're outside for an longer time you'd want another layer. There aren't many coats that are comfortable at -15c that aren't expedition coats.
Date published: 2019-01-03
Does the parka have a waist drawstring to make it snugger to the body in chilly-wind conditions?
No, it does not.
Date published: 2019-01-03
Does the jacket have two way main zipper? Thanks
Yes it has. As someone stated above, because it is two ways it is a bit tricky for some to close it fast and easy
Date published: 2018-12-25
Hi! I wonder how many g/m2 and what kind of Primaloft it is in the Oslo insulated parka? And if you can answer, roughly how cold is the parka good for?
Hi, The oslo Gore-Tex insulated Parka has a 171,2 grams of PrimaLoft Silver ECO insulation in size L.
Date published: 2018-12-04
Hei! Hvor varmt er den i forhold til Norrøna Gore-Tex Primaloft parka fra i fjor?
D'autres ont également consulté