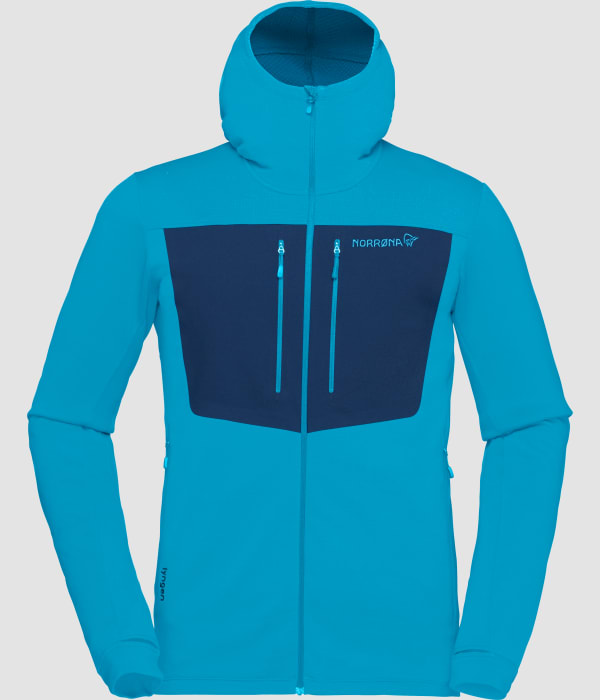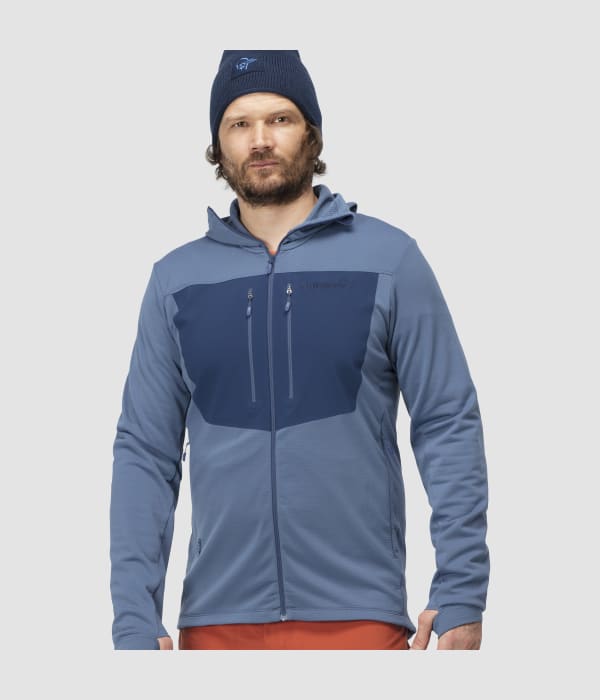 Conçue pour les amateurs de ski de randonnée, la veste à capuche lyngen Power Stretch Pro ultra résistante constitue une couche intermédiaire souple, respirante et à séchage rapide.
Ce modèle léger et ajusté est équipé d'un masque intégré pouvant se ranger derrière le cou pour protéger le visage et prévenir les engelures. Associé à la capuche, il peut faire office de passe-montagne sous votre casque.
Cette veste à capuche durable est confectionnée en Polartec® Power Stretch® pour garantir une liberté de mouvement totale lorsque vous partez à la conquête de nouveaux sommets ou que vous descendez de nouvelles pistes. Elle est équipée de poches chauffe-main, de poches au niveau de la poitrine pour ranger vos objets indispensables, de poignets munis de trous pour les pouces et de coudes renforcés en stretch.
Le mannequin porte la taille L et mesure 188 cm
Autres utilisations
Ski et snowboard
Alpinisme
Marche sur glacier
Ski et snowboard en haute montagne
Activités de plein air générales
Trekking
Spécifications
4

Coupe-vent

Coupe-vent

Scale from 1 to 6 where 1 is not windproof and 6 is totally windproof.

4

Isolation

Isolation

Scale from 1 to 6 where 1 has no insulating properties and 6 is our warmest insulation products.

5

Respirabilité

Respirabilité

Scale from 1 to 6 where 1 have very little or no breathability and 6 is our most breathable and moisture wicking products.

4

Durabilité

Durabilité

Scale from 1 to 6 where 1 is fragile products and 6 is the most durable products we have.

4

Légèreté

Légèreté

Scale from 1 to 6 where 1 is heavy and 6 is among the world's lightest of its kind.

5

Elasticité

Elasticité

Scale from 1 to 6 where 1 is not made with stretch materials and 6 is our most flexible products made in super elastic material.

5

Transporte l'humidité

Transporte l'humidité

Scale from 1 to 6 where 1 has bad moisture transportation and 6 has great moisture transportation.

4

Chaleur par rapport au poids

Chaleur par rapport au poids

Scale from 1 to 6 where 1 is a poor warmth-to-weight ratio and 6 provides excellent warmth in relation to its weight.
Empreinte
Tissu certifié Oeko-Tex

Tissu certifié Oeko-Tex

Oeko-Tex® est un système de test et de certification indépendant et cohérent au niveau mondial qui garantit que l'utilisation des produits chimiques est conforme ou supérieure aux réglementations et normes nationales et internationales.

Tissu certifié Bluesign

Tissu certifié Bluesign

Bluesign® teste et sensibilise les usines de textile à éliminer les substances nocives du processus de fabrication et établit des normes de contrôle pour une production durable et sûre.

Usine ouvertement cotée

Usine ouvertement cotée

Ce produit est fabriqué dans une usine répertoriée ouvertement sur norrona.com.

Usine inspectée

Usine inspectée

Ce produit est fabriqué dans une usine inspectée par une tierce partie indépendante et suivie par Norrøna.
Rated

5

out of

5
by
Alex_ri
from
Perfect midlayer for alpine sport
I've taken this midlayer on a few overnight backcountry ski touring trips here in Australia this winter. It's a brilliant product--warm and great for sweat wicking. I wear a baselayer underneath and a softshell jacket over the top when it gets a bit cooler on the downhill. Never gets clammy and the moisture management is excellent. The bit of wind protection across the chest is really good. Have done some high energy ascents at -5 celsius with just this and a baselayer on and have never felt cold.
Date published: 2019-07-31
Rated

5

out of

5
by
Choky
from
Great material
After i tryed this model Last Year, Last month i bought one more. Great material and face mask is excelent feature.
Date published: 2019-06-13
Rated

5

out of

5
by
ovilost
from
Best midlayer
Very functional, warm and breathable, cool design. The integrated face mask makes the difference, no need to carry a balaclava. Same great quality as Norrona use to provide.
Date published: 2019-05-21
Rated

5

out of

5
by
IanG
from
Wish I had found it sooner...
Does what it says on the tin - warm, comfortable & stylish. Ideal for Scottish weather...when it's dry!
Date published: 2019-05-20
Rated

5

out of

5
by
Died
from
The best mid layer I ever bought
I bought this as a soft medium warm mid layer. To wear over a thin base layer on warmer days going up in the winter mountains. Or under a hard shell on colder days. I ended up wearing it as much as possible every day, indoor, outdoor. I love it. It fits me perfectly (size L). I'm a slim tall guy. It is warm enough but not bulky etc. I can pack it pretty tiny in my backpack. Usefull pockets. Ski mask also very handy.
Date published: 2019-05-19
Rated

5

out of

5
by
Dr_T
from
Best non-merino hoodie
I finally bought this and it became an instant favorite. The athletic fit is excellent, size L is perfect for for me (184cm/80kg). There is no loose cloth, but this hoodie is so stretchy that is really doesn't matter. Basically it fits better under a shell jacket that way. It has enough pockets (4) and most importantly, long sleeves! I have somewhat longer arms than an average Joe, so many times I need to size up in order to get adequate sleeve length. The hood fits great even though it lacks any draw-cords. Same goes to the hip: there is only a rubber band. My experience is that this will make the garment last longer as draw-cords tend to wear the cloth a lot. The material offers some protection against wind, so it is great mtb hoodie in dry, colder days. Only minor issue are very tiny zipper attachment parts. It takes a little bit extra attention to get the zipper attached in the first place. It does have YKK zippers, but there are stronger ones and I think Norrona should consider paying attention to this department in future design. On the other hand, the zipper, when fully closed, gives a perfect cover to the neck. I love this piece!
Date published: 2019-05-05
Rated

5

out of

5
by
Matt777
from
Phenomenal Fabric! Great Features!
Fabric feels incredible - stretchy, breathable. May not be the most durable over time, but the reinforced elbows and chest pocket area are more durable. Built in face shield is not noticeable until you need it; nose and mouth openings prevent moisture build-up and freezing. Side pockets are also not noticeable until you need them; they do not bunch up at all. Have used the jacket as a lighter mid layer alpine skiing, on colder mornings getting started rock climbing, and just to get coffee. The pockets are super useful when you need them - lens wipe, chapstick, headlamp, snacks. Hood fits over helmet. As an American my only qualm is with the main zipper being on the left, vice the right, but I am willing to deal with that. Super comfortable fabric. You won't want to take it off.
Date published: 2019-04-14
Rated

5

out of

5
by
Jcbcloaki
from
Simply the best
Perfect product for winter... The mask is awsome and the fit is perfect. Good quality and very comfortable
Date published: 2019-03-02
D'autres ont également consulté