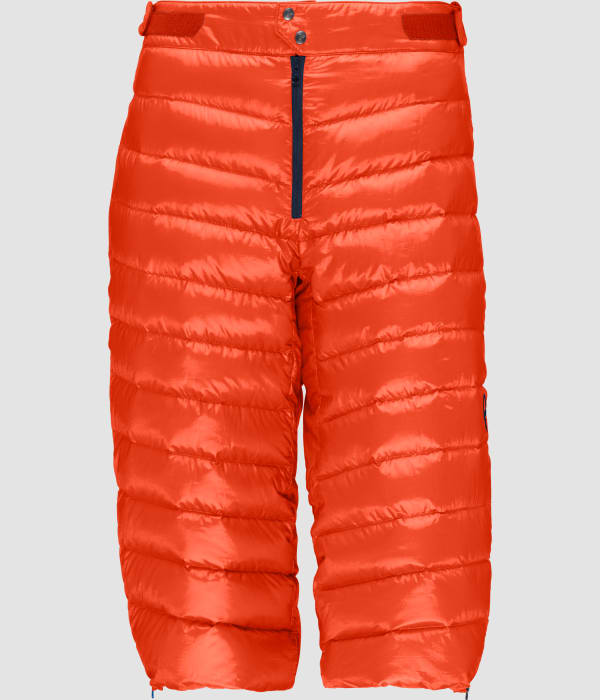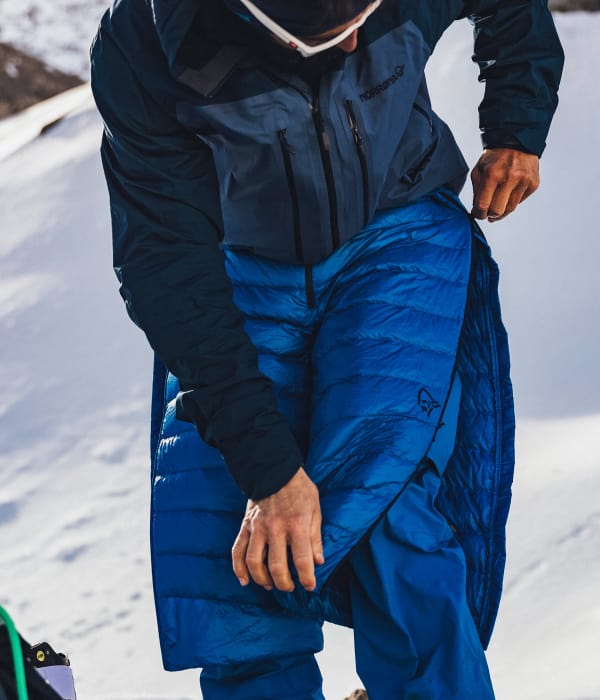 Merci de me prévenir quand cet article est à nouveau disponible
Le pantacourt lyngen down850 pour homme est une excellente solution pour les amateurs de ski de randonnée à la recherche d'un vêtement isolant ultra-léger pour le bas du corps.
Cette couche intermédiaire ultra-fonctionnelle est garnie de duvet 850 CUIN certifié RDS 2.0, avec une couche extérieure légère en polyester recyclé.
Grâce à la fermeture Éclair sur toute la longueur, ce pantalon est facile à retirer et à enfiler sans ôter les chaussures de ski, et il peut être porté par-dessus ou sous votre pantalon shell.
Il peut être facilement compressé et rangé dans un petit sac séparé.
Les fermetures Éclair latérales sont coordonnées, afin d'éviter de perdre du temps à essayer de les faire correspondre, et grâce au système Custom-Fit Waist™ ce pantacourt est à la fois confortable et facilement réglable.
Autres utilisations
Ski et snowboard en haute montagne
Alpinisme
Ski de fond
Snowboard et ski freeride
Marche sur glacier
Spécifications
6

Coupe-vent

Coupe-vent

Scale from 1 to 6 where 1 is not windproof and 6 is totally windproof.

4

Rapport chaleur / poids

Rapport chaleur / poids

Scale from 1 to 6 where 1 is not waterproof and 6 is waterproof.

4

Isolation

Isolation

Scale from 1 to 6 where 1 has no insulating properties and 6 is our warmest insulation products.

2

Respirabilité

Respirabilité

Scale from 1 to 6 where 1 have very little or no breathability and 6 is our most breathable and moisture wicking products.

3

Durabilité

Durabilité

Scale from 1 to 6 where 1 is fragile products and 6 is the most durable products we have.

6

Légèreté

Légèreté

Scale from 1 to 6 where 1 is heavy and 6 is among the world's lightest of its kind.

1

Elasticité

Elasticité

Scale from 1 to 6 where 1 is not made with stretch materials and 6 is our most flexible products made in super elastic material.
Empreinte
DWR sans PFC

DWR sans PFC

L'imprégnation utilisée sur ce produit ne contient pas de fluorocarbures. (DWR = Durable Water Repellent).

Tissu certifié Bluesign

Tissu certifié Bluesign

Bluesign® teste et sensibilise les usines de textile à éliminer les substances nocives du processus de fabrication et établit des normes de contrôle pour une production durable et sûre.

Responsible Down Standard

Responsible Down Standard

La norme RDS (Responsible Down Standard) protège le bien-être des oies et des canards.

Usine ouvertement cotée

Usine ouvertement cotée

Ce produit est fabriqué dans une usine répertoriée ouvertement sur norrona.com.

Usine inspectée

Usine inspectée

Ce produit est fabriqué dans une usine inspectée par une tierce partie indépendante et suivie par Norrøna.
Composition
down850™ certifié RDS

Nos produits font appel au duvet de la plus haute qualité disponible. Il s'agit d'un sous-produit de l'industrie alimentaire (et non issu d'animaux tués uniquement pour la fabrication de ces produits isolants). Le traitement des oiseaux est conforme aux normes européennes et le lavage hautement spécialisé du duvet respecte les normes Oeko-Tex 100. Nos produits down850™ présentent une capacité de remplissage de duvet de 850 à 900 cuin, avec un pourcentage de duvet de 93-96 %.
Détails techniques
Rated

5

out of

5
by
Fjellogskog
from
Lightweight and easy to put on/off
I missed this «lightweight easy to put on shorts» while i'm tenting in the highlands. Crosscountry skiing, and sleeping in a tent, it's perfect to wear before we leave camp.
Date published: 2019-05-19
Rated

5

out of

5
by
Mangan
from
Super!
Köpte den för en månad sedan och använder den varje dag när jag sätter mig i en kall bil till jobbet. Perfekt att dra på utanför kostymbyxorna!
Date published: 2019-04-10
Rated

5

out of

5
by
Oldude
from
Very good !
I recently purchased the lyngen down850 Knickers (M) to use it as an additional insulation layer with my Lofoten trousers I usually use for freeriding. I was able to test the product for a few days even at extreme temperatures and I am totally satisfied with it. Comfort and lightness combined with an excellent thermal insulation and a fit that always leaves great freedom of movement. An excellent product in the best Norrona quality tradition.
Date published: 2019-03-26
Rated

4

out of

5
by
Cabronfoil
from
Varm, lett og pakkes ned godt
Brukt noen helger på fjellet. Fin passform (bruker M, er 180cm og 32 i midjen), varm og kommer med en liten pose for å pakke den ned. Perfekt for de ekstra kalde dagene eller for en lang pause. Gir ikke 5er, da jeg ønsker å se hvordan den holder seg over tid.
Date published: 2019-03-14
Rated

4

out of

5
by
fjellulken
from
Fungere veldig bra når du først får den på deg med store votter.
Kjøpte for noen uker siden til bruk på Hardangervidda ved opp/ned rigg av camp. Har ikke testet ut i ekstreme temperaturer, men funket bra i 10 minus og blåst. Syns det kunne vært større glidlåser eller knappesystem på siden av buksen så det hadde vært lettere og tatt den på seg med store votter/hansker i "hard" kulde og vind.
Date published: 2019-02-18
Rated

5

out of

5
by
KasperU
from
warm and light
I have had the pants for almost two months now and they perform perfect :) Use it after I have showed examples of exercises for the players and still after doing nothing for hours im not frezing. Bring it also in adventure sport and whenever there is a break I wear them and they keep me warm until next activity
Date published: 2019-02-08
Rated

5

out of

5
by
Joseph2
from
Looks dorky, but at least you're not freezing your balls off.
I call these the "waiting pants". You put them in your backpack when ski & snowboard touring, and if your friends take forever to catch up or they're messing around with their gear at the top of a windy mountain you put on the waiting pants. This both keeps you warm, and also indicates to your partners that they need to get a move on. I also have the matching jacket, with both on I'll sit and enjoy the view for half an hour until my friends are ready to rip. I'm not even mad anymore, gamechanger.
Date published: 2018-12-09
Rated

5

out of

5
by
Larsa
from
Great features
I'm getting used to skiing alpine skiing, so dunknickers come in handy
Date published: 2018-12-03
Hvor mye dun er det i denne?
Hi, So in the lyngen down850 knickers the consumption of goose down in size L (M) is 60g. In addition it consists of 32g Primaloft insulation I have this item myself and I really love it for all kinds of use during wintertime
Date published: 2019-03-29
Når kommer denne for salg? Klarer neste ikke å vente!!!
Hei Sauda, lyngen down850 Knickers er tilgjengelig i vår webshop fra 3 September 2018.
Date published: 2018-04-30
D'autres ont également consulté