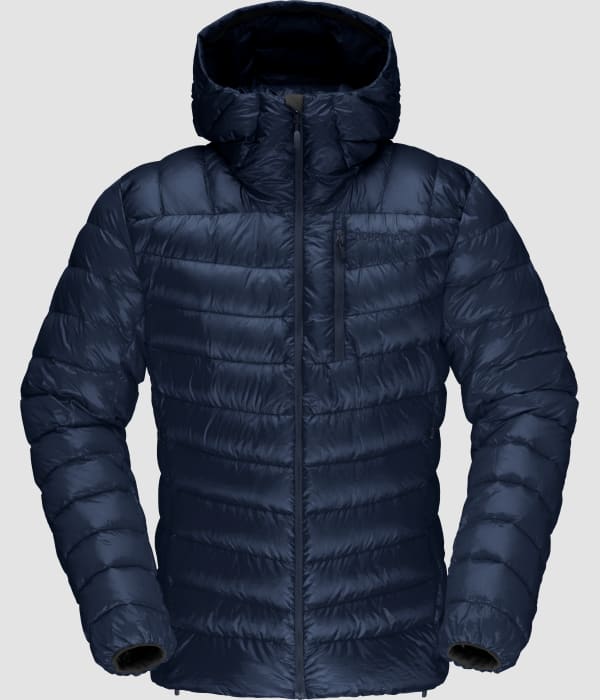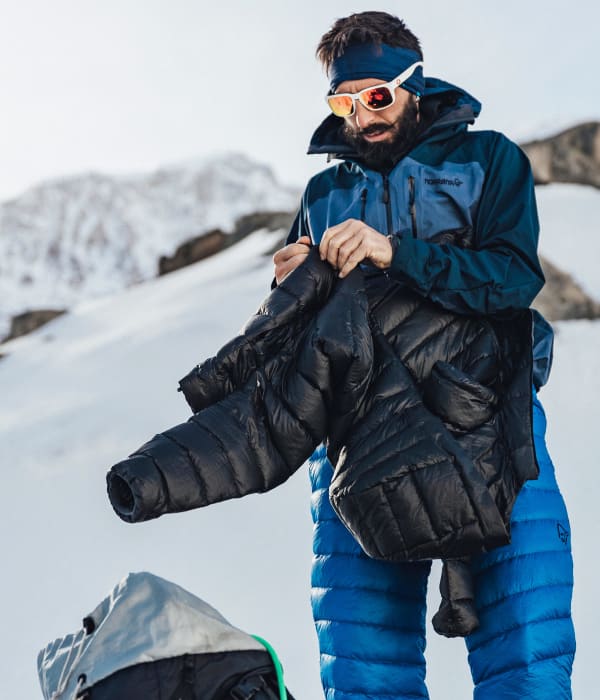 Pour bénéficier d'un confort absolu lors de vos ascensions vers de nouveaux sommets, la veste lyngen down850 pour homme est le vêtement isolant idéal pour le ski de randonnée.
Grâce à son excellent rapport chaleur/poids (150 g de duvet sur 340 g de poids total en taille L), cette doudoune à capuche est la plus légère de notre gamme.
Elle peut être repliée dans sa poche de rangement et n'alourdira pas votre sac à dos. Doudoune légère en polyester recyclé 29 g/m2, garnie de duvet certifié RDS 2.0 avec un pouvoir gonflant de 850 CUIN.
Cette doudoune présente une capuche compatible avec le port du casque, avec système de réglage à une main, une poche poitrine extérieure, un système de serrage des ourlets et des poignets en Powerstretch.
Autres utilisations
Ski et snowboard en haute montagne
Alpinisme
Ski de fond
Snowboard et ski freeride
Marche sur glacier
Spécifications
6

Coupe-vent

Coupe-vent

Scale from 1 to 6 where 1 is not windproof and 6 is totally windproof.

4

Rapport chaleur / poids

Rapport chaleur / poids

Scale from 1 to 6 where 1 is not waterproof and 6 is waterproof.

4

Isolation

Isolation

Scale from 1 to 6 where 1 has no insulating properties and 6 is our warmest insulation products.

2

Respirabilité

Respirabilité

Scale from 1 to 6 where 1 have very little or no breathability and 6 is our most breathable and moisture wicking products.

3

Durabilité

Durabilité

Scale from 1 to 6 where 1 is fragile products and 6 is the most durable products we have.

5

Légèreté

Légèreté

Scale from 1 to 6 where 1 is heavy and 6 is among the world's lightest of its kind.
Empreinte
Fibres recyclées

Fibres recyclées

Plus de 50% des fibres synthétiques de ce produit sont recyclées.

DWR sans PFC

DWR sans PFC

L'imprégnation utilisée sur ce produit ne contient pas de fluorocarbures. (DWR = Durable Water Repellent).

Tissu certifié Bluesign

Tissu certifié Bluesign

Bluesign® teste et sensibilise les usines de textile à éliminer les substances nocives du processus de fabrication et établit des normes de contrôle pour une production durable et sûre.

Responsible Down Standard

Responsible Down Standard

La norme RDS (Responsible Down Standard) protège le bien-être des oies et des canards.

Usine ouvertement cotée

Usine ouvertement cotée

Ce produit est fabriqué dans une usine répertoriée ouvertement sur norrona.com.

Usine inspectée

Usine inspectée

Ce produit est fabriqué dans une usine inspectée par une tierce partie indépendante et suivie par Norrøna.
Composition
down850™ certifié RDS

Nos produits font appel au duvet de la plus haute qualité disponible. Il s'agit d'un sous-produit de l'industrie alimentaire (et non issu d'animaux tués uniquement pour la fabrication de ces produits isolants). Le traitement des oiseaux est conforme aux normes européennes et le lavage hautement spécialisé du duvet respecte les normes Oeko-Tex 100. Nos produits down850™ présentent une capacité de remplissage de duvet de 850 à 900 cuin, avec un pourcentage de duvet de 93-96 %.

Polyester pureRecycled™

Polyester recyclé mécaniquement à partir de bouteilles de soda.
Détails techniques
Rated

2

out of

5
by
Will10
from
Poor Quality
Used for 1 week. One zip is stuck shut, but more pressingly the down is leaking out through the seams in the joins on the outside of the jacket. Purchased one of these and a Lofoten Super Lightweight Down Jacket at the same time and both are experiencing the same issue.
Date published: 2019-02-10
Rated

4

out of

5
by
JWS1
from
Super warm
Bought this jacket to replace a falketind primaloft 100. As norrona now don't produce a xxl in that style anymore. I had it for 5 years and basically worn it down. Lyngen is Very light and super warm, the stuff pocket is a little tight! I will see how it lasts as it does feel a little delicate.
Date published: 2019-01-31
Rated

3

out of

5
by
GonMur
from
Not as Expected
Pros Fit and color match well, comfortable, warm and cozy, I usually worn this jacket with a under shirt as casual city use, the Spanish winter in Madrid goes from -5 º to 10º Celsius so its fine to me, pendind to take out this jacket to the mountain, wearing it with more technical gear, hope dont dissapoint me. Cons Feels fragile, the fabric seems to tear with great ease, one of the hem adjuster doesnt work properly with 2 days use... the continuous down leak is frustrating... one of the zipper stitching looks like not finished well in my opinion.
Date published: 2019-01-13
Rated

4

out of

5
by
Peterwwood
from
Excellent Down Jacket
I bought this a month ago and love it. Used daily in the winter. Hugh collar, warm but not super warm. Great hood. I'm hoping the zip lasts - it feels a little light.
Date published: 2019-01-09
Rated

4

out of

5
by
Joseph2
from
Great jacket, a few small issues.
It's a solid and warm jacket. Comfortable too, nothing beats real down. It doesn't wet out with a bit of rain, and the fit is perfect for me. I'm 186cm and 75kg and the medium is perfect. The only problem is the lower baffle doesn't have any down in it, it's empty. I'm not sure why, it seems like they just forgot to fill it. Also the jacket stuffs into its own pocket, but it's a tight fit and you will damage the zipper stitching if you're not super careful. I've made a small stuffsack for it myself, but really the jacket should come with a stuffsack like the down pants do.
Date published: 2018-12-09
Rated

5

out of

5
by
Larsa
from
Great Features
It's my second Lyngen down jacket 850Both color combinations and fit are better than the first Lyngen jacket I had
Date published: 2018-12-03
Rated

5

out of

5
by
Joebloore
from
Great lightweight jacket
Very good jacket and well worth the money, you feel very cosy in this jacket no matter the weather and the water resistance is a dream too. Norrona isn't a brand a lot of people speak about in the UK but the quality is up there with any jacket or coat I've seen.
Date published: 2018-11-08
Hi, is it conceived to be worn underneath a Lyngen shell jacket? If so, shall the down jacket be one size smaller than the shell jacket or can both be of the same size? Thanks :)
Hi, it most common to use the same size but some also wear it smaller but M will defiantly inside a M shell-jacket.
Date published: 2019-01-14
Hi 1) Does the jacket have hand pocket ? 2) Does it pack to its own chest pocket (or hand pockat if any) or does it come with an external pocket ? Thanks
It stuffs into the hand pocket, but barely. Would be better if this came with a separate stuff sack as the hand pocket zipper is quite fragile and not reversible either.
Date published: 2018-10-29
Does this jacket have a similar fit to the falketind jacket in regards to dimensions? 
Hi, The lyngen down850 Hood Jacket has a little roomier fit than the falketind down hood Jacket.
Date published: 2018-10-23
D'autres ont également consulté