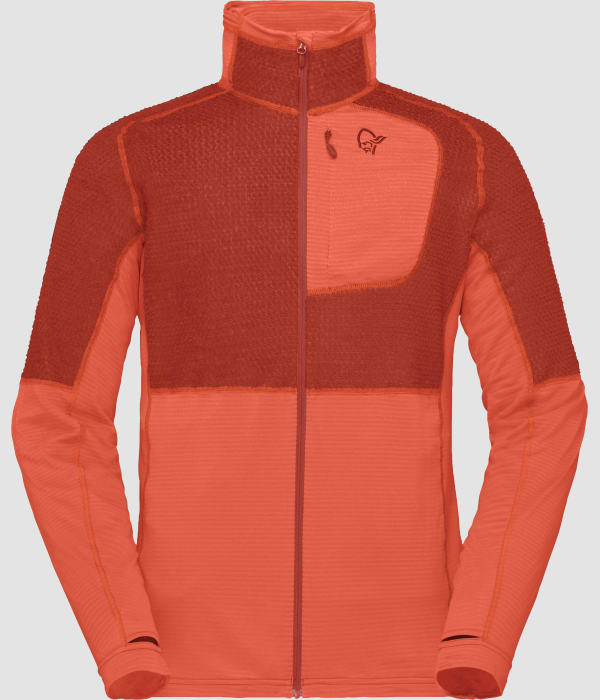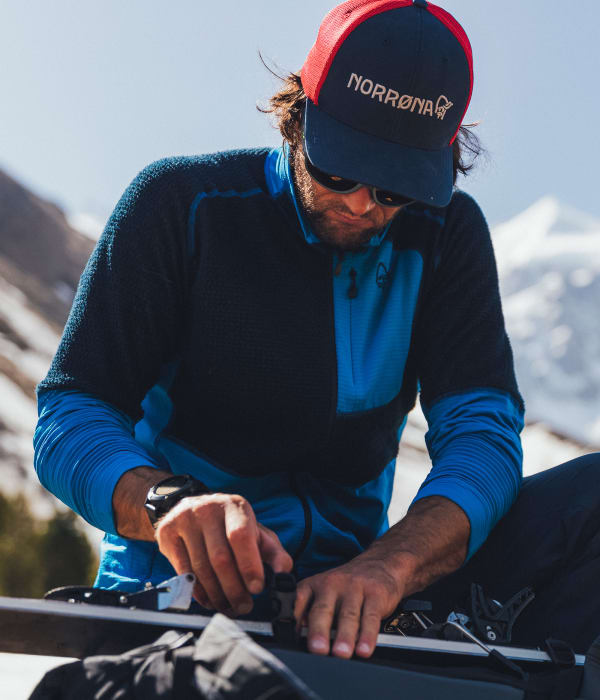 Merci de me prévenir quand cet article est à nouveau disponible
La veste lyngen Alpha90 Raw pour homme est notre couche intermédiaire la plus légère. Elle est spécialement conçue pour les activités haute intensité telles que le ski de randonnée.
Elle offre une évacuation efficace de l'humidité et sèche rapidement, grâce à l'association de deux tissus Polartec® légers au rapport chaleur/poids exceptionnel : Alpha90 direct et Polartec® PowerDry.
Ces tissus lui donnent une structure très ouverte et efficace, et permettent de la porter en première couche.
Elle présente également une petite poche poitrine, des protège-mains intégrés aux poignets et un col montant pour une protection renforcée.
Autres utilisations
Ski et snowboard en haute montagne
Alpinisme
Ski de fond
Snowboard et ski freeride
Marche sur glacier
Spécifications
1

Coupe-vent

Coupe-vent

Scale from 1 to 6 where 1 is not windproof and 6 is totally windproof.

3

Isolation

Isolation

Scale from 1 to 6 where 1 has no insulating properties and 6 is our warmest insulation products.

6

Respirabilité

Respirabilité

Scale from 1 to 6 where 1 have very little or no breathability and 6 is our most breathable and moisture wicking products.

3

Durabilité

Durabilité

Scale from 1 to 6 where 1 is fragile products and 6 is the most durable products we have.

6

Légèreté

Légèreté

Scale from 1 to 6 where 1 is heavy and 6 is among the world's lightest of its kind.

2

Elasticité

Elasticité

Scale from 1 to 6 where 1 is not made with stretch materials and 6 is our most flexible products made in super elastic material.
Empreinte
Fibres recyclées

Fibres recyclées

Plus de 50% des fibres synthétiques de ce produit sont recyclées.

Tissu certifié Oeko-Tex

Tissu certifié Oeko-Tex

Oeko-Tex® est un système de test et de certification indépendant et cohérent au niveau mondial qui garantit que l'utilisation des produits chimiques est conforme ou supérieure aux réglementations et normes nationales et internationales.

Tissu certifié Bluesign

Tissu certifié Bluesign

Bluesign® teste et sensibilise les usines de textile à éliminer les substances nocives du processus de fabrication et établit des normes de contrôle pour une production durable et sûre.

Usine ouvertement cotée

Usine ouvertement cotée

Ce produit est fabriqué dans une usine répertoriée ouvertement sur norrona.com.

Usine inspectée

Usine inspectée

Ce produit est fabriqué dans une usine inspectée par une tierce partie indépendante et suivie par Norrøna.
Composition
Polartec® Alpha®

Polartec® Alpha® est la dernière innovation en matière d'isolation synthétique et offre une combinaison exceptionnelle de chaleur, de légèreté et de respirabilité, dans un vêtement bouffant. L'isolation Polartec Alpha est très résistante et plus stable que les autres isolations synthétiques et permet de choisir des tissus en maille plus ouverte pour les deux faces (extérieure et intérieure), afin de créer un ensemble perméable à l'air. Ce volume d'air qui circule évacue rapidement l'humidité et rend le tissu Polartec Alpha plus polyvalent que les isolations classiques qui bloquent la vapeur d'eau.

warm™1

Il s'agit de notre matière polaire la plus légère, qui pèse moins de 200 g/m². Elle est parfaite comme couche intermédiaire ou à la place d'une veste, sans sacrifier l'isolation et la respirabilité. Cette matière polaire est parmi les plus performantes sur le marché. Sa construction et sa structure uniques sont parfaites pour diverses activités, car elles emprisonnent l'air chaud sans bloquer l'évacuation de l'humidité. Utilisé seul, ce tissu est suffisamment ajouré pour permettre la circulation de l'air, ce qui est agréable lorsqu'il fait plus doux. Porté sous une veste shell, il garantit une excellente isolation.
Détails techniques
Rated

5

out of

5
by
mamo12
from
PT Alpha: new experience of 1st Layer!
Bought Alpha90 Raw Jacket 6w ago. 1.80m, 79kg, (long arms) size M for Norrona seems to fit always great. 1st experience: Used it as base layer combined mit Lyngen Alpha100 Vest. Conditions: 0 degrees, uphillrunning 1000m, @ summit windy but not stormy. Since my sweating level is 4 from 5, arms and spine were always dripping and became cold (baselayer: odlo light + nylon windproof vest - more clothing was allways too warm for me). Not with the alpha combination. The sweat drops came out of the wind protective sheet of the vest. The feeling at spine and arms was fresh but very comfortable. I was curious what will happen at the summit. I Pulled the hood of the vest over the head had a 15 min rest in windy (no stormy) conditions and felt all the time warm and comfortable. At the spine the feeling was even dry (it was not but it felt so). I could have stayed there even longer without getting cold. Back at home there was no need driven by temperature or uncomfortableness to change the alpha combi. When I went to the shower (30 mins after finishing running) the lyngen Alpha90 Raw Jacket was already almost dry. Never experienced this before with all functional base layers I tried over the last 30 years. Since that first run I use it as base layer for all running activities, for the gym (sweating but it feels dry). Will test it soon during Ski touring. I will see if I have to change it @ the summit or not. If yes it will be much more comfortable to change compared to most other 1st layers because of the zip (never liked it to pull the wet 1st layer in stormy winter conditions over the head (need to remove cap and goggles and it sticks on the body)) Summary: Best 1st layer I ever had (30 years skitouring, trailrunning, marathon) One additional comment: I tried even the lofoten Alpha raw Zip Hoodie also as 1st layer but there is one issue what does not exist on the Alpha90 Raw Jacket: The embroidered Norrona label of lofoten Alpha raw Zip Hoodie on the back is scratching on the skin. :-( would have like to use it also as 1st layer because of the great feeling and behavior from PT alpha on the skin.
Date published: 2018-11-29
Rated

5

out of

5
by
Pomelo
from
good product
Very comfy, warm and still lightweight. Nice color and stretchy.
Date published: 2019-05-18
Rated

5

out of

5
by
SchnePet
from
GREAT GEAR
It's perfect for Ski touring - light weight and very warm
Date published: 2019-04-15
Rated

5

out of

5
by
Hary
from
big surprise
I bought it and when I get it, it was so surprising, so light, so air, altogether with warm needed for aktivity, surpring touch of material
Date published: 2019-04-03
Rated

5

out of

5
by
DrIan
from
My go to layer
Been using this throughout my ski season in the French alps. It's my go to because it is light and warm in the right places. I run hot when touring and skiing and the breathability and light weight of this jacket is perfect for me.
Date published: 2019-03-06
Rated

5

out of

5
by
Pawel
from
Great!
It is great jacket, it is very light and comfortable. I highly recommend it! The look is very clean, and the fleece fabric is very soft and comfortable
Date published: 2019-02-24
Rated

5

out of

5
by
Tiboo
from
Super light, breathable and comfy
This jacket is amazingly light and breathable. I needed a light outfit to avoid overheating while going uphill when ski touring and it is doing a perfect job so far. Very good warmth/breathability ratio. I have also used it for running and it was perfect. Only issue I have had so far is the fact that the light garment is a bit fragile : while ski touring it got stuck (just once) in my backpack plastic buckle and it was enough to tear the garment. There is a small hole in it. Maybe I'll send it later for a repair..?
Date published: 2019-02-01
Rated

5

out of

5
by
Pawel
from
Great product
Great quality and color. It fits very well.For summer and winter.
Date published: 2019-01-27
D'autres ont également consulté