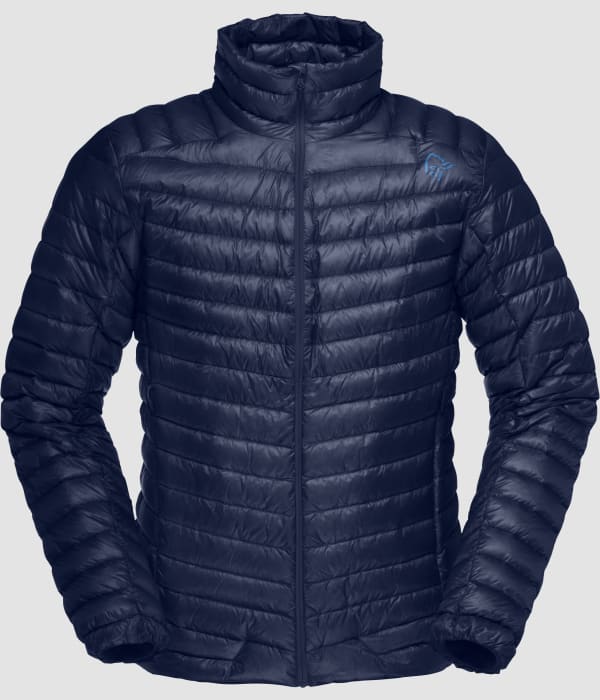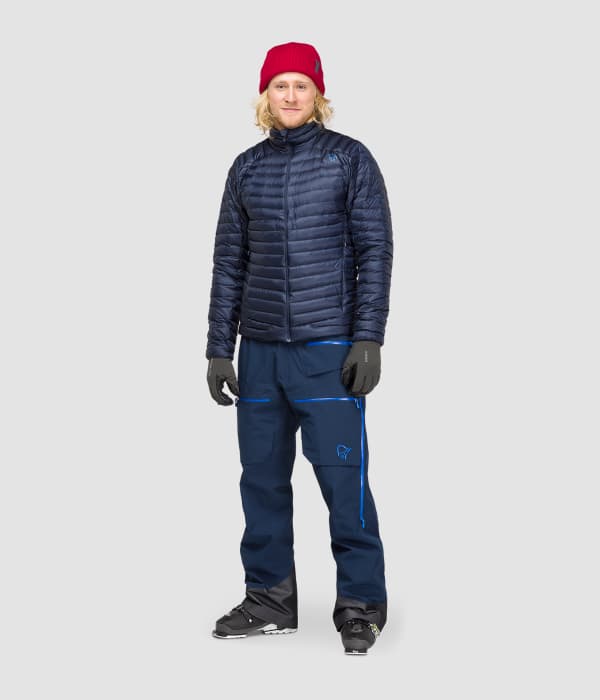 Cette veste duvet pour homme possède une très bon rapport chaleur-poids (100 g de duvet distribué sur un poids total de 228 g pour une taille L). La veste Lofoten super lighweight down est ainsi la doudoune la plus légère de toute la collection.
Extrêmement douce et confortable, vous pouvez porter la veste toute seule, en-dessous d'une shell ou bien par-dessus en cas de grand froid.
Le col isolant et les poches de devant sont également fourrés avec du duvet pour vous tenir bien chaud.
La veste peut facilement être pliée dans une poche de rangement et, comparée à la veste duvet lyngen, cette première a une coupe plus ajustée sans capuche.
Produit pour
Ski et snowboard en haute montagne
Autres utilisations
Snowboard et ski freeride
Ski de randonnée
Ski et snowboard
Trekking
Marche sur glacier
Détente
Activités de plein air générales
Spécifications
6

Coupe-vent

Coupe-vent

Scale from 1 to 6 where 1 is not windproof and 6 is totally windproof.

4

Rapport chaleur / poids

Rapport chaleur / poids

Scale from 1 to 6 where 1 is not waterproof and 6 is waterproof.

3

Isolation

Isolation

Scale from 1 to 6 where 1 has no insulating properties and 6 is our warmest insulation products.

2

Respirabilité

Respirabilité

Scale from 1 to 6 where 1 have very little or no breathability and 6 is our most breathable and moisture wicking products.

3

Durabilité

Durabilité

Scale from 1 to 6 where 1 is fragile products and 6 is the most durable products we have.

6

Légèreté

Légèreté

Scale from 1 to 6 where 1 is heavy and 6 is among the world's lightest of its kind.
Empreinte
Tissu certifié Bluesign

Tissu certifié Bluesign

Bluesign® teste et sensibilise les usines de textile à éliminer les substances nocives du processus de fabrication et établit des normes de contrôle pour une production durable et sûre.

Responsible Down Standard

Responsible Down Standard

La norme RDS (Responsible Down Standard) protège le bien-être des oies et des canards.

Usine ouvertement cotée

Usine ouvertement cotée

Ce produit est fabriqué dans une usine répertoriée ouvertement sur norrona.com.

Usine inspectée

Usine inspectée

Ce produit est fabriqué dans une usine inspectée par une tierce partie indépendante et suivie par Norrøna.
Composition
down850™ certifié RDS

Nos produits font appel au duvet de la plus haute qualité disponible. Il s'agit d'un sous-produit de l'industrie alimentaire (et non issu d'animaux tués uniquement pour la fabrication de ces produits isolants). Le traitement des oiseaux est conforme aux normes européennes et le lavage hautement spécialisé du duvet respecte les normes Oeko-Tex 100. Nos produits down850™ présentent une capacité de remplissage de duvet de 850 à 900 cuin, avec un pourcentage de duvet de 93-96 %.
Détails techniques
Rated

5

out of

5
by
Friluft 123
from
En lett funksjonell jakke
Jakken en lett og god, fin passform og passer like godt som vanlig jakke som til bruk under skalljakke.
Date published: 2019-04-23
Rated

5

out of

5
by
Moxy
from
Lett og varm nok
Jakken er meget lett, samtidig som den er varm nok som ytterplagg. Jakken er også tynn, noe som gjør den godt egnet til mellomlagg under en skalljakke. Passer da ekstra bra når den ikke har hette.
Date published: 2019-04-15
Rated

5

out of

5
by
DrIan
from
Well designed and great quality
This has been my warm layer throughout a ski season in the French alps. It is light to carry and is warm and comfortable in use.
Date published: 2019-04-10
Rated

4

out of

5
by
Sovica
from
Good winter jacket
I have it for a few months and I am satisfied with it. I bought size L (186 cm, 86kg, athletic build) and it fits nicely. This jacket works great for active winter activities, which I tested at - 10°C while climbing the mountain. Standing still for a few minutes at this temperature can be too little isolation with this jacket. Cut of the jacket is longer on the rear side and it covers your butt which is a nice feature. It can be packed really small in a jacket's pocket and is very light. I am really satisfied with it, thumbs up Norrona.
Date published: 2019-04-10
Rated

5

out of

5
by
jloslo
from
Great for sports and activity
This is a fantastic jacket for winter sports where you need a little heat retention. That's what it's made for. If you're looking for a casual jacket to keep you robustly warm on a cold night this might not be it.
Date published: 2019-03-31
Rated

5

out of

5
by
PGWL
from
Light and warm
Good fit, compressible and warm. Fantastic product.
Date published: 2019-03-29
Rated

5

out of

5
by
Turløk
from
Jysla god til sitt bruk
Vindtett og lett å bruke, veldig lett og liten pakkstørrelse til toppturer. Varmet bedre enn forventet på vei ned.
Date published: 2019-03-05
Rated

4

out of

5
by
Lennart
from
Super lett å bære, tar nesten ingen plass i pakken
Etter omtrent en måneds bruk kan jeg si at jeg er veldig fornøyd! Jakken er et veldig godt komplement som et ekstra lag er det kaldt. På grunn av sin slanke form, passer den også godt som et ytre plagg når du besøker byen. Hvis jeg vil se etter en ulempe, så er det at jakken ikke "puster" så mye. Dette er selvfølgelig også en fordel når det blåser når det stopper vinden bedre.
Date published: 2019-02-25
How about breathability - when it gets wet due to sweating? This a general question on the ideal mid layer for an active skiing day. Thanks 
This jacket is highly breathable which is what its primary purpose seems to be. If I were to go skiing with a conventional 800 rated down jacket I'd sweat profusely. This jacket allows for activity without overheating but keeps me warm otherwise. I wouldn't use this as a go-to jacket on a really cold day just walking around, but I wouldn't use a typical down jacket for skiing either.
Date published: 2019-04-02
Up to what temperature range can this jacket be worn with comfort as a stand-alone or with layers? 
ALONE AROUND 10 DEGREE IS POSSIBLE
Date published: 2018-12-19
Do you use a duck down or goose down?
Usually I prefer to buy goose down 
Date published: 2018-11-15
Hello, Can it be packed in its own pocket like the Lyngen Down?
This is a super light,super warm jacket cut well to retain the warmth and not be baggy. It can either be used as an excellent mid layer for sub zero days or a stand alone jacket. It stows away for packing into it's own side pocket.It does not have an internal pocket.
Date published: 2018-07-30
is the down treated for water repellency?
Hello mfrazier, None of our down products are treated with water repellent. Our down products use the highest available down quality that we can find, which is a by-product of the food industry. Our down comes from the mountains of Pyrenees in France, and all treatment of the birds complies with European standards, and the highly specialized washing of the down passes the Oeko-Tex 100 standards. If you are looking for a weatherproof down jacket, I recommend the lyngen Gore-Tex Infinium down850 Hood Jacket available from the 3 September 2018 in our webshop: https://www.norrona.com/en-GB/products/lyngen/lyngen-gore-tex-infinium-down850-hood-jacket-men/?color=7718
Date published: 2018-06-04
What denier is the Pertex Shell? Thanks!
Hello MattB, the lofoten super lightweight down Jacket is the second lightest down jacket in our entire assortment, with a denier of 10.
Date published: 2018-05-04
How warm is the jacket compared to my midlayer lyngen primaloft 60. is is suited for a normal skiday without a gore first layer? 
Hello Leon, I would say that the experienced level of insulation should be quite similar for the Lyngen Primaloft60 and this down piece. It is our lightest down piece, and the intended use is either to use it as a mid layer on colder days, or as an outer layer when having breaks during ski touring. You can definitely wear it as a super light outer layer for a normal day of skiing, but keep in mind the low durability. It is not intended to take a lot of beating compared to a shell jacket, so you'll have to be careful with this piece if you want to use it as an outer layer. If you want a piece with higher durability, I would recommend the Tamok Lightweight Down750, which is more ideal for a stand-alone outer layer with higher durability. I hope my advice was helpful to you. Best regards, Alexander - Norrøna Fan Support
Date published: 2017-10-21
I have a lofoten pants. Does the jacket have push buttons to fit with the pants? Regards Jochen 
Hi Leon, Thanks for your question. This down jacket does not have push buttons fitting the lofoten pants. Only the outer hard shell layers have that. And the buttons on the hard shell jackets are on an inside powder skirt, which is removable. That would have added weight and compromising the comfort of this super light down jacket. Have this jacket myself and wear it so much, always with me either in the backpack or on me. Best regards, Jens, Norrøna Fan Support
Date published: 2017-10-19
D'autres ont également consulté