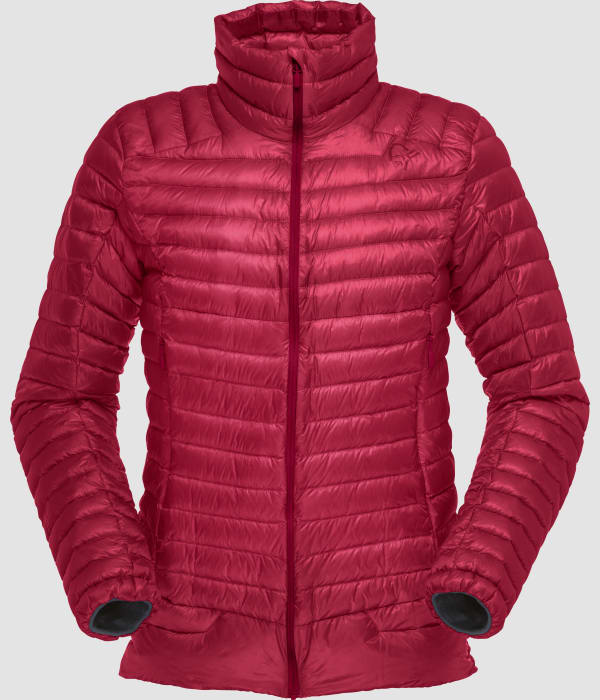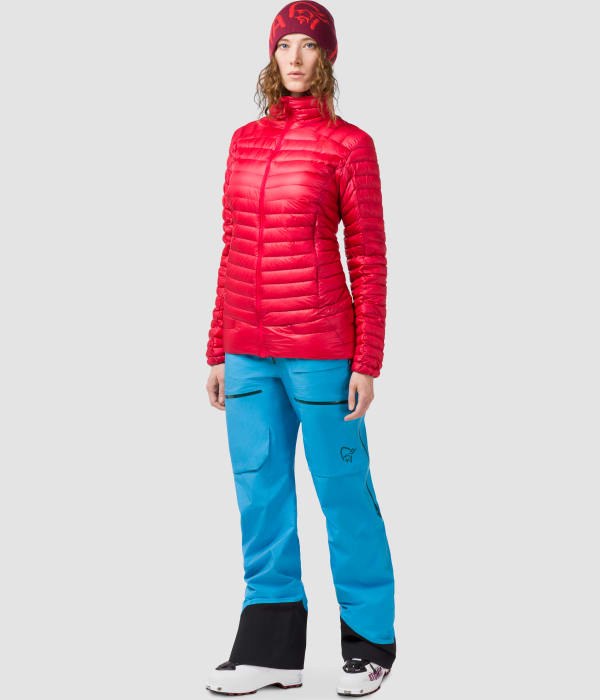 Merci de me prévenir quand cet article est à nouveau disponible
Cette veste duvet pour femme possède un rapport chaleur/poids extrêmement intéressant (100 g de duvet distribué sur un poids total de 220 g en taille M).
La veste duvet super légère lofoten est la veste duvet la plus légère de tout notre assortiment.
Extraordinairement douce et confortable, elle peut être portée seule ou en dessous ou au-dessus d'une veste shell, si vous avez besoin d'une isolation supplémentaire les jours de grand froid en montagne.
Elle possède deux poches chauffe-main à l'avant et peut être pliée dans une poche de rangement.
Comparée à la nouvelle veste duvet lyngen, celle-ci n'a pas de capuche et dispose d'une coupe plus ajustée.
Le mannequin porte une taille M (hauteur 179 cm)
Produit pour
Ski et snowboard en haute montagne
Autres utilisations
Snowboard et ski freeride
Ski de randonnée
Ski et snowboard
Détente
Activités de plein air générales
Spécifications
6

Coupe-vent

Coupe-vent

Scale from 1 to 6 where 1 is not windproof and 6 is totally windproof.

4

Rapport chaleur / poids

Rapport chaleur / poids

Scale from 1 to 6 where 1 is not waterproof and 6 is waterproof.

3

Isolation

Isolation

Scale from 1 to 6 where 1 has no insulating properties and 6 is our warmest insulation products.

2

Respirabilité

Respirabilité

Scale from 1 to 6 where 1 have very little or no breathability and 6 is our most breathable and moisture wicking products.

3

Durabilité

Durabilité

Scale from 1 to 6 where 1 is fragile products and 6 is the most durable products we have.

6

Légèreté

Légèreté

Scale from 1 to 6 where 1 is heavy and 6 is among the world's lightest of its kind.
Empreinte
Tissu certifié Bluesign

Tissu certifié Bluesign

Bluesign® teste et sensibilise les usines de textile à éliminer les substances nocives du processus de fabrication et établit des normes de contrôle pour une production durable et sûre.

Responsible Down Standard

Responsible Down Standard

La norme RDS (Responsible Down Standard) protège le bien-être des oies et des canards.

Usine ouvertement cotée

Usine ouvertement cotée

Ce produit est fabriqué dans une usine répertoriée ouvertement sur norrona.com.

Usine inspectée

Usine inspectée

Ce produit est fabriqué dans une usine inspectée par une tierce partie indépendante et suivie par Norrøna.
Composition
down850™ certifié RDS

Nos produits font appel au duvet de la plus haute qualité disponible. Il s'agit d'un sous-produit de l'industrie alimentaire (et non issu d'animaux tués uniquement pour la fabrication de ces produits isolants). Le traitement des oiseaux est conforme aux normes européennes et le lavage hautement spécialisé du duvet respecte les normes Oeko-Tex 100. Nos produits down850™ présentent une capacité de remplissage de duvet de 850 à 900 cuin, avec un pourcentage de duvet de 93-96 %.
Détails techniques
Rated

5

out of

5
by
polliwog
from
Beautiful!
I loved this jacket- great color, lightweight- beautiful! But unfortunately too tight across the shoulders so I had to return it.
Date published: 2019-01-05
Rated

5

out of

5
by
susixd
from
Very soft and light
I can move in any way I want without feeling tight or brestricted. Its very warm and comfy. Very nice color too.
Date published: 2018-12-07
Rated

4

out of

5
by
Grit
from
Overall pleased
Nice colour, very light. Shorter then I thought, but that´s alright. Unfortunately a little narrow around the shoulders. Doesn´t impact movement too much for my use though. As always with Norrøna pleased about the armlength. Makes a huge difference to me
Date published: 2018-10-31
Rated

5

out of

5
by
Ingq
from
Super light, but so warming.
I use this jacket so much. It is very light (you almost dont feel that you have it on), so you can pack it for an easy bring along. It warms you perfectly, both when you are in activity and when you are still. Perfect thickness and a very nice fit. Highly recommended!
Date published: 2018-09-24
Rated

5

out of

5
by
Johanna Stalnacke
from
So versatile and an unquestionable favorite
If I would pick one jacket that comes along more than any other insulation on my adventures as a skier and climber and work days as a mountain guide, this is the jacket. It is lightweight and warm. It´s Easy! And it packs small. As a skier and mountaineer, being in the outdoors through the 4 seasons, this is an unquestionable jacket to have. I use it both summer and winter, sometimes as the warmest insulation, and even as a mid layer on very cold days. It is very versatile and if you take care of it, it will last longtime. Enjoy. This is, in my opinion, a layer I can not be without.
Date published: 2018-08-21
Rated

5

out of

5
by
Kajsa
from
Light weight heaven
I bring this jacket with my every day while skiing. Its so light weight and packable that I donate even have to doubt bringing it. Good insurance if something goes wrong out on the mountain.
Date published: 2018-08-15
Rated

5

out of

5
by
Algis
from
Super!
Very high quolity, light and warm I bought it for my girlfriend and after also ordered for myself, the same jacket but different colour
Date published: 2018-03-13
Rated

5

out of

5
by
Jubilee
from
Like a second skin weightless
Had to go up a size across chest . Great jacket delighted with it, wear under waterproof for riding out, comfortable and so warms
Date published: 2018-01-24
Lofoten jacket: I am #123, 5'6" and wear medium in Patagonia, Rab, Arcteryx and I am a medium per the size chart but the jacket description states a trim fit and three reviewers state runs small. Should I order medium or large? Don't want excess.
Hi, I think we need more measurements on you but most likely you need a size M.
Date published: 2018-11-05
Does the Lofoten women's jacket have an internal zip pocket?
No internal pockets but still a great coat. Lightweight and great for layering. 
Date published: 2018-11-02
I have the alpha raw hoodie in M and would like to layer this over it. Shldi get M or L? Thanks 
I have the medium mid layer and a medium in the outer layer as well. Perfect fit. 
Date published: 2018-07-29
D'autres ont également consulté