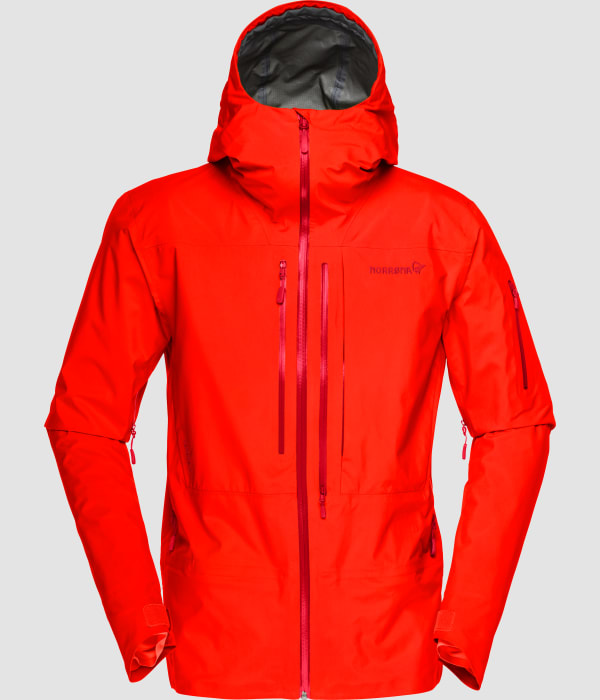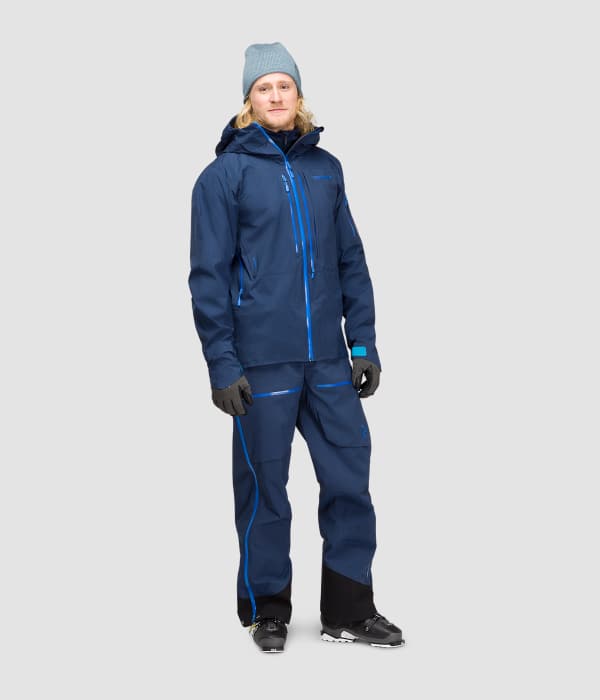 La veste en Gore-Tex Pro lofoten s'imposait en 2004 comme la nouvelle référence pour une nouvelle génération de skieurs : une fabrication ne souffrant pas le moindre compromis, offrant aux freeriders de haute montagne toute la protection qu'ils attendent dans les conditions ultimes qu'ils affrontent.
Contrairement aux codes établis à l'époque en matière de tenue de snowboard, la veste optait pour une coupe plus près du corps et des poches Napoléon hautes, offrant une accessibilité optimale même en portant un harnais.
Des fonctionnalités emblématiques, qui ont depuis fait l'unanimité et qui ont été reprises sur cette nouvelle veste. Intégrant la nouvelle membrane résistante et durable GORE-TEX® Pro, cette veste est parfaitement dans son élément lorsqu'elle est soumise à des dénivelés spectaculaires et des conditions climatiques extrêmes.
Le tissu extérieur en matière recyclée offre également une respirabilité encore meilleure par rapport aux modèles précédents. Les coloris s'inspirent de la gamme de couleurs audacieuse et novatrice lancée en 2004.
Des teintes vives qui sont gages d'une visibilité exemplaire en montagne, misant sur le ton sur ton pour un look moderne.
Ce sera sans nul doute le choix du cœur pour l'aventurier freerider, mais aussi le choix de raison pour les personnes à la recherche d'une couche extérieure quasi-inusable.
Le mannequin porte une taille L (hauteur 188 cm)
Produit pour
Ski et snowboard en haute montagne
Autres utilisations
Snowboard et ski freeride
Alpinisme
Ski de randonnée
Spécifications
6

Coupe-vent

Coupe-vent

Scale from 1 to 6 where 1 is not windproof and 6 is totally windproof.

6

Rapport chaleur / poids

Rapport chaleur / poids

Scale from 1 to 6 where 1 is not waterproof and 6 is waterproof.

1

Isolation

Isolation

Scale from 1 to 6 where 1 has no insulating properties and 6 is our warmest insulation products.

4

Respirabilité

Respirabilité

Scale from 1 to 6 where 1 have very little or no breathability and 6 is our most breathable and moisture wicking products.

5

Durabilité

Durabilité

Scale from 1 to 6 where 1 is fragile products and 6 is the most durable products we have.

4

Légèreté

Légèreté

Scale from 1 to 6 where 1 is heavy and 6 is among the world's lightest of its kind.
Empreinte
Fibres recyclées

Fibres recyclées

Plus de 50% des fibres synthétiques de ce produit sont recyclées.

Tissu certifié Oeko-Tex

Tissu certifié Oeko-Tex

Oeko-Tex® est un système de test et de certification indépendant et cohérent au niveau mondial qui garantit que l'utilisation des produits chimiques est conforme ou supérieure aux réglementations et normes nationales et internationales.

Tissu certifié Bluesign

Tissu certifié Bluesign

Bluesign® teste et sensibilise les usines de textile à éliminer les substances nocives du processus de fabrication et établit des normes de contrôle pour une production durable et sûre.

Usine ouvertement cotée

Usine ouvertement cotée

Ce produit est fabriqué dans une usine répertoriée ouvertement sur norrona.com.

Usine inspectée

Usine inspectée

Ce produit est fabriqué dans une usine inspectée par une tierce partie indépendante et suivie par Norrøna.
Composition
GORE-TEX® Pro

GORE-TEX® Pro : la membrane en GORE-TEX® présente une doublure tissée pour réduire le poids et l'épaisseur, améliorer l'évacuation de l'humidité et minimiser l'abrasion, tout en restant durablement imperméable. Le meilleur tissu contre les intempéries.

Plus de détails sur le site GORE-TEX®
Détails techniques
Rated

5

out of

5
by
Anonymous
from
The best shelljacket and the best customer support!
After many years of hard use of this jacket in all kind of adventure activities finally a zipper was worn out. This is the only problem in a long time of hardcore use! The shell has been excellent and the jacket looked like new. However after last skitrip to the French Alpes I visited Norrönas store to change the zipper. I was contacted by headoffice and offered the greatest customer service and a replacement jacket!!! I am deeply impressed off this jacket, the Lofoten trousers and the excellent customer support. Outstanding Norröna
Date published: 2018-03-31
Rated

5

out of

5
by
samin
from
Great jacket!
I bought this a few weeks ago and have tested this on the variable Cascadian weather already. Great, versatile and functional jacket with impeccable craftmanship and detailing. XL is perfect size for me - 6,6"/198cm. Looking forward the years spent with this one!
Date published: 2019-02-13
Rated

5

out of

5
by
DrFosg
from
Lightweight. Versatile. Durable.
I bought this jacket 2 months ago and used it already 10 times. I can't complain about anything. It's really lightweight. Very versatile. The pockets are very useful. The zips work nicely. Great windproofness.
Date published: 2019-02-08
Rated

5

out of

5
by
Gator
from
Best shell available
Love it. Light weight - sheds moisture - pockets and pit zips are excellent - great fit. I am 6'2" and 190 and this fits just right. Norona makes the best ski gear available
Date published: 2019-02-07
Rated

5

out of

5
by
Anonymous
from
Awesome jacket
Fit is great for my skinny 6'3" frame, i wear an XL....Gore Pro is awesome of course
Date published: 2019-02-02
Rated

5

out of

5
by
OntheSnow
from
Great Shell Jacket!
This is great shell with amazing features. I really like the zip out powder-skirt that can attach to Norrona pants with snaps on the front and the back. This kept the snow out and warmth in all day and still allowed easy access to the internal pockets. The cuffs are well designed as are the pockets and venting. I am looking forward to many years of use!
Date published: 2019-01-31
Rated

5

out of

5
by
Charly fr
from
Top product
Using on daily basis for biking in geneva! Keep me dry and not feeling the freezing wind ! Also used for ski and hiking. Best jacket !
Date published: 2019-01-28
Rated

5

out of

5
by
Jason.GY
from
really pleased
Great fit, keeps the wind, snow & rain out, Pleased with all the features just returned from a ski trip in St Anton and really performed well in the cold -13 at times ! All pockets in the right place and cuffs, & skirt keep the wind out. Tried a few other manufacturers but the colours this year did not match this on style. can wear with any colour trousers !
Date published: 2019-01-25
Is there any differences between the 2018/19 jacket other than colors? Is it a new GoreTex? Fit is the same??
The jackets are made with the new, sustainable and extremely durable GORE-TEX® Pro membrane. The fit is the same, it is a great jacket, I highly recommend it.
Date published: 2018-12-20
Since I'm 1m95 but only have a chest circumference of 93cm, i'm wondering if a Large or X-Large which are closer to my length won't be baggy and a Medium won't be to short. What do you advice?
Hi all, thanks for all the response, eventually i went for the Large, length wise it's good, and for me it's not to baggy and i have room left for layers, so i'm happy. Thanks again!
Date published: 2018-12-12
Is it a 3 layers jacket ? Thank you
Hi yes i would say it is a 2 to 3 layer jacket. Had a week in Austria and had 2 layers on. Kept dry and didn't get cold.
Date published: 2018-12-31
I'm unsure of sizing as I'm 180 cm and 80 Kg, normal build (for Jackets I normally use size 48 and pants 32) - should I go for Medium or Small (as need room for layers as well)
Size small is the one I went for. I'm the same size - slightly tight on the waist but perfect elsewhere. I love this make. I ski 25 weeks the year and it's by far the best made. 
Date published: 2018-11-26
Hello - Are all the pockets waterproof? I read a review that said the front pockets leak in rainy conditions.
I have bought and used this jacket for skiing. I think it will take some pretty heavy rain before the contents of your front pockets become wet. Quality of material and craftmanship of this jacket is excellent.
Date published: 2017-11-25
What is the denier of the fabric?
Hi Justinb650! The denier for the lofoten Gore-tex Pro jacket is 40D and in recycled Nylon. Hope this was helpful information for you. Best regards, Anette/Norrøna Fan Support
Date published: 2018-03-24
Will there come new colours? If so, when?
Hello Hesjedal, There will be new colors in the FW18/19 collection, which will launch fall 2018. Best regards, Alexander - Norrøna Fan Support
Date published: 2017-11-21
I'm trying to figure out sizing since I fall between the S & M sizes. I'm ~183-184 cms but only 68kgs. Any advice?
Hello Klaus, I'm 1.78 cm. and 70 kg. and I usually always wear a size small. This jacket is quite long, which is typical for most of our skiing jackets. The centre front length measures 58.5 cm. for a size small, while size medium is 60.3 cm. Since you are a fair bit taller than me, I would recommend you a size medium jacket, so the jacket doesn't end up being too short in the front. I hope my advices were helpful, if you need more help I can look up other measurements of the jackets as well if you need. Best regards, Alexander - Norrøna Fan Support
Date published: 2018-11-19
D'autres ont également consulté