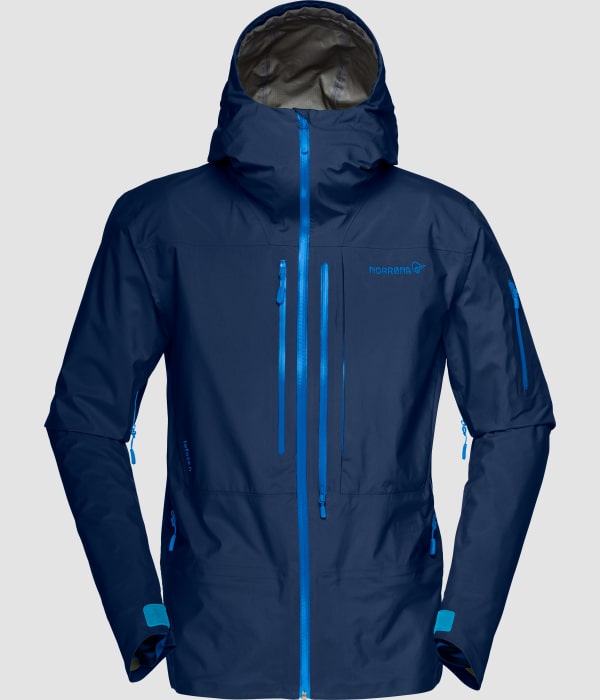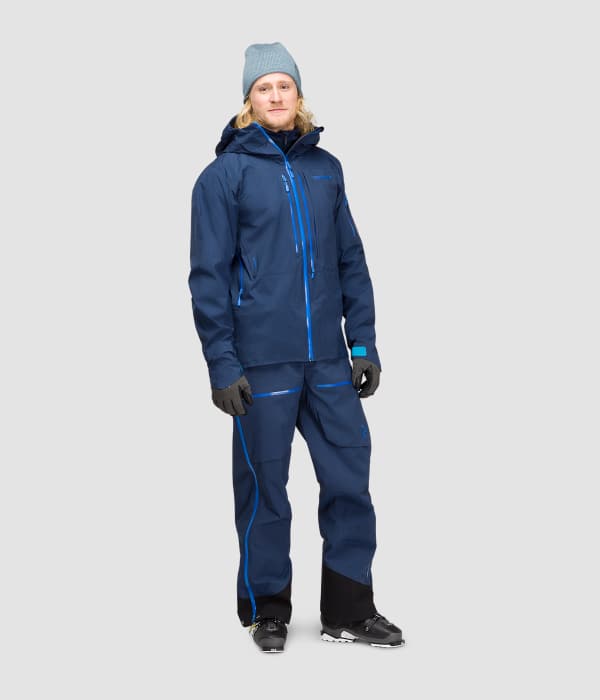 La veste en Gore-Tex Pro lofoten s'imposait en 2004 comme la nouvelle référence pour une nouvelle génération de skieurs : une fabrication ne souffrant pas le moindre compromis, offrant aux freeriders de haute montagne toute la protection qu'ils attendent dans les conditions ultimes qu'ils affrontent.
Contrairement aux codes établis à l'époque en matière de tenue de snowboard, la veste optait pour une coupe plus près du corps et des poches Napoléon hautes, offrant une accessibilité optimale même en portant un harnais.
Des fonctionnalités emblématiques, qui ont depuis fait l'unanimité et qui ont été reprises sur cette nouvelle veste. Intégrant la nouvelle membrane résistante et durable GORE-TEX® Pro, cette veste est parfaitement dans son élément lorsqu'elle est soumise à des dénivelés spectaculaires et des conditions climatiques extrêmes.
Le tissu extérieur en matière recyclée offre également une respirabilité encore meilleure par rapport aux modèles précédents. Les coloris s'inspirent de la gamme de couleurs audacieuse et novatrice lancée en 2004.
Des teintes vives qui sont gages d'une visibilité exemplaire en montagne, misant sur le ton sur ton pour un look moderne.
Ce sera sans nul doute le choix du cœur pour l'aventurier freerider, mais aussi le choix de raison pour les personnes à la recherche d'une couche extérieure quasi-inusable.
Produit pour
Ski et snowboard en haute montagne
Autres utilisations
Snowboard et ski freeride
Alpinisme
Ski de randonnée
Spécifications
6

Coupe-vent

Coupe-vent

Scale from 1 to 6 where 1 is not windproof and 6 is totally windproof.

6

Rapport chaleur / poids

Rapport chaleur / poids

Scale from 1 to 6 where 1 is not waterproof and 6 is waterproof.

1

Isolation

Isolation

Scale from 1 to 6 where 1 has no insulating properties and 6 is our warmest insulation products.

4

Respirabilité

Respirabilité

Scale from 1 to 6 where 1 have very little or no breathability and 6 is our most breathable and moisture wicking products.

5

Durabilité

Durabilité

Scale from 1 to 6 where 1 is fragile products and 6 is the most durable products we have.

4

Légèreté

Légèreté

Scale from 1 to 6 where 1 is heavy and 6 is among the world's lightest of its kind.
Empreinte
Fibres recyclées

Fibres recyclées

Plus de 50% des fibres synthétiques de ce produit sont recyclées.

Tissu certifié Oeko-Tex

Tissu certifié Oeko-Tex

Oeko-Tex® est un système de test et de certification indépendant et cohérent au niveau mondial qui garantit que l'utilisation des produits chimiques est conforme ou supérieure aux réglementations et normes nationales et internationales.

Tissu certifié Bluesign

Tissu certifié Bluesign

Bluesign® teste et sensibilise les usines de textile à éliminer les substances nocives du processus de fabrication et établit des normes de contrôle pour une production durable et sûre.

Usine ouvertement cotée

Usine ouvertement cotée

Ce produit est fabriqué dans une usine répertoriée ouvertement sur norrona.com.

Usine inspectée

Usine inspectée

Ce produit est fabriqué dans une usine inspectée par une tierce partie indépendante et suivie par Norrøna.
Composition
GORE-TEX® Pro

GORE-TEX® Pro : la membrane en GORE-TEX® présente une doublure tissée pour réduire le poids et l'épaisseur, améliorer l'évacuation de l'humidité et minimiser l'abrasion, tout en restant durablement imperméable. Le meilleur tissu contre les intempéries.

Plus de détails sur le site GORE-TEX®
Détails techniques
Rated

5

out of

5
by
Anonymous
from
The best shelljacket and the best customer support!
After many years of hard use of this jacket in all kind of adventure activities finally a zipper was worn out. This is the only problem in a long time of hardcore use! The shell has been excellent and the jacket looked like new. However after last skitrip to the French Alpes I visited Norrönas store to change the zipper. I was contacted by headoffice and offered the greatest customer service and a replacement jacket!!! I am deeply impressed off this jacket, the Lofoten trousers and the excellent customer support. Outstanding Norröna
Date published: 2018-03-31
Rated

5

out of

5
by
Pacoftv
from
Exactly what I need it
I bought Lofoten gore Tex pro jacket, as well same brand pants and bitihorn hoodie before 2-3 months ago, but had no chance to use it. Last two weeks I had a couple of opportunities to visit the mountain for ski tpuring, snowkiting and some hiking. I've been really pleased from my apparel. Not cold, no sweating , very comfortable, enough pockets for telephone, nose naps, sunglasses,docs and all headwear. In addition want to admit that the colors were even better,than I saw them in the webpage. My overal perception and feeling is truly satisfying. Great stuff!,!!!
Date published: 2018-12-09
Rated

5

out of

5
by
Anonymous
from
Amazing all round Jacket
Can only say good things about this jacket. Light but strong, perfect waterproofness, very flexible and good fit.
Date published: 2018-12-02
Rated

5

out of

5
by
reklawwerdna
from
Extremely hard wearing, highly waterproof Gore-Tex jacket
This is the second lofoten gore-Tex pro jacket I have purchased. I also got a second set of pro-trousers to go with it. A stylish jacket that has been the reliable outer-shell I use for alpine skiing and randoneé. I have had other brands before, but since using this, I haven't gone back. High quality zippers, well thought through pocket locations, an efficient powder-skirt and an extra covering for the hands. I have never got wet in this, despite skiing in torrential rain and deep heavy powder. It has a great venting area and in the colder ski-days with wind-chill, effective layering makes this a great wind-proof barrier that helps keep me warm. If you are a serious all-weather skier/ ski-tourer, I highly recommend this jacket.
Date published: 2018-12-01
Rated

5

out of

5
by
Black_Rabbit
from
The best option on the market
The last 7 or 8 years i have been wearing a Lofoten gtx pro jacket. I have used them for everything they are designed to do. And a lot they are not designed to do. everything from hiking, mountaineering, hunting, fishing, forestry work etc. My experience is that they hold up remarkably well. i'm 2 meters so i need a jacket that is not to short in the arms or waist and the XL fit me perfectly. i'm 86kg
Date published: 2018-11-09
Rated

5

out of

5
by
FD13
from
You get what you pay for
Norrana describe this best themselves with the phrase loaded minimalism. There are no gimmics on this jacket whatsoever, it is all about the minimum necessary and therefore less things that can go wrong. As usual for Norrana the fit and cut is fantastic and everything is micro adjustable. You can use it with any salopettes or it will zip into the Lofoten salopettes for added 'pow' protection. It is purely a shell and therefore you have more control on adjusting your layers to get the right temperature. Try one on and you'll know what I mean.
Date published: 2018-10-25
Rated

4

out of

5
by
Anonymous
from
Great shell
I bought this jacket but I have not used it on the snow yet. Excellent workmanship and well-made seams!
Date published: 2018-10-14
Rated

4

out of

5
by
OLDGUY
from
Excellent product that confirms Norrona quality
Having used several Norrona products over the years, I have recently purchased this new model of Lofoten Pro jacket and the trousers of the same series. I have been able to test this product for three weeks in freeride both in the French Alps and in Italy in the Dolomites at different altitudes and environments, often with particularly severe weather conditions. The jacket was fully responsive to my expectations, confirming once again the excellent quality of Norrona products. This jacket retains the characteristics that have determined the success of the Lofoten collection such as the pockets compatible with the use of backpacks and harnesses, an excellent breathability and an exceptional wind and waterproofness. This new model is even more comfortable both for cutting and for the new fabric much softer and more comfortable, although personally I would have preferred a more robust fabric especially for use in the forest, also in consideration that Norrona still offers a lighter version of the Lofoten jacket. It would also be nice to have an inside pocket for the radio / telephone with an hole for the headset cable. A product of absolute excellence with a modern look and trendy colors.
Date published: 2018-03-29
Since I'm 1m95 but only have a chest circumference of 93cm, i'm wondering if a Large or X-Large which are closer to my length won't be baggy and a Medium won't be to short. What do you advice?
Hi all, thanks for all the response, eventually i went for the Large, length wise it's good, and for me it's not to baggy and i have room left for layers, so i'm happy. Thanks again!
Date published: 2018-12-12
Is it a 3 layers jacket ? Thank you
Hi yes i would say it is a 2 to 3 layer jacket. Had a week in Austria and had 2 layers on. Kept dry and didn't get cold.
Date published: 2018-12-12
I'm unsure of sizing as I'm 180 cm and 80 Kg, normal build (for Jackets I normally use size 48 and pants 32) - should I go for Medium or Small (as need room for layers as well)
Size small is the one I went for. I'm the same size - slightly tight on the waist but perfect elsewhere. I love this make. I ski 25 weeks the year and it's by far the best made. 
Date published: 2018-11-26
Hello - Are all the pockets waterproof? I read a review that said the front pockets leak in rainy conditions.
I have bought and used this jacket for skiing. I think it will take some pretty heavy rain before the contents of your front pockets become wet. Quality of material and craftmanship of this jacket is excellent.
Date published: 2017-11-25
What is the denier of the fabric?
Hi Justinb650! The denier for the lofoten Gore-tex Pro jacket is 40D and in recycled Nylon. Hope this was helpful information for you. Best regards, Anette/Norrøna Fan Support
Date published: 2018-03-24
Will there come new colours? If so, when?
Hello Hesjedal, There will be new colors in the FW18/19 collection, which will launch fall 2018. Best regards, Alexander - Norrøna Fan Support
Date published: 2017-11-21
I'm trying to figure out sizing since I fall between the S & M sizes. I'm ~183-184 cms but only 68kgs. Any advice?
Hello Klaus, I'm 1.78 cm. and 70 kg. and I usually always wear a size small. This jacket is quite long, which is typical for most of our skiing jackets. The centre front length measures 58.5 cm. for a size small, while size medium is 60.3 cm. Since you are a fair bit taller than me, I would recommend you a size medium jacket, so the jacket doesn't end up being too short in the front. I hope my advices were helpful, if you need more help I can look up other measurements of the jackets as well if you need. Best regards, Alexander - Norrøna Fan Support
Date published: 2018-11-19
D'autres ont également consulté