lofoten Gore-Tex Pro Pants (M)
lofoten Gore-Tex Pro Pants (M)
is rated out of
5
by
32
.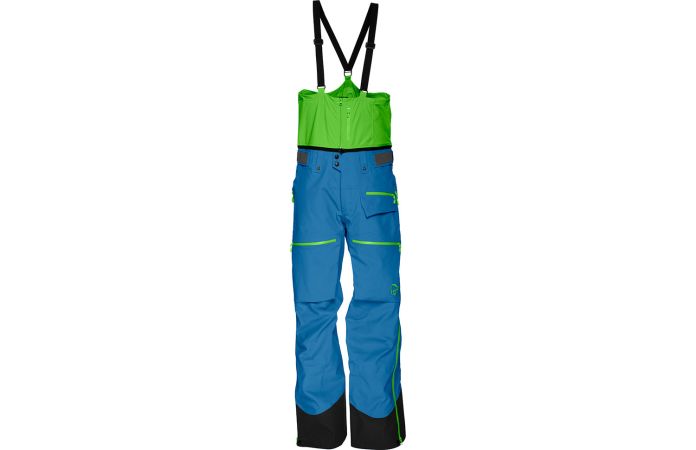 Notre pantalon de freeride le plus résistant et fonctionnel. Ce pantalon résistant et bien aéré offre tous les détails essentiels dont vous avez besoin pendant votre séance de freeride. Cette saison, découvrez un design revisité avec des poches mieux agencées et une coupe ajustée améliorée. De plus, sa ventilation supérieure et sa protection contre le vent et l'eau offrent un niveau de confort élevé. Fabriqué en GORE-TEX® Pro nouvelle génération pour plus de résistance. L'un des produits les plus populaires de Norrøna.
Effet coupe-vent

6

Imperméabilité

6

Isolation

2

Aération

4

Respirabilitié

6

Légèreté

2
Développé pour
Ski et snowboard en haute montagne
Autres zones d'utilisation
Snowboard et ski freeride, Ski de randonnée, Marche sur glacier, Ski et snowboard
Ce modèle peut être porté avec
Rated

5

out of

5
by
Richf66
from
Awesome ski pant, great features to go along with jacket
I've used this for a year and love it. Very durable and long lasting. I like how it interfaces with the jacket (snaps) and has multiple ways to attach, depending on your preference. Lots of pockets and zips. The velcro waist adjustment is great and allows for a wide size range. My only suggestion is to replace the small zipper on the bib attachment (the one that zips it up, not to the pants) with something that is a bit beefier and change the placement slightly. There's not a lot of space where you have to start the zipper in relation to the zipper that connects it to the pants. The zipper itself will also pop if put under pressure. I had a tailor replace this with the same sized one that's used to attach it to the pants and it works great.
Date published: 2017-01-20
Rated

5

out of

5
by
Sunrise Skier
from
Bullet Proof Ski Pant!
These are the best pants that I have ever owned. Gore-Tex and bullet proof! Love the great colors as well. These pants have pockets in the right locations and full length zippers on the legs. These integrate with my Norrona jacket. Can't say enough about these. Would buy again.
Date published: 2017-03-20
Rated

5

out of

5
by
Bayfs5
from
Perfect Pants
I bought these pants to go with the Lofoten jacket; it seemed the right thing to do. I opted for the green trouser/blue jacket combo (after many hours agonising over the possible options). I am long of limb and these are spot on. Comfortable, roomy but not baggy, and (so far) tough as you like. My fave features are the thigh pockets. Sitting on top of the leg they can be stuffed with all manner of nonsense and still not hinder free movement. The little waist pocket a nice touch too. The snow bib is useful and acts as a handy corset after a few too many bowls of pasta; which is nice. The connectability between the jacket and trousers is great in the deep stuff but mildly embarrassing when you forget it exists and you strip off in the mountain restaurant and drag you jacket behind you like a kid going to school. All in all, fab pants. Usual Norrona caveat; expensive. But still pretty awesome.
Date published: 2017-03-06
Rated

5

out of

5
by
Bajagreg
from
Great pants!
I bought the jacket in Dec last year so wanted the pants as well. Heavier fabric than the jacket, bomber! I am 182 cm about 160 lb & the large jacket & med pant fit me. Nice features on both pieces! The pants have an adjustable waist band which is a nice feature . I also have the falketind primaloft 60 liner but I am bit worried as the stuffing is coming out of the fabric ☹️ Not a big deal but is this normal?
Date published: 2017-03-04
Rated

5

out of

5
by
AliK
from
Great Quality
I bought these a month ago, have been skiing twice in them and love them, really tough material.
Date published: 2017-02-21
Rated

5

out of

5
by
Guus
from
Simply great
Amazing pants. Very durable, wind/water proof. Used them in various weather coditions, from rain to very cold temperatures. Simply adapt your underwear accordingly. The front pockets can fit a lot of stuff without limiting your freedom of motion. The bib is very comfortable, keeps the pants up such that you don't have to tighten the wast too much.
Date published: 2017-02-17
Rated

5

out of

5
by
freeheelskigod
from
longevity
Bought the original pants in Norway when I started to learn to telemark ski in 1998 - still going strong, superb fit, warm, waterproof and distinctive original colour schemes - just debating whether or not to invest in the new versions knowing they will probably outlast my skiing days!!
Date published: 2017-02-11
Rated

3

out of

5
by
StigMat
from
Strong and durable
Have used the Lofoten pants now for over a year. Great pants and they are really rugged :-) I am a regular L user and ended up with M size. Its a little to tight around the waist for me but fit ok for the rest. I feel that the L size of these pants are to big, wide and long. A more XL size would fit better instead of L. The same size regime goes for Tamok and Røldal, so there are no other rugged pants to choose from with regular size and shape :-( My Narvik pants from 2011 is the best pants I ever had, but they are now weared out :-)
Date published: 2017-02-06
Hello I'm looking for the right size for Lofoten Pro Pant (for skiing). I'm 1,64cm and pretty slim (but not meager ~ 60 kg). Would the XS size be OK or still too long/large for me ? Or should I rather purchase a "Junior" model. Thanks a lot !
Hi Etienne, Thanks for asking about size of the Lofoten Gore-Tex pro pants. I think that you should go with the XS size, and I think it will fit you well. The legs might be a bit long but with ski boots / snowboard boots it will not be a problem at all. Our XS size is fitted for women with height of 1.64 cm. The inner leg length of these pants in XS is 78 cm. Best regards, Jens, Norrøna Fan Support
Date published: 2017-03-06
Hi, I am looking for right size for lofoten Gore-Tex Pro Pants. My measurements: Waist : 84 cm Inside leg : 81 cm Weight: 90 kg The sizing chart suggests M but I would have always bought L so was wondering if your sizing is quite generous?
Sizing isn't generous unless you are on the slim size. And if you want to wear your fleece inside your ski pants i.e. Have the fleece within the bib then perhaps L size is the way to go, unless you are slim build physically i.e. No protruding stomach. Hopes this helps 
Date published: 2017-01-09
I purchased the Lofoten Pants and Jacket (both in medium).  However the snow-squirt doesn't line up with the pants regarding the two clips in the back.  When both clips are attached, I get a bubble that allows snow through
Hi, Thanks for asking the question regarding the snow skirt of the Lofoten ski set. The snow skirt should fit perfect without bubbles when you have the same size in jacket and pants, probably also if you go up/down a size in one of the products. It seems to me that you have missed a button, because this happens when one of the buttons in the front is skipped. But off course you have checked that. So I recommend you to contact our Service Department, and they will solve this. Best regards, Jens Norrøna Fan Support
Date published: 2017-01-05
Calling captain Jens! ;-) Just to clarify, the true inseam length is 87cm in mens medium? Or are they designed for a person with an 87cm inseam? Also why do Norrøna not use a diamond crotch gusset on their hard shells? Thanks in advance, Gareth
Hi Gareth, Captain Jens here! The inseam measures is the product measure, not the person measure. So the product in M is 87cm inseam. On your question regarding the diamond crotch gusset, I have to pass it over to our product technicians as I honestly does not now what that is. This is a bomber ski pant that will last for a long long time, using probably the most heavy duty Gore-Tex fabric in the market which Norrøna uses exclusively. So get that pant and hit the mountains! Aye aye Jens Captain
Date published: 2016-12-05