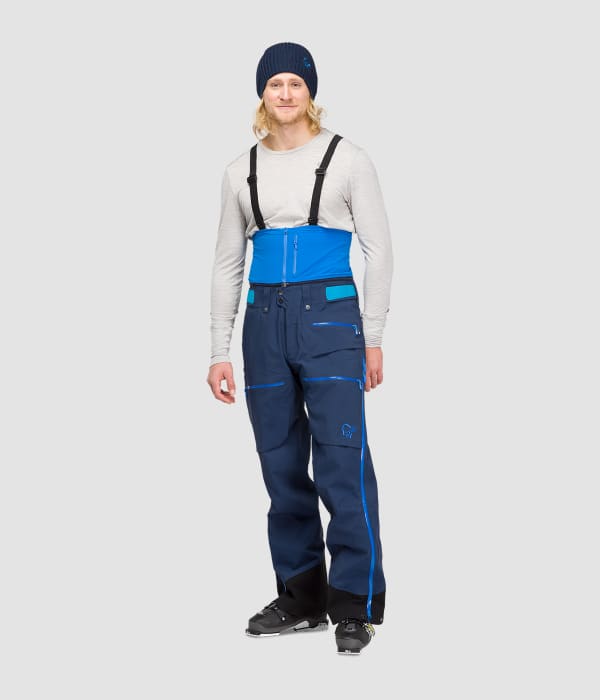 Affichant ouvertement sa volonté de changer totalement la donne pour une nouvelle génération de skieurs, le pantalon en Gore-Tex Pro lofoten a été réalisé sans faire le moindre compromis, pour offrir aux freeriders de haute montagne toute la protection qu'ils attendent dans les conditions ultimes qu'ils affrontent.
Ce nouveau modèle reprend la coupe ample et les caractéristiques exclusives de son aîné, telles que les poches cargo sur la cuisse pour un accès pratique et rapide aux accessoires, les longues fermetures Éclair d'aération et les renforts extrêmement résistants aux bas de jambe, préservant le pantalon des contacts avec les carres.
Les couleurs vives choisies dans la collection originale ont été revisitées, pour un look ton sur ton plus moderne, mais dans des teintes restant suffisamment vives pour assurer une visibilité exemplaire.
Le pantalon intègre une bavette amovible, qui présente le double avantage d'éviter les entrées de neige et de maintenir le pantalon bien en place.
Le mannequin porte une taille L (hauteur 188 cm)
Produit pour
Ski et snowboard en haute montagne
Autres utilisations
Snowboard et ski freeride
Ski de randonnée
Ski et snowboard
Spécifications
6

Coupe-vent

Coupe-vent

Scale from 1 to 6 where 1 is not windproof and 6 is totally windproof.

6

Rapport chaleur / poids

Rapport chaleur / poids

Scale from 1 to 6 where 1 is not waterproof and 6 is waterproof.

1

Isolation

Isolation

Scale from 1 to 6 where 1 has no insulating properties and 6 is our warmest insulation products.

4

Respirabilité

Respirabilité

Scale from 1 to 6 where 1 have very little or no breathability and 6 is our most breathable and moisture wicking products.

6

Durabilité

Durabilité

Scale from 1 to 6 where 1 is fragile products and 6 is the most durable products we have.

3

Légèreté

Légèreté

Scale from 1 to 6 where 1 is heavy and 6 is among the world's lightest of its kind.
Empreinte
Tissu certifié Bluesign

Tissu certifié Bluesign

Bluesign® teste et sensibilise les usines de textile à éliminer les substances nocives du processus de fabrication et établit des normes de contrôle pour une production durable et sûre.

Usine ouvertement cotée

Usine ouvertement cotée

Ce produit est fabriqué dans une usine répertoriée ouvertement sur norrona.com.

Usine inspectée

Usine inspectée

Ce produit est fabriqué dans une usine inspectée par une tierce partie indépendante et suivie par Norrøna.
Composition
GORE-TEX® Pro

GORE-TEX® Pro : la membrane en GORE-TEX® présente une doublure tissée pour réduire le poids et l'épaisseur, améliorer l'évacuation de l'humidité et minimiser l'abrasion, tout en restant durablement imperméable. Le meilleur tissu contre les intempéries.

Plus de détails sur le site GORE-TEX®
Détails techniques
Rated

5

out of

5
by
EdChaJu
from
Norona gear
Bought for splitboard adventures. More than satisfied
Date published: 2018-11-29
Rated

5

out of

5
by
Mlopez
from
Top Pant Freeride
I'VE EVERY YEARS PURCHASING LOFOTEN PANT OF NORRONA FOR FREERIDE AND MOUNTAINEERING AND IT IS A SAFE BET. RESISTANT AND PROTECTIVE.
Date published: 2018-11-01
Rated

5

out of

5
by
Sam65
from
High quality
Superb ski pant, he is like no other.They material is very different when you compare it to other brands. Very strong, I stay dry and warm without being constricted.The fit and articulation properties are exceptional providing absolute freedom of movement at all times. The belt adjustment is simple and quick. The pockets are functional. I would highly recommended this.
Date published: 2018-10-12
Rated

5

out of

5
by
Fauskeværingen
from
Nydelig bukse!
Som alt norrøna leverer av skiklær skuffer ikke Lofoten-kolleksjonen heller. Stilrent, og funksjonelt.
Date published: 2018-10-07
Rated

5

out of

5
by
Anonymous
from
Top pants
This my third pair of of Gore Tex pro pants . It' s perfect for any condition of snow, great material smd vestibility
Date published: 2018-10-02
Rated

5

out of

5
by
JerrySki
from
Gode funksjoner.
Jeg er klart førnojd med denna produkt till skidåkning.
Date published: 2018-09-27
Rated

5

out of

5
by
Anonymous
from
So good looking product!
I've searched in a lot of brands for my new snow equipment and this product was far better than the other viewed.
Date published: 2018-09-25
Rated

4

out of

5
by
LaurentP
from
Sturdy item
Robust, comfortable but still practical. Good material, well knitted together. Expensive but not more reliable than the competition.
Date published: 2018-09-16
Hi, I own previous model of lofoten pro jacket (light blue). I wonder if these new pants are compatible with my jacket i.e. can I connect them vie metal press studs.
Hi Wlad, Thanks for your question of connecting an older version of a lofoten pro jacket with the new version of the lofoten pro pants. The lofoten Gore-Tex Pro pants are compatible with older lofoten Gore-Tex pro jackets that have buttons on the snowskirt of the jacket. Best regards, Jens, Norrøna Fan Support
Date published: 2019-01-17
Has the fit/cut of the 2018/19 pants changed from last year? What about the Goretex fabric? Are the only differences in color??
Hi Ludwigk, I'm not certain about the 2018/2019 changes but the changes between 2016/2017 and 2017/2018 were inexistant (got two pairs: only a colour change for the bib i.e. the bit you zip over the belt to keep the powder out). So, yes, only colour changes. Sorry for the late reply. L
Date published: 2019-01-06
Is there a video showing how to use the zip-seal system?  I can't figure out how to connect the snow skirt of the jacket to the pants as shown (briefly) in the product videos? Is there a separate skirt i'm missing?
Hi Mike, You will normally find a separate skirt with a zipper in each side in the front pocket of your pant.  If this item is missing, please contact the Norrona helpline. Enjoy the ride! 
Date published: 2018-09-15
Hi there, do the lofoten pants direct iconnect to the lofoten jacket if you remove the bib and snow skirt? My partner has the W lofoten jacket/pant from a couple of years ago and when you remove the snow skirt from the jacket you also remove the zipper
Hi NZMike,all the Lofoten jackets can interconnect with the lofoten pants via press studs between the jacket powder skirt and the top of the pants (see video).This creates a great seal for those big powder days as well as keeping the warmth in and cold out.I have used this system faultlessly for the last 6 years in Canada and it still allows great dynamic flexibility.
Date published: 2018-11-27
Hi! I would be very interested in this pants, but unfortunately the size M, which is perfect in fit, is very very short for my leg length. would it be possible to have a size M with length of size Xl? Thank's!
Hi, thanks for the request. I`m sorry, we don`t have this pants in any other models (longer or shorter legs). We do have one model with extra long legs, in the falketind flex1 pants. However, for some pants (svalbard flex1, bitihorn and falketind flex1) we can in addition customize the legs on request. Unfortunately we`re not able to do this customization with Lofoten Gore-Tex Pro pants due to the snow gaiters
Date published: 2018-12-23
Hei. Har den forrige utgaven av jakken i caviar. Skulle gjerne hatt buksen til den også. Det er vel kanskje ikke mulig å få tak i? Er den nye gore tex pro utgaven kompatibel så man får festet bukse og jakke sammen med glidelås?
Hei Øyvind, Takk for ditt spørsmål. Beste mulighet for å få tak i den gamle utgaven av buksen i caviar er nok på annenhåndsmarkedet. Den er helt utsolgt på vårt hovedlager dessverre. Men fra år til år bruker vi farger som lett kan kombineres med hverandre. Den nye Gore-Tex Pro buksen har samme festemekanisme som tidligere så disse kan fortsatt festes sammen. Mvh. Jens, Norrøna Fan Support
Date published: 2018-04-13
Hi. I have the Lyngen Driflex3 Pant in a Large and they fit great (except a little long) and wanted to know if the Lofoton Gore-Tex Pro Pants fit the same way or if I should order a different size. Thank you!
Difficult to answer since I have only bought the Lofoton Gore-Tex Pro and not the Lyngen Driflex3. Would assume that they they are equal. Just for comparison, I am 186 cm, weighing 88 kg (Jeans size 34-36 inch, length usually 34) and the fit is great. Wouldn't have it any other way. Hope that gives you an idea. Kind regards Stephan
Date published: 2018-12-23
I usually wear pants with some insulation, plus merino longs, I'm concerned these will not be warm enough for -20/25 conditions. What layering recommendations do you have please?
Hi, I was wearing them with icebreaker long sleeve pants and they were warm enough for heli skiing in British Columbia in the -20 temparature range.
Date published: 2018-01-14
D'autres ont également consulté