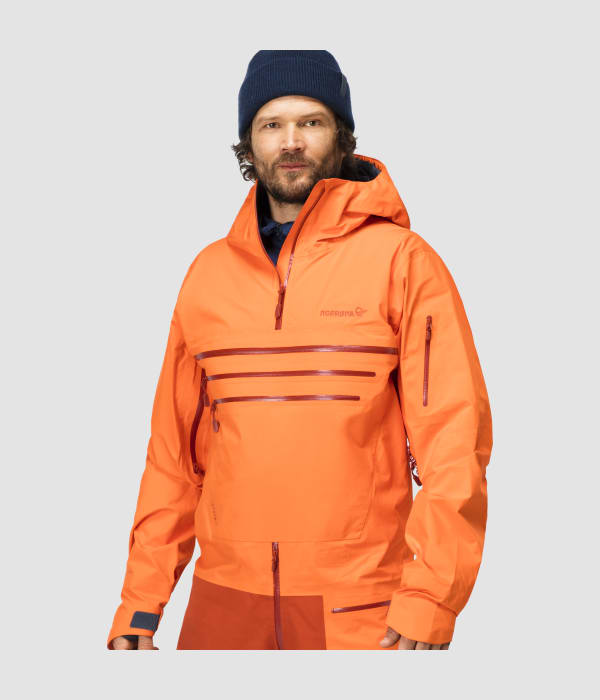 Merci de me prévenir quand cet article est à nouveau disponible
L'un de nos produits les plus emblématiques découle d'un choix à la fois impromptu et audacieux, fait par l'un de nos employés passionné de freeride.
Alors qu'il cherchait à définir le vêtement ultime pour dévaler la poudreuse, il a fini par simplement coudre la veste au pantalon, créant du même coup un nouveau style.
La nouvelle combinaison en Gore-Tex lofoten combine deux membranes GORE-TEX® Pro différentes, pour une protection et une liberté de mouvement optimales, même dans les conditions les plus difficiles.
Directement inspiré des combinaisons de surf, le système d'ouverture offre une plus grande mobilité et un meilleur confort. La coupe ample a été conservée, mais dans un look plus moderne et avec de nouvelles fonctionnalités comme les ventilations en mesh au niveau de la poitrine et les deux grandes poches poitrine.
Fermetures Éclair collées, renforts aux bas de jambe et capuche anti-vent sont autant d'atouts techniques qui subliment la résistance de la combinaison et vous permettent de rester au sec, quelles que soient les conditions météo que vous affronterez.
Produit pour
Ski et snowboard en haute montagne
Autres utilisations
Snowboard et ski freeride
Ski et snowboard
Spécifications
6

Coupe-vent

Coupe-vent

Scale from 1 to 6 where 1 is not windproof and 6 is totally windproof.

6

Rapport chaleur / poids

Rapport chaleur / poids

Scale from 1 to 6 where 1 is not waterproof and 6 is waterproof.

1

Isolation

Isolation

Scale from 1 to 6 where 1 has no insulating properties and 6 is our warmest insulation products.

4

Respirabilité

Respirabilité

Scale from 1 to 6 where 1 have very little or no breathability and 6 is our most breathable and moisture wicking products.

6

Durabilité

Durabilité

Scale from 1 to 6 where 1 is fragile products and 6 is the most durable products we have.

3

Légèreté

Légèreté

Scale from 1 to 6 where 1 is heavy and 6 is among the world's lightest of its kind.
Empreinte
Fibres recyclées

Fibres recyclées

Plus de 50% des fibres synthétiques de ce produit sont recyclées.

Tissu certifié Bluesign

Tissu certifié Bluesign

Bluesign® teste et sensibilise les usines de textile à éliminer les substances nocives du processus de fabrication et établit des normes de contrôle pour une production durable et sûre.

Usine ouvertement cotée

Usine ouvertement cotée

Ce produit est fabriqué dans une usine répertoriée ouvertement sur norrona.com.

Usine inspectée

Usine inspectée

Ce produit est fabriqué dans une usine inspectée par une tierce partie indépendante et suivie par Norrøna.
Composition
GORE-TEX® Pro

GORE-TEX® Pro : la membrane en GORE-TEX® présente une doublure tissée pour réduire le poids et l'épaisseur, améliorer l'évacuation de l'humidité et minimiser l'abrasion, tout en restant durablement imperméable. Le meilleur tissu contre les intempéries.

Plus de détails sur le site GORE-TEX®
Détails techniques
Rated

5

out of

5
by
HansiAT
from
Great! For warm and cold days, just perfect!
Amazing product, I wanted a one-piece suit for so many years and finally tried it out. I was first a bit skeptical, if this suit would perform well on the warm as well as on the cold days, but it proved to be awesome in both! During warm days (spring skiing at around 15 Celsius plus) it worked amazing: open the chest vent and a bit on the vents on the legs and you have an amazing airflow inside the suit, not comparable with any jacket/pants i have ever tried! Now i understand the positive effect of not having a normal zipper on the front. In the cold (all zippers closed) it keeps away the wind and depending on what you wear underneath keeps you dry and warm. The only place where i found the suit a bit inconvenient was while not skiing i.e. sitting in the hut etc. (I know it is not made for that). However, any inconvenience is truly abolished by the comfort and style this suit brings with it while skiing. Overall, you feel kinda invincible wearing it in any condition. I am already looking forward to wearing it next season! Best skiing suit I have ever had although pricey!
Date published: 2018-05-07
Rated

5

out of

5
by
Myles99
from
Amazing product
So i purchased this at the beginning on the ski season this year, at first I was hesitant to go down the one piece route but I couldn't recommend this highly enough. You can get your core temperature perfect for hot or cold days by using thermals and it doesn't sweat at all . the zip system is really good and works great and all the pockets really help especially the front chest pocket. If you ski powder this product is a must no snow penetrates at all . 10/10
Date published: 2019-04-03
Rated

5

out of

5
by
Oinerbakk69
from
Meget funksjonabelt plagg
Har hatt plagget i 1 mnd, fungerer utmerket! . .
Date published: 2019-03-09
Rated

5

out of

5
by
Guido
from
All in one Protection
I first came across a Norrøna one piece suit three years ago whilst guiding in Switzerland. It was my sister that introduced me. Back in the late 1980's; one piece suite were standard but not technical. The concept of one piece eliminates the gap when using jacket and trousers. Firstly, any one piece, eliminates snow getting to your extremities. Factor in the technical features nowadays of Gore Tex, you have a formidable piece of equipment. I prefer the term asset. When you get one of these, it's an investment in survival, comfort and license to venture into the extreme. Recently, I git my own suit from Norrøna and used it in the absolute extreme. It's what it's designed for. When I first tried it on, I was worried about the fit. It looked big, once I got into it and did the usual stretches, I knew it was perfect. Flexibility is really important with any product if you're climbing, skiing, snowboarding or any action sport. The features and technicality have been thoroughly thought through and executed with this product. So, if you like the high extremes of weather, altitude. This is a must have component.
Date published: 2019-02-13
Rated

4

out of

5
by
Adèle
from
Excellent product: but why no women version?
Used to wear a one piece for years now, I chose this norrona version for my trip to Japan as it is a little looser (I'm three month pregnant and had to be able to fit a growing belly and layers as it is -36° c chill) and it was absolutely PERFECT! had to get used to the way you put it on and close it but when you get the trick (which is to close in the middle and not on the sides when you wear it) it is absolutely excellent! in terms of shape I really like the baggy style (I'm 1,74m and 60kg and took a S) but for a women the style around the shoulder and harms is way to large... so I looked very much like a women wearing a men's clothing, which annoyed me a little as it is an expensive piece. but it has the perfect insulation for deep powder and breathability to hike and get this perfect untouched mountain side... wore the lyngen 850 jacket and pants under and I am very very happy with the overall use as the conditions where quiet extreme (very cold, windy, blizzard and with deep snow)
Date published: 2019-02-09
Rated

5

out of

5
by
Rdsmith
from
Feature packed one piece!
Love all the features (pockets, vent zippers and more) on this one piece. The fit is a bit big but you can adjust it yourself to make it a bit better. The color is awesome and I just love it!
Date published: 2018-05-31
Rated

4

out of

5
by
HeidiØ
from
All over veldig god - men trang over rumpen
Jeg har Lofoten skidressen fra 2016/2017 i str XXS. Er selv 167 cm høy. Den er helt super, god bevegelighet. Dog litt tung til topptur. Kortlommen er en anelse liten, du må ta av hansker og lirke kortet på plass. Jeg er relativt slank, men synes skidressen er ganske stram over rumpen, og ikke på en flatterende måte. Passer ellers. Dumt å kalle den unisex når den er såpass trang.
Date published: 2018-02-04
Rated

5

out of

5
by
Cric
from
THE BEST HELISKI OUTFIT
No doubt the Lofoten one-pice is a must for powder skiing and heliskiing...
Date published: 2018-01-22
Hi, just wondering about size of a hood; would the hood be possible weak on top of the helmet? Thank you in advance!
Yup, it should fit! My hood fits on top of my helmet and it protects from wind and icy snow! Great product
Date published: 2019-02-07
Hi, i am 177cm and 77kg..what size is good for me? to wear down mid layer and termo pants 
Hi Skyyc, I would recommend you to try the S version first, and are quite confident that will suit you fine. I'm a little bit shorter than you (172 cm) and weighs a bit less, and are in between an XS and Small. Would buy XS for my own sake. It is quite roomy. Best regards, Jens, Norrøna Fan Support
Date published: 2019-01-17
Will this garment work well for ice climbing and general harness use, or will the harness wear out the crotch area? Also what size is good for a male 195cm and broad sholdered?
Hi, we would recommend trollveggen collection for ice climbing. The trollveggen collection is the first choice of mountaineers, these are tough, weather protective clothing that maximize mobility in steep and difficult terrain. Check it out here: https://www.norrona.com/en-GB/products/trollveggen/men/ I can't give you any guarantees but XL will most likely fit you the best.
Date published: 2019-01-15
Hello, I can not put the straps on the suit, the metal pins do not go through the loops? Could you explain to me? Thank you
Hi, The should be pushed sideways to the hole to fasten.
Date published: 2018-12-15
What are the two small cords for, which are placed inside the one-piece suit (Tried it on in a shop and wondered)? Will the new suits for the next season have an exit for headphones inside? The one from last 2017 does not as far as I noticed.
Hi. The loops in the onesie are for suspenders. You can purchase these in our Webshop. See the link: https://www.norrona.com/en-GB/products/svalbard/suspenders-25mm/?color=7700 Unfortunately the suit does not have headphone exit in next years version.
Date published: 2018-04-12
How to take it off? Didn't see it in the video.
Hello Scintilla. Thank you for your interest in the lofoten gore-tex pro one-piece. You take it off by pulling the zipper from your arm and over your chest horizontally. Then you take your head into the whole and go with your body through that. For your information, new colors will be released next fall! Bets regards, Anette/Norrøna Fan Support
Date published: 2018-01-23
Hello, I measure 174cm and I got a S and the fit is great, however there isn't enough room to wear anything like pants under it. Is the simple shell of the one-piece enough to protect from the cold (I'm particularly worried about the legs)?
hi, if temperature goes below 0degree, this one layer is not enough... I typically use thermal underwear - then all I feel allright.
Date published: 2019-05-10
I am 178cm and 65kg. Is my size S or M?
Hello, I would probably get a size small, the medium fit will probably be a bit baggy. Best regards, Alexander - Norrøna Fan Support
Date published: 2017-11-21
D'autres ont également consulté