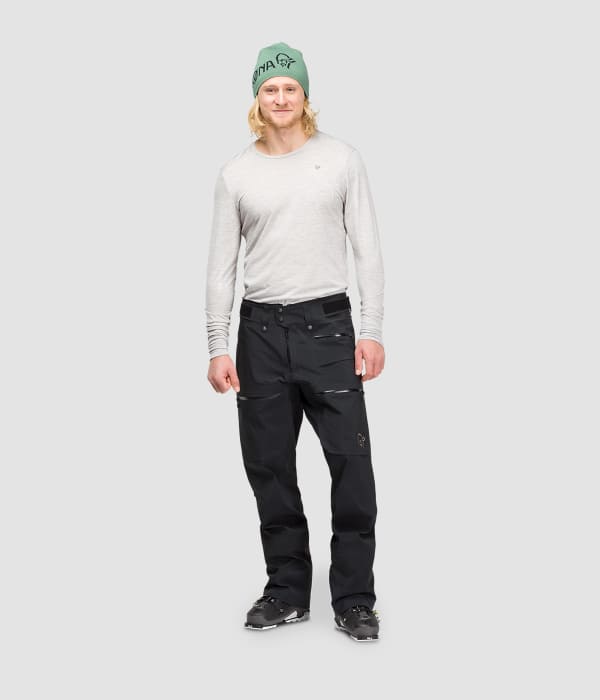 Conçu pour les freeriders les plus extrêmes, le pantalon léger lofoten Gore Tex Pro est le plus léger de notre gamme.
Il partage un grand nombre de caractéristiques avec le pantalon lofoten Gore- Tex Pro, mais il est confectionné dans un tissu GORE-TEX® Pro léger, étanche et coupe-vent qui offre d'excellentes propriétés de durabilité et de poids.
La coupe du pantalon est légèrement plus ajustée que celle du modèle lofoten Gore-Tex Pro, mais elle n'en est pas moins conçue pour le freeride en haute montagne.
Il possède des caractéristiques clés telles que le système d'ajustement de la taille Custom-Fit system™, une aération au niveau des cuisses avec du mesh pare-neige, des poches sur la cuisse pour y ranger les essentiels et un renforcement sur la partie inférieure de la jambe.
Ce pantalon est destiné aux freeriders de haute montagne qui recherchent une protection supérieure sans renoncer à tous les éléments essentiels.
Le mannequin porte une taille L (hauteur 188 cm)
Produit pour
Ski et snowboard en haute montagne
Autres utilisations
Ski de randonnée
Snowboard et ski freeride
Ski et snowboard
Spécifications
6

Coupe-vent

Coupe-vent

Scale from 1 to 6 where 1 is not windproof and 6 is totally windproof.

6

Rapport chaleur / poids

Rapport chaleur / poids

Scale from 1 to 6 where 1 is not waterproof and 6 is waterproof.

1

Isolation

Isolation

Scale from 1 to 6 where 1 has no insulating properties and 6 is our warmest insulation products.

4

Respirabilité

Respirabilité

Scale from 1 to 6 where 1 have very little or no breathability and 6 is our most breathable and moisture wicking products.

4

Durabilité

Durabilité

Scale from 1 to 6 where 1 is fragile products and 6 is the most durable products we have.

5

Légèreté

Légèreté

Scale from 1 to 6 where 1 is heavy and 6 is among the world's lightest of its kind.
Empreinte
Fibres recyclées

Fibres recyclées

Plus de 50% des fibres synthétiques de ce produit sont recyclées.

Tissu certifié Oeko-Tex

Tissu certifié Oeko-Tex

Oeko-Tex® est un système de test et de certification indépendant et cohérent au niveau mondial qui garantit que l'utilisation des produits chimiques est conforme ou supérieure aux réglementations et normes nationales et internationales.

Tissu certifié Bluesign

Tissu certifié Bluesign

Bluesign® teste et sensibilise les usines de textile à éliminer les substances nocives du processus de fabrication et établit des normes de contrôle pour une production durable et sûre.

Usine ouvertement cotée

Usine ouvertement cotée

Ce produit est fabriqué dans une usine répertoriée ouvertement sur norrona.com.

Usine inspectée

Usine inspectée

Ce produit est fabriqué dans une usine inspectée par une tierce partie indépendante et suivie par Norrøna.
Composition
GORE-TEX® Pro

GORE-TEX® Pro : la membrane en GORE-TEX® présente une doublure tissée pour réduire le poids et l'épaisseur, améliorer l'évacuation de l'humidité et minimiser l'abrasion, tout en restant durablement imperméable. Le meilleur tissu contre les intempéries.

Plus de détails sur le site GORE-TEX®
Détails techniques
Rated

4

von

5
von
iTelemark
aus
SchlichteTourenhose
Sehr angenehm zu tragen, leider keine Verstellmöglichkeit am Beinabschluss, daher nicht so praktisch bei Aufstiegen mit offenen Schuhen.
Veröffentlichungsdatum: 2019-01-01
Rated

5

von

5
von
Bucketeer
aus
Amazing ski pants,
I bought my ski pants a few weeks ago, the fit is fantastic and the quality what Norrona are well known for. I've bought Norrona a few times because they always make sure their products match expectations. A rare thing these days.
Veröffentlichungsdatum: 2018-12-29
Rated

5

von

5
von
Wene
aus
Viele gut durchdachte Taschen
Hat das Zeug zur neuen Lieblingshose !! Etwas leichter als die Lofoten
Veröffentlichungsdatum: 2018-12-20
Rated

5

von

5
von
Wene
aus
Die beste Hose am Markt
Bei Freeride und Berghosen ist Norrona das Maß aller Dinge
Veröffentlichungsdatum: 2018-12-10
Rated

5

von

5
von
Board-Racer
aus
Geniale Pants
Die Pro Light Pants ist seit einem Monat mein Eigen, da ich was cooles suchte. Größe L war mir dann doch zu baggymäßig, aber in M ein Traum!! Wie man auf den Fotos sehen kann, entschied ich mich auch für blau, vom Schnitt her für mich genial. Die Hose hat leider keine wärmende Innenseite, ist aber neben dem recht hohen Preis der einzigste Kritikpunkt. Am besten drunter eine Thermounterwäsche, dann friert es eigentlich keinen mehr. Dank Gore-Tex ist die Hose absolut winddicht, was sehr angenehm ist. Freue mich schon sehr auf den 1. Einsatz :-).
Veröffentlichungsdatum: 2018-11-13
Rated

5

von

5
von
Bond007
aus
PERFEKTE HOSE!!!
Hab mir die Norröna lofoten Pro Light Pants vor zwei Wochen gekauft, weil ich vor allem eine STYLISCHE Hose wollte. In Größe M sitzt sie einfach GENIAL (bin jedoch ziemlich schmal), hinten LEICHTER Baggy-Schnitt. Okay, da die Pant keinerlei Futter besitzt, sollte man nicht mit Boxershorts alleine unterwegs sein, sonst wird´s relativ schnell kühl, obwohl von außen her dank Gore-Tex NICHTS durchkommt. Die Pant ist darüber hinaus sehr leicht und trägt so gut wie nicht auf - SUPER!! Hab sie mir in blau genommen, da mir die anderen Farben zu grell waren. Der einzige wirklich GROSSE NACHTEIL ist der PREIS.
Veröffentlichungsdatum: 2018-11-12
Rated

5

von

5
von
RothRunner
aus
Skihose mit allen notwendigen Gadjets!
Ich habe mir die Hose vor einem Monat gekauft und sofort auf dem Gletscher getestet. Ich muss sagen, dass die Hose hält, was sie verspricht. Sie ist absolut wasserdicht und es ist kein Problem, wenn man sich in den Schnee setzt. Die Passform ist gut und nicht zu weit, was mir sehr wichtig war. Man sollte jedoch bedenken, dass die Hose eine reine Isolationsschicht ist und man auf alle Fälle etwas wärmendes darunterziehen sollte, wenn es weit unter 0 Grad geht. Durch die gute Isolation sollte aber denke ich eine lange Unterhose ausreichen. Ich werde das bei noch kälterer Witterung testen.
Veröffentlichungsdatum: 2018-11-10
Rated

4

von

5
von
Kelvin
aus
Light strong and a great fit
Great pants for touring! The pants are light and a relatively slim fit making them comfortable and nice to wear! The vents in the side make you able to cool of, when active, but unfortunately (In my opinion) the netting limits the amount of air coming in. It does however stop snow. A sure winner for every skier who wants to look good and have a functionel pant at the same time!
Veröffentlichungsdatum: 2018-10-21
This is advertised as working with a separately purchased bib, but what bib works with these? The only ski bib I can find on the website has a description that explicitly says it doesn't work with them.
Hi EricFromCalifornia, Thanks for your question regarding bib for the lofoten Gore-Tex Pro light pants. These pants are compatible with the mountaineering bib. Best regards, Jens, Norrøna Fan Support
Veröffentlichungsdatum: 2019-01-17
Hello, I have a Lofoten GoreTex Pro jacket. Can this pants zip or be attached to it or is it only for the Lofoten GoreTex Pro pants?
Not with a zipper no.  There's buttons for that.   Do know that if you buy the 'same colour', they're not exactly the same.  The materials used in jacket and pants are different hence the different tone of the same colour. Bit of a disappointment when I received my set... Good gear overall though. 
Veröffentlichungsdatum: 2018-11-09
Hi, will the snow skirt of my old Narvik jacket fit the Lofoten pants?
Hi, I don't think the zippers will fit well but the buttons should work fine.
Veröffentlichungsdatum: 2018-11-05
Do they come equipped with the removable bid like the Pro one's?
Unfortunately...no!! you must order separately...
Veröffentlichungsdatum: 2019-01-07
Sorry, how much is the inseam length of pro light pants?
Hi Francesco. Thank you for your question regarding this skitouring pants. The length of the inseam is: S- 84,5 cm M-86,5 cm L-88,5 cm XL-90.5 cm Hope this information was helpful for you. Best regards, Anette/Norrøna Fan Support
Veröffentlichungsdatum: 2018-01-16
Dear Norrono I am very interested in your lofoten Gore-Tex Pro Light Pants. I need an XL. The waist is perfect! My waist is 104cm. Alas, the length just doesn't work. I am 182 cm tall and I have an 80 cm Inseam. Your regular pants are just too long
D'autres ont également consulté