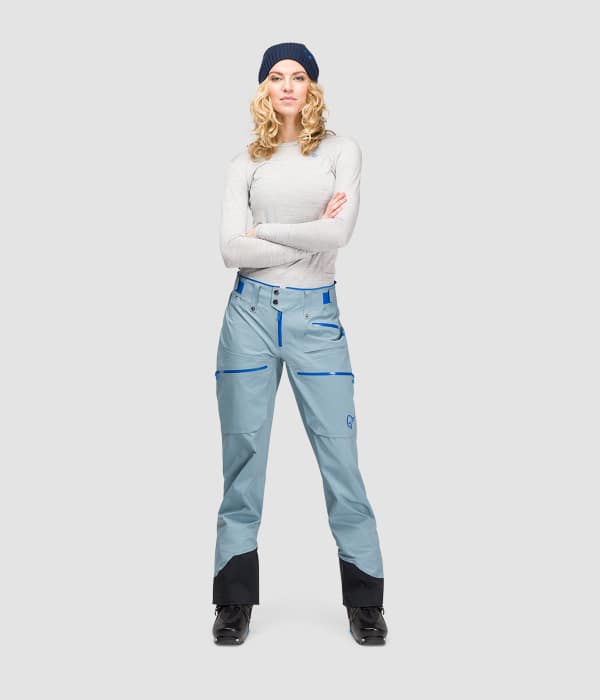 Conçu pour les freeriders les plus extrêmes, le pantalon léger lofoten Gore Tex Pro est le plus léger de notre gamme.
Il partage un grand nombre de caractéristiques avec le pantalon lofoten Gore- Tex Pro, mais il est confectionné dans un tissu GORE-TEX® Pro léger, étanche et coupe-vent qui offre d'excellentes propriétés de durabilité et de poids.
La coupe du pantalon est légèrement plus ajustée que celle du modèle lofoten Gore-Tex Pro, mais elle n'en est pas moins conçue pour le freeride en haute montagne.
Il possède des caractéristiques clés telles que le système d'ajustement de la taille Custom-Fit system™, une aération au niveau des cuisses avec du mesh pare-neige, des poches sur la cuisse pour y ranger les essentiels et un renforcement sur la partie inférieure de la jambe.
Ce pantalon est destiné aux freeriders de haute montagne qui recherchent une protection supérieure sans renoncer à tous les éléments essentiels.
Le mannequin porte une taille M (hauteur 179 cm)
Produit pour
Ski et snowboard en haute montagne
Autres utilisations
Snowboard et ski freeride
Ski de randonnée
Ski et snowboard
Spécifications
6

Coupe-vent

Coupe-vent

Scale from 1 to 6 where 1 is not windproof and 6 is totally windproof.

6

Rapport chaleur / poids

Rapport chaleur / poids

Scale from 1 to 6 where 1 is not waterproof and 6 is waterproof.

1

Isolation

Isolation

Scale from 1 to 6 where 1 has no insulating properties and 6 is our warmest insulation products.

4

Respirabilité

Respirabilité

Scale from 1 to 6 where 1 have very little or no breathability and 6 is our most breathable and moisture wicking products.

4

Durabilité

Durabilité

Scale from 1 to 6 where 1 is fragile products and 6 is the most durable products we have.

5

Légèreté

Légèreté

Scale from 1 to 6 where 1 is heavy and 6 is among the world's lightest of its kind.
Empreinte
Fibres recyclées

Fibres recyclées

Plus de 50% des fibres synthétiques de ce produit sont recyclées.

Tissu certifié Oeko-Tex

Tissu certifié Oeko-Tex

Oeko-Tex® est un système de test et de certification indépendant et cohérent au niveau mondial qui garantit que l'utilisation des produits chimiques est conforme ou supérieure aux réglementations et normes nationales et internationales.

Tissu certifié Bluesign

Tissu certifié Bluesign

Bluesign® teste et sensibilise les usines de textile à éliminer les substances nocives du processus de fabrication et établit des normes de contrôle pour une production durable et sûre.

Usine ouvertement cotée

Usine ouvertement cotée

Ce produit est fabriqué dans une usine répertoriée ouvertement sur norrona.com.

Usine inspectée

Usine inspectée

Ce produit est fabriqué dans une usine inspectée par une tierce partie indépendante et suivie par Norrøna.
Composition
GORE-TEX® Pro

GORE-TEX® Pro : la membrane en GORE-TEX® présente une doublure tissée pour réduire le poids et l'épaisseur, améliorer l'évacuation de l'humidité et minimiser l'abrasion, tout en restant durablement imperméable. Le meilleur tissu contre les intempéries.

Plus de détails sur le site GORE-TEX®
Détails techniques
Rated

5

out of

5
by
Topptur1966
from
Gode funksjoner.
Kjøpte den for ca 1 mnd siden. Sitter som et skudd, god å bevege seg i, lett å justere i midjen.
Date published: 2019-03-09
Rated

4

out of

5
by
Ginor
from
God bukse til skikjøringen!
Kjøpte buksen for en måned siden. Ikke fått prøvd den så mye. Kun et par turer. Buksa har god passform og er behagelig å ha på seg, men S ble litt stor i størrelsen. Fargen var ikke helt som forventet, men fresh uansett! Buksa kommer til å bli tatt med på mange skiturer og jeg kommer til å kjøpe på bib.
Date published: 2019-02-05
Rated

5

out of

5
by
Halvdanske
from
Lofoten goretex bukser
Jeg kjøbte lofoten Pro ligtweigth bukse Helt fantastiske bukser
Date published: 2019-02-01
Rated

5

out of

5
by
Monhov79
from
Lett bukse
Kjøpte denne til jul til min datter. Hun er veldig fornøyd med buksen og fargen.
Date published: 2019-01-30
Rated

4

out of

5
by
KatrineG
from
Good, but not best!
Ordered the Lofoten Gore-Tex Pro Light Pants (W). The reinforced inside ankle got ripped in the seams after the first time I used the pants, but after talking to the customer service I returned the pants and got a new pair delivered right away. It says that a zip bib can be added so I included this to my order, but it does not completely fit to these pants, so there is a 1cm gap at the end of the zipper. This should have been stated on Norrøna's webpage(or customized for these pants), especially since they claim to have first class products, and their products are very pricy. Overall nice pants, used in both cold, warm and wet weather with different kinds of layers under. They are perfect for ski touring. And of course they look very good! Using them for the second season now, and I have recommended these for my friends.
Date published: 2019-01-22
Rated

4

out of

5
by
Rachela
from
Light and strong
For the last five years I have been using the Lofoten Gore Tex Pro pants. I give them the highest possible rating. The cut is brilliant. And I don't just mean they're comfortable - the whole look is great. They fit where they need to. And they're loose where they need to be. Perfect. But eventually they got worn out and the zipper came unstuck, so I bought a lighter version of the pants - Lofoten Gore-Tex Pro Light. I've already tried them out - I just returned from the season opening in Italy. What are they like? - surprisingly soft. Indeed, this model is slightly narrower, and if you were counting on them to be a replica of Lofoten Gore Tex Pro, you might be disappointed. In this form they lose a bit of their roguish style. I wish they still had the back pocket, but it's just a detail. What bothered me was the bottom width of the leg; the pants could barely fit on the ski boots. And the lack of zipper - quite surprisingly - doesn't make putting them on any easier. Generally speaking, I'm pleased with them, and I'm going to take them with me on my next freeride trip.
Date published: 2018-11-09
Rated

5

out of

5
by
Ep95
from
Perfekt skibukse!
Kjøpte denne buksa på tilbud for å bruke den i skisesongen. Størrelsen er som forventet, S satt som et skudd! Kjempefresh farge og passform som gud! Har kun fått prøvd den en gang, og gleder meg til flere turer med buksa!❤️
Date published: 2018-10-07
Rated

5

out of

5
by
Karina
from
Anbefales
Rask levering. Produktet var som forventet. Fin fasong og farge, feminint snitt. Behagelig på.
Date published: 2018-10-06
Do any of the women's pants come in tall sizes?
Hi Melissa! Thank you for your question regarding our outdoor pants. After feedback from our customers, we have now started with long edition on some of our products.Currently we sell only one pant, the svalbard flex1 pants in long for women. You can find this under Womens/Collections/svalbard. Hope this information was helpful for you. Best regards, Anette/Norrøna Fan Suupport
Date published: 2018-11-19
Hi there - looking at getting a pair of lofoten pants for my wife but I'm unsure of the difference between the pro light and pro pants.  She wants them for skiing, mainly piste so would the cheaper option suffice?  Thanks. 
Hi JWD18, Thanks for looking at these great products for your wife, she is lucky if she get's one of these. The Pro Light should be more than sufficient for piste skiing and also works great off piste. Although it is not as heavy duty as the Pro Pants, they are sufficient for a long life and many ski days. Both pants also have 5 years warranty. Good luck with your purchase! Best regards, Jens, Norrøna Fan Support
Date published: 2017-10-10
When is the expected time to get more loften goretex pants in stock?
Hello madi, If you click a color and a size, you will see the availability. Right now we have all colors and sizes in stock, apart from the Caviar one, which is expected to be available from 2nd of October. Best regards, Alexander - Norrøna Fan Support
Date published: 2017-09-25
Hello, yes we need some tall sizes, the normal fit it's really too short for slim women over 175. Personally I had to buy men's pants but they're too large. Thanks to think of tall woman as well!
D'autres ont également consulté