lofoten Gore-Tex Pro Jacket (M)
lofoten Gore-Tex Pro Jacket (M)
is rated out of
5
by
29
.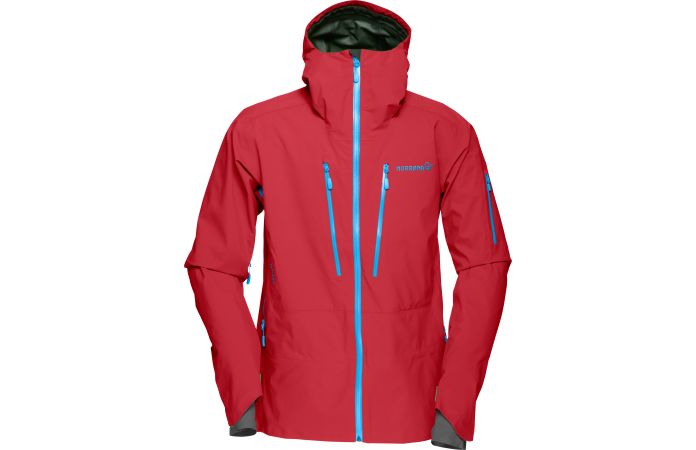 Notre veste de freeride étanche la plus polyvalente, avec tous les détails essentiels dont vous avez besoin en conditions difficiles. Elle est légère et protectrice, bien aérée avec une ventilation supérieure, et offre un niveau de confort élevé. Cette saison, la veste est confectionnée avec le nouveau GORE-TEX® Pro, qui la rend encore plus aérée. L'un des produits les plus populaires de Norrøna. Nouveaux poignets améliorés, fermetures Éclair collées et capuche avec réglage à l'arrière à une main. Nous vous recommandons de ranger votre téléphone portable dans la poche prévue à cet effet à l'intérieur de la veste, afin d'éviter les dégâts liés à l'humidité.
Effet coupe-vent

6

Imperméabilité

6

Isolation

1

Aération

4

Respirabilitié

5

Légèreté

4

Élasticité

1
Utilisation
Ski et snowboard, Snowboard et ski freeride, Marche sur glacier, Activités de plein air générales, Ski et snowboard en haute montagne
Ce modèle peut être porté avec
Rated

5

out of

5
by
Marcus
from
Great all around shell
The Lofoten Gore-Tex Pro is a great all around shell that I always bring when I do ski mountaineering or other longer lasting activity. Its difficult to say anything about the general quality of the product since I just had it little over a year. However it looks well done and I have so far not had an problem with it, after maybe 40 - 50 days of active use. The design works well the pockets are easy to access and the shape is great for skiing. The sizes are maybe a bit big but I think that's good if you are looking for a shell with good mobility and the possibility to add some layers under it. Its overall a good product but also in the more expensive range.
Date published: 2016-09-27
Rated

4

out of

5
by
julien
from
Very good jacket: windproof and waterproof
I bought that jacket 1 year ago: it is the best snow jacket I ever used. It is very solid and really waterproof. I have been skiing in very bad conditions and remained dry. The material is not broken at the shoulder because of the backpack which is so common on other jacket. Even it uses Goretex Pro shell, it is light: it can be put in a bag without taking all the free space. I don't really use the front pocket, but I like the arm pocket in which I can put my GPS or a ski pass. After around 80 days of use, there are still small damages. - The adhesive part used to tight the cuffs has been snatched after sticking several times with the one I have on my gloves. - The cuffs are great but are stretched after a few use. - The gloves are scrubbing the internal material which will break soon. - I snatched the internal material after strongly pulling the internal zipper (it was my fault, but I tough that it was more robust). The size is quite large: I wear a S size for 1m78.
Date published: 2016-11-07
Rated

5

out of

5
by
cezary_111
from
Strong and perfectly shaped
The jacket is very well designed and carefully finished, indeed. It is strong enough to withstand the hardest conditions on the slopes. It protects reliably from the wind, frost or rain. During my last two weeks of skiing I had few severe falls and the jacket was also very severely mauled. Yet, it still has no visible damages. I also never get any, even small quantity of the snow under the jacket during these accidents. It is really sealed and perfectly shaped. Thanks to this it also doesn't restricts any moves when skiing. Even at the extreme situations I never felt like I could do more but the dress restricted my abilities. This is really very, very good product worth the price we need to pay for it.
Date published: 2016-09-28
Rated

5

out of

5
by
mountainman
from
Excellent quality and features
I have a Roldal insulated goretex pro jacket which I bought about 4 years ago. I love it but it was too hot for sunny days (but ideal in deep powder). I wanted a lightweight shell and based upon my experience with the roldal, I immediately checked out Norrona again. As well as being highly technical, norrona gear has always proven to be hard-wearing and rugged. After several years of off-piste abuse, my roldal still looks as good as new and I have no doubt that the lofoten will be similarly resilient. The lofoten is also available in a variety of loud and garish colours which is an added bonus :)
Date published: 2016-12-06
Rated

2

out of

5
by
baard
from
Very baggy
I just ordered this at a discount of 20%, but will probably return it. I am a size medium according to the Norronas web-pages, but this jacket in size medium is very baggy. The arms are ridiculously long, it is way to much fabric at the biceps and in the middle of the back. And btw. I often has to size up to get a good fit around the biceps and shoulders. I tried a size small in a concept store and that would probably be a better fit, but that was too narrow at the bottom and a little tight around the shoulders. I do not think I would be able to use a harness with that size. I have had two other Lofoten jackets in size medium, but this is way bigger. Another annoying thing is that the inner pocket is still only able to fit an old small mobile, like iPhone 4.
Date published: 2016-11-06
Rated

3

out of

5
by
JanIdar
from
Almost great product
Bought this jacket just two weeks ago and have been using it for skiing and skitouring. Great fit and features, feels like perfect jacket for me. Unfortunately left cuff is already showing sign of wear. Too soon for a jacket this expensive. Let's see how well warranty works.
Date published: 2017-01-23
Rated

5

out of

5
by
short skier
from
Great sizing
I purchased the Lofoten Pro Jacket and Pants and really like the size and fit. I wear an xs, and appreciate how each garment is scaled-down and proportional, rather than just being shortened in certain aspects.
Date published: 2016-09-26
Rated

4

out of

5
by
IGOR
from
Good features
Good material but the yellow colour doesn't facilitate the durability of this item due to stains cleaning dificulty.
Date published: 2016-09-26
When will the jacket be available in birch green size XS?
Norrona only has a supply for the season and once they are out of a color in a certain size they are out for the season.  Some colors come back season to season but other colors are discontinued and never come back.  It's anyone's guess if they will have this color birch next season.
Date published: 2017-01-16
Hi, have you changed the sizing of your jackets in the last few years? I used to take L but looking at size guide I would now be M (6', 75kg) thanks
Hi root, Our size guide is general for all products and the fit and sizing differs a bit from produt to product based on the intended functionality and usage of the product. For this shell jacket it is made to go with the layering system of three layers below, and possibility to add a down/primaloft layer inside the jacket for the coldest conditions. Therefore the fit is made a bit roomy for this. So you should go for M size in this product. It can be a good thing to look at the size/fit information per product on the reviews from other users of the jacket to get an understanding of the size/fit of each product in our online store. Sorry for late answer. Best regards, Jens Norrøna Fan Support
Date published: 2016-11-11
Hello, is the Gore-Tex used N40p or N80p? Cheers
Hi ZGCO, The outer fabric of the Norrøna lofoten Gore-Tex Pro jacket has a denier of 70. The pants have a denier of 200. On trollveggen Gore-Tex Pro jacket it is a denier of 80 and on the trollveggen Gore-Tex Pro light it is a denier of 40. Hope this answers your question the way you wanted. Best regards, Jens Norrøna Fan Support
Date published: 2016-10-21