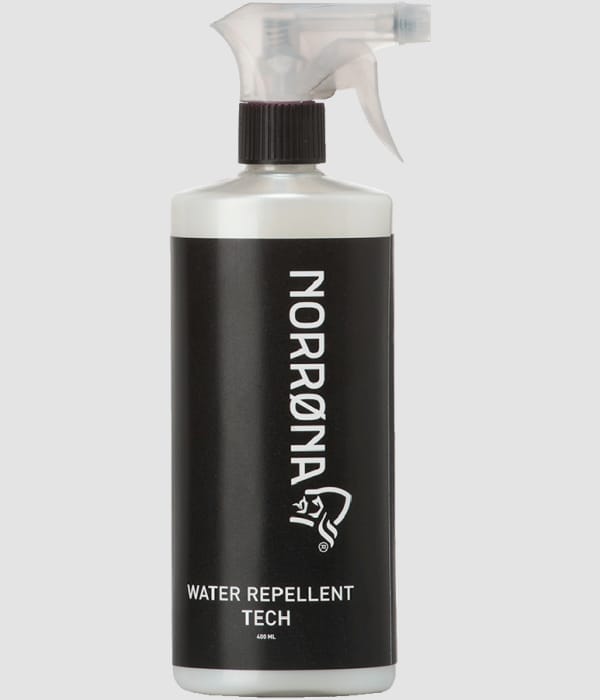 Ce produit n'est pas disponible dans votre pays
Ce produit préserve les qualités respirantes des matières techniques et renforce les qualités hydrofuges du tissu. Il représente une très bonne alternative écologique aux produits hydrofuges du marché. Peut être utilisé sur les membranes Gore-Tex, dri et autres tissus techniques. Recommandations : Le vêtement doit être propre et sec. Bien agiter le flacon avant utilisation. Pulvériser l'article aussi uniformément que possible. Laisser l'imperméabilisant agir pendant 15 à 20 minutes. Essuyer l'excédent d'imperméabilisant avec un chiffon humide. Sécher l'article à l'aide d'un fer chaud, d'air chaud, des rayons du soleil ou un équivalent. Les instructions de lavage du tissu doivent IMPÉRATIVEMENT être respectées. Vider, nettoyer et fermer l'embout pulvérisateur si vous souhaitez réutiliser le flacon. Si le liquide hydrofuge n'est pas pulvérisé de manière uniforme, l'article peut se décolorer. Cela peut être réparé facilement au lavage. Les produits ne contiennent pas de fluorocarbures ni de propulseurs qui contribuent au réchauffement climatique, ou de gaz CFC qui détruisent la couche d'ozone.
Rated

5

out of

5
by
SPOFBOY
from
Fantastic Product
I bought this to waterproof my Norrona Loften, it did a great job, water just beads off no collecting at the seams or folds. Have used this on all my other jackets with the same great results.
Date published: 2017-07-03
Rated

4

out of

5
by
rfihl
from
Easy to use
I bought this product to upgrade my Trollvæggen jacket with Dri3. It was easy to apply and did not make any stains on my jacket.
Date published: 2019-07-17
Rated

5

out of

5
by
Gman
from
Great stuff, fast service
Bought some of the water repellent stuff to treat a jacket, does the job excellently and doesn't smell horrendous like some of the aerosol versions you can find.
Date published: 2019-04-10
Rated

5

out of

5
by
Ludi
from
Efficient re-waterproofing
I've used this to re-waterproof my Lofoten jacket which takes a regular beating as I wear it any time it's raining out here. After treatment, water is beading and bouncing off my jacket just as it did when I first bought the garment. Very pleased to see I can increase the longevity of my jacket!
Date published: 2018-11-14
Rated

5

out of

5
by
Sean91
from
Easy to use
Bought this to re-waterproof my gore tec jacket and it was easy to apply.
Date published: 2018-09-23
Rated

5

out of

5
by
maxxx
from
it does the work
Fast delivery and good product, I use it on my norrona lofoten one piece suit.
Date published: 2018-05-08
Rated

5

out of

5
by
Who cares
from
Re-proofing made easy
I bought this based on the guidance on the Norrona website to reproof my Lofoten jacket and ski pants. It is easy to apply and I experienced no fabric discolouration. Basic tests indicated improved water repelling and the real test will come next ski season.
Date published: 2018-04-27
Rated

5

out of

5
by
Annon
from
Reproofing 5 year old jacket
Clear web site, prompt delivery to UK and clear instructions on the bottle. Limited use so far but appears very effective as water beading on the surface.
Date published: 2018-03-03
Hello, Can this product be used on a flex 1 pant ? Thank you
Hello I would not recommend on Flex 1 pant as it made of soft shell product and therefore not water proof
Date published: 2019-04-10
Hi guys, please recommend what/howI should wash norrona lofoten Gore-Tex jacket and pants? Eg Nikwax,grangers,other? have some mellow yellow pants/green zips which have a couple of marks on them,chocolate and blood. Should i treat marks 1st? Thanks
Hi all thanks for all your suggestions and feedback. I have bought some of the Norrona Water Repellent Tech to apply after washing and before tumble drying. I was planning to wash the jacket and coat in grangers wash and repel first. For the chocolate stain on the yellow pants I did rub in some grangers wash and repel liquid initially and the stain disappeared. Have not tried on the other stains as yet, blood/dirt..etc, will do so when get back from ski trip in a couple of weeks. I didnt realise Norrona did thier own washing products ( i must have missed this somehow when looking) so i may actially try these instead. If anyome can recommend which yo purchase I'll take a look. Thanks for all your help, I'll keep you posted on the washing success.
Date published: 2019-03-20
Can I use a hair dryer to dry this? I don't trust the UK weather or my iron.
Yep, I successfully used a hair dryer when I resprayed an eVent shell using this product, (not a Norrona jacket, rather a Rab Latok Alpine jkt).  Not too hot, obviously, and keep the warm blast moving.  Easy.  I sprayed the jacket on a clothes hanger outside on a still summer's day, so any drips weren't an issue and the spray was even.  One thing - try turning the nozzle until you get an even spray, sometimes it squirts a bit much, but a small rotation and everything is perfect.  Good luck!  (BTW - your conscience can rest easier with this product as it's about as environmentally friendly as a reproofer gets).    
Date published: 2019-03-07
Can I use this on my recon jacket?
I've only used it on my goretex jacket and ski pants and it worked really well. I wouldn't want to give the wrong advice, but if your jacket is already water resistant or waterproof it should work 
Date published: 2018-09-24
Hello, can this be used on the Norrona Svalbard Organic Cotton Anorak?
Hi, No but you can use our Water Repellent Natural spray is for cotton garments: https://www.norrona.com/en-GB/products/general-outdoor/water-repellent-natural-400-ml/
Date published: 2018-07-18
Good evening, I tried to add to basket but it doesn't work (I am an european customer) - can you help me? KR, BM
Actually I received an email from Norrona "customer experience" saying that the shipping is restricted to some countries only (France, UK, Scandinavian countries, basically). Quite strange, indeed. Not a good service for southern Europe customers.
Date published: 2018-05-19
Adding this to my cart fails each time (all other products work). I want to add this to a larger order. Can you help?
Hi, This product is only available for purchase in Europe, for shipping reasons. That might be the reason for why you have trouble adding it to your order. Best regards, Jens, Norrøna Fan Support
Date published: 2018-03-02
Hi, when will be this product available again? Best regards, Marko
Hi Marko, This is a product that we will have in stock almost always, although it will be short time periods where we are out of stock. So if this is sold out, please check again after a week. Best regards, Jens, Norrøna Fan Support
Date published: 2018-03-02
D'autres ont également consulté