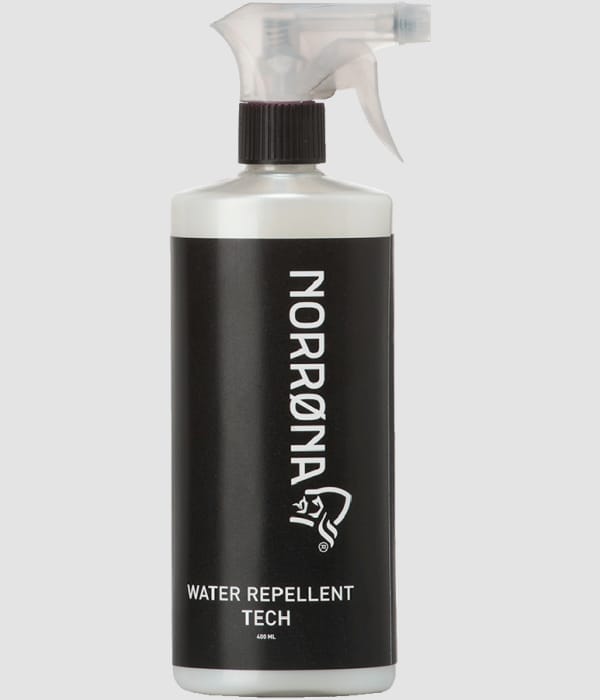 Ce produit préserve les qualités respirantes des matières techniques et renforce les qualités hydrofuges du tissu. Il représente une très bonne alternative écologique aux produits hydrofuges du marché. Peut être utilisé sur les membranes Gore-Tex, dri et autres tissus techniques. Recommandations : Le vêtement doit être propre et sec. Bien agiter le flacon avant utilisation. Pulvériser l'article aussi uniformément que possible. Laisser l'imperméabilisant agir pendant 15 à 20 minutes. Essuyer l'excédent d'imperméabilisant avec un chiffon humide. Sécher l'article à l'aide d'un fer chaud, d'air chaud, des rayons du soleil ou un équivalent. Les instructions de lavage du tissu doivent IMPÉRATIVEMENT être respectées. Vider, nettoyer et fermer l'embout pulvérisateur si vous souhaitez réutiliser le flacon. Si le liquide hydrofuge n'est pas pulvérisé de manière uniforme, l'article peut se décolorer. Cela peut être réparé facilement au lavage. Les produits ne contiennent pas de fluorocarbures ni de propulseurs qui contribuent au réchauffement climatique, ou de gaz CFC qui détruisent la couche d'ozone.
Rated

5

out of

5
by
SPOFBOY
from
Fantastic Product
I bought this to waterproof my Norrona Loften, it did a great job, water just beads off no collecting at the seams or folds. Have used this on all my other jackets with the same great results.
Date published: 2017-07-03
Rated

5

out of

5
by
Snorre
from
Jakke og bukse som ny!
Behandlet 5 år gammel velbrukt Falketind skalljakke og bukse med dette etter vask og stryking. Begge plaggene ble som nye og vannet preller umiddelbart av!
Date published: 2018-11-28
Rated

5

out of

5
by
Alverstraumen
from
Meget bra
Kjøpte impregnering spray og meget fornøyd,kan sterkt anbefale
Date published: 2018-11-25
Rated

5

out of

5
by
Ludi
from
Efficient re-waterproofing
I've used this to re-waterproof my Lofoten jacket which takes a regular beating as I wear it any time it's raining out here. After treatment, water is beading and bouncing off my jacket just as it did when I first bought the garment. Very pleased to see I can increase the longevity of my jacket!
Date published: 2018-11-14
Rated

5

out of

5
by
Ellenoggutta
from
Fungerer som forventet
Veldig bra produkt. Min fantastiske 18 år gamle Norønna goretex anorakk ble som ny. Heretter blir det en liten runde med Water repellent Tech hver gang jeg vasker jakken. Jeg elsker god kvalitet!
Date published: 2018-10-25
Rated

5

out of

5
by
Havarderjeg
from
Flott!
Bra vannbeskytter. Virker godt til alle klær som trenger beskyttelse
Date published: 2018-10-18
Rated

4

out of

5
by
Bergenser'n
from
Enkel i bruk
Enkel og grei spray. Vask klærne, sett på «dusj» modus på munnstykket og spray godt og jevnt. Fungerer meget bra, men kunne ha vart lengre.
Date published: 2018-09-28
Rated

4

out of

5
by
Bekhta
from
Good product!
Quick delivery to the UK, arrived within 3 days of purchass. I've been looking for a repellent spray that does the trick but doesn't smell that awful chemical smell like many others do. This one's brilliant. My jacket is fresh, clean and helps keep my jacket dry!
Date published: 2018-09-26
Hi! Is this usable for the Fjörå shorts & pants? 
Hi, I would only recommend using a water repellent spray on the fjørå Dri products. You can use the spray on regular fabrics to make them more repellent but it might damage the aesthetic of the garment.
Date published: 2018-09-25
Can I use this on my recon jacket?
I've only used it on my goretex jacket and ski pants and it worked really well. I wouldn't want to give the wrong advice, but if your jacket is already water resistant or waterproof it should work 
Date published: 2018-09-24
Hello, can this be used on the Norrona Svalbard Organic Cotton Anorak?
Hi, No but you can use our Water Repellent Natural spray is for cotton garments: https://www.norrona.com/en-GB/products/general-outdoor/water-repellent-natural-400-ml/
Date published: 2018-07-18
Good evening, I tried to add to basket but it doesn't work (I am an european customer) - can you help me? KR, BM
Actually I received an email from Norrona "customer experience" saying that the shipping is restricted to some countries only (France, UK, Scandinavian countries, basically). Quite strange, indeed. Not a good service for southern Europe customers.
Date published: 2018-05-19
Adding this to my cart fails each time (all other products work). I want to add this to a larger order. Can you help?
Hi, This product is only available for purchase in Europe, for shipping reasons. That might be the reason for why you have trouble adding it to your order. Best regards, Jens, Norrøna Fan Support
Date published: 2018-03-02
Hi, when will be this product available again? Best regards, Marko
Hi Marko, This is a product that we will have in stock almost always, although it will be short time periods where we are out of stock. So if this is sold out, please check again after a week. Best regards, Jens, Norrøna Fan Support
Date published: 2018-03-02
Hei! når jeg skal bruke denne på falketind goretex, må plagget være nyvasket og vått? Eller kan det være rent og helt tørt før påføring og ny runde i tørketrommel?
Hei Wish. Takk for ditt spørsmål vedrørende denne impregneringssprayen. Du kan bruke spray etter vask når produktet er tørt, noe som vil si at du henger opp produktet i romtemperatur og lar det lufttørke i noen timer/over natten. Etter sprayen er påført kan produktet legges i tørketrommel for ytterlig tørking. Håper dette svaret var til hjelp, og at du ellers er fornøyd med din falketind gore-tex jacket. Vennlig hilsen, Anette/Norrøna Fan Support
Date published: 2018-01-15
Can we use this product on Falketind PrimaLoft100 Hood Jacket?
Hi Gonos003, Thanks for your question. Technically it is possible to use this tech spray on a synthetic lightweight fabric such as the Falketind primaloft. On the other hand I do agree with "justigoo" that it might limit the loft of the primaloft. I would therefor suggest to use it in case only on critical spots such as hood and shoulders, avoiding the whole surface. Best regards, Jens, Norrøna Fan Support
Date published: 2017-04-24
D'autres ont également consulté