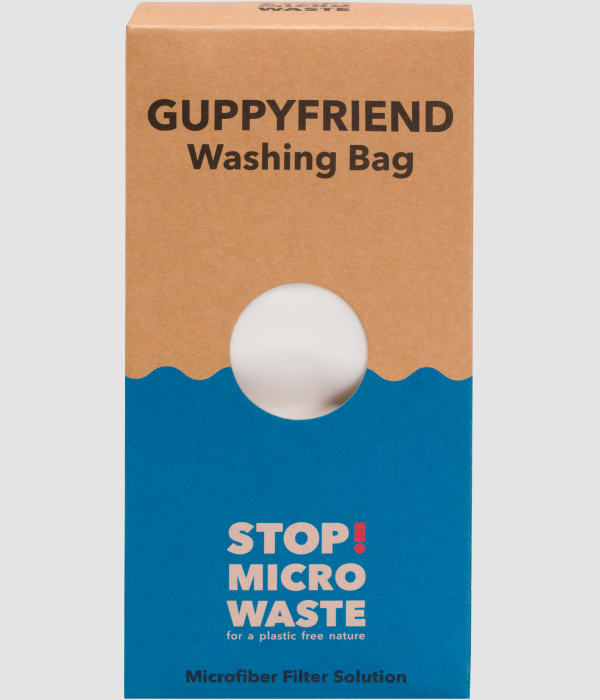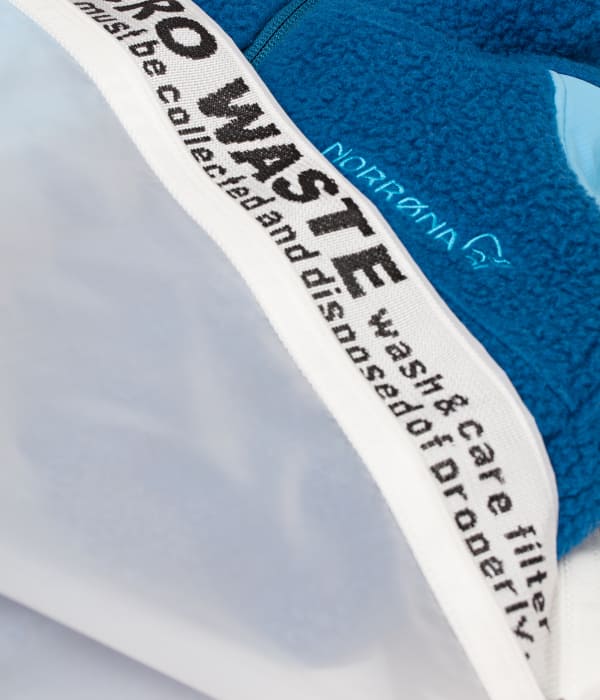 Le sac de lavage Guppyfriend™ est une solution très pratique pour éviter que les microfibres synthétiques se retrouvent dans les cours d'eau et océans. Le sac constitue une véritable barrière retenant les fibres qui se détachent des vêtements pendant le lavage, pour les empêcher de polluer l'écosystème marin. Après plusieurs lavages, on peut facilement récupérer les fibres agglomérées et les mettre au rebut dans la poubelle de recyclage du domicile. Sa surface douce réduit également la perte de fibres, ce qui protège vos vêtements et prolonge ainsi leur durée de vie. Ce sac est entièrement composé de nylon non traité et non teint, qui ne contient aucun additif. Il peut être recyclé avec les matériaux semblables. La pollution des océans par les matières plastiques est l'un des plus grands enjeux actuels en termes de protection de l'environnement. Pour cette raison, Guppyfriend™ s'adresse à tous ceux qui aimeraient réduire leur utilisation de plastique et faire des choix quotidiens pour protéger l'environnement. Vendu à prix coûtant. Dimensions : 50 cm x 75 cm
Rated

3

out of

5
by
Joanneeeee
from
Positive green thinking
I bought this just after new year for a concerted effort to be greener in 2019. It has worked, but I find that the spin cycle and draining of water is reduced. Maybe I overfill the bag? So in my opinion it is a toss up between reduce loads of washing by buying a bigger drum machine or utilising the hippy bag and do more loads which means more waste water too. It rains a lot here and using a dryer for very soggy washing is not an environmentally friendly option. Putting it in for an extra spin defeats the object as surely taking washing out if the bag for this washes microplastics down the drain anyway. I seek out as much pure organic cotton as possible and not using guppy bag so much. Love the concept but not quite working for me as well as I had hoped.
Date published: 2019-05-06
Rated

5

out of

5
by
cs26
from
Christmas present
I bought this as a Christmas present for my mum, and she loves it! Not only is it helpful for catching microfibres it's also great for catching natural fibres of woolly jumpers that are prone to shedding.
Date published: 2019-01-30
Rated

5

out of

5
by
Anonymous
from
Fungerte veldig bra!
Så at kvaliteten på vasken ble bedre med en gang jeg brukte den. Så også at masse microplast samlet seg opp og jeg kunne kaste det i plast avfallet. Alt i alt, veldig bra produkt.
Date published: 2019-01-20
Rated

1

out of

5
by
Anonymous
from
Skuffa.
Nei dette er keisarens nye klede. Eg har brukt den til alle syntetiske kleda mine i eit halvt år. Absolutt ingen ting på innsida av posen. Ingen ting!. Sorry.
Date published: 2019-01-06
Rated

5

out of

5
by
Josue
from
Durable!
Very happy with the product. So far, seems durable!
Date published: 2019-01-02
Rated

4

out of

5
by
FredrikW
from
Super simple
I've used the washing bag a few times and it works nicely. The zipper feels durable and like it's a sturdy product.
Date published: 2018-12-27
Rated

1

out of

5
by
Jace6342
from
Expensive waste of time
Thought this was a good buy help the environment. Used it for 2 months then the zip broke so now have a guppyfriend washing bag that is totally useless a waste of £25.00 plus it increases the amount of washes you have to do so it may save the environment but use twice as much water and detergent. Very disappointed. Wouldn't recommend one
Date published: 2018-12-05
Rated

3

out of

5
by
Lindared
from
A great idea but would benefit from tweaks
I was so excited to order the bag and think/hope that I was doing something about plastic pollution. BUT the bag in a cardboard box arrived in plastic which was disappointing plush fairly bashed which may be more to do with the delivery company than Norrona. I've been using it every washing since for around a month. I find, in a household of 2 adults, that the bag is a little small. I can put a duvet sheet in...but then nothing else leaving the washing machine only half full and me clambering around to find something that cotton to put in with it (harder than I first thought). A few times recently the bag has twisted in the middle mid wash, or the contents have been soaking. After a number of additional spin cycles I ended up taking the contents out putting on 1 spin cycle and that sorted it...but it does seem to defeat the purpose slightly. I've found tiny bits of fluff in the corners o the bag now so it does seem to capture what would end up in the water course which is good. On balance I'm glad I use it...but a few changes would make it better.
Date published: 2018-11-30
Could you point me in the direction of some research that proves this bag does what it says? What proportion of the microfibres is trapped by this? Another solution offers 1/4 to 1/3 - every bit helps but it's not a lot. Would both be better? Thanks
There is an interesting, if not scientific, review of the product on the website myplasticfreelife.com.
Date published: 2018-11-12
hello. when will guppyfriend wash bag be avail again for purchase?
Hi Carmen, Now it is available again, but it is a limited stock so get it while you can. More is coming when this is sold out, but it will be a period where we will be sold out of this unfortunately.
Date published: 2018-04-16
How much washing can you fit into the bag by weight? Is it large ebough for s family of four to have just one bag. I don't think we have that many synthetic clothes but I've never really looked until now!
Hi Shelly, Thanks for your question on the washing bag. I am using this bag and are happy with it (family of four). The bag should only be stuffed half full, but it is quite big. And our washing machine is running quite frequently. I would go for one at first, and if you feel a need for another one you can buy one more. Or as I did, buy three and give two away as gifts. It's the perfect gift in my opinion as it is something that it's still a few that has, and it is given away with doing good for the nature. Best regards, Jens, Norrøna Fan Support
Date published: 2018-11-08
Guppyfriend washing bag Hello Is it possible to buy it in Switzerland? Tank for your answer
Hi danial. Thank you for your interest regarding this washing bag. You can purchase this product on our website. You will find it under men/accessories. Best regards, Anette/Norrøna Fan Support
Date published: 2018-01-23
Can this be bought in your stores as well?
Hi Frida, Thanks for asking about where to get the Guppyfriend washing bag for preventing micro plastics into the washing water. This product can also be bought in Norrøna stores. Best regards, Jens, Norrøna Fan Support
Date published: 2017-12-19
Can I have the guppyfriend bag shipped to the uk without any plastic packaging please? Does the bag itself come packaged in plastic? 
D'autres ont également consulté