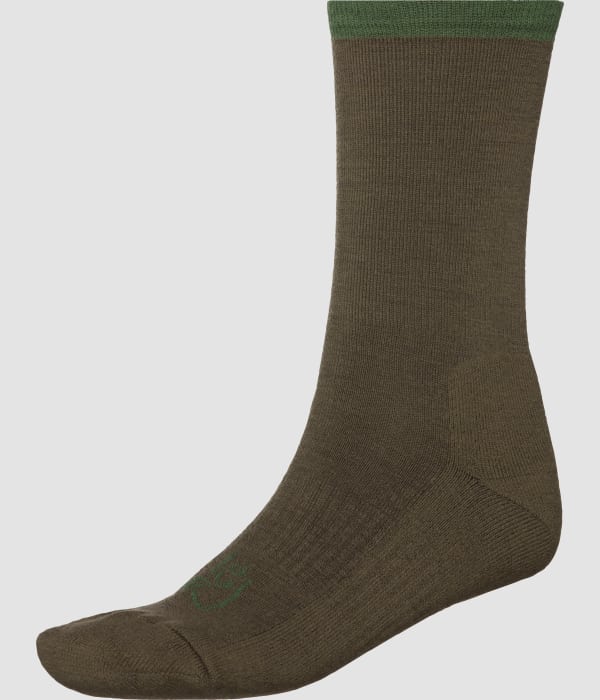 Les chaussettes finnskogen sont réalisées en laine mérinos d'épaisseur moyenne et sont spécialement conçues pour la chasse. Adaptées aux bottes de chasse et fabriquées à partir d'un douillet mélange de laine, ces chaussettes de première qualité garantissent une excellente régulation de la température pour vous garder au chaud lorsqu'il fait froid. La laine est naturellement antimicrobienne et anti-odeurs. . Elles sont confectionnées en laine traçable sans mulesing.
Autres utilisations
Chasse en montagne
Activités de plein air générales
Trekking
Composition
Mélange à base de laine mérinos

Fabriqué principalement en laine mérinos conforme à la norme GOTS (Global Organic Textile Standard). Nous utilisons également le polyamide pour la solidité et l'élasthanne pour le stretch.
Rated

5

out of

5
by
bronko
from
Go to socks
I got These socks a few months ago and i realy like them a lot. For my feet they fit just great. No slipping but not to tight but put them on and feel comfy. With mine Therese ist some pilling but there ist nothing negative for me with that - i blame it in the merino.
Date published: 2019-06-13
Rated

3

out of

5
by
VeikkaG
from
Good pair of socks
The socks were really nice and worked well in different temperatures. Only problem was that the sock was too wide from the toes for me.
Date published: 2019-06-07
Rated

5

out of

5
by
Madeleine96
from
Crazy warm!
I got to try these through the loyalty program and I love them! I have always had trouble finding socks that keep my feet warm in the cold winter and these do just that! They keep my feet warm for hours and stay nice and dry. I'm going to buy more pairs when it gets colder again
Date published: 2019-06-06
Rated

5

out of

5
by
Hannah059
from
Amazing Warmth to Weight Ratio!!
These socks look and feel like quality! They are extremely soft, comfortable, and feel like a lightweight sock with the performance of a medium-heavy sock! My favorite to wear in the Fall and Winter. Of course, these socks have all the wonderful qualities of merino wool and I like that they are sustainably made and mule sing free. Very pleased with this purchase and highly recommend!
Date published: 2019-06-06
Rated

4

out of

5
by
Kaisa_
from
Nice, comfortable and warm socks
I liked how the socks fit and stay in place in every shoes and even after being in use for days and days. The socks are warm but not too thick so they work great for example running when the temperatures are freezing. The socks are warm even if they get wet, and dry quickly.
Date published: 2019-06-05
Rated

4

out of

5
by
Misterjad
from
Warm and fitted
Got the chance to use this stock during last winter ! It will give you warmth when you need it (sometimes too much when spring comes !)
Date published: 2019-06-05
Rated

5

out of

5
by
Mike.1066
from
Best socks I've ever used!
On first opening the packaging it was evident the quality of these socks! I use them every time I now put on boots and even trainers, long awaiting them to be clean again to use. Used on a week long exercise and couldn't fault them at all. Would normally change socks at least once a day on ex, however when I removed them after a long physical 17hr day they had left my feet with hardly a trace of sweat or usual smell. The socks themselves, to my amazement did not smell at all, and did not get hard like most sweaty socks do! Again when walking in the mountains, running or just casual wear they never get smelly, stiff or uncomfortable, always regulating heat fantastically! After substantial use they have shown very very limited signs of use, kept their fluffy knit on the inside and haven't thinned like a other pairs do after constant use. Quite honestly the BEST socks I have ever used!
Date published: 2019-06-04
Rated

5

out of

5
by
#rolexarcher
from
Does every job, every time!
I've been wearing these for basically everything, and they their job extremely well. They keep my feet warm and they keep them cool, whichever is needed...
Date published: 2019-06-04
D'autres ont également consulté