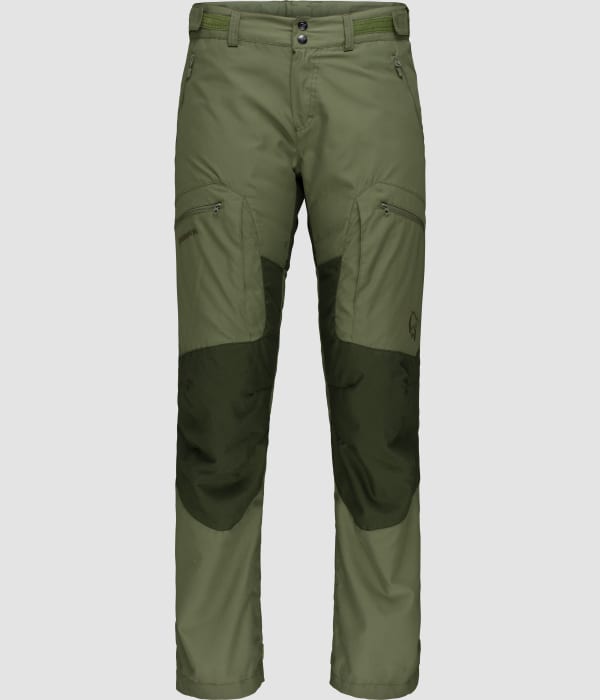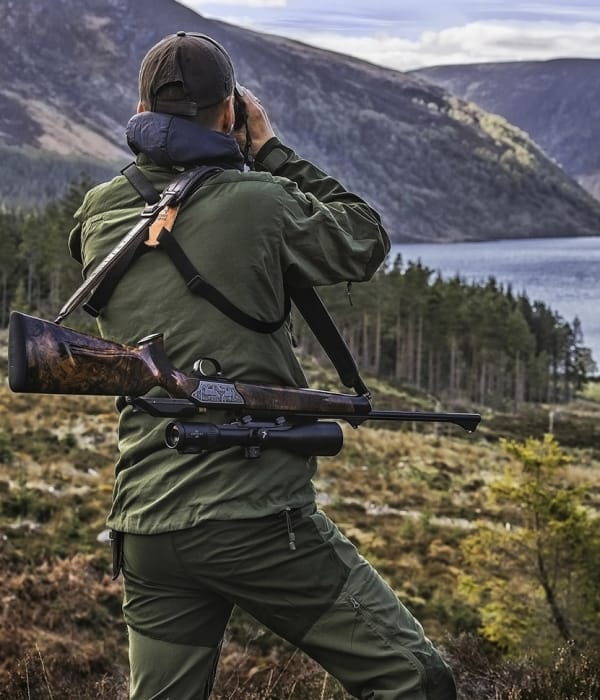 Silencieux et aéré, ce pantalon est réalisé en tissu polyester brossé doux et résistant avec des renforts en tissu dri étanche au niveau des genoux et des fesses. Il comporte des poches chauffe-mains, deux poches sur les cuisses, une ventilation latérale le long de la jambe et des attaches velcro autour des chevilles. Idéale pour la chasse en forêt par temps sec, quelle que soit la température.
Autres utilisations
Expédition
Chasse en montagne
Alpinisme
Trekking
Spécifications
3

Coupe-vent

Coupe-vent

Scale from 1 to 6 where 1 is not windproof and 6 is totally windproof.

3

Rapport chaleur / poids

Rapport chaleur / poids

Scale from 1 to 6 where 1 is not waterproof and 6 is waterproof.

1

Isolation

Isolation

Scale from 1 to 6 where 1 has no insulating properties and 6 is our warmest insulation products.

5

Respirabilité

Respirabilité

Scale from 1 to 6 where 1 have very little or no breathability and 6 is our most breathable and moisture wicking products.

5

Durabilité

Durabilité

Scale from 1 to 6 where 1 is fragile products and 6 is the most durable products we have.

5

Légèreté

Légèreté

Scale from 1 to 6 where 1 is heavy and 6 is among the world's lightest of its kind.

1

Elasticité

Elasticité

Scale from 1 to 6 where 1 is not made with stretch materials and 6 is our most flexible products made in super elastic material.
Empreinte
Tissu certifié Oeko-Tex

Tissu certifié Oeko-Tex

Oeko-Tex® est un système de test et de certification indépendant et cohérent au niveau mondial qui garantit que l'utilisation des produits chimiques est conforme ou supérieure aux réglementations et normes nationales et internationales.

Usine ouvertement cotée

Usine ouvertement cotée

Ce produit est fabriqué dans une usine répertoriée ouvertement sur norrona.com.

Usine inspectée

Usine inspectée

Ce produit est fabriqué dans une usine inspectée par une tierce partie indépendante et suivie par Norrøna.
Composition
Polyester brossé et tissé 150 g/m²

Ce polyester brossé de 150 g/m² est très solide et silencieux. Nous avons effectué de longues recherches pour trouver un tissu répondant à tous les critères indispensables pour un produit pour la chasse : silencieux, résistant, respirant et doux.

Washing instructions 40 degrees

Machine wash gentle cycle (40°C /104℉). Tumble dry lightly at low temperature. Iron at maximum 110°C, but should not be necessary. Can be dry cleaned. Do not bleach.

Soin des produits
Détails techniques
Rated

5

out of

5
by
Dabu
from
Best hiking and hunting pants!
I must have spent half of 2018 in these pants, hiking and hunting in Alaska and Idaho. I'm 6'1"/185cm with a 34" waist or size 52 and the size large fits perfectly. Roomy enough and stretchy but not baggy. The huge side vents allow you to ventilate and dump a lot of heat. One great feature is waterproof lower legs so I often go without gaiters when walking through wet grass. The hooks for boot laces keep the pants from riding up. These have become my favorite pants. I would buy another pair if offered in another color.
Date published: 2019-01-04
Rated

4

out of

5
by
elgirl
from
Cool design, well made
I bought these pants a little while ago and was debating keeping them or returning them for about two weeks. First, do not rely on the example photo when purchasing them - they are much greener and less olive and the knee and butt are much darker. That said, they still look really great! When I tried them on (I am a 5'9" 140lbs female), I found that they fit perfectly in the hips. The velcro adjustment straps definitely helped me customize them to my body. The only issue I had was that there was a seam on the back of my thigh that I found a little annoying when I would take big steps, squat or climb up and around things. In the end, I returned them because they were a little too nice for the kind of work I would be doing and the seam on the back of the leg bugged me too much for the price. With all this said, these pants are epic and really well designed!
Date published: 2019-04-09
Rated

5

out of

5
by
Rsj1912
from
Norrona hybrid pant
Great pant, size as guided. Lightweight and drys very quick. Plenty of pockets and great Velcro waist band. Would look to purchase in a more subtle colour for Scottish Highlands. Overall great product and would strongly recommend.
Date published: 2018-12-24
Rated

1

out of

5
by
Ullr
from
Skinny leg pants
I was very excited about having these pants, but they are cut for people with skinny legs. I usually buy a size up to accommodate my large thighs but they fit like a size down. Not wearable.
Date published: 2018-12-06
Rated

5

out of

5
by
pob087
from
Perfect Hunting/Hiking Pant
I bought this pant a little over a month ago and have taken it out in the field several times. The pants are lightweight and breathable but appear to be very durable in the time I have had them. The leg zips are critical for dumping heat. My only complaint is I wish the hip pockets were a little deeper. Would definitely recommend to anyone looking for a quiet and durable hunting pant.
Date published: 2018-11-09
Rated

5

out of

5
by
Adypee
from
Great in the wet!
These trousers are brilliant and come into their own in wet foliage and during moments of sitting or kneeling on soggy ground. Super comfortable and fits perfectly, true to size. A highly recommended trouser for almost any outdoor activity.
Date published: 2018-11-01
Rated

5

out of

5
by
Ken68
from
My favourites!
I've had a pair of these for years now, worn professionally as a working nature photographer & they look like new. I've dragged them through peat bogs, snow & major storms in the Scottish highlands. They keep performing! My only gripe is that I'm going to have to replace them as I've recently lost a lot of weight & they're too big! I'll be buying the same again!
Date published: 2018-09-23
Rated

4

out of

5
by
klafton
from
I like these pants but...
Shipping was extremely fast. As they just arrived I tried them on. Based on the sizing I was going to order LARGE. But, thankfully I order the XL. Quite honestly, the sizing chart is just wrong. Unless you are a petite female or a male built like a petite female I would strongly recommend ordering one size LARGER. I wear 36 waist in Levi's jeans and 36 or 38 in KÜHL pants for some reference. The XL fits my waist perfectly and leaves a little extra room. I am 72" and about 225 lbs by no means is that all muscle and I admit I could drop some flab. I am a larger built guy all-around. If you are, order UP one size to avoid returns. The pants themselves are extremely comfortable. You get what you pay for here. I do a lot of shooting, hiking and other outdoor activities so durability we shall see.
Date published: 2018-09-21
I am curious to know about the sizing of these pants through the thigh. I would wear a size Large men's pant based on the sizing information provided, however can anyone let me know the circumference of the thigh area?
Hi cjurg, The measurement of the garment is: Size M, Size L Waist 88cm, 94cm Thigh 68,8cm, 72cm Inseam 83cm, 85cm I hope this helps. Mvh, Sara – Norrøna Fan Support
Date published: 2017-05-08
Good evening, my inseam hoovers around 98cm. According to the measurements already given this pair of pants will not fit. I have an athletic slim build so this combination is normally hard to find. I love this pants, any chance inseam future adjustments?
D'autres ont également consulté