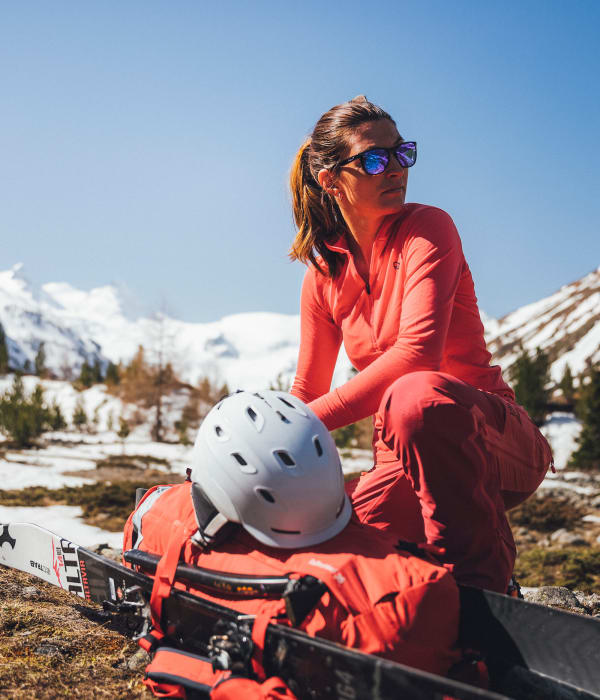 Notre sac à dos le plus polyvalent vous accompagnera dans toutes vos activités en montagne. Il est doté d'un dessus classique avec système de fermeture à une sangle sur le devant, d'une poche extérieure, d'une poche inférieure et d'un crochet porte-clés. Une fermeture éclair YKK 8 mm donne accès au compartiment principal. Il comporte en outre deux sangles de compression sur les côtés, deux attaches pour piolet, des sangles d'attache pour le matériel léger à l'avant, une poche à eau intérieure et une poche intérieure à l'avant. Le sac présente une doublure amovible en plastique léger avec une tige en aluminium pour plus de stabilité, une ceinture de hanches amovible rembourrée mais légère et des bretelles plates et confortables. Grâce aux matériaux sélectionnés avec soin, le sac offre à la fois légèreté et durabilité. Le corps principal du sac est réalisé en polyamide 140D*140D de 140 g/m2 très résistant avec un renfort en polyamide Oxford 420D de 220 g/m2 enduit de 2000 mm sur la partie inférieure du sac à dos. Autrement dit, ce sac offre une résistance exemplaire et vous accompagnera dans vos aventures pendant de nombreuses années.
Autres utilisations
Marche sur glacier
Escalade glaciaire
Activités de plein air générales
Alpinisme
Escalade de grandes parois
Alpinisme
Spécifications
3

Rapport chaleur / poids

Rapport chaleur / poids

Scale from 1 to 6 where 1 is not waterproof and 6 is waterproof.

5

Durabilité

Durabilité

Scale from 1 to 6 where 1 is fragile products and 6 is the most durable products we have.

5

Légèreté

Légèreté

Scale from 1 to 6 where 1 is heavy and 6 is among the world's lightest of its kind.
Composition
dynamic™

dynamic™ : notre sac sans cadre ni barre de soutien en aluminium. Nous utilisons ces systèmes sur un grand nombre de nos petits sacs où la souplesse est un facteur essentiel.
Détails techniques
Rated

5

out of

5
by
Andy
from
Falketind pack 35L
This pack is brilliantly designed; simple but with loads of cool features. It's very comfortable with a well padded back and waist support system, especially helpful when carrying heavier winter climbing gear. The climbing tool carry system is secure but also quick to deploy an axe without taking the bag off, really useful when guiding. The full length side zip is a work of genius! allowing access to the whole stash of gear inside, top to bottom without emptying all your kit out onto the ground. It's the best pack I've had for years, I reckon I'll also use it for ski touring on longer trips, as it works well carrying skis too, and I can access the main compartment for skins, ski crampons etc.
Date published: 2017-01-26
Rated

5

out of

5
by
BayHiker
from
Excellent climbing pack
Great size for day trips and just large enough that a minimalist overnight isn't out of the question. Fits a standard rack and climbing kit in the main pack, with enough extra length in the straps to carry a rope between the main pack and the lid. Daisy chains on the outside make lashing overflow gear a breeze, and the ice axe carrying configuration is great: streamlined to operate even with the pack on provides protection for the axe's pick (and protection FROM the pick...). The pack carries well even when fully loaded! It's also surprisingly maneuverable in tight spaces thanks to the narrow width and absence of hip belt pockets. Overall a well-thought-out piece of gear.
Date published: 2019-05-26
Rated

4

out of

5
by
MKPK
from
Great all around backpack
I bought this a month ago and I've used it when backcountry skiing. All the things I needed went nicely into the bag (shovel, probe, extra layers of clothes, food etc). Very saggy when not stuffed. There is basically one big compartement, so it's no so easy to find the things you need, but fortunately you can access them from the side,too. There is no place for helmet, but I used carabiners to attach my helmet to the bag. Overall, nice daybag for trails and outdoors, a bit too pricy.
Date published: 2019-03-25
Rated

5

out of

5
by
Sissel Katrine
from
Bra passform(smal modell, fint egnet for dame), lett, romslig
Jeg kjøpte denne for en måned siden. Den er nå til bruk på "backpacking" i Sør-Amerika. Bruker er veldig fornøyd.
Date published: 2019-01-29
Rated

4

out of

5
by
Why?
from
God for light and fast alpinklatring
Sekken har gode løsninger, ser bra ut, slitesterk og får det man trenger + litt til i sekken. Down side er hvis man er nesten 2m og har 20kg + sekken så går komforten drastisk ned. Men skal man ha under rundt 10-15kg i sekken så fungerer den meget bra.
Date published: 2019-01-07
Rated

5

out of

5
by
Nordlending66
from
Romslig og smart
Kjøpte denne for noen uker siden, og har brukt den både på tur i fjellet og på reise. Rommer mye og har smarte løsninger. Og så er den jo stilig!
Date published: 2018-11-19
Rated

5

out of

5
by
THammar
from
Utmerket ryggsekk for kortere turer
En god ryggsekk som holder det som trengs for en dagstur.
Date published: 2018-11-06
Rated

5

out of

5
by
THammar
from
Smidig ryggsäck till kortare turer
En god ryggsekk som holder det som trengs for en dagstur.
Date published: 2018-11-05
Can this bag carry/strap snowboard?  I assume it can carry ski as the picture shows. Thanks a lot!
Hi, You can fasten skis on the side but a snowboard will be to wide.
Date published: 2018-10-16
Hei, Kommer denne med regntrekk?
Hei Kvernel, Nei, Falketind Pack kommer ikke med regntrekk. Du kan bruke hvilket som helst regntrekk til denne sekken som er tilpasse en sekk på denne størrelsen. Sara Norrøna Fan Support
Date published: 2017-08-21
Er det fester for å bære ski på denne sekken?
Hei Ådalen 2017, Denne har også fester for ski ja. Og selvom ski er festet på kan du fortsatt åpne sekken for å få tak i feller, stegjern etc. Alternativt kan du ta en kikk på lyngen Pack 35L som er laget for topptur. Les gjerne produktanmeldelsene fra andre som bruker disse sekkene. Mvh. Jens, Norrøna Fan Support
Date published: 2019-03-03
Har denne sekken feste til spade?
D'autres ont également consulté