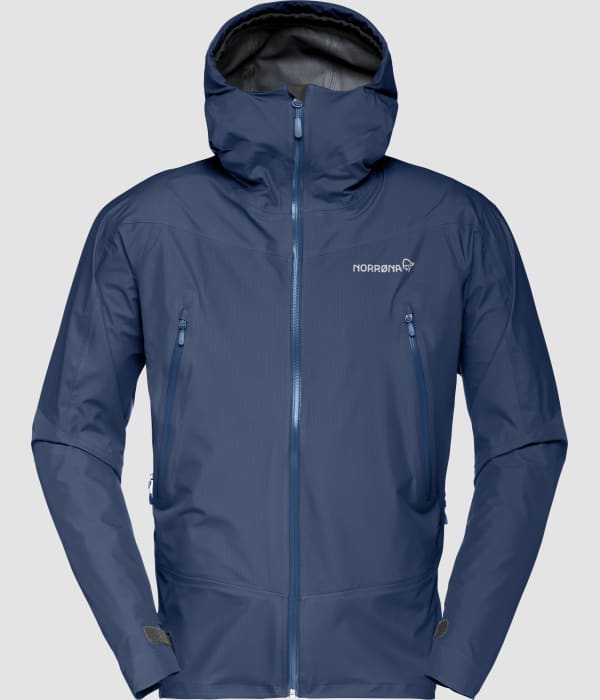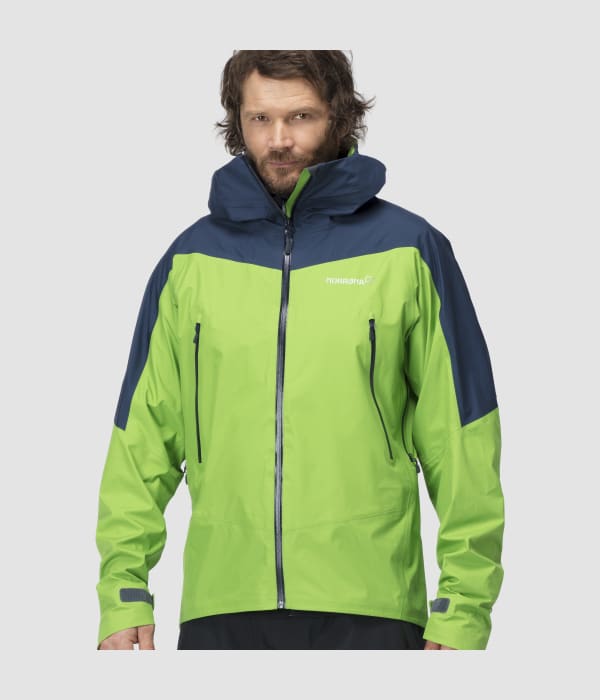 Notre veste imperméable et aérée la plus polyvalente pour homme, parfaite en toute saison. Suffisamment légère pour l'été et assez résistante pour l'hiver. Matière : GORE-TEX® spécialement conçu avec doublure légèrement brossée ultra-confortable.
Cette veste à la coupe courte offre de longues ventilations au niveau des aisselles, une capuche protectrice adaptée au port du casque et des poignets asymétriques offrant une meilleure protection contre les éléments naturels.
Nous vous recommandons de ranger votre téléphone portable dans la poche prévue à cet effet à l'intérieur de la veste, afin d'éviter les dégâts liés à l'humidité.
Les poches sont situées à des endroits toujours accessibles, même lors du port d'un sac à dos avec ceinture de hanches. Matière : Gore-Tex 20 deniers.
Autres utilisations
Alpinisme
Marche sur glacier
Activités de plein air générales
Alpinisme
Ski de randonnée
Spécifications
6

Coupe-vent

Coupe-vent

Scale from 1 to 6 where 1 is not windproof and 6 is totally windproof.

6

Rapport chaleur / poids

Rapport chaleur / poids

Scale from 1 to 6 where 1 is not waterproof and 6 is waterproof.

1

Isolation

Isolation

Scale from 1 to 6 where 1 has no insulating properties and 6 is our warmest insulation products.

4

Respirabilité

Respirabilité

Scale from 1 to 6 where 1 have very little or no breathability and 6 is our most breathable and moisture wicking products.

4

Durabilité

Durabilité

Scale from 1 to 6 where 1 is fragile products and 6 is the most durable products we have.

4

Légèreté

Légèreté

Scale from 1 to 6 where 1 is heavy and 6 is among the world's lightest of its kind.
Empreinte
Tissu certifié Oeko-Tex

Tissu certifié Oeko-Tex

Oeko-Tex® est un système de test et de certification indépendant et cohérent au niveau mondial qui garantit que l'utilisation des produits chimiques est conforme ou supérieure aux réglementations et normes nationales et internationales.

Usine ouvertement cotée

Usine ouvertement cotée

Ce produit est fabriqué dans une usine répertoriée ouvertement sur norrona.com.

Usine inspectée

Usine inspectée

Ce produit est fabriqué dans une usine inspectée par une tierce partie indépendante et suivie par Norrøna.
Composition
GORE-TEX® 3 couches

Un tissu résistant en GORE-TEX® adapté à un large éventail d'activités. Dans cette structure à 3 couches, la membrane est plaquée entre la doublure et le tissu extérieur, pour plus de résistance. Plus léger qu'un tissu GORE-TEX® 2 couches, car il ne nécessite aucune doublure séparée supplémentaire. Spécifications techniques : Imperméabilité : min. 28 000 mm* Respirabilité : élevée, pouvant aller jusqu'à 9 RET** Protection contre le vent : 100 % * test ISO 811 ** test ISO11092

Plus de détails sur le site GORE-TEX®

Soin des produits GORE-TEX® et dri

Les vêtements en GORE-TEX® ne seront pas abîmés par le nettoyage. Au contraire, cela prolongera leur durée de vie. Voici les instructions de nettoyage standard pour les vêtements en GORE-TEX® : N'oubliez pas de fermer toutes les fermetures Éclair et Velcro. Le vêtement doit être lavé à 40° sans essorage, avec un détergent doux mais sans adoucissant ni agent de rinçage. N'utilisez pas d'eau de Javel. Les adoucissants, les agents de rinçage et l'eau de Javel peuvent endommager les propriétés d'étanchéité du tissu (pas la membrane/l'imperméabilité) ainsi que la couleur du tissu. Rincez le vêtement deux fois, si possible. Après le nettoyage, utilisez du spray hydrofuge sur l'extérieur du vêtement pour optimiser l'étanchéité (ceci n'a rien à voir avec la qualité d'imperméabilité du vêtement, mais facilite l'évacuation de l'eau du tissu extérieur). Si vous le souhaitez, séchez le vêtement ou repassez-le à basse température. La chaleur aide à réactiver l'imperméabilité. Le vêtement doit être sec avant le nettoyage et avant le rangement.

Soin des produits GORE-TEX® et dri
Détails techniques
Rated

5

out of

5
by
Turvant
from
Norrøna Falketind
Norrøna Falketind har jeg brukt lenge (har hatt tidligere produkt av samme type) og den er ypperlig hele året.
Date published: 2019-08-09
Rated

4

out of

5
by
Georg86
from
Veldig annvennelig jakke å holdt regn å sludd unna.
Kjøpte den i fobinnelse med en topptur for den eldre falketinn jakka var blitt slitt. Er den gule. Jakka er super, men syntes borrelåsen i erme skulle vært litt lengre. Ser også at størrelsen har blitt mindre. Har en eldre falketind og den er i medium, og er like stor som denne. Skulle også ønske buksa i samme type kom i andre farger enn sort.
Date published: 2019-08-07
Rated

5

out of

5
by
Danielm
from
God Gore-tex jakke!
Dette er min andre Gore-tex jakke fra Norrøna. Utrolig lett og behagelig jakke som holder regnet og vinden ute. Absolutt å anbefale!
Date published: 2019-07-31
Rated

4

out of

5
by
Geit
from
Hei
Lurer på størrelse. Er 1.80 lang å veier 62kg Noen tips?
Date published: 2019-07-16
Rated

1

out of

5
by
Andy_S
from
Great looking jacket but does not hold agains the elements
I bought this jacket last winter for use in summer hiking trips, especially to fend off rain (keep this in mind so you will understand the one star rating). I used the jacket a couple of times in town and it looks really good and has a snug fit. However, the only time I have used the jacket for its intended purpose, it failed badly. I was hiking the West Highland Way when I had the first (and potentially last) change to use this jacket for the purpose it was bought for. I was hiking the last leg from Kinlochleven to Fort William in rainy weather. During the first half an hour the jacked discontinued breathing since the outer fabric got wet (which makes the membrane discontinue breathing). This is an OK issue with Gore-Tex and a fairly well known problem. However, after about an hour and a half of hiking in the rain, I felt the first few drops of water on my chest — the main zipped had failed. From there onward the main zipped first leaked and soaked my shirt and then soaked my rain pants (see picture where the light green parts of my t-shirt are the dry ones). This continued for the next three hours until I reached my destination. Upon reaching Fort William, I realized that both of the pocket zippers had also failed since the chest pockets (and everything in them) were completely wet. At this point I was not amused. Overall, the jacket looks great and I would really like to give it five stars. However, when push come to shove and you have to battle the elements, this jacket will fail since it won't breathe neither keep the water out.
Date published: 2019-07-11
Rated

5

out of

5
by
Skituppen
from
Lett og god bruksjakke som takkler all slags vær.
Kjøpe denne jakken for 4 år siden , har fått ny på reklamasjon 2 ganger tidligere, rrklamadkonsdystemet hos norønna kan ikke måle seg med noen andre merker jeg har vært borti.
Date published: 2019-07-05
Rated

5

out of

5
by
Sporty73
from
Lett, vind- og vanntett.
Fantastisk god jakke hele året. Kjempegod passform.
Date published: 2019-06-26
Rated

4

out of

5
by
AndyWay
from
Really comfy, pockets are great too!
Great jacket, nice to wear and super comfortable. I live in Australia where it is a little warmer and often I have the zip undone or not done up all the way, with the large hood it tends to pull the jacket backwards and can become a bit awkward. A small improvement would be to have a way to support the hood weight to the neck area so it doesn't pull the jacket over your shoulders. Even with this I would buy the jacket again and again.
Date published: 2019-06-10
I am 178 cm tall, a bit stocky. I'm trying to decide if small or medium is the best fit?
I'm 177cm tall, weight 83 kg, I wear size M
Date published: 2019-03-19
Hvilket størrelse bør jeg ha påFalketind jakke gtx? 193 cm og 82 kg
Da ville jeg gått for xl,jeg er 178cm og er 83 å L sitter perfekt.
Date published: 2018-09-25
I want to know which size fit me (height 173cm ,chest 98cm,weight 76Kg).Thanks.
I am 170cm for 63kg Chest 91. Small is perfect for me. 
Date published: 2018-12-19
Hei! I own a Lofoten Anorak for women and the greatest thing is that it zips into the Lofoten pants for women. Is that also possible with this jacket although it is a falketind product and also a male product?  Thank you in advance!
Hello Sarah, The Falketind range of products does not come with a powderskirt, so it will not be possible to zip it to the Lofoten Pants. Best regards, Alexander - Norrøna Fan Support
Date published: 2017-11-21
Hei. Når får dere igjen på lager av disse (samme hvilken farge) i størrelse medium på Flagship Oslo?
Hei Hansern. Som jeg kan se så skal de ha alle fargen inne i størrelse Medium. Lightning Yellow og Caribbean blue er nye farger for høsten, og kommer ikke inn riktig enda. Ta gjerne en telefon ned til butikken, så kan de gi deg eksakt lagerstatus:) Telefon: 488 98 600 Mvh Nina
Date published: 2018-12-05
Vil kjøpe meg enda en som jeg skal ha til hverdagsbruk! men lurer på ,er den nye modellen helt lik i passform som siste generasjon? og någe lunde samme stoff? hvis ikke må jeg dra i butikken å prøve :) Knallgod og lett jakke til all slags vær.
Hei Alexsimo, Den nye jakken har oppdatert materialvalg, og løsninger men skal ha lik passform som forrige versjon av denne jakken. Skulle mot formodning noe allikevel være feil for deg så har vi gratis bytte til annet produkt. Med vennlig hilsen, Jens, Norrøna Fan Support
Date published: 2017-09-23
Hei! Skal kjøpe ny Gore-tex jakke, og er i tvil om jeg skal velge Falketind eller Trollveggen. Bruk: Turbruk på Vestlandet sommer og vinter, høyfjellet/ski, daglig sykling, i mye vestlandsvær med vind og regn. Har til nå hatt N. Vestveggen. Hilsen Tore T
Hei Vinterdag, Takk for ditt spørsmål. Slik jeg forstår det vil du nok bli aller mest fornøyd med trollveggen Gore-Tex Pro light jakken. Den er en utrolig bra jakke som er veldig allsidig og fungerer til det aller meste. Falketind Gore-Tex er også en knallbra jakke, men litt mindre slitesterk enn trollveggen-jakken. Så med din ganske intensive bruk av jakken på mange forskjellige bruksområder og vestlandsvær ville jeg kjøpt den kraftigste av de to, altså trollveggen. Med vennlig hilsen, Jens, Norrøna Fan Support
Date published: 2018-10-29
Hi guys, I want buy this jacket, my question is: can I use it also for skiing in powder and also in slopes? Obviusly I will use it in ice climbing walking in winter and summer. I have another question, can I match also your powder zip with falktind pants?
Firstly the Norrona stuff is really beautifully made almost too beautiful to be crashing through trees in the back country, It so light I'm terrified of ripping it. That said it takes a beating and I've not had any problems yet. For touring and regulating temperature across 4 seasons it is brilliant and I'm really pleased. On the piste it looks rocking with bamboo green zips on grey pants matched to Bamboo green jacket, but thats upside. Great kit
Date published: 2017-01-26
D'autres ont également consulté